Best iPhone 6 alternatives: the new iPhone's biggest challengers
24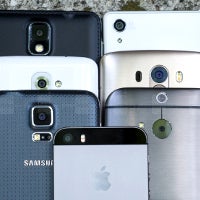 The new Apple iPhone 6 is here, and it's awesome, but we all know that one size doesn't always fit all, so to speak. As cool as the iPhone 6 and its 4.7" screen are, there will always be a little something here and there that does not appeal to each and every user. Some may want an even bigger screen, others will miss the flexibility of Android, while still others may want their smartphone to support a stylus, a la Galaxy Note.
Whatever the reason is, we think that having a list of worthy iPhone 6 alternatives would be beneficial to everyone looking for something of a similar grade, but just different. If that is the case with you, just take a look at the following offerings below, to try and find a phone that will suit you better. Of course, do let us know in the comments which iPhone 6 alternative you consider best!
Samsung Galaxy S5
Samsung's flagship, the Galaxy S5, is still considered a relatively young smartphone on the market, and it can really offer you a truly versatile and feature-packed Android experience. With its large, 5.1" 1080p Super AMOLED display, the Galaxy S5 can output content in an extremely vibrant manner, plus its Snapdragon 801 AC processor is still to be considered top-notch. The TouchWiz UI on top of Android 4.4 may be a bit on the heavy side, but on the flip side, it comes with a bevy of custom features.
Sony Xperia Z3
Similarly to the Galaxy S5, Sony's upcoming heavy-hitter will also sport the Snapdragon 801 AC processor, but it will mostly present users with a somewhat different Android experience. Not only is the device itself more premium-looking and stylish, but its user interface is also more simplistic and consistent. It doesn't pack so many bonus features, but with Android and its open nature, does one even need all that functionality coming by default? Aside from this, the Xperia Z3 has a gorgeous 5.2" 1080p IPS LCD screen, and a resolution-heavy 20.7 MP camera. The Xperia Z3 release date will be sometime in Q3 of 2014.
HTC One (M8)
Ah, the HTC One (M8)! Actually, do you notice how similar the M8's back and the iPhone 6's back are? Both phones will obviously treat you to some very high-end, stylish design, and the One M8 will also sport a slightly bigger screen and 1080p resolution. If you like premium phones with metal designs, but the new iPhone 6 or iPhone 6 Plus aren't exactly your cup of tea (read: you want Android), then the One (M8) seems like a great alternative to Apple's latest and greatest.
Sony Xperia Z2
Even though the Xperia Z3 is right around the corner, the Xperia Z2 is actually perfectly new. With a 5.2" 1080p IPS display, a cool appearance with solid glass front and back panels, the Xperia Z2 is both stylish and functional. Of course, it'll run the latest version of Android for you, plus the processor inside, the Snapdragon 801 AB still packs quite a punch.
Sony Xperia Z3 Compact
Still, the new Xperia Z3 Compact seems like a slightly more logical alternative to the 4.7" iPhone 6. Its screen measures 4.6 inches (resolution is 720p), while the design language is also very familiar and eye-pleasing. It'll actually be a bit more compact than the iPhone 6, so that's a bit of an advantage there, although the level of premiumness with Sony's handset is not as high. Thankfully though, there aren't really that many compromises with the specs and features of the Z3 Compact, so you're still getting a very powerful smartphone with Snapdragon 801 AC processor and 20 MP camera.
Samsung Galaxy Alpha
One of the most logical alternatives to the 4.7" iPhone 6 is the Galaxy Alpha by Samsung. It's like the Galaxy Alpha was made by Samsung as an answer to the iPhone 6. With a slightly smaller body and the same diagonal for the screen (4.7"), the Alpha offers all that Samsung is known for in package that tends to be a bit more appealing that the company's traditional design language.
Sony Xperia Z1 Compact
Believe it or not, the "old" Xperia Z1 Compact, released in January this year, is still capable enough to deliver a pretty decent Android experience, without much compromise at all. We're talking a Snapdragon 800 processor and a 20 MP camera, but one should still keep in mind that the screen is a bit smaller, at 4.3 inches.
Apple iPhone 5s
Apple's last-year 4-incher remains an excellent option, if the smaller screen doesn't put you off. The iPhone 5s will remain among the fastest and most polished phones around for a while, so finding it at a decent price will get you a wonderful product that will still deliver the iOS 8 experience in all of its glory.
Motorola Moto X (2014)
Finally, Motorola's new Moto X is a pretty nice large-screen phone that can deliver a truly Googlish Android experience, plus the 5.2" screen is even bigger than the new iPhone 6's 4.7" one. Where to get it? If the Moto X (2014) is the alternative you fancy the most, you'll probably like to hear that it's scheduled to arrive on Verizon and AT&T at some point, though exactly when is still unclear.