Best back to school deals and sales from Apple, Amazon, Best Buy, Samsung and others - updated August 2021
We may earn a commission if you make a purchase from the links on this page.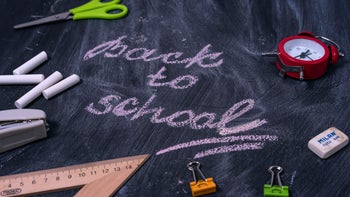 Back to school shopping takes place over a longer time than other more traditional shopping events like
Black Friday
and
Cyber Monday
, which makes tracking the best deals that much harder. Well, that's what we're here to help with.
We are scouring the internet for the best back to school deals that major retailers and carriers are running, gathering them all in one place: here.
If you want to jump to a specific section, you can do it from the links below:
Buy a select Apple device, get AirPods free
In addition to the special education pricing that Apple offers at its online store, you can now get a free pair of AirPods for free with your purchase. Apple will throw in its earbuds for free if you purchase the iPad Pro (2021), the 4th Gen iPad Air, the MacBook Air M1, MacBook Pro M1, Mac Pro, Mac Mini, and the new 2021 iMac.
The special education pricing can save you up to $100 on one of these devices. Apple offers 20% off AppleCare+ for students too. You can purchase one of the devices mentioned from the widgets below.
Back-to-school Samsung deals
The 128GB of storage versions of the Samsung Galaxy Tab S7 and the Galaxy Tab S7+ are currently up to $200 off. The Galaxy Tab A7 Lite has also seen a modest $60 discount.
As for Samsung's phones, some of their prices have dropped too. The Galaxy S21 Ultra is $200 off at Samsung's site, no trade-in needed. The Galaxy S21 and S21 Plus have a respectable $100 and $200 discount too.
The new Galaxy Z Fold 3 has seen a $100 discount for its 512GB of storage version at Samsung's store. The foldable phone has a Snapdragon 888 processor, 12GB of RAM, and a triple-camera system with a 12MP main shooter. The phone is currently up for preorder, with the option to get up to $600 off the Z Fold 3 if you trade-in an eligible device.
A similar deal is up on Samsung's online store for the new
Galaxy Z Flip 3
. The 256GB storage version of the foldable phone is $50 off. You can get an additional $300 discount if you trade-in an eligible device.

Overall Samsung is giving you plenty of choices on back-to-school deals. The company also offers a similar to Apple special education pricing and free Galaxy Buds Pro with selected devices.
Back-to-school OnePlus deals
The OnePlus online store offers a $50 discount for the OnePlus 9 Pro until the end of August. That's a sweet deal, as the phone is still a pretty new release. There are also discounts on accessories like headphones, earbuds, cases, and chargers. You can get additional $375 discount if you purchase the OnePlus 9 Pro with a T-Mobile plan.
The older OnePlus 8T is $200 off at the site too. It is still a great phone, having a smooth 120Hz AMOLED display and a fast Snapdragon 865 processor. You also receive a free case or
screen protector
if you're a student. The company also offers a free phone case if you purchase the OnePlus Nord N10 or the OnePlus Nord N100.
Back-to-school deals at Amazon
Like every year, Amazon is offering great discounts on tech for students The company's Fire HD 10 tablet with its productivity bundle is now $100 off, and the deal includes a keyboard.
Amazon's Fire HD 8 and HD 10 tablets designed for kids have also seen a 50 to $60 discount. These are made to be child-proof and suitable for ages 3-7.


The Apple MacBook Pro and MacBook Air with an M1 processor are now $100 off at Amazon. The deal is for their 256GB of storage versions. The 512GB versions have seen an even bigger discount of $150.


The 64GB Wi-Fi-only version of the 4th Gen Apple iPad Air is now $100 off at Amazon for its 64GB of storage Cellular and Wi-Fi only versions. This tablet has Apple's latest A14 processor, 4GB of RAM, and a gorgeous 10.9-inch display.
If you're looking for a top-of-the-line smartwatch at a nice discount, then look no further. The Apple Watch Series 6's 40 mm version is now $74 off at Amazon. The offer is for color options: Blue and White. The Red colored Series 6 smartwatch has also seen a discount at the store of $80.
Another Apple product, the AirPods Pro, is now $69 off at the site. This is a great pair of true wireless earbuds, which are now at a great price too. The AirPods Pro have Active-Noise cancellation and feature Transparency mode. The case of the earbuds supports
wireless charging
too.
The Sennheiser HD 450BT true wireless headphones are currently $56 off at Amazon. These headphones have Active-Noise cancellation, Bluetooth 5.0, and up to 30 hours of playback time. The HD 450BT also have fast charging, which is great for people that are always on the move.
Back-to-school deals at Best Buy
One of the best deals at Best Buy currently is the one on the Microsoft Surface Pro 7. This Windows 10 powered tablet is now $360 off at the store. The Surface Pro 7 has a 12.3-inch LCD display and comes with a type cover. Microsoft's tablet can last up to 10 hours of use without recharging, making it perfect for school.
The store also offers the Apple MacBook Air and MacBook Pro laptops with M1 processors at a nice discount. The Air is $100 off, while the MacBook Pro has seen a modest $50 discount.
Best Buy offers discounts on select Chromebook laptops too. For example, the HP 14-CA061DX is now $120 off at the site. This is a pretty good 14-inch touchscreen laptop for school, powered by Intel's Celeron processor coupled with 4GB of RAM and 32GB of storage, which is expandable via a MicroSD card.
The Dell Inspiron 7000 is a great 14-inch laptop, which has now seen a $150 discount at Best Buy too. It has an LCD screen with Full HD resolution and is powered by an AMD Ryzen 5 processor coupled with 8GB of RAM and 256GB of SSD storage. You can also go for the most expensive version of the laptop with AMD Ryzen 7, 16GB of RAM and 512GB of SSD storage. The Inspiron 7000 runs Windows 10 and is perfect for any student, as it is powerful, versatile, and full of features.
Back-to-school deals at Walmart
Walmart has also slashed Chromebook prices. The Lenovo Chromebook S330 is now $80 off at the store. It has a 14-inch HD display and is powered by a MediaTek MT8173C processor coupled with 4GB of RAM and 32GB of storage, which is expandable.
Walmart is offering the 11-inch iPad Pro (2021) at a $50 discount. The offer is for the 128GB Wi-Fi-only version of the iPadOS running tablet. The iPad Pro is powered by Apple's M1 processor coupled with 8GB of RAM. This iPad is a great choice for students, as Apple tablets stay fast and hold their value for a long time.
Back to school deals at Verizon
Verizon is no stranger to the back to school deals season. This year the carrier is offering the iPhone 12 mini with a 'buy one get one free' deal. Other phones can also be purchased under the same conditions. This offer is great if more than one member of your family needs a phone change. You can also get the iPhone 12 mini for free with a new Verizon plan and an eligible trade-in.
The
Galaxy Z Fold 3
and Z Flip 3 are available to preorder from Verizon with a special offer. If you buy one of the new foldable phones with a new unlimited plan you get $1000 off a second one. This means that you can get the Z Flip 3 for free or reduce the price of the Z Fold 3.