Sony LinkBuds S review: Light as air, noise canceling as AirPods Pro
4
We may earn a commission if you make a purchase from the links on this page.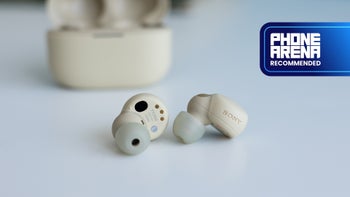 Following the over-ear
Sony WH-1000XM5
, recently the Japanese company also released the LinkBuds S as an alternative option to the older LinkBuds.
Being the smallest and lightest* earbuds in the world right now (with many asterisks), Sony's new true wireless LinkBuds S are a worthy option at $200, especially if you value comfort and powerful ANC (active noise canceling).
They're available now in Black, White, plus an additional Ecru color exclusive to Best Buy.
*Smallest and lightest noise canceling, Hi-Res truly wireless headphones.
Design and fit
The LinkBuds S come in a case similar to the
AirPods Pro
's case, except matte. It feels nice and smooth to the touch, though. Its lid really doesn't open as far back as I would've liked, but it does snap shut magnetically with an assuring "clank".
Inside we have the tiny LinkBuds S earbuds themselves. In its design, at first glance they look fairly traditional, with rubber eartips, flat, touch-sensitive areas, and perhaps most notably, a vent-like mesh on each one.
The earbuds do feel as nice as the case, being made of the exact same matte plastic, and are indeed quite lightweight in the hand. However, don't expect to be blown away by their size, they look pretty average-sized, despite Sony's "smallest and lightest" claims.
Speaking of their design and build quality, the LinkBuds S are rated IPX4, meaning they're water-resistant enough to survive even the worst workout sweats. However, I wouldn't risk it with anything more than that, like rain, exactly because of those aforementioned vents. Those are definitely not swim-proof earbuds, so keep them away from the pool or beach, and frankly, keep them away from the rain too.
So, how do the new LinkBuds S (which, by the way Sony alternatively calls WF-LS900N) fit and feel in the ear? With those claims of being super light, probably great, right? Didn't mean to rhyme this. But yeah.
I am normally someone who can't stand rubber eartips, they can irritate my ears, so I gravitate towards earbuds that don't have them, like the
Galaxy Buds Live
.
But to be honest, the LinkBuds S are light enough that this is a non-issue here. And I'm willing to bet most users would be just fine using them for many, many hours on end. They're so light and easy to forget about.
And it's a snug fit too, they won't be flying off your ears during a vigorous exercise, even if you're shaking your head like a madman. Absolutely no complaints here, when it comes to the LinkBuds S design, fit and feel.
Inside the box you get the earbuds in their case, 3 sets of rubber eartips in different sizes to choose from, and a USB Type-C charging cable.
Controls
We have the usual touch controls here, that you're definitely accustomed to by now if you've ever used Sony or Samsung earbuds before.
You can tap the flat, touch-sensitive areas on each earbud to play and pause, skip a track, go back to a previous one, summon a virtual assistant like Siri, Alexa or Google Assistant, switch between ANC (active noise canceling) and ambient sound, and so on.
The important question is, are those touch controls on the LinkBuds S as good and accurate as they are on the XM5s?
Answer – they are indeed. Unlike most Samsung true wireless earbuds, the Sony LinkBuds S can be adjusted in your ear, taken off or put on, without you having to worry about accidentally triggering a touch gesture, at all.
Sony was smart to give those earbuds a surface area you can grab them by, separate from their touch-sensitive sides, which themselves are small enough that you can only trigger with intent. And the touch controls work perfectly in recognizing what you're trying to do, no issues there either.
Like I said in our XM5 review, props to Sony for mastering touch controls, something I usually dread having to deal with when it comes to headphones and earbuds.
Sound quality and noise-canceling
The Sony LinkBuds S sound great, plain and simple. There's a perfect balance between sound clarity, definition and bass. While the XM5s felt a bit underwhelming particularly in the bass area for me, a bass lover, the LinkBuds S don't skimp on that fat bass you may be accustomed to. At least if you're a fan of modern electronic dance music.
Now, this might be undesirable to some who prefer a more "flat" sound with less pronounced bass, but for me, and for what I assume is the majority of people likely to buy $200 earbuds for casual listening – there's nothing to complain about here, I only have nice things to say.
There's no distortion or ear-piercing highs you might have experienced with lesser earbuds, and don't get me wrong about the bass – it's not some ultra-fat, muddy bass that completely destroys a song. It's clean, and in terms of loudness – just right. And you can tone it down via Sony's app, which we'll talk about later.
Let's get on to the noise canceling, which in typical Sony fashion – impresses. You can tap the left earbud in order to switch between ANC and ambient sound, with the latter using the earbuds' mics to let the surrounding sounds (voices, etc.) in for you to hear. But switch to ANC and the world goes silent.
I kid you not, there are loud seagulls flying around and at least two constructions going on in my neighborhood, it all went dead silent once I put the LinkBuds S on. I can't sell you on them enough – even if I stretch to hear something, it's just the keyboard keys clicking as I write this, along with faint, muffled high-frequency outside noise such as bird chirping.
Like with the Sony XM5s, I'm very impressed with the ANC here, especially considering we're dealing with tiny earbuds, and not over-ear headphones. In fact, Sony claims that the ANC of the LinkBuds S is on par with the XM5s, which after using them both, I'm willing to believe.
App and features
And now to talk about something I'm not quite as fond of. You don't need to, but if you want, you can download Sony's Headphones Connect app, in order to further enhance your LinkBuds S experience.
After you agree to its terms and conditions and it pesters you to create an account with Sony (thankfully you can skip that), you get access to some additional features.
Most notably those include the underwhelming 360 Reality Audio feature, which only works with a few apps and is barely worth mentioning, yet Sony does so all the time.
But also you can set up your preferred voice assistant, so you can summon it with commands (e.g. "OK Google" or "Alexa").
You can use the app's built-in equalizer to make your music sound more or less bassy, you can also see a handy tutorial on how to use these earbuds and particularly – their touch controls, great for beginners.
From the app you can also enable Speak-to-Chat, which is a really handy feature that pauses your music automatically when you start talking to someone, and continues it shortly after you've stopped. Very handy if you're, say, in a pub and someone brings you a nice cold beer, as you can immediately strike a conversation without touching anything; your music will pause on its own, for as long as that conversation lasts!
From the app you can also enable DSEE Extreme, which is off by default. Now that feature is definitely worth keeping on, as it upscales any compressed music that you play, raising its sampling frequency and bit rate. Will you feel a difference? Who knows, perhaps with YouTube you might. In any case, it doesn't hurt keeping it on, right?
Of course, you'll also use this app to update your LinkBuds S' software when new versions come out. But ultimately, if nothing here piques your interest, you can easily go without downloading this app at all.
Call quality
The Sony LinkBuds S have automatic wind noise reduction, and it definitely shows. Even in the wind, my voice was clear and concise in calls, even if a bit mono-ish-sounding, as if I'm speaking through a tube.
Suffice to say, voice clarity is very good, and you'll be fine using the LinkBuds S for the occasional Skype or Zoom call. But this won't be the high-end microphone you'll want to use to start a podcast or for Twitch streaming and what not.
To be fair, most wireless earbuds' mics in this price range sound about on par with LinkBuds S on average, so don't let my minor issues with the voice quality discourage you from getting these.
Other noteworthy features and specs
Like with our Sony XM5 review, here are some of the worthy features and specs about the LinkBuds S that we either didn't mention, or didn't mention enough, for the extra tech savvy among you…
5mm drivers, high-power neodymium magnets
Hi-Res audio, LDAC and DSEE Extreme support
Frequency response (44.1 kHz sampling): 20 Hz - 20,000 Hz
Frequency response (LDAC 96 kHz sampling, 990 kbps): 20 Hz - 40,000 Hz
Bluetooth 5.2
Bluetooth range: 32.81 ft (10 meters)
ANC strength is on par with Sony WF-1000XM3
Swift Pair / Fast Pair
IPX4 water resistant
USB Type-C charging, no wireless charging
In addition – yes, the LinkBuds S will pause your music automatically when you take them off, which is always handy. They also come in eco-friendly packaging, which – again – is always good to see.
Battery life
On their own, the Sony LinkBuds S earbuds are rated to last about 6 hours on a single charge with ANC on, or up to 10 with ANC off. But paired with their case, they can easily last you up to 20 hours of usage.
Especially for the earbuds' small size, those 6 standalone hours are pretty impressive, and the additional 14 hours you can get when you store them in their case means you're set for the weekend. Or for well beyond two days, depending on how long your music-listening sessions are.
It's also worth noting that Sony says a 5-minute quick charge of the case will get you up to an hour of additional playback, so if you're always on the go, you'll definitely appreciate this.
There's a downside – despite their $200 price, the LinkBuds S' case doesn't support wireless charging. Only wired, via the USB Type-C port on its back.
Recommended Stories