Galaxy Watch 5 Pro review: The Wear OS smartwatch we've been waiting for
45
We may earn a commission if you make a purchase from the links on this page.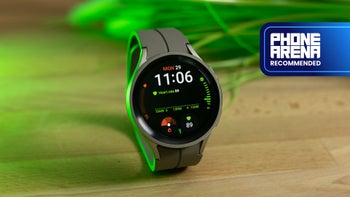 If you're into smartwatches but there is no
Apple Watch
on your wrist, chances are that you're using a Samsung wearable, or have at least considered one. That's only natural – Samsung is one of the frontrunners in the wearables arms race, where it is actually collaborating with Google quite intensely in terms of software development, with the hopes of catching up with and even surpassing Apple's market standings.
And with the new Galaxy Watch 5 Pro, Samsung is definitely enriching the smartwatch space with a rather intriguing offering that's tough enough to endure harsher usage conditions but also live to tell the tale, unscathed at that. At the same time, it lacks the somewhat off-putting and gimmicky "rugged" design that many of those conventional watches possess, and it easily passes as a rather smart dress watch.
With a battery to easily last you at least two days of mixed to heavy usage and a bunch of features that fit rather nicely with its durable nature, the Galaxy Watch 5 Pro is easily the
best smartwatch
you can get for your Android device, and the ultimate one to go with your
Galaxy phone
.
What's new about the Galaxy Watch 5 Pro:
Sapphire crystal glass and titanium body
Larger 590mAh battery
Exclusive GPS guidance + Track Back
Improved sleep tracking
New temperature sensor
Enhanced Bluetooth and Wi-Fi connectivity
Galaxy Watch 5 Pro Specs
Wondering about what literally makes the Galaxy Watch 5 Pro click and tick? Here's a summary of the Galaxy Watch 5 Pro specs:
| Specs | Galaxy Watch 5 Pro |
| --- | --- |
| Models (Size, Weight, Prices) | 45mm, 45.4 x 45.4 x 10.5 mm (15.5mm real thickness), 46.5g, $499 (LTE), $449 (WiFi-only) |
| Colors | Black Titanium, Gray Titanium |
| Display | Sapphire Crystal, 1.4" 450x450 Super AMOLED |
| Processor, RAM, Storage | Exynos W920 Dual-Core 1.18GHz, 1.5GB RAM, 16GB storage |
| Software | Wear OS 3.5 + One UI Watch4.5 |
| Battery and Charging | 590mAh, 10W WPC-based wireless charging |
| Sensors | Samsung BioActive Sensor (Optical Heart Rate + Electrical Heart Signal + Bioelectrical Impedance Analysis), Temperature Sensor, Accelerometer, Barometer, Gyro Sensor, Geomagnetic Sensor, Light Sensor |
| Connectivity | LTE[5], Bluetooth 5.2, Wi-Fi 802.11 a/b/g/n 2.4+5GHz, NFC, GPS/Glonass/Beidou/Galileo |
| Durability | 5ATM + IP68 / MIL-STD-810H |
| Compatibility | Android 8.0 or higher |
Galaxy Watch 5 Pro Design, Models & Sizes
The Galaxy Watch 5 Pro is, to put things lightly, one imposing and large smartwatch, noticeably taller and heavier than, say, an Apple Watch, for example. It comes in a single, one-size-fits-all 45mm size. Fully made of titanium and sapphire glass, the latest flagship Galaxy Watch is a solid and rather sturdy cross between a dress watch and a heavy-duty trekking companion, which might look just a little bit intimidating when you first put it on your wrist.

Thanks to the large battery inside, it's a rather thick gadget that literally and figuratively stands out, and it definitely might be a bit harder to hide that one up under your sleeve. Still, it's not uncomfortable to wear this one, and I eventually got used to the weight.
However, if it weren't for the benefit of this review, I wouldn't have forced myself to wear this smartwatch while I catch some zzz's in bed, as it's just a bit too big and unwieldy. The regular Galaxy Watch 5 is way more comfortable in this regard, and I wore than one with pleasure.

The Galaxy Watch 5 Pro has certainly been devised with thicker wrists in tow. Surely, nobody's stopping you from getting one even if you have narrower wrists, but it sticks out and definitely look a bit funky. That said, despite the advertised thickness of 10.5mm, the actual thickness of the Galaxy Watch 5 Pro, the bezel and sensor and the bottom included, weighs in at 15.5mm.
Samsung, what's up with that?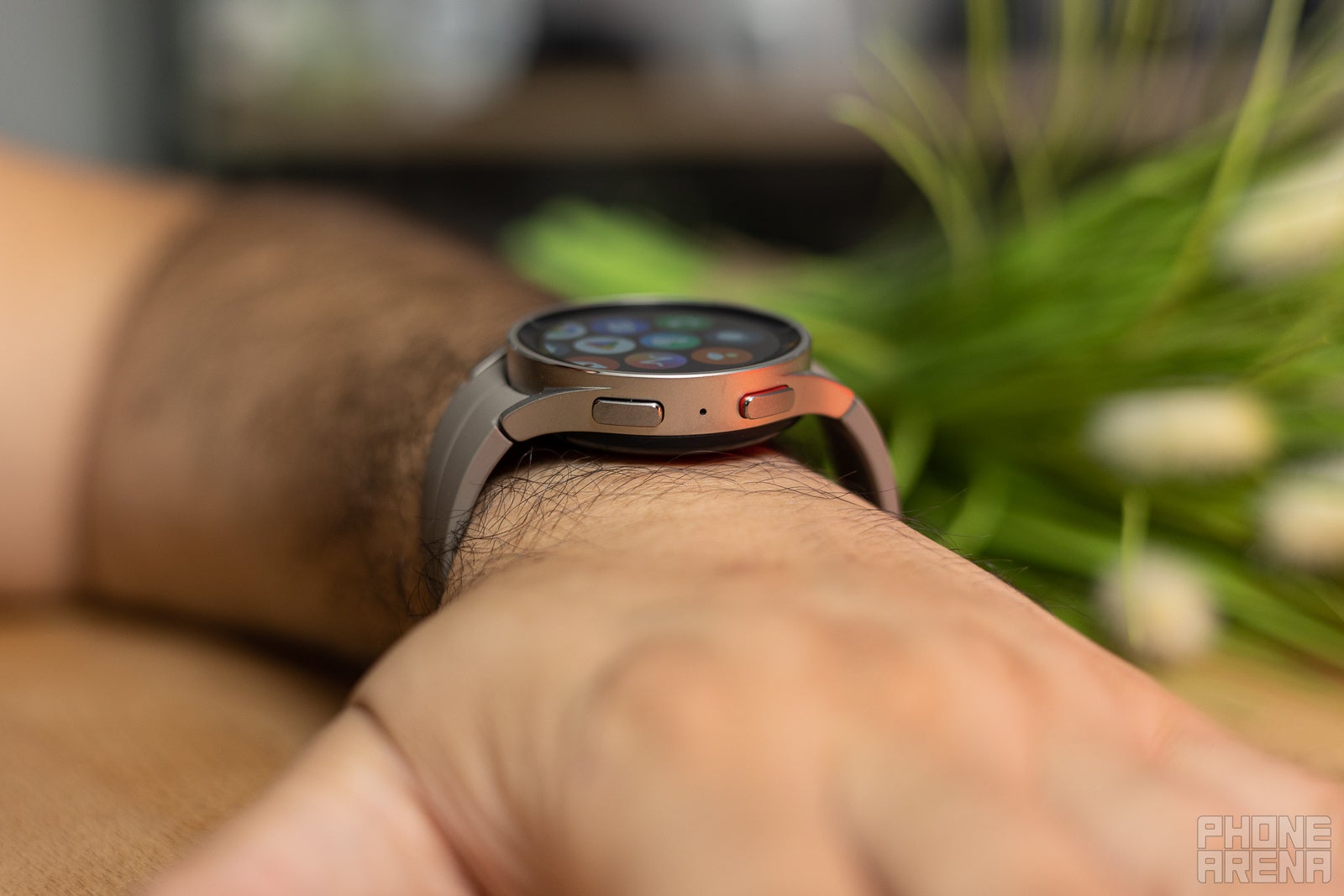 Samsung Galaxy Watch 5 Pro is thicker (15.5mm) than advertised (10.5mm)
The rugged Galaxy Watch 5 Pro features a raised bezel with the purpose of protecting the display from accidental bumps and the such. Still, it won't shield your screen from sharp objects, and I bet few are willing to test out the durability of sapphire that way.
There's no moving parts on this watch. Yep, none—the beloved rotating bezel of old,, which allowed for quick interactions with the interface without touching the screen, is now sort of gone. Shame, as it would have matched the rugged design of the Watch 5 Pro rather nicely! The overall functionality isn't totally axed, mind you. The inner part of the bezel is still capacitive, meaning that you can slide your fingertip around to emulate the same functionality, but the satisfaction, accuracy, and utility of the old rotating bezel is gone.
After spending a week with the Galaxy Watch 5 Pro, I can swear on any holy book that the removal of the circular bezel is my biggest gripe and pet peeve with the wearable. The lack of the useful hardware feature irked me so much that I eventually fell in love with the regular Galaxy Watch 5, a sleeker and more comfortable gadget to wear, barring the lack of a larger battery.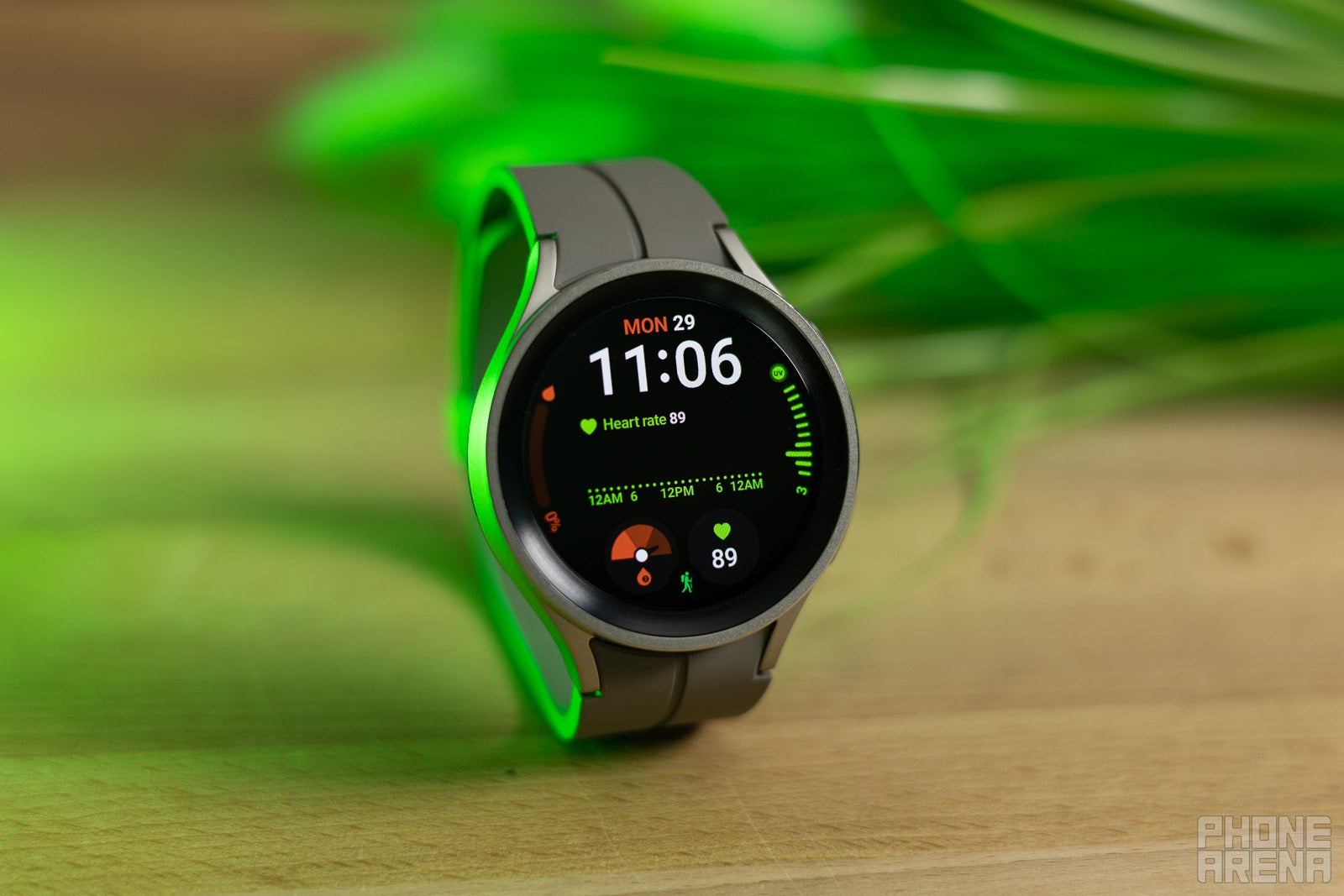 Samsung Galaxy Watch 5 Pro
Speaking of the display, it's just as bright and vivid as you might remember from previous Samsung smartwatches. It's a joy to look at this remarkable 1.4-inch OLED screen, which is perfectly legible even in the brightest daytime and makes content and interface elements just pop!
The Galaxy Watch 5 Pro is available in Gray Titanium and Black Titanium, both quite classy colors that look great in person. Samsung also introduces a new D-Buckle strap, which utilizes a clever mechanism to latch the watch onto your wrist. Potential adopters can also customize any other available watch bands within the Bespoke Studio, which expands this functionality to the Watch 5 Pro, similarly to the configurator on the Apple Watch, albeit with more variety in store.
Galaxy Watch 5 Pro Software & Features
The ultimate Android smartwatch
Like the
Galaxy Watch 4 Classic
and the
Galaxy Watch 5
, the Galaxy Watch 5 Pro comes with an advanced BioActive sensor that combines a slew of dedicated health sensors to give users the most accurate health data and wellness insights. Biometric analysis has been improved – aside from taking a full analysis of your body composition, the watch now also gives you helpful advice on how to reach your goals, urge you to rehydrate after an intensive cardio, and more.
One of the new features of the Galaxy Watch 5 lineup is the infrared skin temperature sensor on the underbelly of the watches. In May 2023, this sensor was finally enabled thanks to a software update, and now allows for advanced female cycle tracking by examining temperature change trends overtime.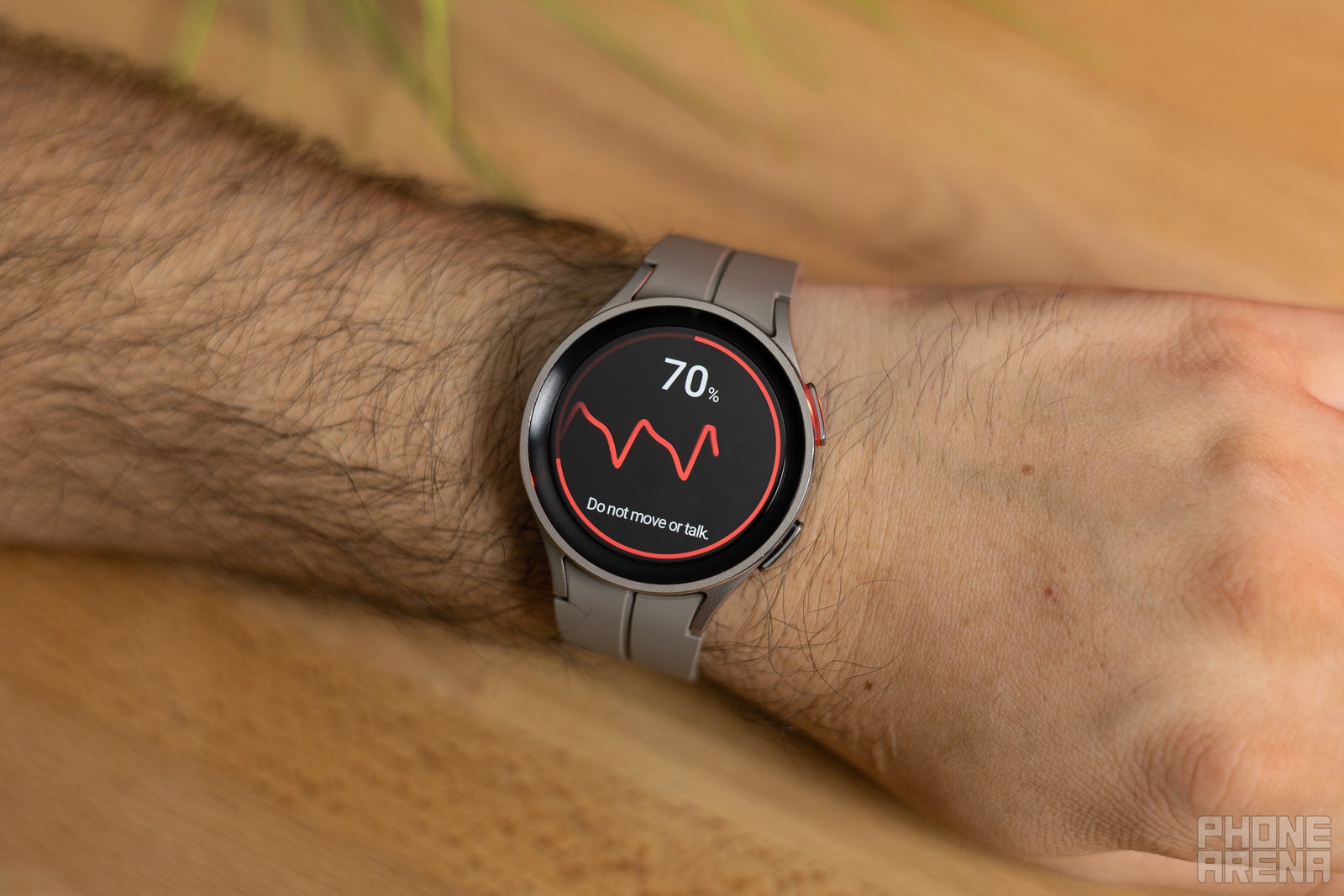 Samsung Galaxy Watch 5 Pro
Samsung has also improved sleep tracking a lot. Aside from overhauling the interface in order to make it more useful to users, it's also gathering more comprehensive sleep data, and to top it all off, users are matched with a sleep spirit animal, of sorts. Should the Galaxy Watch 5 Pro detect that you have some recurring sleep issues, like sleep apnea for example, it will alert you accordingly in order for you to take the necessary action. The new and improved sleep tracking functionality also suggests a sleep coaching plan with personalized checkpoints, goals, and milestones.

True to its rugged nature, the Watch 5 Pro features some enhanced activity features, chief among which is the exclusive route-based GPS guidance, which uses gentle haptic feedback and voice-assisted messages to navigate you through the great outdoors. Track Back is another useful GPS feature only found on the Watch 5 Pro, which will get you back to where you started by retracing the route you took. In my experience, the GPS accuracy is more than acceptable, but have in mind that your mileage may vary if you're using it in the city jungle with multiple high buildings around you messing with the accuracy. In the wild outdoors, however, you shouldn't have such issues.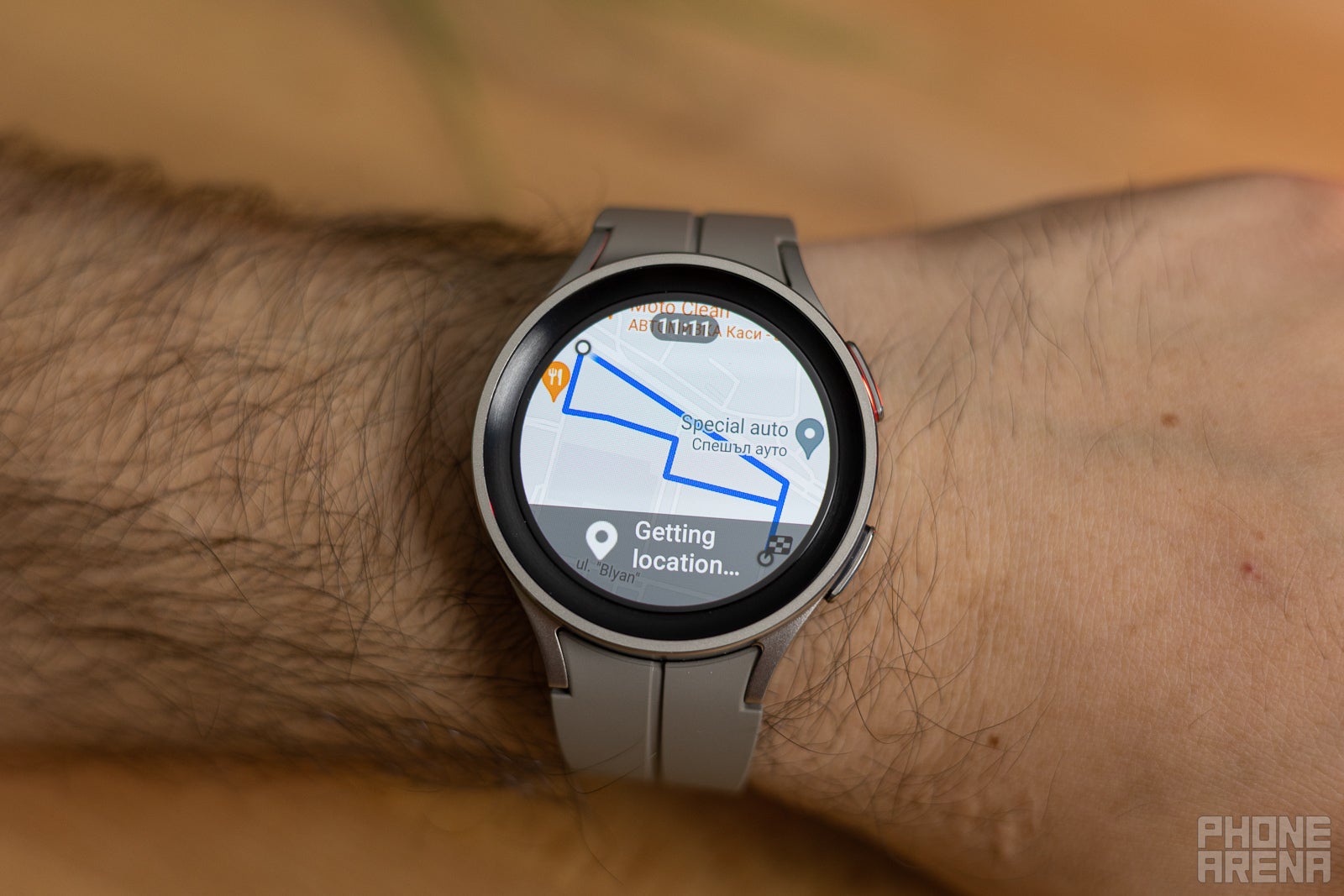 Samsung Galaxy Watch 5 Pro GPS guidance in action
What's great about the GPS guidance on the Galaxy Watch 5 Pro is the flexibility it offers. You need a GPX file to head on to an adventure, and you can obtain this one in several ways:
by using Google Maps and converting a custom map to .GPX,
by downloading a sample route from Samsung Health,
by using a third-party app, like Komoot.
Initially, the process of importing the necessary GPX file seemed intimidating, convoluted, and honestly, a bit too complicated. Samsung surely has room for improving the intuitivity of the interface.
There are some new watch faces that revolve around the outdoors-y, with an emphasis on navigation. One of my favorite new watch faces is called "Pro analog", and is a rather simple, but neat-looking has a compass, a battery indicator, and a neat activity shortcut, which is arguably everything you'd want out of a smart watch face.
One of the downsides or quirks of Samsung's Wear OS platform is that it only works with Android devices, so pairing this watch with an iPhone is a no-go. But that's not all - even though you can use the Galaxy Watch 5 Pro with any Android device, some of its best features, like ECG and blood pressure monitoring, are exclusive for Samsung
Galaxy phone
s, as the necessary companion app is only available on the Galaxy Store.
Activity tracking is better than ever, with automatic detection of the most popular activities like cycling, running, and outdoor walking, as well as manual tracking of more than 90 other activities.
Galaxy Watch 5 Pro Battery and Charging
The battery champ
With a 590mAh battery, enormous for a full-fledged smartwatch, the Galaxy Watch 5 Pro is definitely one of the longest-lasting true smartwatches that I've ever used. Actually, battery life of this wearable surely matches the old Tizen-powered Samsung wearables, like the
Gear S3 Frontier
, which routinely lasted more than two, three, or even four days.
With mostly default settings (Wi-Fi, NFC, Bluetooth enabled), heart-rate monitoring set to 10-minute intervals, and always-on display disabled, I routinely get above 60 hours of battery life between charges, or nearly three full days. As a side note, I consider myself a regular user with mostly mixed usage: I usually get a ton of notifications throughout a regular business day, with mostly mail and DM notifications pouring in, some light activity tracking, heart monitoring, and so on.
Using the GPS guidance or actively tracking an ongoing activity naturally tends to drain the battery faster, but I was always confident that the battery will last until I reach the Galaxy Watch 5 Pro's charger.

In terms of charging, Samsung's latest wearable pride and glory charges quite fast. Thanks to the 10W WPC-based charging (a different standard than the more widespread Qi solution), the Galaxy Watch 5 charges up more than 40% after a brief 30-minute charge, while a complete charge takes a bit over an hour. That's fast enough considering how good the battery life is, and a few quick top-ups here and there will make sure you never run out of juice.
Galaxy Watch 5 Processor, Storage, and Connectivity
When it comes to the hardware that's inside the Galaxy Watch 5 Pro, you wouldn't find anything new in comparison with either the regular Galaxy Watch 5 or the Galaxy Watch 4 Classic. It's still powered by the same old dual-core Exynos W920 chipset with a gigabyte and half of RAM and 16GB of on-board memory, which should be enough for all your custom watch faces, GPS routes, apps, photos, and music files.
Performance is adequate, though the watch might lag from time to time, especially if you're frantically trying to get to a specific app or a functionality, as the interface might struggle to keep up with your pace. Not ideal.
Galaxy Watch 5 Audio Quality and Haptics
The Galaxy Watch 5 can take and make calls, and the quality is adequate for a smartwatch. Audio quality from the built-in speaker is good, though you will have a much better experience if you pair any earbuds to the Galaxy Watch 5 Pro. Still, for the occasional quick phone call it's good enough.

Haptic feedback is most appropriate. It doesn't feel cheap, but it has a tinny sensation that contrasts with, instance, the Apple Watch 7, which has deeper vibrations. It's all a question of personal choice, since you won't miss a notification with either the Galaxy Watch 5 Pro or the latest Apple Watch, for example.


Galaxy Watch 5 Pro Competitors
Given its supposed new-found penchant for rugged adventures, the Samsung Galaxy Watch 5 Pro elevates itself above the traditional selection of wearables. Certainly, the biggest competitor to the Galaxy Watch 5 Pro is none other than
Apple Watch Ultra
, a new rugged Apple smartwatch that is intended for the outgoing, adventurous individual and has a particular set of features that might help you in emergencies, track your dives, and so on. The Apple Watch Ultra is a bit more feature-rich than the Galaxy Watch 5 Pro and has a wider selection of "extreme" features on deck.
The recent
Google Pixel Watch
has some rather serious teething problems given that it's a first-gen product, so I wouldn't exactly recommend that one over the Galaxy Watch 5 Pro. Skip it.
Another lineup of possible competitors are Garmin's semi-smart rugged watches of the Fenix family, which offer an extremely wide selection of activity tracking, have sapphire screens in some versions, tough cases, battery life in the weeks, and even solar charge aid that comes in helpful during outdoor hikes.
And if we look past smartwatches, Casio's G-Shock Mudmaster series might come in as an unorthodox alternative to consider. Still, expect no smartwatch features on those.
Galaxy Watch 5 Pro Summary and final verdict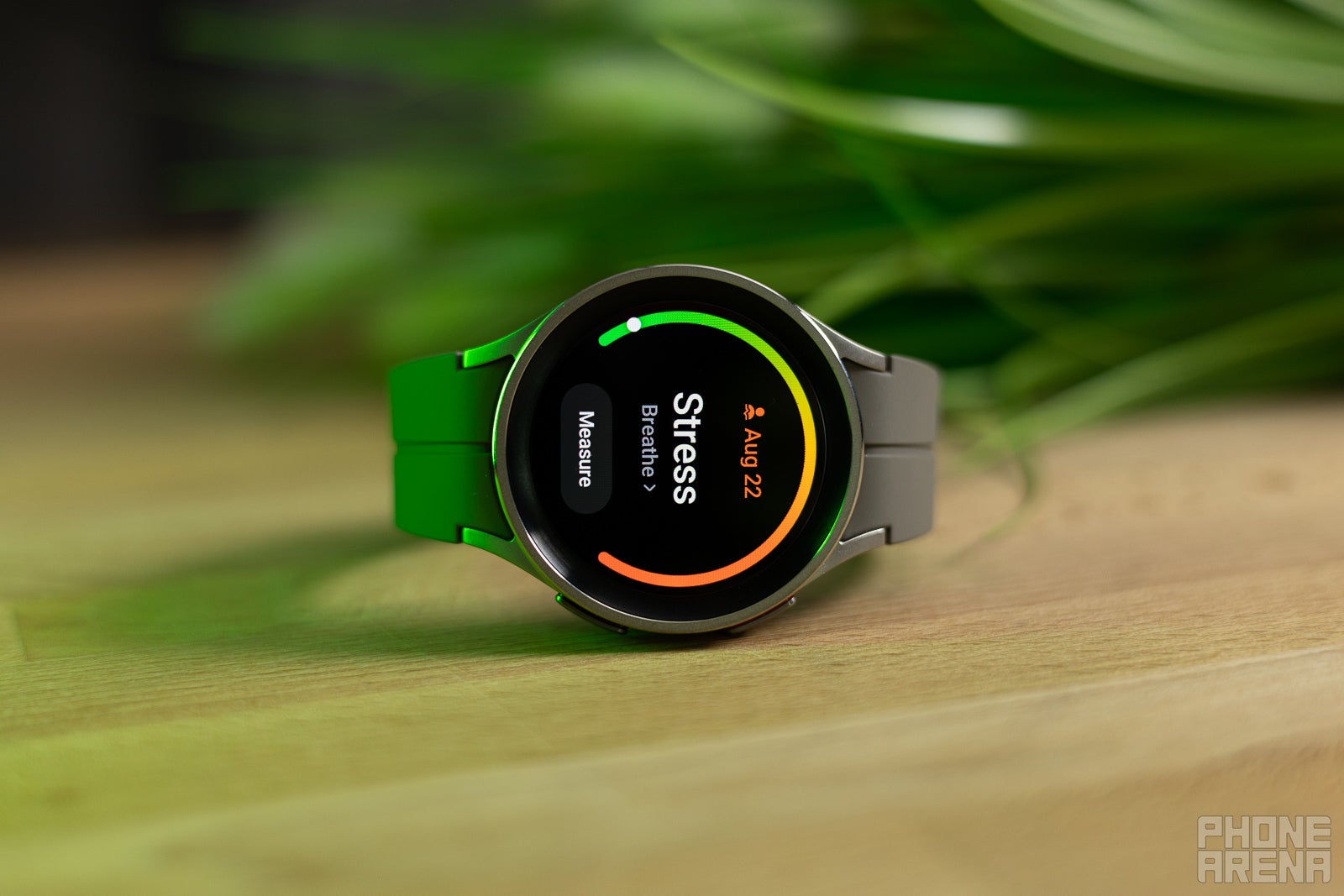 Samsung Galaxy Watch 5 Pro
Is the Galaxy Watch 5 Pro the best wearable on Android so far?
Yes, definitely. It has all the bells and whistles you could expect from a smartwatch in late 2022, and tops it all up with battery life that just delivers. In case battery life has been your biggest pet peeve with Wear OS smartwatches, this watch is the answer you've been waiting for. And it resides in arguably the most diverse ecosystem on Android - Samsung's one.
The biggest shortcoming of the Galaxy Watch 5 Pro to me is the removal of the rotating hardware bezel. With the risk of sounding like a broken record, I really feel that one would have matched with the rugged nature of the Watch 5 Pro rather nicely, as well as boosting the overall utility and functionality. This signature feature was surely beloved by the hardcore Galaxy Watch users, so I'm sad to see it go. Hopefully, Samsung would reconsider and re-implement the hardware rotating bezel in a future smartwatch, I'm all for it!
The Galaxy Watch 5 Pro is definitely the wearable to consider if you're using an older Samsung smartwatch or if you're using a
Galaxy phone
and looking to enrich your user experience with a wearable. Starting at $449, it's certainly costlier than the similar Galaxy Watch 5, but its superb battery life and exclusive guidance features are definitely worth it.
Recommended Stories