Bad Piggies reaches the top on the U.S. App Store in only 3 hours
4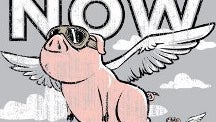 Bad Piggies
is the newest game from Rovio, the creators of Angry Birds, and it has turned out to be pretty popular. Where by pretty popular we mean reaching the top spot on the U.S. App Store in... three hours.
The game takes you on the pig side of the fence where you have to build all sorts of funny vehicles to transport the fluffy piggies directly to their goal without killing them.
The app costs $0.99 on iOS and is free on Android, and while it seemed slightly bit easier than Angry Birds we did like it, so why not check it out?
Don't forget to also take a look at our
Bad Piggies review
.
source:
Ville Heijari
via
GSM Arena