Bad Piggies review
8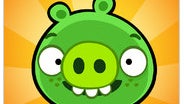 When Rovio released Angry Birds in late 2009, perhaps not a whole lot of people expected it to become the most successful mobile game to date. Today, the Finnish video game developer unleashed its latest creation –
Bad Piggies
, but is its impact on the gaming industry going to be as tremendous as the one its predecessor caused? One way to find a possible answer to that question is by taking the game for a spin, which we already did, and we are ready to share our thoughts with you.
First things first,
the goal of the game is to get the pig from point A to point B at all costs
, which is not always as easy as it seems. In fact, the game eventually gets pretty challenging, so you'll have to put a lot of effort into getting three stars on each level. The green, grunting fellow has to travel on a contraption that the player must build. Contraptions can be as simple as a cart on wheels, or as elaborate as a jet-propelled rocket. Moreover, a number of stars are scattered across the levels, and while picking them up is not mandatory, they are required for getting those elusive three stars instead of simply unlocking the next stage.
Overall,
Bad Piggies is definitely not easy
, and the higher levels can get frustratingly difficult. Each stage is a puzzle of its own, and solving it requires the optimal use of whatever parts the player is being given. And speaking of parts, there are 33 types available, ranging from simple blocks and wheels, to umbrellas, balloons, and even boxes of TNT, so one might have to try quite a few combinations before completing a stage.
Once we got tired of playing the classic levels,
we gave Sandbox Mode a try
. Think of it as a playground, on which the player gets to experiment with various combinations of parts and see what they can do when used together. There is neither a goal, nor a timer – just a whole bunch of stars that can be unusually difficult to reach. What makes sandbox mode so fun is that the player gets a whole lot of parts available straight from the beginning, and even more can be unlocked through solving the classic stages.
We are delighted to see that Bad Piggies features the same
colorful, cartoonish-like graphics
that helped make Angry Birds so appealing to the general public. Even the physics engine of the game appears to have been inspired by the one used in its predecessor, which is something you'll definitely notice once your improvised vehicle falls apart after hitting an obstacle. And if that is not enough, the quirky sound effects nicely match the silly storyline of the game.
In conclusion,
Rovio is putting another nail in productivity's coffin by releasing Bad Piggies
. Sure, their new title isn't likely to reach the cult status of Angry Birds, but it is definitely a game every fan of its predecessor should try. It is challenging, fun to play, and can easily get addicting. The game's only significant drawback is that at this time, only a handful of levels are available, but more of them will surely come sooner than later. In case you want to warm up for them by playing the first few for a while, just get Bad Piggies from the Apple App Store or Google Play.