Apple iPhone 7 vs iPhone 6s vs iPhone 6: three-way specs comparison
11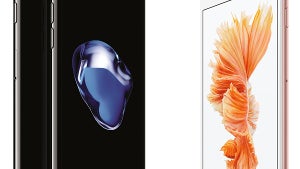 Apple just opened a new grand new chapter in its book with the
iPhone 7
. Apart from the numerous hardware and feature improvements (waterproof body, anyone?), the new iPhone 7 brings forth two new color options and doubles the amount of storage previously available on Apple's phones. Great!
But how does the new iPhone flagship stack up against the
iPhone 6s
and the
iPhone 6
, which is already getting a bit long in the tooth. True, Apple highlighted a couple of noteworthy differences between the current and previous generations of the device, but it won't be us if we don't provide you with a complete specs sheet comparison between the trio.
Specs comparison time!
500 cd/m2 (nit)
500 cd/m2 (nit)
625 cd/m2 (nit)
Oleophobic coating, Scratch-resistant glass, Ambient light sensor, Proximity sensor
Pressure-sensitive, Oleophobic coating, Scratch-resistant glass, Ambient light sensor, Proximity sensor
Pressure-sensitive, Oleophobic coating, Scratch-resistant glass, Ambient light sensor, Proximity sensor
Apple A8
Apple A9 APL0898
Apple A10 Fusion APL1W24 (16 nm)
Dual-core, 1400 MHz, Cyclone ARMv8-A 2nd gen., 64-bit
Dual-core, 1840 MHz, Twister, 64-bit
Quad-core, 2340 MHz, 64-bit
PowerVR GX6450
PowerVR GT7600
PowerVR 7XT GT7600 Plus
128GB, not expandable
128GB, not expandable
256GB, not expandable
iOS (12.x, 11.x, 10.x, 9.x, 8.x)
iOS (15.x, 14.x, 13.x, 12.x, 11.x, 10.x, 9.x)
iOS (15.x, 14.x, 13.x, 12.x, 11.x, 10.x)
10.4 days (250 hours)
the

average

is 20 days (472 h)
10.0 days (240 hours)
the

average

is 20 days (472 h)
14.00 hours
the

average

is 19 h (1110 min)
14.00 hours
the

average

is 19 h (1110 min)
14.00 hours
the

average

is 19 h (1110 min)
10.0 days (240 hours)
the

average

is 0 days (0 h)
3G: 10 hours; LTE: 10 hours; Wi-Fi: 11 hours
3G: 10 hours; LTE: 10 hours; Wi-Fi: 11 hours
3G: 12 hours; LTE: 12 hours; Wi-Fi: 14 hours
50.00 hours
50.00 hours
40.00 hours
11.00 hours
11.00 hours
13.00 hours
Single camera
Single camera
Single camera
8 MP (Sapphire crystal lens cover, PDAF, BSI sensor)
12 MP (Sapphire crystal lens cover, PDAF, BSI sensor)
12 MP (Sapphire crystal lens cover, OIS, PDAF, BSI sensor)
Aperture size: F2.2; Focal length: 29 mm; Sensor size: 1/3"; Pixel size: 1.5 μm
Aperture size: F2.2; Focal length: 29 mm; Sensor size: 1/3"; Pixel size: 1.22 μm
Aperture size: F1.8; Focal length: 28 mm; Sensor size: 1/3"; Pixel size: 1.22 μm
1920x1080 (Full HD) (60 fps), 1280x720 (HD) (240 fps)
3840x2160 (4K UHD) (30 fps), 1920x1080 (Full HD) (120 fps), 1280x720 (HD) (240 fps)
3840x2160 (4K UHD) (30 fps), 1920x1080 (Full HD) (120 fps), 1280x720 (HD) (240 fps)
Time-lapse video, Continuous autofocus, Picture-taking during video recording, EIS, Video calling, Video sharing
Time-lapse video, Continuous autofocus, EIS, Video calling, Video sharing
OIS, Time-lapse video, Continuous autofocus, Video calling, Video sharing
1.2 MP
5 MP
7 MP
1280x720 (HD)
1920x1080 (Full HD)
5.44 x 2.64 x 0.27 inches (138.1 x 67 x 6.9 mm)
5.44 x 2.64 x 0.28 inches (138.3 x 67.1 x 7.1 mm)
5.44 x 2.64 x 0.28 inches (138.3 x 67.1 x 7.1 mm)
4.55 oz (129.0 g)
the

average

is 6.5 oz (184 g)
5.04 oz (143.0 g)
the

average

is 6.5 oz (184 g)
4.87 oz (138.0 g)
the

average

is 6.5 oz (184 g)
Back: Aluminum
Back: Aluminum
Back: Aluminum
Fingerprint (touch)
Fingerprint (touch)
Fingerprint (touch)