Angry Birds unofficially ported to run on Series 40 devices
6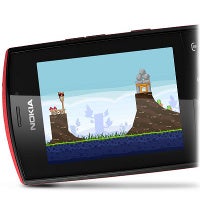 Angry Birds
has become truly a household name - it's played and loved by folks of all ages and it's probably the most addictive game in the last year or so. Up until recently, if you had a mobile device, it must have been a smartphone for you to play Angry Birds. But Nokia has recently changed that by porting Angry Birds to its newly released super powerful Nokia Asha series of devices which while technically are still dumbphones approach closely smartphones in terms of functionality and hardware guts.
Initially, we thought Angry Birds is reserved for the
Asha handsets only
, but turns out all Nokia phones running on Series 40 can handle the game. A crafty user stumbled upon an Angry Birds ROM and extracted the 1.8MB .jar file required to install the game, and ran it on a Nokia X3-02. Reportedly it all works good, so if you have a relatively contemporary Series 40 phone it might be worth giving it a try.
You'd need some experience with installing software on
Series 40
and we wouldn't recommend this to novice users. For the rest, hit the link below to get the file and let us know how it works on your device in the comments below!