Samsung Galaxy Z Flip 4: Everything you need to know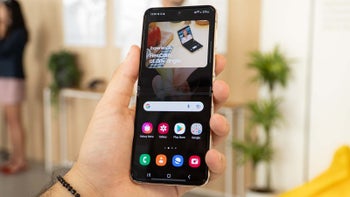 The Samsung Galaxy Z Flip 4 is the next exciting chapter in Samsung's foldable phone history. Technically the third clamshell foldable phone in the lineup (the Galaxy Z Flip 2 was skipped), the upcoming Z Flip 4 is expected to further perfect the foldable phone recipe without changing too much at once.

What do we know about the Galaxy Z Flip 4 so far? Not much, but the majority of leaks and rumors paint a very believable picture hinting that Samsung is mostly happy with how the Flip lineup is performing on the foldable market and wants to replicate that success in 2022 as well.
Here's what we know about the Z Flip 4 so far!

Contents:


Galaxy Z Flip 4 Release date
As far as the release date of the Galaxy Z Flip 4, we have little to no specific information yet, just guesstimation based on Samsung's usual device release practices and our expectations for the later part of 2022. Indeed, if our experience is anything to go by, we'd say that the Galaxy Z Flip 4 could be announced alongside the Galaxy Z Fold 4 sometime in August 2022.
| Phone | Announcement date | Release date |
| --- | --- | --- |
| Samsung Galaxy Z Flip | February 11, 2020 | February 14, 2020 |
| Samsung Galaxy Z Flip 3 | August 11, 2021 | August 27, 2021 |
| Samsung Galaxy Z Flip 4 | August 2022* | August - September 2022 |
*
- probable dates
Last year's Galaxy Z Flip 3 generally surprised us with its affordable for a foldable phone price tag of $999, which made it one of the most aggressively priced phones of the type. This was most likely the reason the Z Flip 3 was responsible for more than 60% of sales on the foldable phone market in both Q3 and Q4 2021, making it the most popular foldable phone.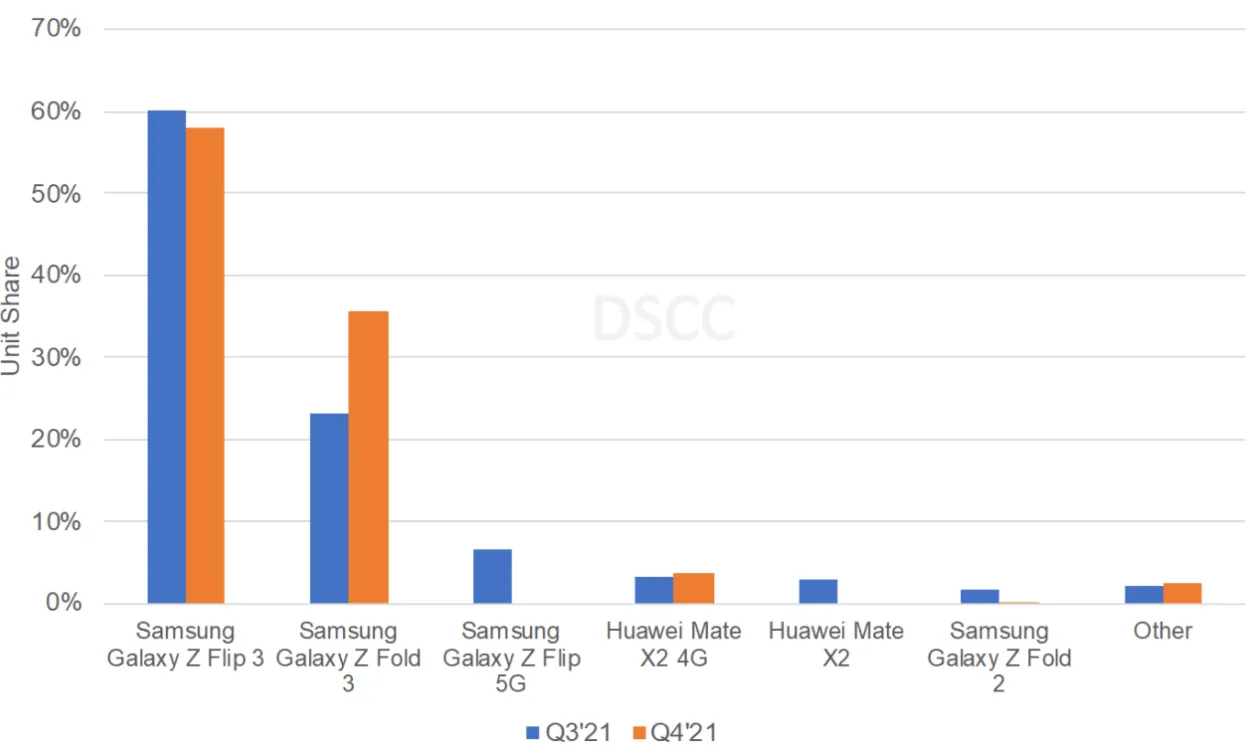 Research firm DSCC puts the Z Flip 3 at the top of the foldable market
DSCC's Ross Young anticipates a rather strong Galaxy Z Flip 4 launch, as Samsung reportedly aims to produce nearly double the amount of Z Flip 4's in July than it did a year ago with the Z Flip 3. The increased supply could hint that Samsung anticipates strong demand, and could also drive prices down due to the economies of scale.

At the moment, we expect the Z Flip 4 to be priced in the same ballpark as the Z Flip 3, or even slightly less.

| Phone | Price |
| --- | --- |
| Samsung Galaxy Z Flip | $1,380 |
| Samsung Galaxy Z Flip 3 | $999 |
| Samsung Galaxy Z Flip 4 | $899 - $999* |
* - anticipated price
Just two months ago, there would have been no doubt that the Galaxy Z Flip 4 would have been called exactly that, but the recent geopolitical situation in Eastern Europe have forced Samsung to change its naming scheme.

The letter "Z", which has been sadly associated with Russia's invasion of Ukraine, has already been dropped from existing Galaxy Z Flip 3 and Z Fold 3 devices in select Eastern European countries, and new units come in boxes lacking the letter "Z". Samsung has probably done that to get away from the negative connotation currently symbolized by the letter "Z" and could very well drop it from its upcoming foldable devices, but that's a speculation at this point.

Interestingly, many of you probably remember that the first Galaxy Fold didn't include the letter "Z", so it's sort of getting back to the roots of Samsung's foldables. Admittedly, dropping the "Z" achieves a cleaner brand image, but it's ultimately up to Samsung to decide. We've reached out to the company to elaborate on the change.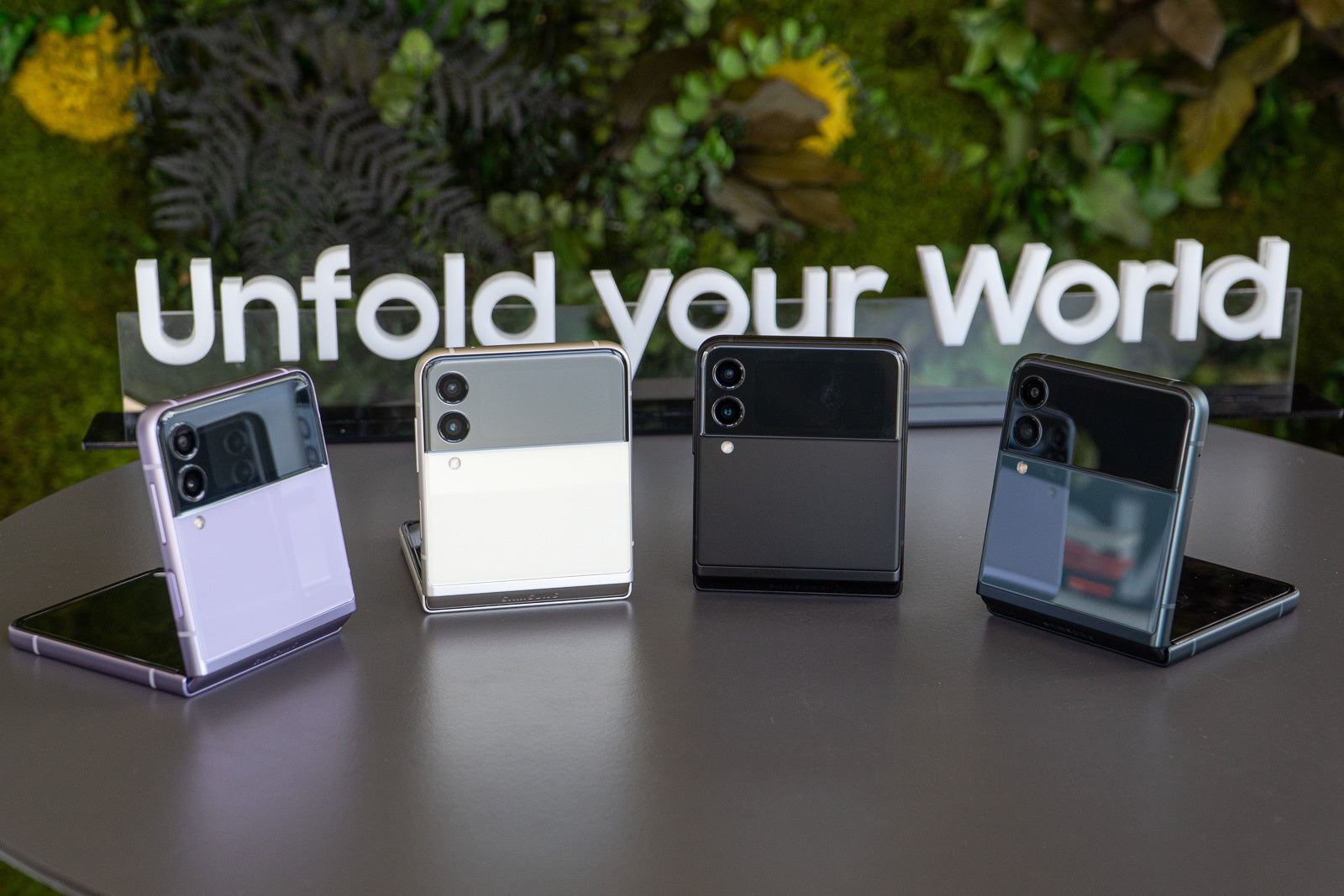 Galaxy Z Flip 3
Little is known about the Galaxy Z Flip 4 camera as of now, but we don't expect much to be changed in terms of overall layout and specs. There has been some chatter regarding a triple camera on the Z Flip 4, but these leaks are not very substantiated.

The Galaxy Z Flip 3 came with a dual camera at the rear, a 12MP F2.2 wide and a 12MP F1.8 ultra-wide one. Noticeable is the lack of a telephoto lens here, and until credible leaks start popping up, we shouldn't expect a telephoto camera to pop up on the upcoming Z Flip 4.
Admittedly, the Galaxy Flip series was never about having a great camera, and our
Galaxy Z Flip 3 review
revealed that the very first Galaxy Flip might be shooting better pictures in certain situations.
Galaxy Z Flip 4 Chipset and storage
There's also some speculation that the Z Flip 4 will employ the cooling solution from the Galaxy S22-series, which will hopefully rein in the Snapdragon 8 Gen 1 Plus and help the phone stay cool under heavier loads. Thermal throttling and performance were among the main downsides of the Z Flip 3, which has the tendency of getting warm even under light-to-medium loads, like YouTube streaming and social media.

Samsung
has also officially unveiled ultra-fast UFS 4.0 storage
, which could probably make it to the proverbial conveyor belt just in time for the Galaxy Z Fold 4 and the Galaxy Z Flip 4, as well as the upcoming Galaxy S23 series. UFS 4.0 offers a bandwidth of up to 23.2Gbps per lane, which is obviously twice the speed of UFS 3.1, the de facto standard on flagships these days, and also comes in sizes up to 1 terabyte, so we might soon see such high storage on Samsung flagships as well.
In terms of design, we expect the same foldable clamshell design, combining metal and glass in a compact sandwich. Any anticipation for a drastic shake-up in the external design of the Z Flip 4 are likely not grounded in reality: all the specs paint a rather similar phone to last year's Z Flip 3, so it wouldn't be too outlandish to assume that the Z Flip 4 will look pretty much identical to its predecessor.

CAD-based renders revealing the
potential design have been leaked
, giving us a potential sneak peek at what the future holds for the Z Flip 4. With a distinct dual-tone design both inside and out, the Z Flip 4 continues the design language philosophy of the Z Flip series so far. Having dimensions of 165.1 x 71.9 x 7.2mm versus the 166 x 72.2 x 6.9 mm of the Samsung Galaxy Z Flip 3, the upcoming Z Flip 4 is in the same ballpark as far as compactness goes.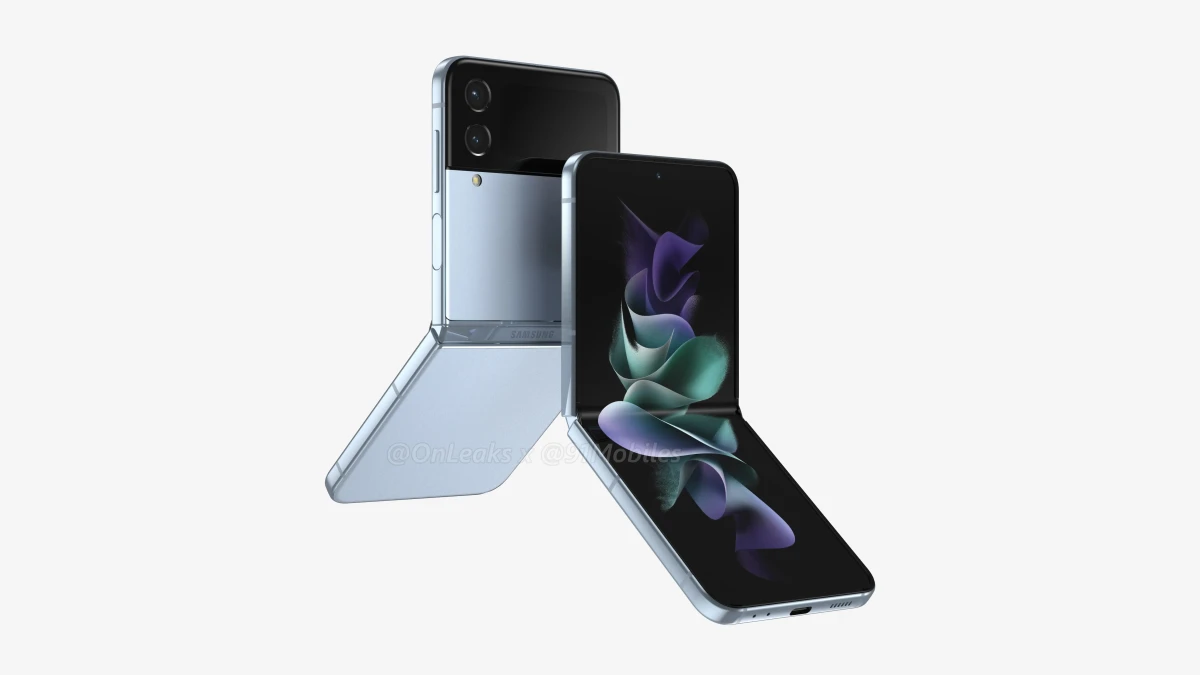 There's now also more or less no confirmation that the Z Flip 4 would come with an under-screen selfie camera, which means that Samsung could actually do the right thing and snub the unimpressive new technology in favor of a more traditional punch hole.

We expect Samsung to offer the Z Flip 4 in a bunch of lively colors that will correspond well with its youthful spirit. Last year's Z Flip 3 was initially offered in a bunch of stylish colors, but Samsung later on launched the Bespoke Edition of the phone, allowing you to mix and match between 7 additional vibrant colors, allowing for nearly 50 unique color combinations - definitely cool!

Ross Young (
@DSCCRoss
) has it that the Galaxy Z Flip 4 will be available in the following colors:
Gold
Gray
Light Blue
Light Violet
Samsung is reportedly anticipating increased demand for its next foldable phones. How do we know that? Apparently,
Samsung has ordered 8.7 million panels in 2022
for the Z Flip 4, a pretty decent increase over the 5.1 million ones ordered for the Z Flip 3 in 2021. This serious increase hints that Samsung is readying itself to make the Z Flip 4 mainstream and the increased display panel orders corroborate that notion.
The phone is also tipped to integrate the durable Super UTG technology, or Ultra-Thin Glass—which is supposed to withstand a good few beatings before it shatters. The Z Flip 3 also came with ultra thin foldable glass, but Samsung had pre-applied a screen protector on the display and advised against removing it. We suppose that the situation would be similar with the Z Flip 4, though we certainly hope that things have improved a lot and we wouldn't need to have a screen protector on a 2022 foldable phone.

In terms of specs, we expect Samsung to once again use a 6.7-inch Full HD+ Dynamic AMOLED display with an LTPO variable refresh rate technology. Hopefully, the crease at the middle is less prominent this time around!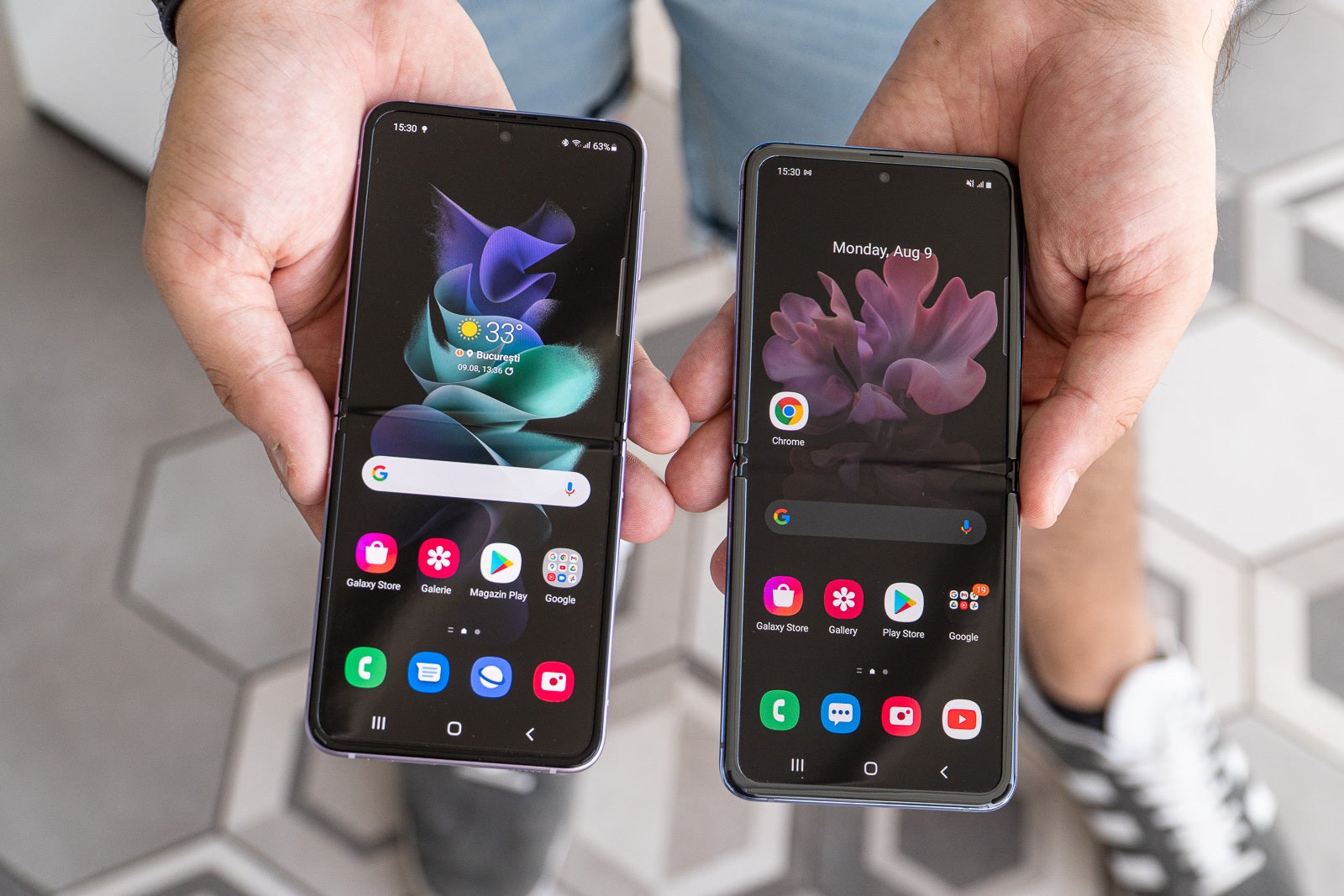 Galaxy Z Flip 3 vs Galaxy Z Flip main unfolded displays
Galaxy Z Flip 4 Battery
The latest rumors add a slight capacity increase to the Galaxy Z Flip 4's battery. According to
evidence found by Galaxy Club
, the Galaxy Z Flip 4 will come with a 3,400mAh dual-battery, a modest 100mAh increase over the Z Flip 3's 3,300mAh battery.
Meanwhile, prolific
Samsung insider IceUniverse is 100% certain
that the Z Flip 4 could come with a 3,700mAh, which would naturally spell even better things for the potential battery life of the phone. Nothing is official until Samsung spills the beans itself.
Moreover, Samsung has been rumored to use
ATL batteries in both the Z Flip 4 and Z Fold 4
for cost savings. Amperex Technology Limited (ATL) batteries will reduce costs in comparison with Samsung's usual supply, which has been mostly covered by the Samsung SDI subsidiary.
Paired with a more efficient chipset, that could spell only good things for the potential battery life of the foldable phone. Our
Galaxy Z Flip 3 review
revealed that battery endurance of the foldable phone was one of its weaker aspects: battery life was around a full day, which was acceptable, but definitely not awe-inspiring. Thus, battery life could very well be one of the areas in which the Z Flip 4 outshines its predecessor.
Evidence is mounting that the Z Flip 4 will come with 25W fast charging, an improvement over its predecessor's paltry 15W charging. We've heard nothing about wireless charging, but we hope that the Z Flip 4 would come with 15W fast wireless charging, unlike its 10W predecessor. In our experience, a full wired charge takes around 1 hour and 40 minutes, and a full wireless charge takes around 2 hours and a half.

Galaxy Z Flip 4 Software and features
One UI 4.1 built on top of Android 12 will most certainly be the software of choice on the Z Flip 4, with all the software bells and whistles that are normally found on Samsung's other flagship phones. Some of the key features of Android 12, and ergo OneUI 4.1, are some new interface theming options that extract dominant colors from your phone's wallpaper, improved privacy and security, and much more.

Should I wait for the Galaxy Z Flip 4?
If you're keen on getting a foldable phone, then you might as well wait for the Z Flip 4. Judging from the circulating rumors and our expectations, it would be a definite improvement over the Z Flip 3 in some key aspects, like battery life, camera performance, and overall performance. While the phone is still a few months away at best, it's probably worth it to wait for it if you're willing to get foldables a chance.