Samsung Galaxy Z Fold 4 vs Galaxy Z Flip 4 comparison: For two vastly different demographics
We may earn a commission if you make a purchase from the links on this page.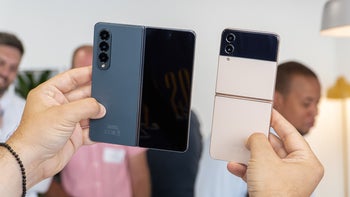 Folding smartphone shipments grew an impressive 300% just last year, and it's not a stretch to say that it's all in big part thanks to
Samsung
. The South Korean giant has been consistently releasing new Galaxy Z Fold and Galaxy Z Flip models year after year, adding new features and making improvements each time around. Marketing them strongly throughout the world too!
And now, the newest 2022 Samsung foldables are here - the book-like
Galaxy Z Fold 4
, and the smaller, vertically-folding, clamshell
Galaxy Z Flip 4
.
The Z Fold 4 follows its predecessors' tradition of being a tall, candybar-shaped phone that unfolds into what is essentially a tablet. It's definitely great for professionals and Android power users, who really want to get into using their phone for more than just basic phone stuff. But to use it as a tablet, and maybe even a computer! More screen means more and bigger apps at a time, plus a better video watching and gaming experience.
The Galaxy Z Flip 4 on the other hand is a small, square-ish sandwich that unfolds into a regular-sized smartphone. It doesn't get bigger than the average phone, instead it gets smaller when you're not using it. Thanks in part to that, it's become quite the trendy phone to showcase on Instagram and other social media. Unlike the Z Fold 4, the Z Flip 4 seems to be in tune with more demographics than just the pro or power users. It has more color options, a wider appeal, and... well, we'll get into it.
Which one should you get? How do Samsung's two new foldables fare against each other? Let's compare them and find out together!
Price and Release Date
Both the Galaxy Z Fold 4 and Galaxy Z Flip 4 got officially announced on August 10, 2022, and are currently open for pre-order.
As for pricing, the Galaxy Z Fold 4 starts at $1,799.99 for the base model with 12GB of RAM and 256GB of storage.
The Z Flip 4 starts at $999.99 for the base 8GB RAM variant with 128GB of internal storage.
Obviously the Z Flip 4 remains the cheaper phone of the two, which is a big reason why Flips have historically been selling selling more than Folds. But the more expensive Z Fold 4 does, once again, offer both a phone and tablet experience, and is arguably the best power user phone of 2022!
Design and Display Quality
Smaller or bigger, which one do you want?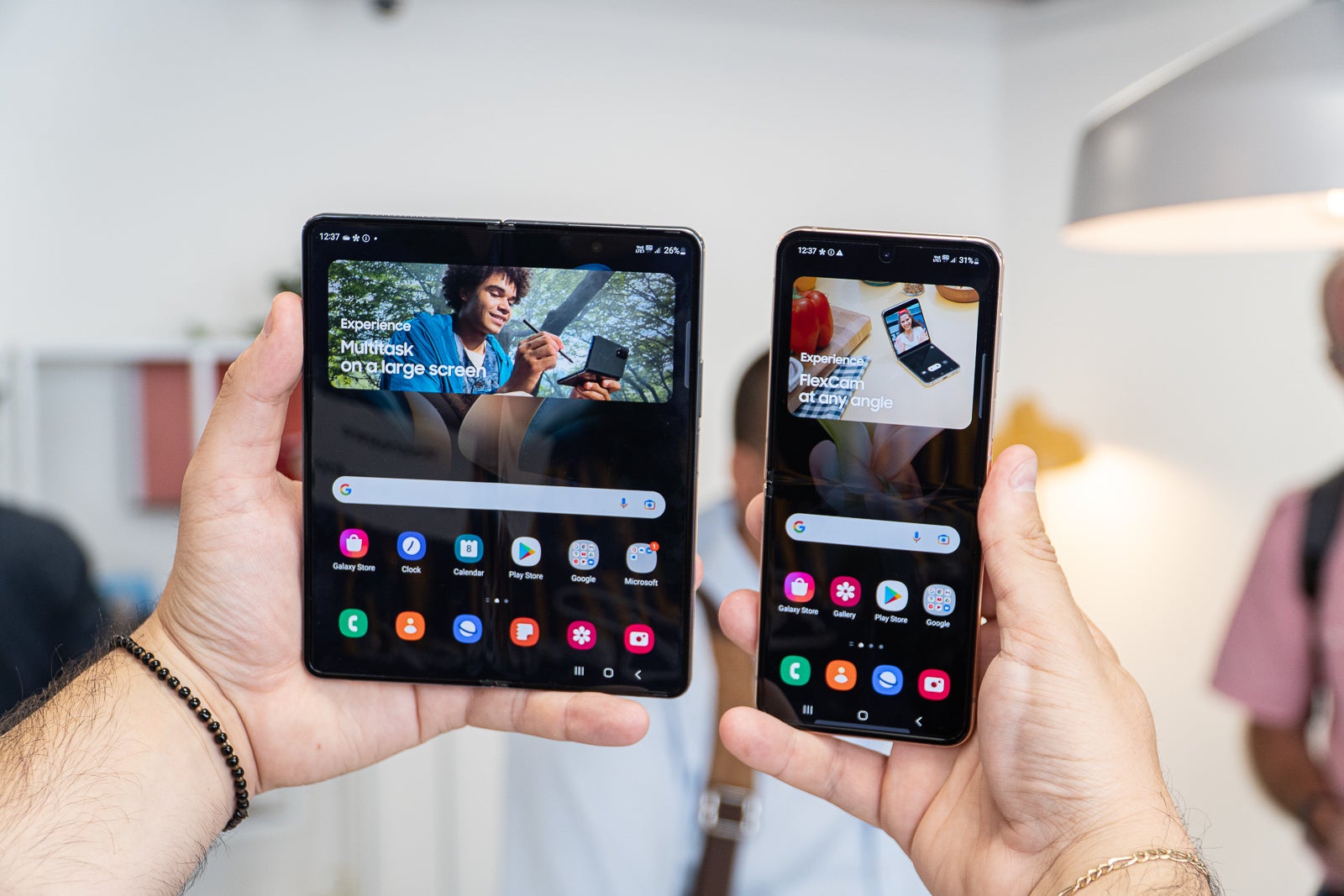 (Image credit - PhoneArena) Galaxy Z Fold 4 (left) and Z Flip 4 (right) - displays
Let's start with the Galaxy Z Fold 4. When folded, it's shaped like a candybar, thicker and heavier (263 grams) than the average phone. It has a 6.2-inch "cover" display, which you can use for quick, normal phone tasks without having to unfold the phone. That display is AMOLED, meaning it has great colors and pitch blacks, and refreshes at adaptive 120Hz, meaning most every motion on it looks twice as smooth as on a standard 60Hz phone.
The reason we called the Z Fold 4 "book-like" is because you can unfold it exactly like a book, to reveal its large 7.6-inch AMOLED inner display, which is also 120Hz. Now you're basically holding a tablet! The big folding screen's aspect ratio has been changed from last year to 21.6:18, and its resolution is 2176-by-1812 pixels.
Although it is still pretty heavy compared to a normal phone, the Z Fold 4 is the lightest Fold yet at 263 grams, and the thinnest and smallest too. Pocketing it in tight jeans might continue to be a problem for some, but hey - it's a phone and a tablet in one!
For unlocking the Z Fold 4 we have a capacitive fingerprint sensor embedded into its side power button. And while its cover screen selfie camera is a standard holepunch one, it's worth noting that its secondary selfie camera that's inside its big folding screen is "invisible"! Or more precisely, hidden behind an array of pixels, which itself is more dense than the last-gen Z Fold, so that camera is a bit harder to notice now. All good stuff!
S Pen stylus users who were hoping that the Z Fold 4 would have a slot for one - be advised that, unfortunately, it does not. But the Z Fold 4 still supports both the S Pen Fold Edition and the S Pen Pro, and you can get a Z Fold 4 case with a stylus holder if you're really into that handwritten note lifestyle.
The Galaxy Z Fold 4 colors are:
Graygreen
Phantom Black
Beige
Burgundy (Samsung.com exclusive)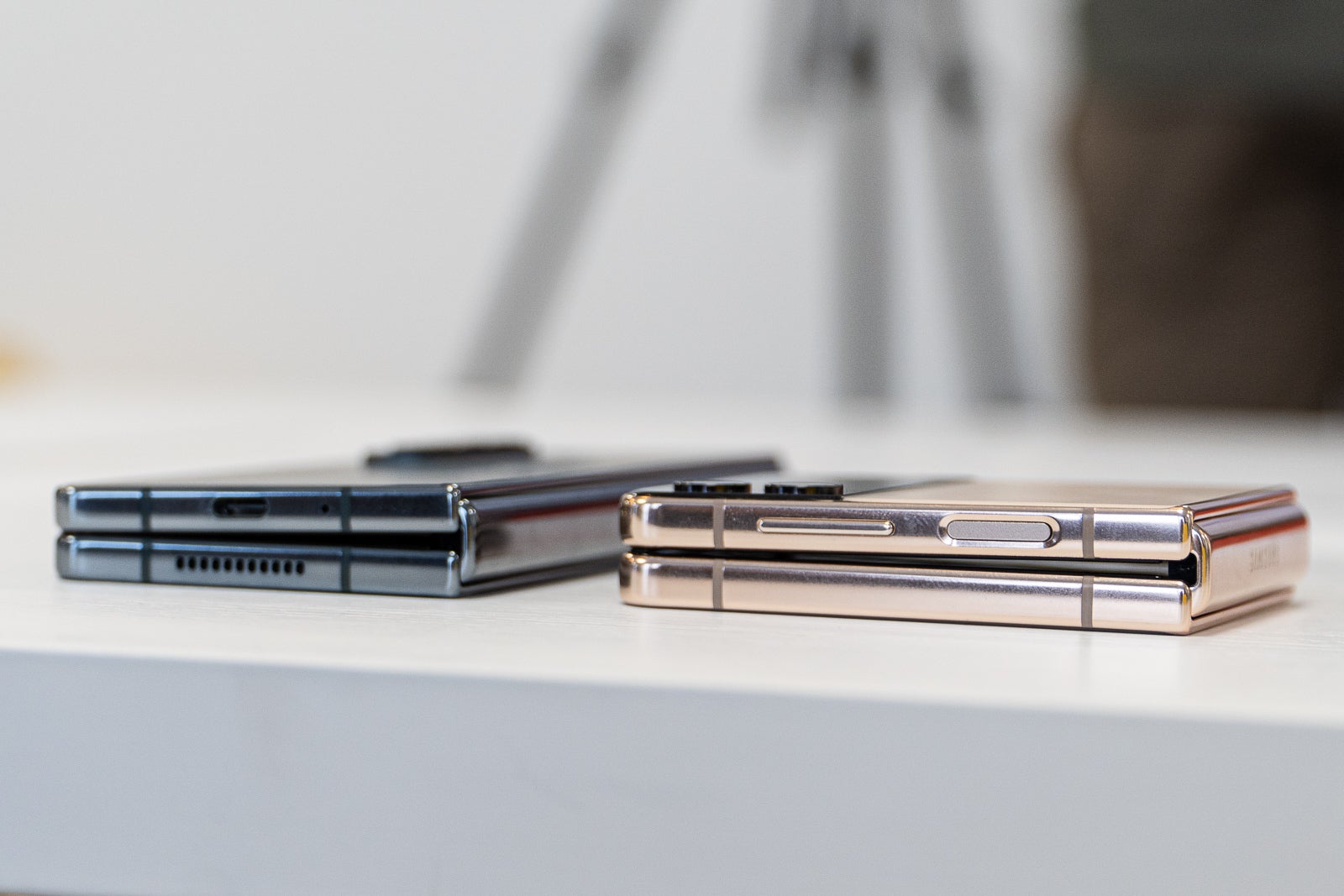 (Image credit - PhoneArena) Galaxy Z Fold 4 (left) and Z Flip 4 (right) - sides
Now onto the Galaxy Z Flip 4. It's a clamshell phone, reminiscent of the good old clamshell days, except this is the modern version - with a large (6.7-inch, AMOLED, 120Hz) display capable of folding, and of course, no QWERTY keyboard or anything like that. It too features an additional, smaller (1.9-inch) external display, for accessing things like notifications and checking the time, or answering calls quickly, without having to unfold the phone.
The most important difference between the Z Flip 4 and the Z Fold 4 is size. As we mentioned, the Z Flip 4 is way smaller and lighter (187 grams), and offers a standard phone experience when unfolded. Its main trick is being able to fold in half, making it very pocketable even in tight jeans. It's also the more customizable out of the two phones, with Samsung about to offer countless face plates of different colors, which you'd be able to stick on both its top and bottom half to make it truly unique, and truly yours.
The Galaxy Z Flip 4 colors are:
Bora Purple
Graphite
Pink Gold
Blue
The Galaxy Z Flip 4 Bespoke Edition colors are:
Front and back:

Yellow
White
Navy
Khaki
Red

Frame:

Silver
Black
Gold
As we can see from our display benchmarks above, the Z Fold 4's higher price is not just due to its two displays both being larger than the Z Flip 4's. The Z Fold 4's screen offers superior brightness, which bodes well when using it outdoors. When it comes to color temperature and minimum brightness, which is something you want if you often watch movies on just generally use your phone at night, neither phone will disappoint.
Water resistance (IP rating)
That's right, both the Galaxy Z Fold 4 and Galaxy Z Flip 4, like their predecessors, have water resistance. It's the same too - both the Galaxy Z Fold 4 and Galaxy Z Flip 4 share an IPX8 rating, which means they've been tested to survive at up to 1.5 meters of water, for up to 30 minutes.
These phones don't have dust resistance, however, and despite their IP rating, Samsung particularly advises against using them near pools. In fact, it's probably best not to dunk them in water at all, since those are still cutting-edge, possibly fragile foldables, not to mention this is only Samsung's second shot at water resistant foldables too. Using them outside during a light rain should be fine, though. An IP rating is peace of mind most of all.
Performance and Software
Flagship performance and Android 12 + OneUI 4.1.1 on both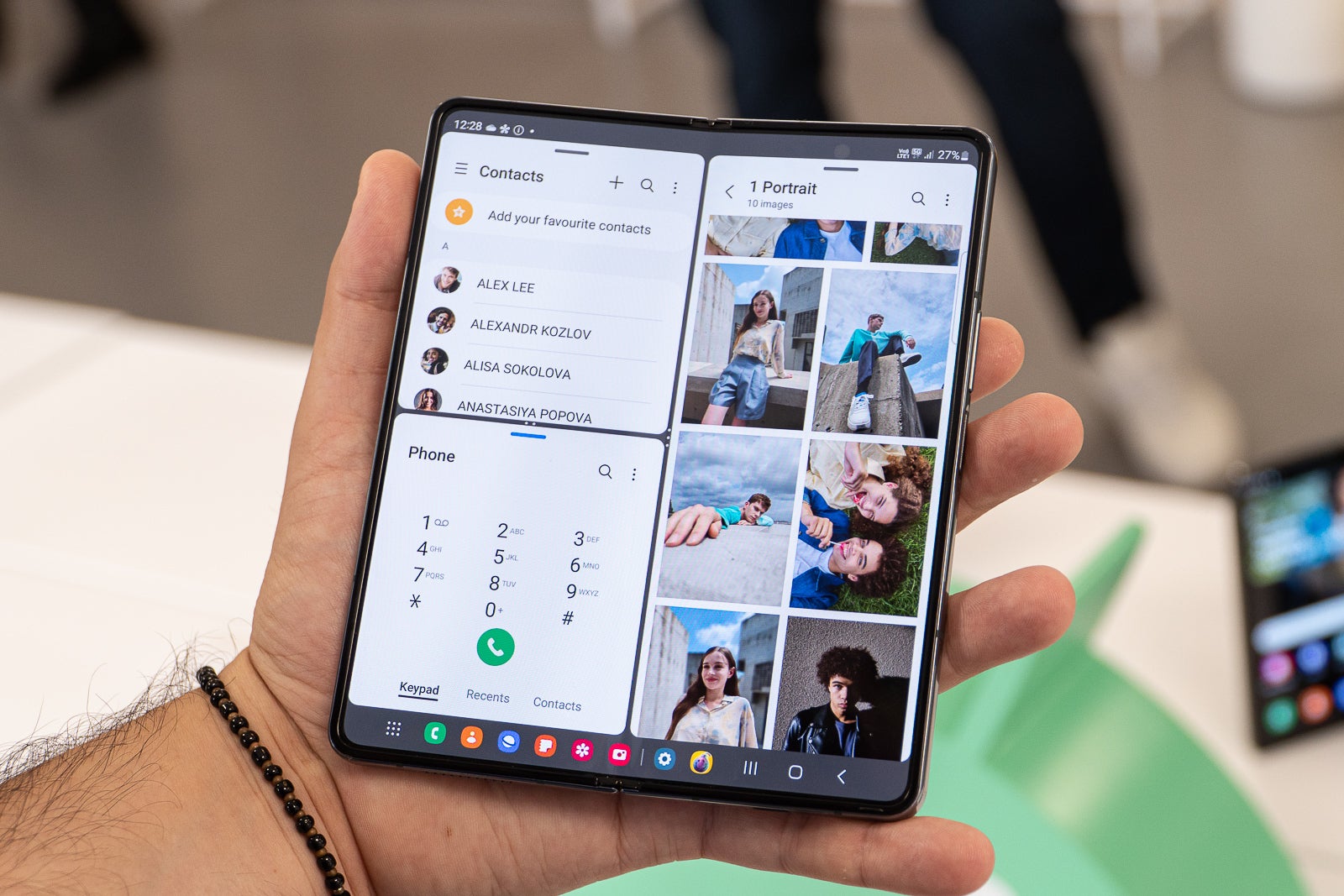 The Z Fold 4 is a multitasking beast
The Galaxy Z Fold 4 comes in the following storage variants:
12GB RAM with 1TB internal storage
12GB RAM with 512GB internal storage
12GB RAM with 256GB internal storage
So regardless of the storage you purchase, you'll be getting 12GB of RAM, and as for the processor - it's the flagship Qualcomm Snapdragon 8+ Gen 1. Unlike some other Samsung phones, there are currently no plans to release Exynos versions.
It's also worth noting that the Z Fold 4 runs Android 12L, not the standard Android 12. Android 12L is actually just a version of the operating system, designed to be better suited for bigger displays - be those on
foldable phones
or tablets. And since the Z Fold 4 can basically unfold into a tablet - that makes perfect sense. On top of Android 12L, the Z Fold 4 offers a a familiar One UI 4 experience, with all of its amazing features.
Some notable Z Fold 4 software features include its ability to run three apps at the same time, split across the screen, and even more in windows. There's also now a fixed taskbar, making multitasking (or at least switching between apps) a lot quicker and more convenient, similarly to a Chomebook or Windows 11 taskbar.
And, perhaps best of all, once again we get Samsung DeX, which is a full-blown desktop interface that can be triggered with the tap of a quick toggle. DeX changes the Android interface into a Windows-like one, with a desktop, desktop icons, a taskbar with a start menu and quick settings, and apps opening in resizable windows, which can be snapped to the edge of the display. Of course, DeX is best when your Z Fold 4 is connected to an external display, since it really takes advantage of bigger displays. And last but not least, we also have S Pen stylus support.
As for the Z Flip 4, it doesn't have all of those power user features, as it's not exactly targeted at Android power users either. But let's start with its storage options.
Galaxy Z Flip 4 storage options:
8GB RAM with 512GB internal storage
8GB RAM with 256GB internal storage
8GB RAM with 128GB internal storage
The less RAM makes sense, since the Z Flip 4 isn't the multitasking powerhouse that the Z Fold 4 is, but instead it's a trendy, normal-sized smartphone that has the ability to fold in half and fit in the smallest of pockets. It is still also rocking Android 12 and OneUI 4, plus the same flagship Snapdragon 8+ Gen 1 processor, so despite the lesser RAM, this clamshell phone is no slouch either.
In our raw benchmark tests, both phones proved to be equals, despite their different designs and sizes. If you're planning on gaming on either the Z Fold 4 or Z Flip 4, you won't face any issues, such as stutters, even if you're playing a heavy 3D game like PubG Mobile at high settings.
Its also worth noting that both phones have some impressive thermal protection and heat resistance, so they can be pushed pretty hard, yet won't normally heat up to an uncomfortable level.
Camera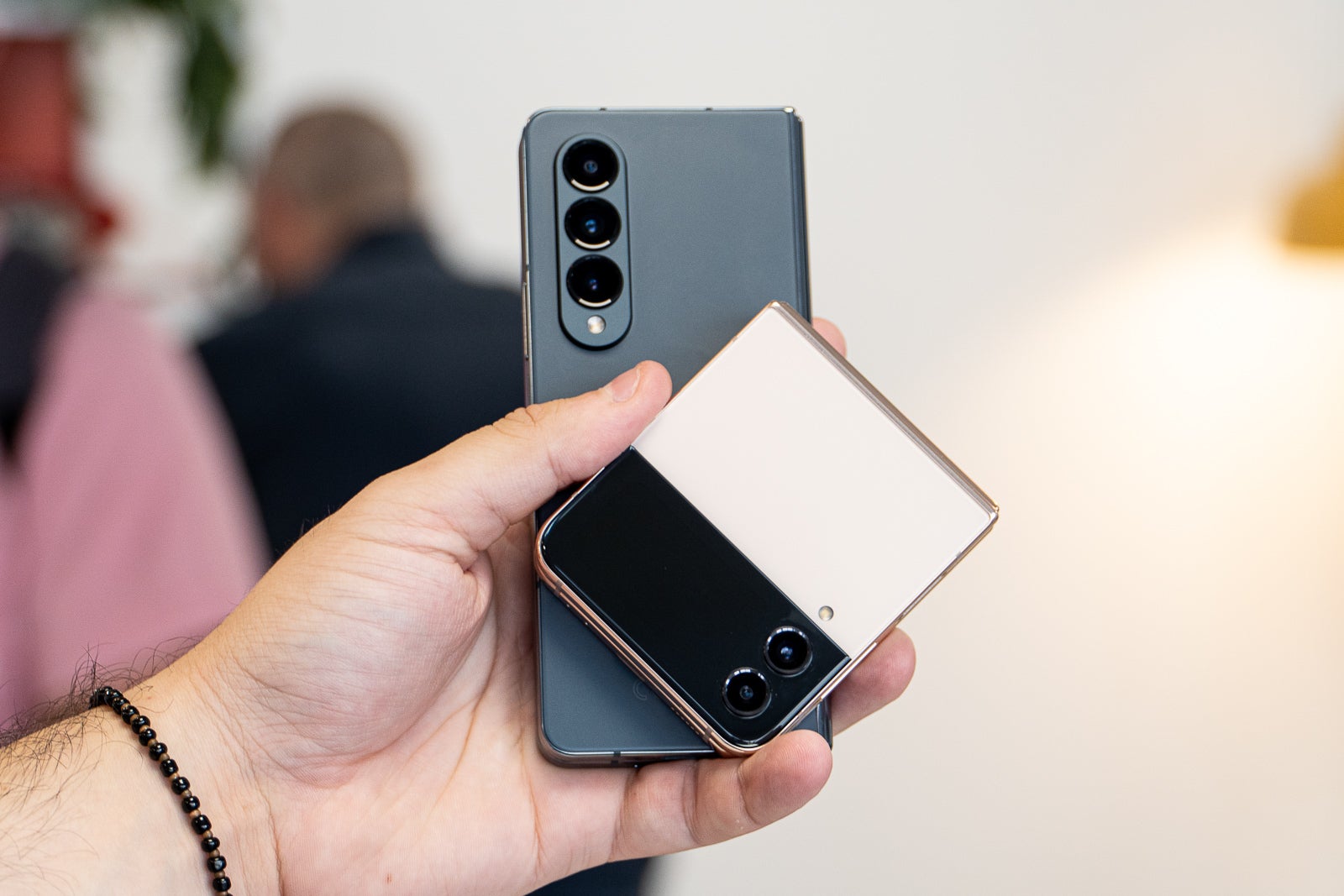 (Image credit - PhoneArena) Galaxy Z Fold 4 and Z Flip 4 main cameras
Starting with the front (selfie) cameras - the Galaxy Z Fold 4 has two of those. On the big folding display, its selfie camera is a "hidden" one, placed behind an array of less dense pixels that it can shoot through. On the smaller outer display, the Z Fold 4 has a standard holepunch selfie camera. As for the main camera set-up, the camera module itself is a vertical pill-shaped one, holding three cameras and a flash. Here are the specs...
10MP selfie camera (cover), F2.2, Pixel size: 1.22μm, FOV: 85˚
4MP under display selfie camera, F1.8, Pixel size: 2.0μm, FOV: 80˚
12MP ultra wide camera, F2.2, Pixel size: 1.12μm, FOV: 123˚
50MP wide angle camera, Dual Pixel AF, OIS, F1.8, Pixel size: 1.0μm, FOV: 85˚
10MP telephoto camera, PDAF, F2.4, OIS, Pixel size: 1.0μm, FOV: 36˚
As for the Z Flip 4 - it has one selfie camera, and dual cameras on the back.
10MP selfie camera, F2.4, Pixel size: 1.22μm, FOV: 80˚
12MP ultra wide camera, F2.2, Pixel size: 1.12μm, FOV: 123˚
12MP wide angle camera, Dual Pixel AF, OIS, F1.8, Pixel size: 1.8μm, FOV: 83˚
< Z Fold 4 main camera
Z Flip 4 main camera >
As we can deduct from the sample photos above, the Z Flip 4 may take slightly brighter photos in the same conditions, although both phones are generally pretty great in the camera department. We have solid sharpness, color accuracy and detail; nothing to complain about here.
< Z Fold 4 ultra wide camera
Z Flip 4 ultra wide camera >
We have a similar brighter image from the Z Flip 4's ultra wide camera, as compared to the Z Fold 4, so it's likely a matter of post processing. Still, both phones perform well, with the Z Fold arguably delivering more accurate detail and less over-sharpening, which is understandable considering the higher megapixel count of its ultra wide camera.
< Z Fold 4 selfie (cover display) camera
Z Flip 4 selfie camera >
As for selfies, we all know the Z Flip 4 is meant to be the "mainstream foldable" for the hip and trendy, so it's no slouch there, and in fact might be beating the Z Fold 4 in terms of clarity and color accuracy. Still, both phones deliver fantastic results.
That is, if we're comparing the Z Flip's selfie camera against the Z Fold's cover selfie camera, which is the fair way to do it. The Z Fold has an additional under-display selfie camera on its flexible display, which, understandably, delivers poorer quality. But then again, it's there only for Zoom calls and the likes, and switching to the superior cover display selfie camera of the Z Fold is barely a hassle.
Audio Quality
There's a clear winner here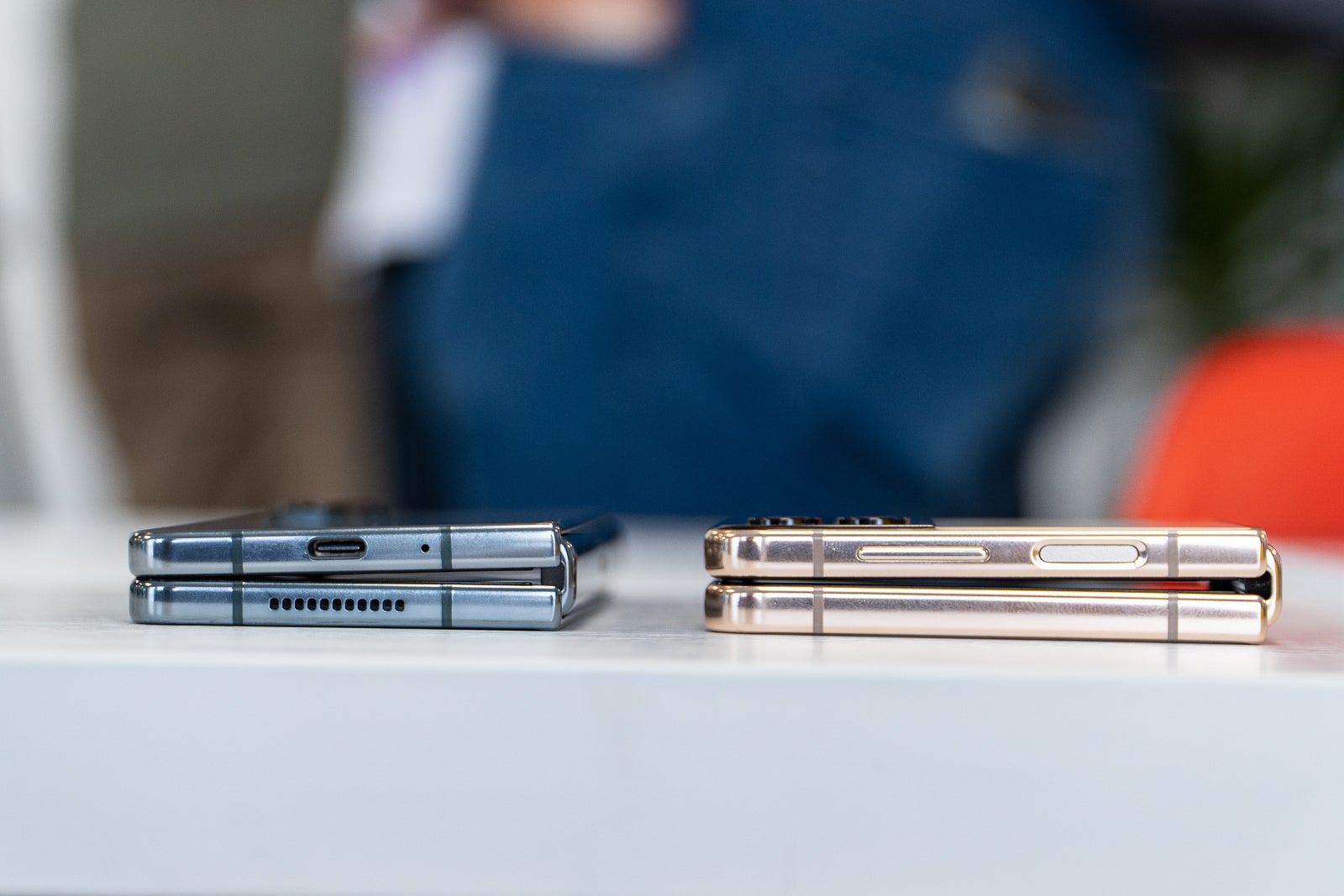 (Image credit - PhoneArena) Galaxy Z Fold 4 (left) and Z Flip 4 (right)
If you love watching movies and videos, or gaming on your phone, you'll definitely be better off wish the larger Galaxy Z Fold 4 and its true stereo sound. Its predecessor had some very good dual speakers, one on each side of the device, so you're really getting that wide stereo effect. We have pretty much the same set up on the Z Fold 4.
As for the Galaxy Z Flip 4, it also technically has two speakers, but not really on the same level. One's a bottom-firing speaker, the other is the earpiece. So yeah, technically it also delivers stereo sound, but it won't be as full or wide as on the Z Fold 4. Again, this is not exactly the content-watching device of the two.
Both phones also come with Samsung's EQ (equalizer) feature, via which you can boost certain sound frequencies (e.g. the bass) in order to tune the sound better for yourself. And both phones support Dolby Atmos, which does some clever audio processing to make music, movies and games sound a bit wider and punchier.
Battery Life and Charging


The Galaxy Z Fold 4 is packing a 4,400 mAh battery, split between two cells, one on each side of the device. It has 25W Super Fast Charging, with Samsung claiming that a mere 30 minutes of charging will be able to get the Z Fold 4 up to 50% from zero. The Z Fold 4 also has 10W wireless charging, and Wireless PowerShare support.
As for the Z Flip 4, it has a smaller 3,700 mAh battery, as can be expected from a generally smaller phone. But it too supports 25W Super Fast Charging, and Samsung claims the same 50% of charge in 30 minutes for it. There's also 10W wireless charging and Wireless PowerShare again.
Neither phone will be coming with a charger out the box, though, so you'll need to supply yourself with a 25W (or faster) charger to take advantage of those promised charging speeds.
Surprisingly, despite its much larger screen sucking more power, the Z Fold 4 did not slack much behind the Z Flip 4 in our video streaming battery testing, and even surpassed it in our web browsing test. Both the Z Fold 4 and Z Flip 4 will be able to handle your normal usage (web browsing, social media, watching videos) for at least about 9 hours, and in some cases, up to around 12.
So despite the fact that we can reasonably call them single-day phones, that will require overnight charging for most people, a light user can probably get them lasting for two or more days between charges.
Of course, if you're not a light user, but the opposite - a mobile gamer, expect somewhere between 4 and 5 hours of intensive 3D gaming. But lighter 2D gaming will, of course, have them lasting longer than that.
Summary and Final Verdict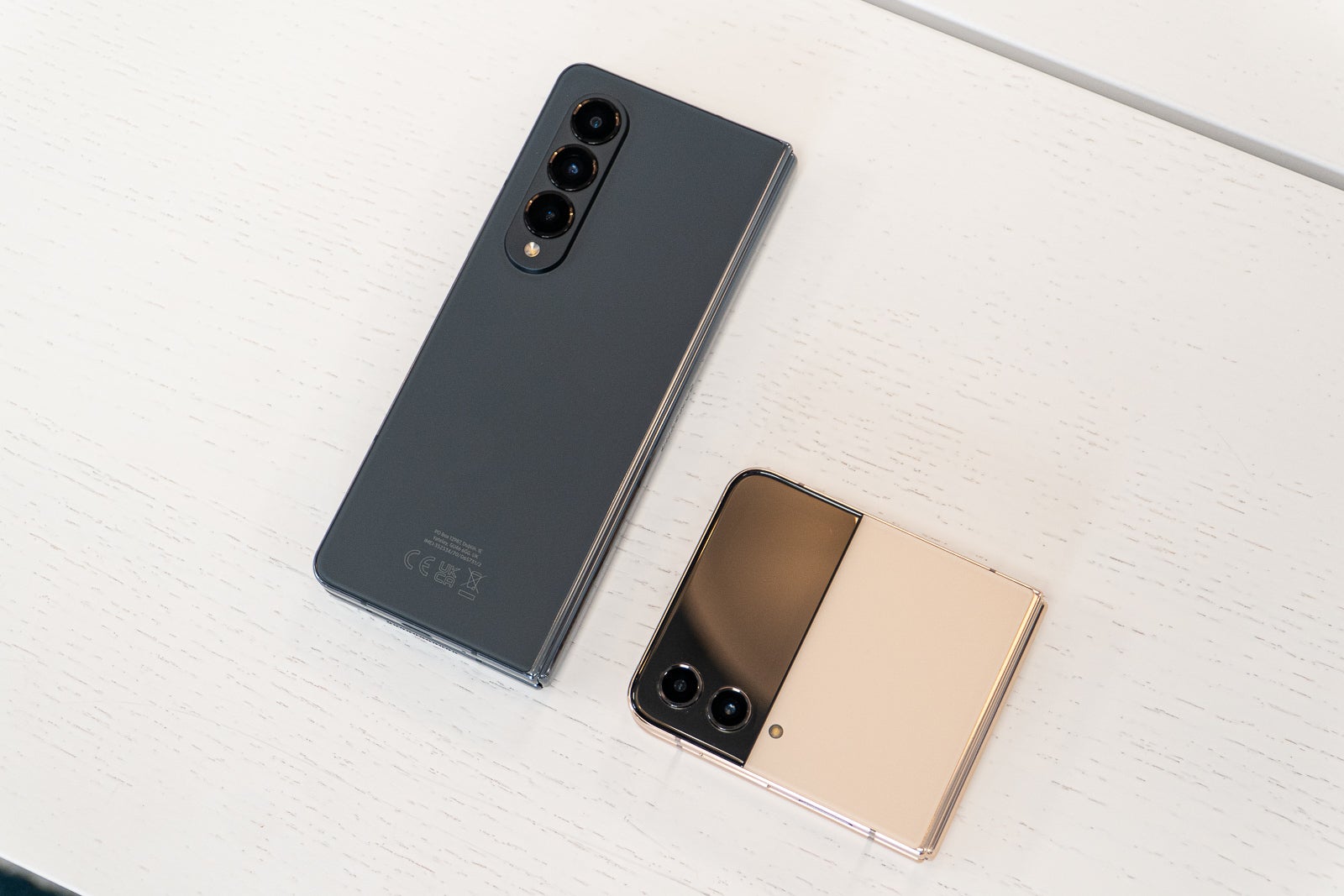 (Image credit - PhoneArena) Galaxy Z Fold 4 (left) and Z Flip 4 (right) - closed
Although those are both folding phones by Samsung, they're for vastly different demographics, and the question you need to answer for yourself is - which one do you fall into?
The Galaxy Z Fold 4 is a big, almost tablet-sized smartphone that's fantastic for working with several apps split across the screen, plus it has support for an S Pen stylus for jotting down notes by hand. It's also great for gaming, with its true stereo speakers, large display, and the fact that it's just so comfortable to hold in two hands. It's the power user's phone, or the phone for the professional, the kind of person who wants to do as much as possible with just one device.
As for the Galaxy Z Flip 4, now that's the small, trendy phone, for those more interested in fashionable (or extra portable) devices. It's a conventionally-sized smartphone that folds clamshell-like into a smaller form factor, so that you can fit in even the smallest pocket. If you're someone who'll find that useful, say, a jogger who wants a smaller phone, this one might be the one for you. And if you love customizing how your phone looks on the outside - the Z Flip 4's Bespoke Edition will have countless color options for you to choose from.
But in any case, you won't go wrong with either phone, as they're both most likely to be the best, most polished and widely available folding phones in 2022.