Samsung Galaxy Buds Pro review
10
We may earn a commission if you make a purchase from the links on this page.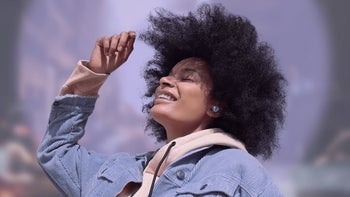 Announced at the
Samsung Galaxy S21 Unpacked event
and released on January 15, 2021, the Galaxy Buds Pro are yet another tempting option to consider if you're looking for truly wireless earbuds with active noise cancellation.
With strong battery life, plenty of convenience features, clear sound and a good, traditional design, there's no reason that those $200 headphones won't be the perfect choice for most everyone. And in a time when video conferencing is a daily part of our lives, you'll be happy to know that the Galaxy Buds Pro feature some good microphones too. But let's go ahead and dive deeper into these earbuds, and see if they're worth your hard-earned money.
You may also find interesting:
Galaxy Buds Pro design and color options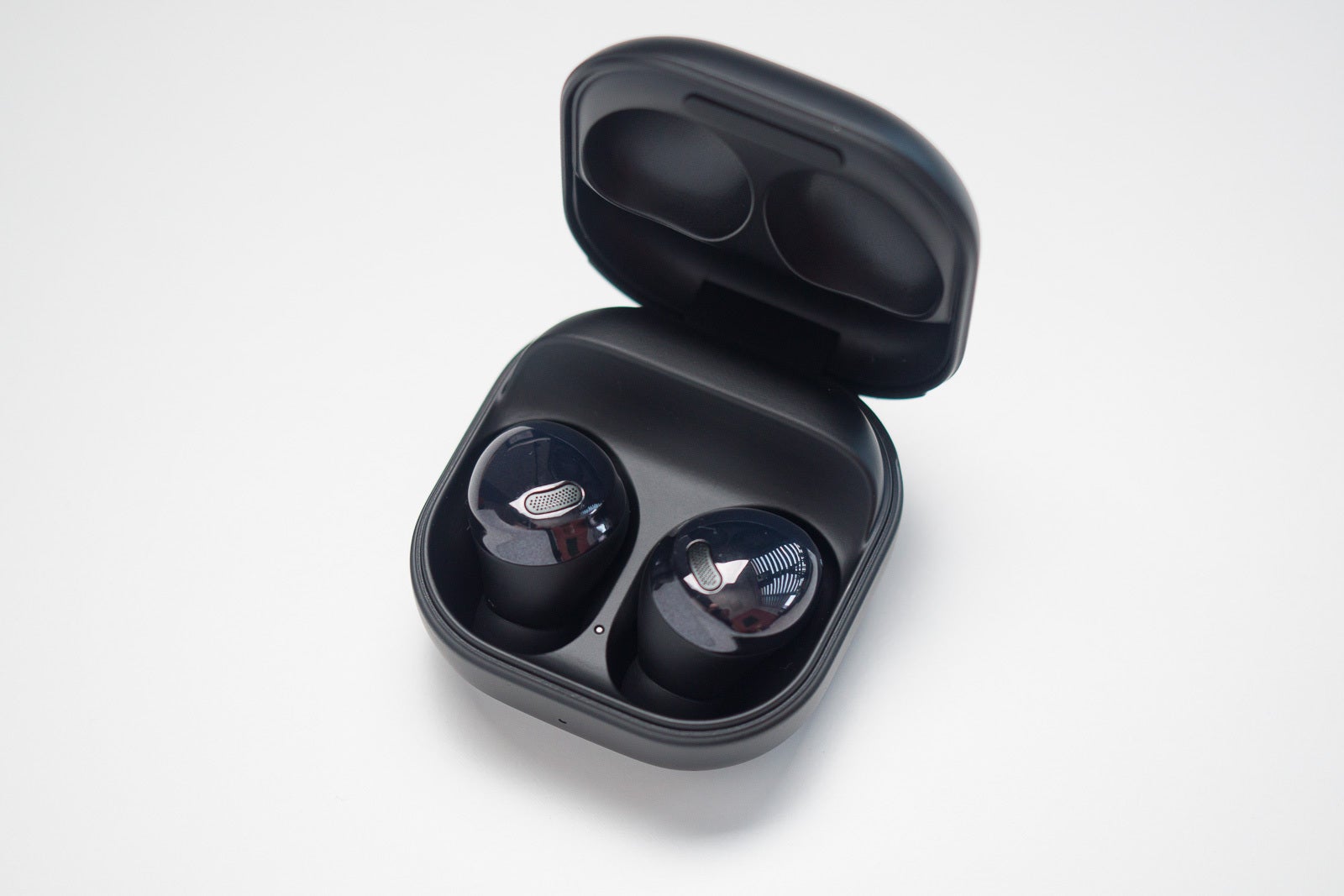 While
Samsung
's previous bean-shaped
Galaxy Buds Live
were objectively cool and personally fit my ears really well, their in-ear fit wasn't optimal for some users. This could be why Samsung has decided to go back to a safer design here with the Buds Pro.
The Buds Pro earbuds are actually similar in design to the earlier
Galaxy Buds Plus
and sport traditional rubber eartips, so they should fit perfectly in most users' ears. And to make sure of it, out of the box Samsung has included three sizes of eartips to choose from – small, medium and large.
The outer touch-sensitive part of the earbuds is made out of glossy plastic, while the rest is matte plastic.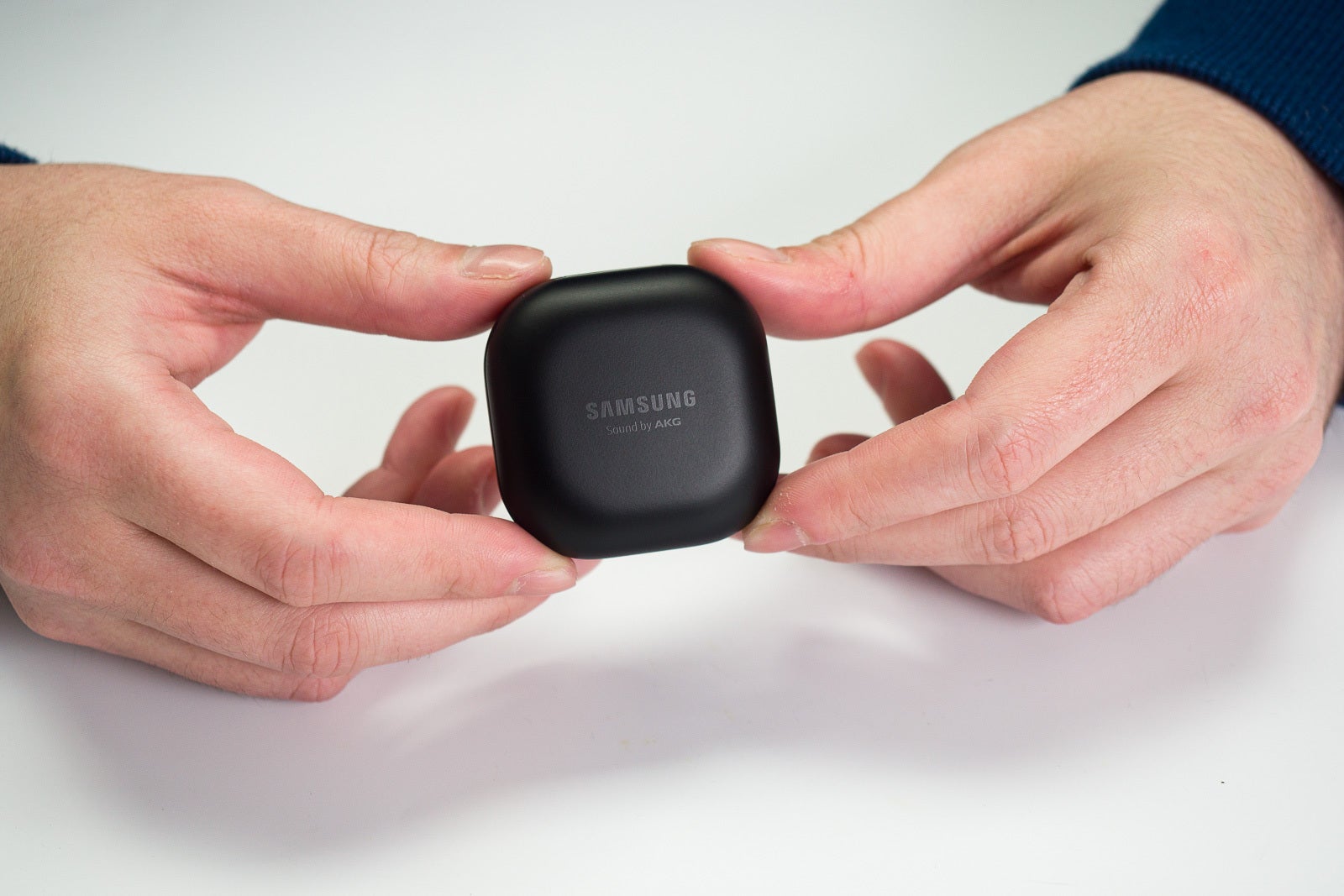 The case of the Galaxy Buds Pro itself is virtually identical to the Galaxy Buds Live case, except this time it's matte all around, which makes it feel nicer to touch. It features smooth curves and opens just like a wedding ring case. For charging, it sports a USB Type-C port on the back. In terms of weight, the Galaxy Buds Pro case isn't heavy, though it isn't cheap-feelingly light either, and fits just fine even in jeans pockets, so no worries when it comes to carrying it around.
As for color options, the Samsung Galaxy Buds Pro come in three color variants that perfectly match the new
Galaxy S21+
:
Phantom Violet
Phantom Silver
Phantom Black
And for the users who are interested in reducing their environmental footprint, Samsung notes that the Galaxy Buds Pro are made out of 20% environmentally conscious post-consumer materials.
Galaxy Buds Pro pairing and supported devices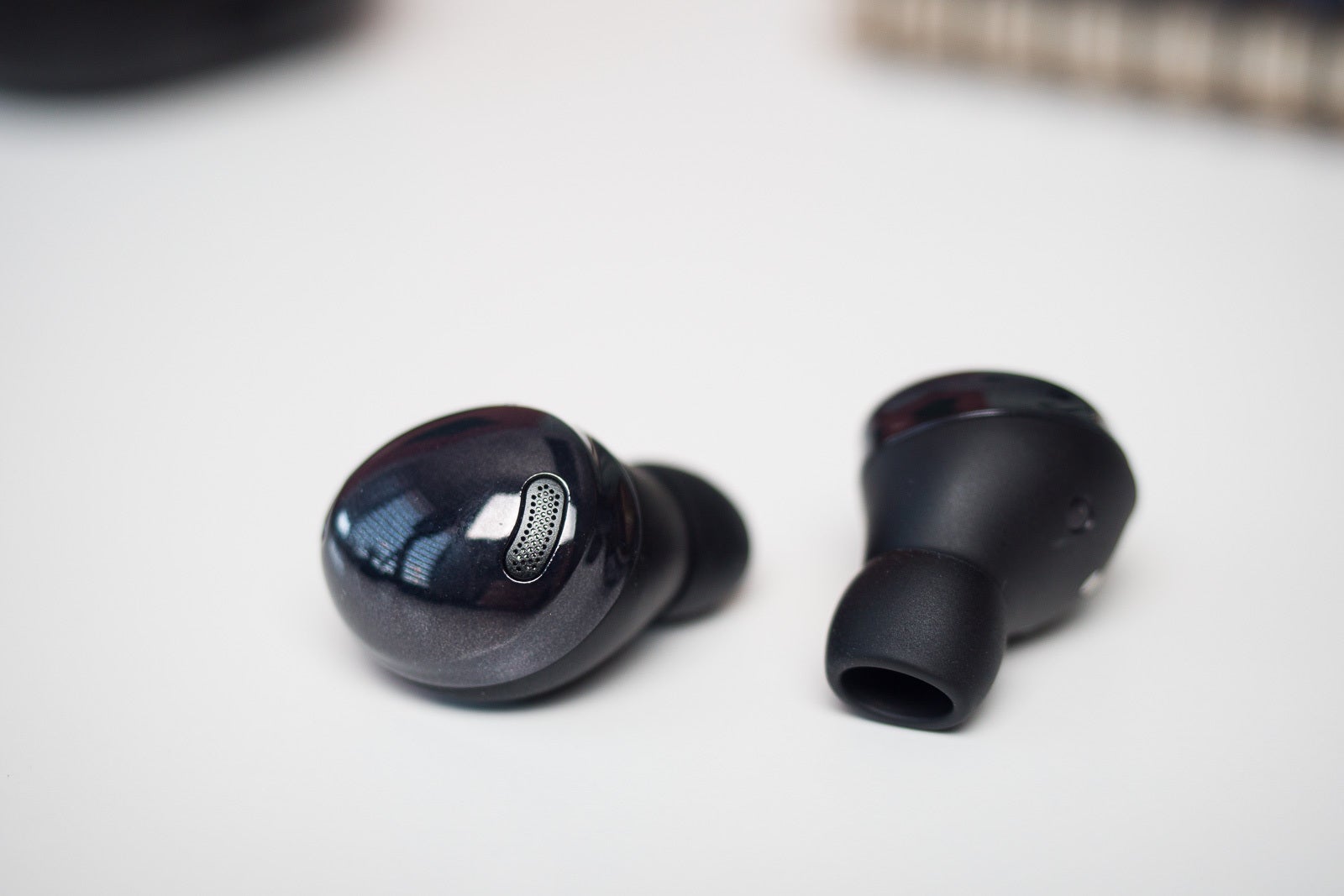 As with previous Galaxy earphones, the Buds Pro can Bluetooth-pair with both Android phones and iPhones, in addition to any tablets and computers. With Galaxy phones, pairing is as simple as opening the Buds Pro's case near the phone and tapping the "Connect" pop-up.
And if you're pairing with any Android device, you're advised to download the Galaxy Wearable app, which lets you customize your Galaxy Buds Pro in many ways. Through that app you'll get an equalizer, you can also select how strong you want the ANC (active noise cancelling) and Ambient Sound to be, customize a touch gesture and more.
After pairing the Buds Pro with your smartphone and giving the Galaxy Wearable app a rather large number of permissions, such as access to your call log and the ability to read your notifications, you can start playing around with all of the customization options and features. I assume the aforementioned permissions are required for optional features such as getting your notifications read aloud, but Samsung could've given the more privacy-conscious users among us a skip option.
In any case, once the earbuds are connected and their software is promptly updated, the first thing you may want to check out is the Galaxy Wearable app's neat little user manual. It will show you how to put on the earbuds correctly, what their touch controls are, and how to pair them with a phone or tablet, if you haven't already.
iPhone and iPad users should note that there's no Galaxy Wearable app on iOS as of writing this review (January, 2021), so you won't have access to its equalizer and customization options from those devices. Regardless, the Buds Pro work fine on iOS even so. You can still switch between ANC and Ambient Sound, use the preset touch gestures and enjoy your music on iPhone and iPad generally as you would on any other device.
Galaxy Buds Pro touch gestures and settings
As with previous Galaxy Buds, the outer side of each earbud here is touch-sensitive, allowing for the following touch gestures:
Tap

to play and pause.

Double tap

to play the next song or answer or end a call.

Triple tap

to play the previous song.

Touch and hold (1 second)

to perform a customizable action or reject an incoming call.

Touch and hold both earbuds (3 seconds)

to enter Bluetooth pairing mode.
From the Galaxy Wearable app, you can actually block these touch gestures if you wish to, since they can be a bit too sensitive, and can be triggered accidentally. You can also choose what the "touch and hold" gesture does on each individual earbud. By default, it switches between ANC and Ambient Sound, though it can alternatively trigger a voice assistant, or change the volume.
On non-Samsung phones, the optional voice assistant gesture triggers Google Assistant, while on Samsung phones it triggers the company's own Bixby assistant. Galaxy phone users also get an additional "Bixby voice wake-up" option, for activating the virtual assistant with a voice command.
Galaxy Buds Pro in-ear fit and sound quality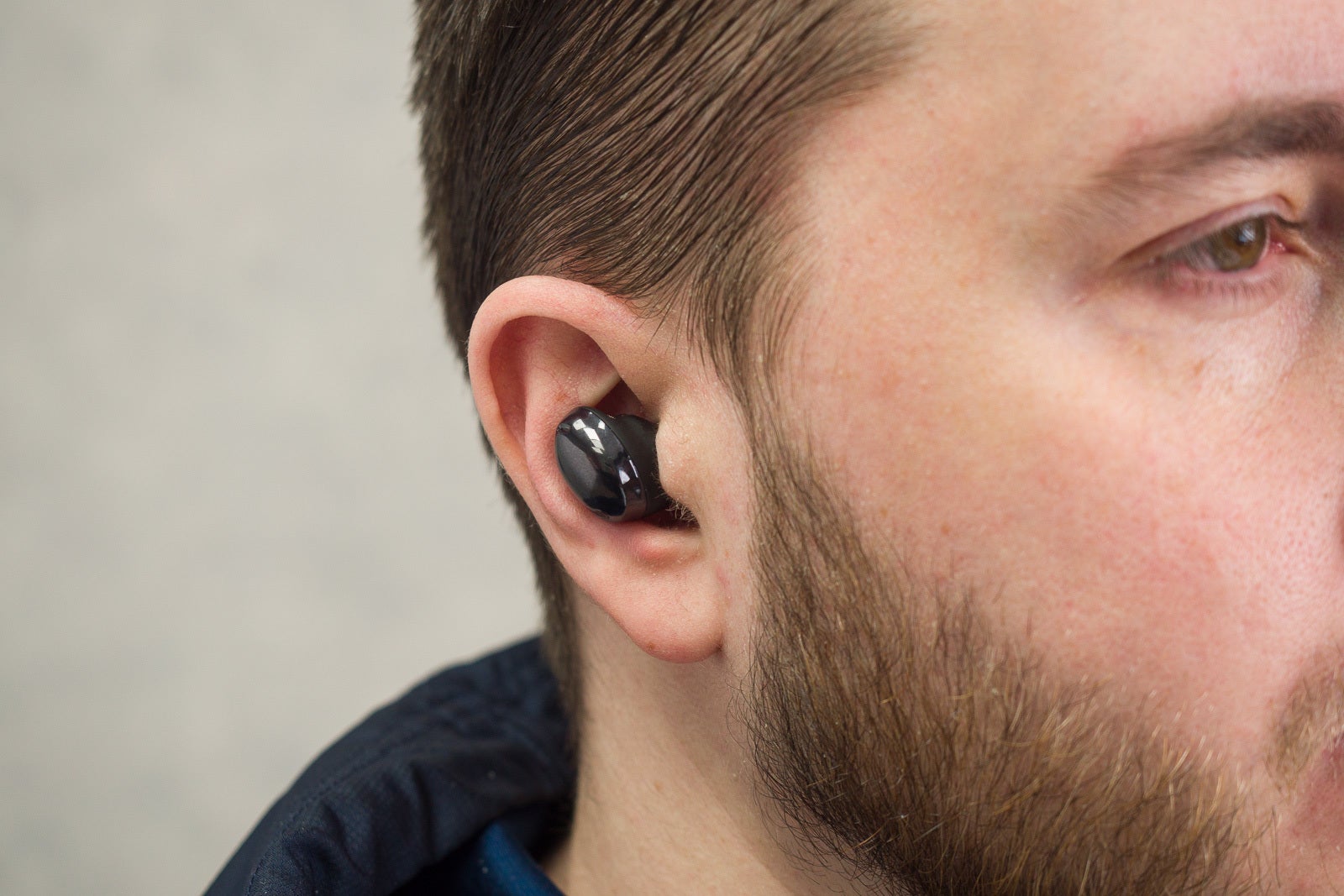 As previously mentioned, the Buds Pro come with three sizes of traditional eartips to choose from. Their in-ear fit is good and in my case it feels like there's no chance of the Buds Pro ever falling out, even during intense activity such as running. The Buds Pro's light design and comfortable fit also make them easy to completely forget about. And this is exactly what you want from your wireless earbuds in order to fully immerse yourself in your music – no wires and no discomfort whatsoever.
The Buds Pro's bass and wide soundscape are what initially impressed me about them. Their stereo separation definitely adds to the sensation of "big sound". Bass is punchy and strong, but not overpowering. It's very slightly toned down from Samsung's previous Buds Live headphones, but much more present than you'll find it on the
AirPods Pro
, for example. Highs and mids are satisfyingly crisp and clear too.
Something I noticed, though, is that if Active Noise Canceling and Ambient Sound are off, the sound loses its fullness, particularly in the low-end, so I'd recommend always keeping either on, which most users probably will anyway.
In any case, the Galaxy Buds Pro are definitely a great pick if you value sound quality, especially if you're the kind of person who listens to electronic dance music or hip-hop, although if you fancy classical music instead, that'll sound amazing too. And of course, you can always use the Galaxy Wearable app's equalizer presets to tune the sound to your liking. It takes just a click to tone down the bass for classical music and podcasts, or boost it for hip-hop.
By the way, if you want a similarly great sound with slightly stronger bass, you also can't go wrong with last year's Galaxy Buds Live. Those are more affordable, though with slightly weaker ANC.
Galaxy Buds Pro active noise cancelling (ANC) and other features
As is to be expected for that $200 price, the Galaxy Buds Pro feature ANC, which you can set to either "Low" or "High" in the Galaxy Wearable app. The difference between those two options, to my ears at least, is that on "Low" you can hear more low-frequency noise from your environment. When ANC is set to "High", low-frequency noise gets effectively muted, though you'll still hear higher-frequency noise, such as that from a humming air conditioner nearby.
And since I know some people will be curious – nope, the Galaxy Buds Pro ANC is not even close to how strong the AirPods Pro ANC is. While the AirPods Pro are able to mute pretty much all environmental noise, the Buds Pro mostly only mute low-frequency noise. Of course, you could argue that being able to hear some sound is safer, especially if you're using your earbuds outside. And in that case, the Buds Pro ANC is plenty good enough.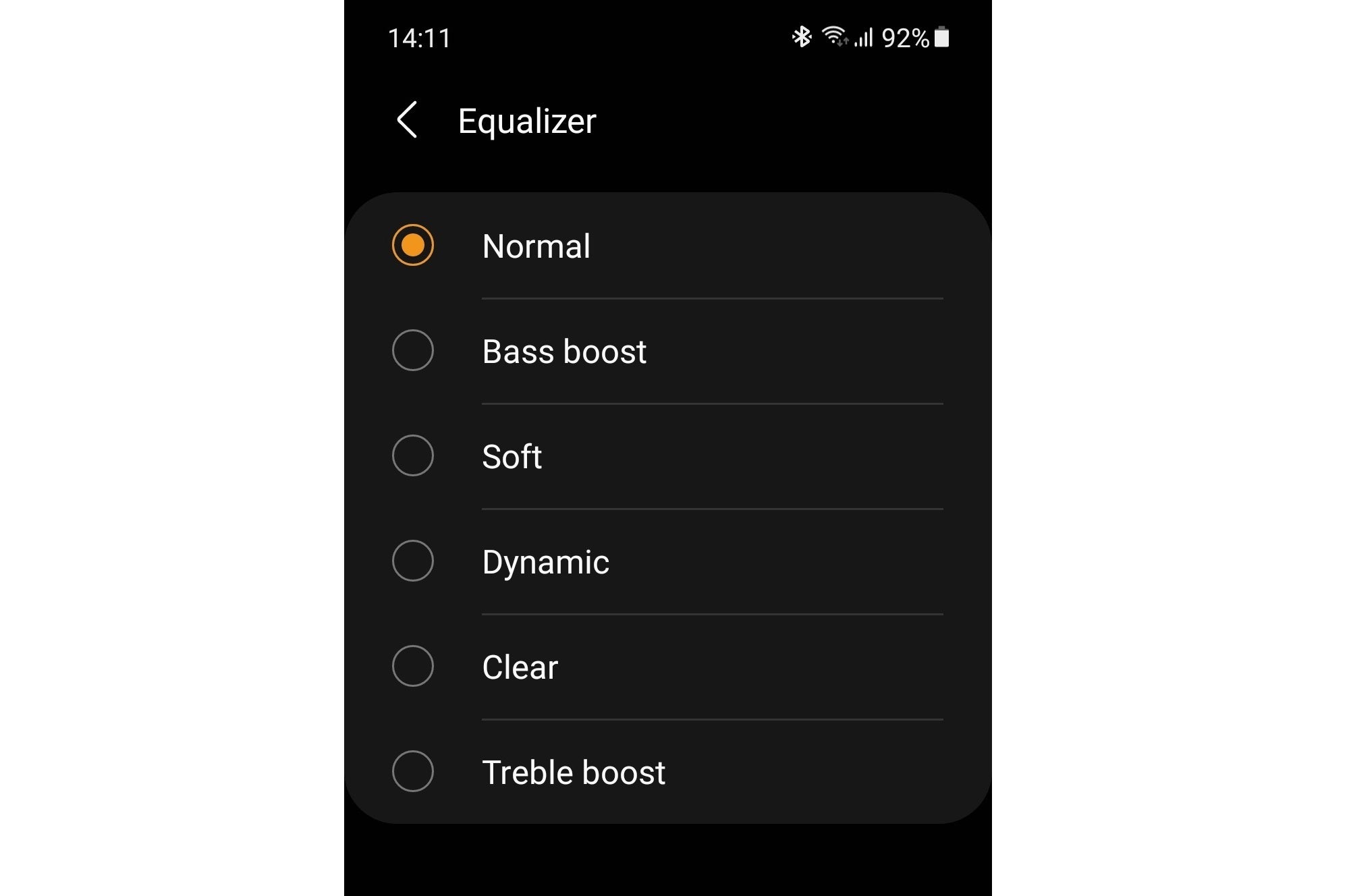 The available equalizer presets
As opposed to ANC, you can switch the Buds Pro to "Ambient Sound". That feature uses the microphones on the Buds Pro to pick up and let in important sounds you may want to hear, such as voices. You get four levels of Ambient Sound volume, the strongest of which boosts voices so much that you'll clearly hear them even if your music is playing at over 50% volume. In my experience, on Ambient Sound I was indeed able to clearly hear voices, but also birds chirping and city ambience, which is probably more than I needed to.
At any time you can also turn on the convenient "Voice detect" option, which will lower your music and switch your settings to Ambient Sound when you start talking to someone. 10 seconds after the conversation is over, your Buds Pro settings will revert back to ANC or whatever they previously were. This feature does what it's meant to really well, as voice detection is surprisingly fast. Say you're at a coffee shop and someone brings you your order, or you bump into a friend and exchange a few greetings – you won't need to manually pause your music or take off the earbuds.
In addition, here's a list of other notable Buds Pro features:
"Auto Switch" will connect your Buds Pro with another Galaxy device on the fly, when it detects that you've switched devices. For example – you're watching something on your phone but switch to your Galaxy Tab S7+. With Auto Switch on, the Buds will switch from your phone to your tablet too, automatically.
"360 Audio" will use Dolby Head Tracking technology to create a multi-dimensional sound effect when watching movies. The idea is that the sounds will feel as if coming to you from different directions, essentially attempting to simulate a physical surround sound home theatre system, that you're in the center of.
"Multi Mic Recording" will allow you to make voice and other sound recordings with both your Galaxy Buds Pro and Galaxy smartphone in tandem, which may be especially appealing to YouTubers and vloggers.
"Game Mode" reduces the latency between your phone and Buds Pro, so that you can hear the action in your game immediately and be able to react as quickly as possible.
Note that some of these features will be coming soon with One UI 3.1, so we couldn't test them at the time of this review. When possible, we'll update the review with our impressions of "360 Audio", "Auto Switch" and "Multi Mic Recording".
Galaxy Buds Pro microphone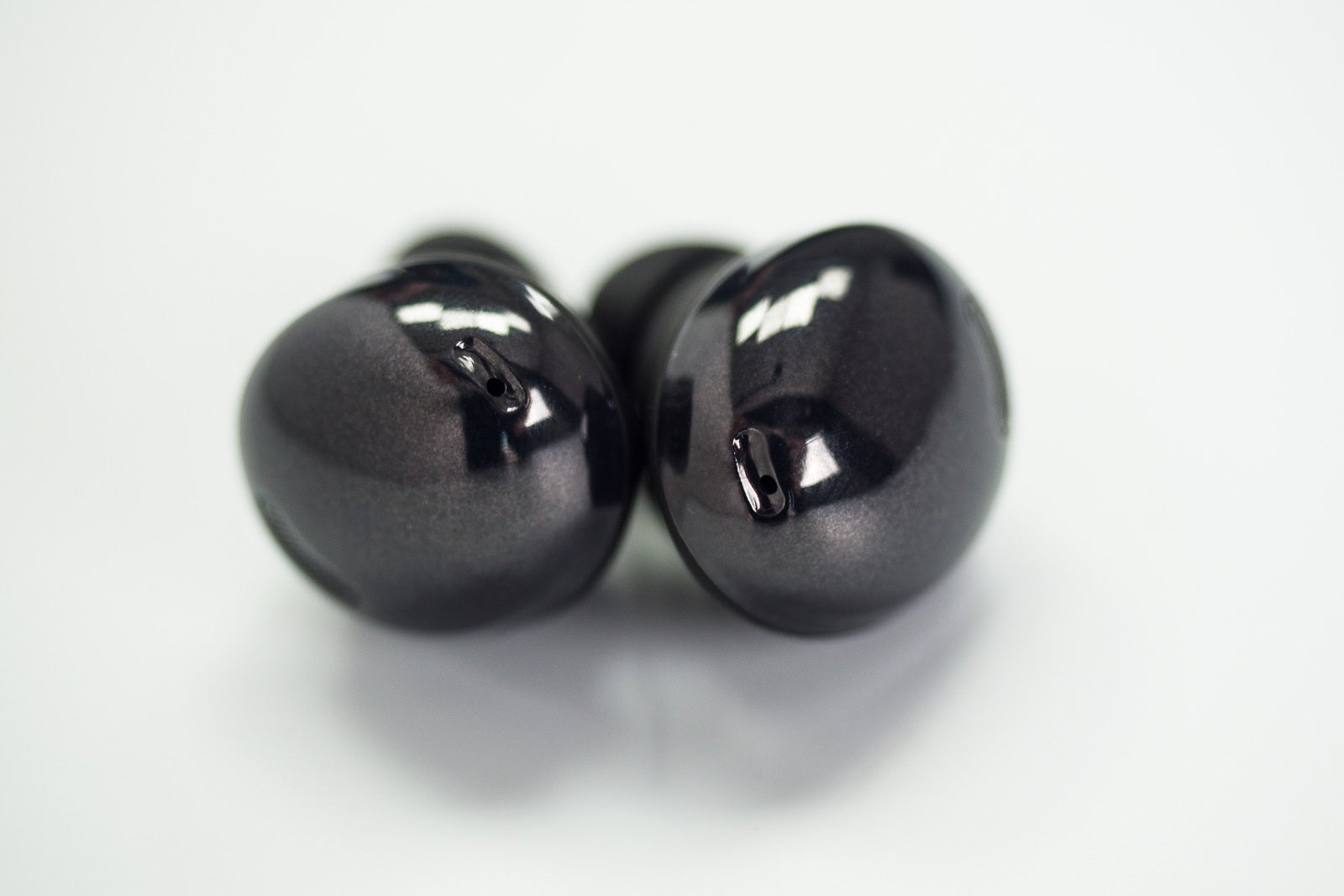 The Galaxy Buds Pro have a "Voice Pickup Unit" and three microphones to optimize voice clarity – two outer mics and one that's just behind the eartip of each earbud.
During phone calls and online meetings, you'll be easy to hear and understand, though in my testing the mics picked up a lot of background noise, so unsurprisingly – it's best to be in a quiet environment.
Still, if you find yourself outside and in windy weather, you'll be happy to know that Samsung has implemented what the company calls a "Wind Shield" on each earbud. It's a small chamber-like module that definitely helps. Even when I was standing in direct wind, my voice was heard clearly on the receiving end of a phone call.
All in all, although the Buds Pro microphones are not particularly impressive, they'll get the job done equally well or even better than many other earbuds in that price range.
Galaxy Buds Pro water resistance
Samsung calls the Buds Pro the company's "most water resistant earbuds yet", and that bold statement is backed up by their IPX7 rating, which signifies that the earbuds have been tested to survive submersion in fresh water for up to 30 minutes, 1 meter.
And while it's best to be careful and avoid potential damage regardless of IP ratings, the Buds Pro should be just fine if used in the rain, or if accidentally splashed with a bit of water. But do note that Samsung doesn't advise using them at the beach or in pools. Also note that the charging case itself is not water resistant and sports no IP rating, just the earbuds.
Galaxy Buds Pro battery life and charging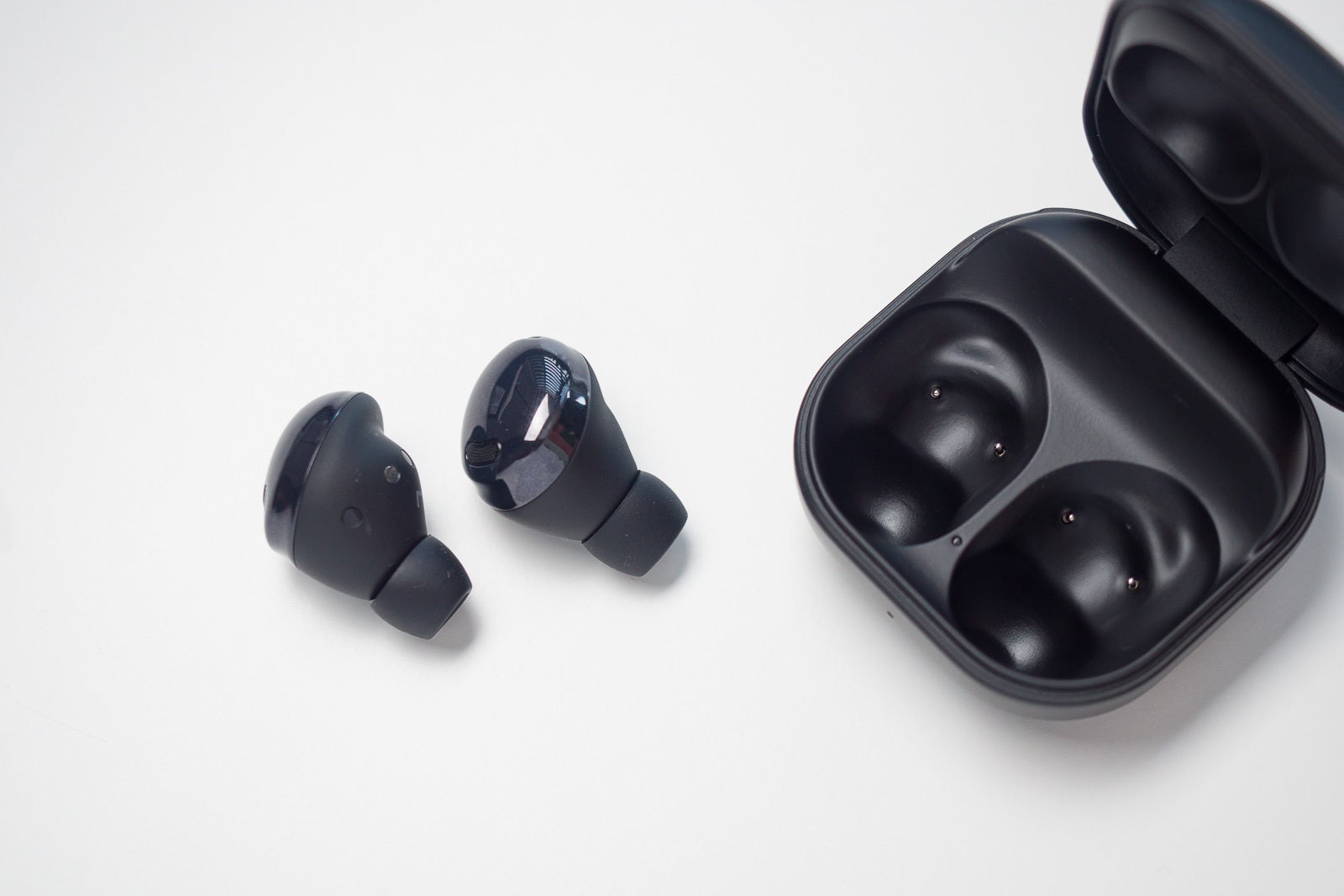 The battery capacity of the Galaxy Buds Pro's charging case is 472mAh, while each earbud's independent battery has the capacity of 61mAh. According to Samsung, this equates to a total of:
5 hours of playback with just the earbuds (ANC on)
8 hours of playback with just the earbuds (ANC off)
18 hours of playback with the earbuds + case (ANC on)
28 hours of playback with the earbuds + case (ANC off)
4 hours of talk time with just the earbuds (ANC on)
5 hours of talk time with just the earbuds (ANC off)
14.5 hours of talk time with the earbuds + case (ANC on)
17.5 hours of talk time with the earbuds + case (ANC off)
It's also noteworthy that a 5-minute quick-charge of the Buds Pro should give them enough juice for up to an hour of playback, which is convenient.
As for how the Buds Pro actually charge – as usual, all you need to do is place them in their case. The case itself charges via its USB Type-C port. The Buds Pro do come with a charging cable, but without a charging brick, so you'll need to either use a spare or buy one. The case of the Buds Pro is additionally Qi-certified for wireless charging.
I'm confident that the Galaxy Buds Pro are going to reach the above-mentioned hours, if not surpass them. I've been testing them between three different phones in the last two days, and their battery life is still at 91%.