Galaxy Buds Pro vs AirPods Pro
We may earn a commission if you make a purchase from the links on this page.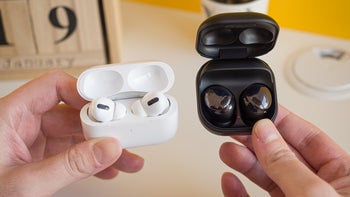 Apple
's highly popular
AirPods Pro
made a huge splash when they first arrived, with their convenient lack of wires, their comfy fit, good sound, and excellent noise cancellation. It took a few months for competitors to come up with alternatives, but they eventually did. In fact, there are a few generations of earbuds out there, currently battling the AirPods Pro, while Apple itself still hasn't updated its original model.
Samsung's
Galaxy Buds Pro
are among these competitors and we are here to discover how exactly they fare against Apple's well-known pods. If you're in the market for true wireless earbuds, should you choose
Samsung
's new Galaxy Buds Pro or go with Apple's famous AirPods Pro instead? Let's compare the two and find out!
You may also find interesting:
Galaxy Buds Pro vs AirPods Pro design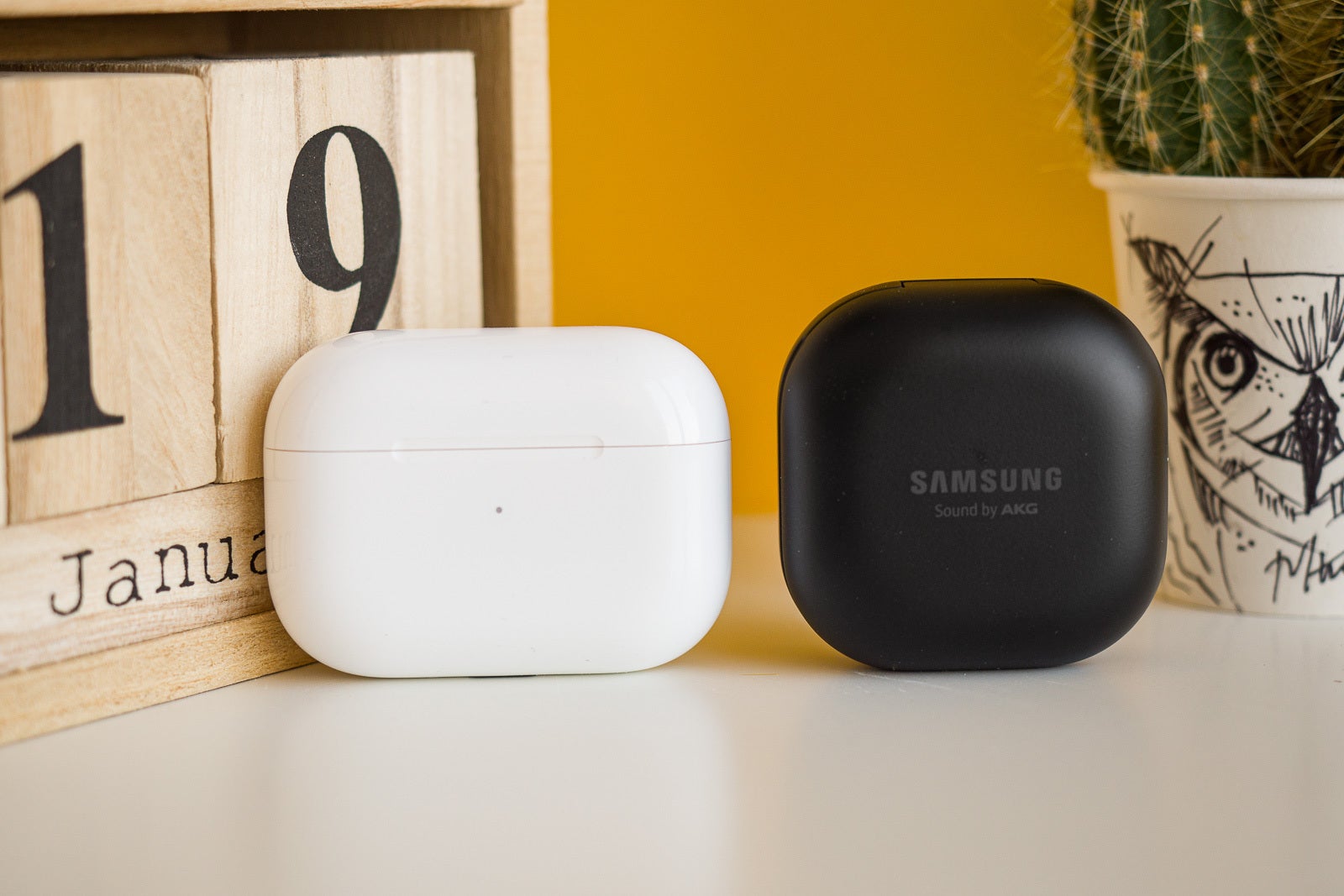 Samsung's Buds Pro come in a sleek and smooth, squarish charging case, which charges via USB Type-C. The case is made entirely out of matte plastic, the good kind, so it feels quite premium to touch. It opens up like a wedding ring case to reveal the fairly traditional-looking earbuds inside. Those are made out of matte plastic too, except for their touch-sensitive outer area, which is glossy for a change. They're reasonably small and look pretty good in the ear.
Thanks to their traditional rubber tips, the Buds Pro should fit to your ear canal perfectly, regardless of its shape and size. If you owned Samsung's Galaxy Buds Live and those didn't seal too well in your ear, don't worry – you shouldn't have that issue with the Buds Pro.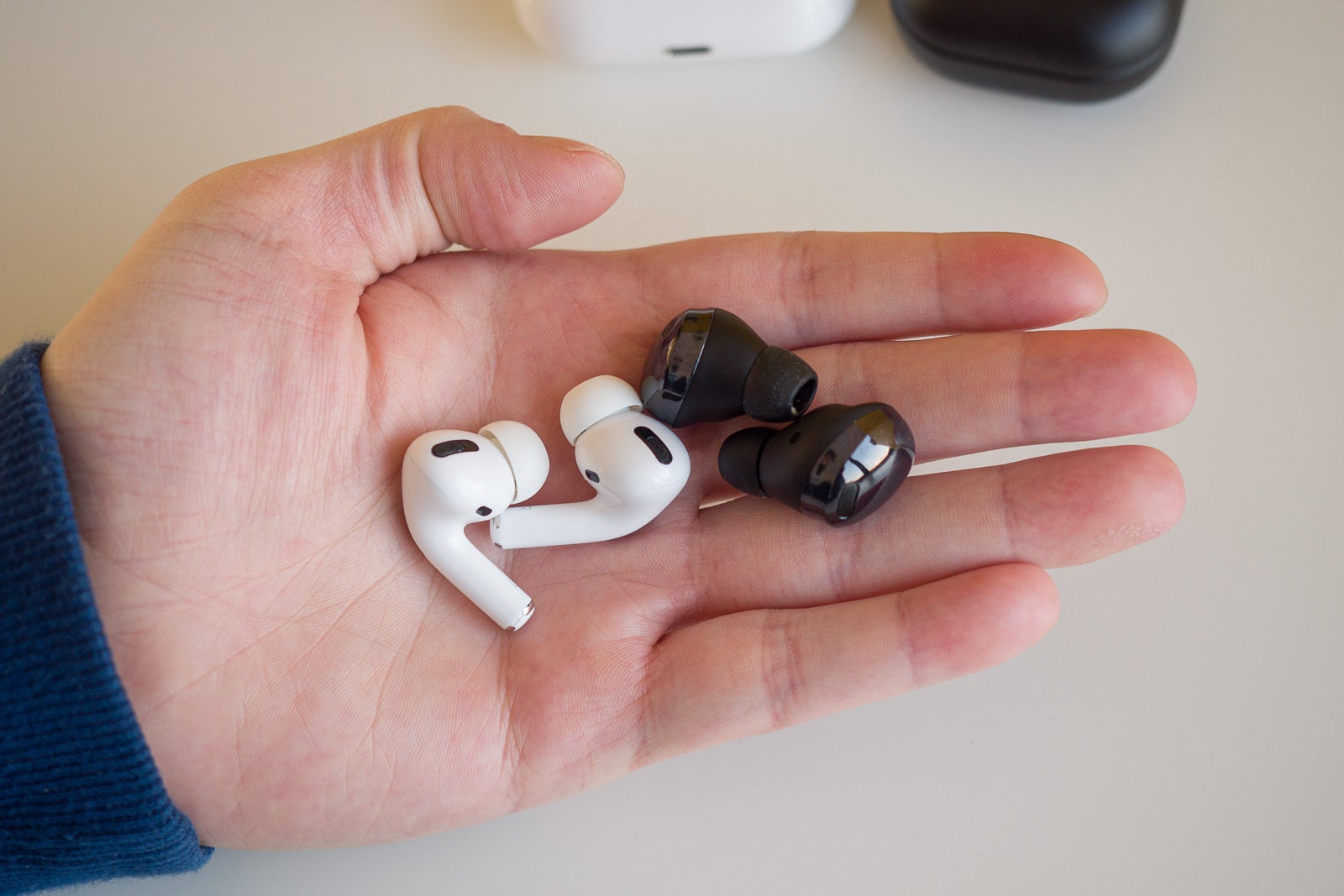 Apple's AirPods Pro come with a sleek, glossy plastic charging case. It's wider, but also slightly thinner than the Buds Pro case, and opens up at the top. It doesn't charge via USB Type-C, instead sporting Apple's proprietary Lightning port. The earbuds themselves are made out of glossy plastic all around, and have the familiar stems, which will stick out of your ears. Those stems, however, also provide an easy place to hold the AirPods when adjusting their placement in your ears, without triggering accidental touch gestures.
Plus, the stems can help you put on or remove the earbuds easily, so depending on how you look at it, they can either be an eye sore or a convenience. The AirPods Pro also use rubber tips for a good in-ear seal.
Both the Galaxy Buds Pro and AirPods Pro come with a charging cable and three sizes of rubber tips out of the box. Both of their cases feel lightweight and fit just fine even in jeans pockets.
Galaxy Buds Pro vs AirPods Pro price
The Galaxy Buds Pro were released in 2021 at a $200 price, while Apple's AirPods Pro came out all the way back in October of 2019 for the price of $250. This makes the Buds Pro an obvious better bargain, especially considering that Samsung often sells them at discount.
Galaxy Buds Pro vs AirPods Pro sound quality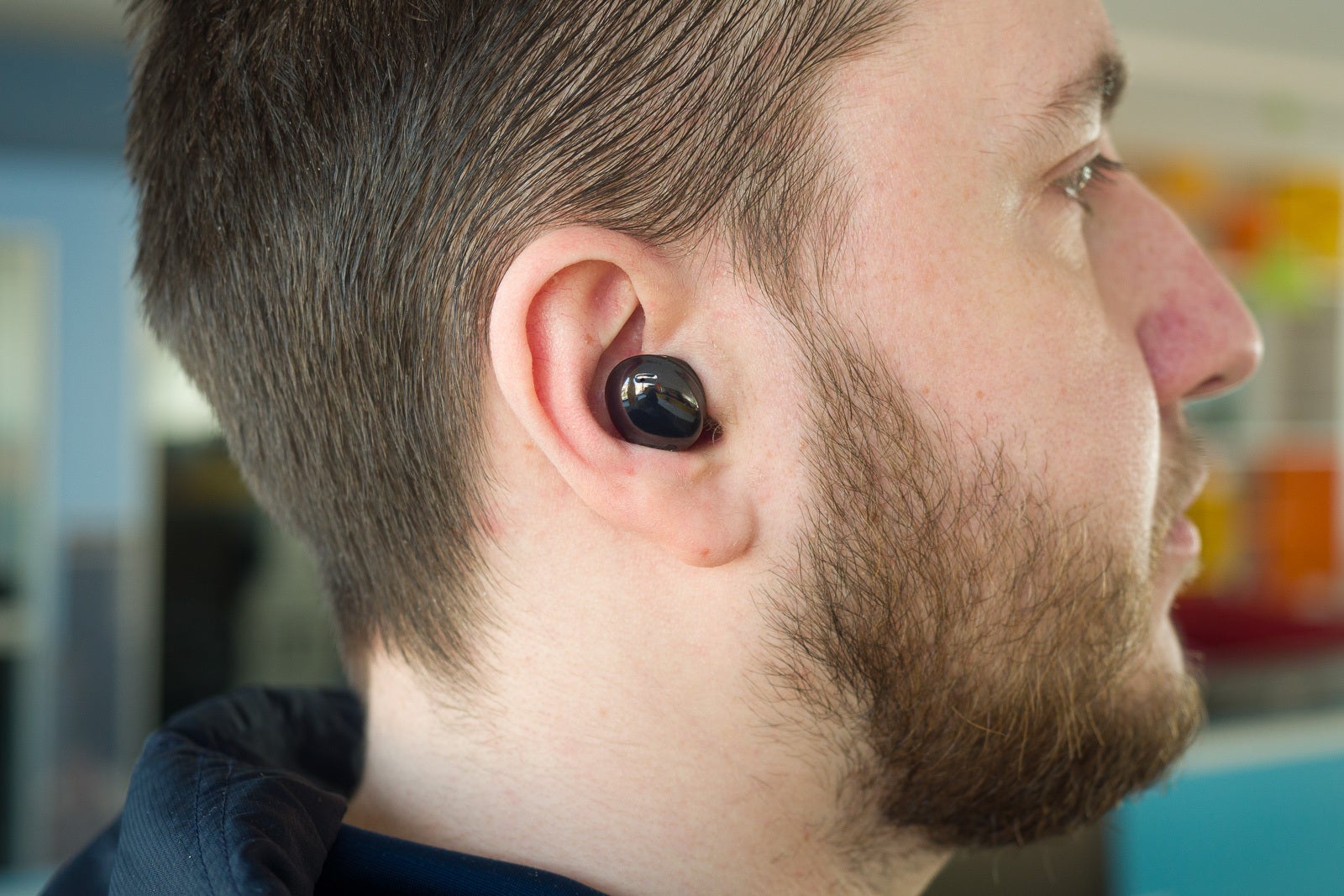 The Galaxy Buds Pro produce rich and wide sound. The highs and mids are clear and the bass is strong, though not overpowering or distorted.
The AirPods Pro sound very slightly quieter and narrower, with similarly rich and clear sound. The highs are a tiny bit nicer than on the Buds Pro, in that they're less hissy. The bass is about equally strong, if not very slightly weaker.
There are truly no significant differences between the Galaxy Buds Pro and AirPods Pro in terms of sound quality. How they sound can also be tuned via equalizer presets, so long as you're using the AirPods Pro with an iPhone and the Buds Pro with an Android phone running the Galaxy Wearable app.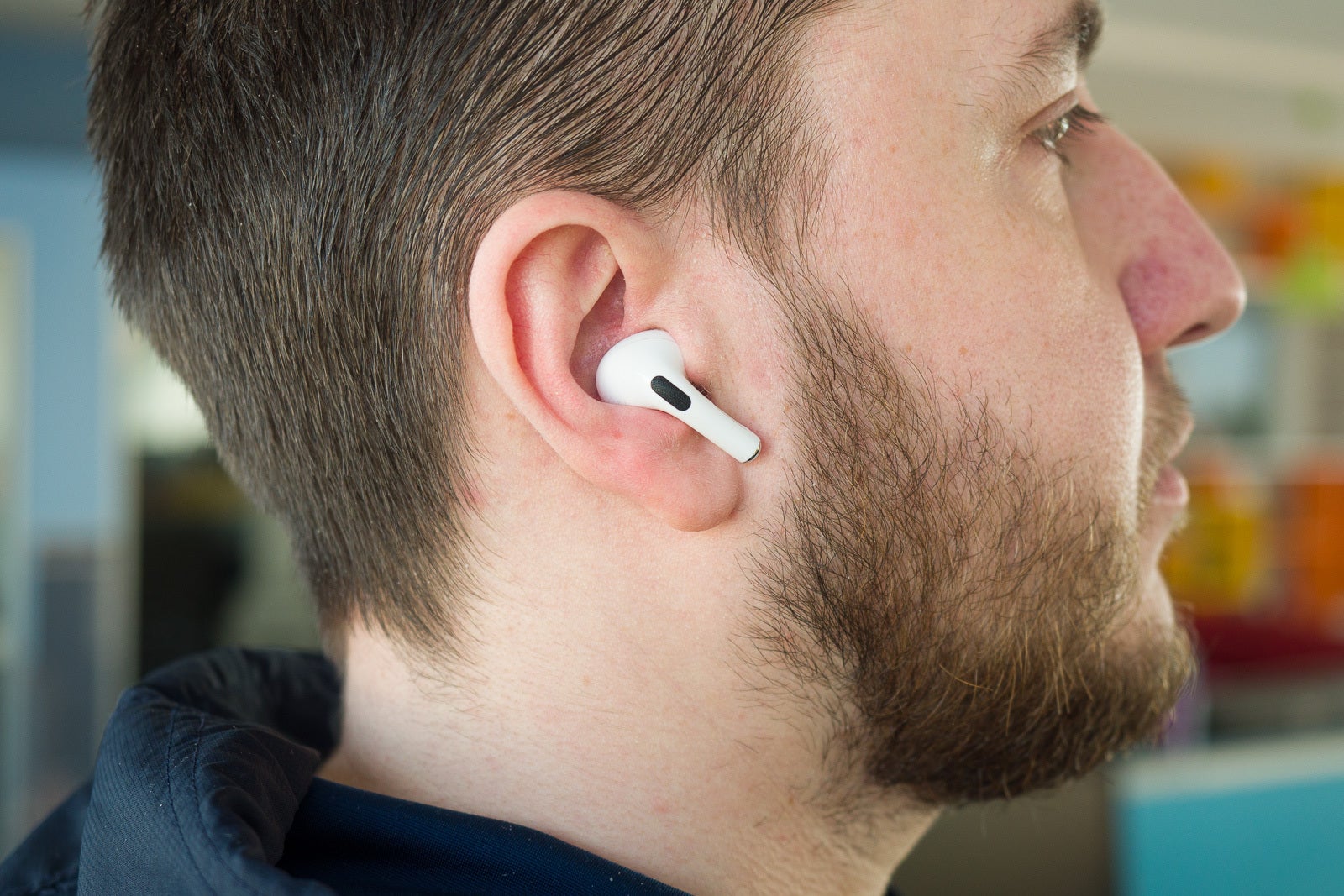 Galaxy Buds Pro vs AirPods Pro active noise cancelling (ANC) and other features
The Buds Pro ANC is capable of muting low-frequency noise, for example from a car engine, but most higher-frequency sounds will come through, regardless of your settings. However, when music is playing, this isn't too noticeable and some could argue that blocking all sounds can be dangerous, particularly if you're wearing your earbuds outside.
In contrast, the AirPods Pro pretty much mute reality, that's how strong their ANC is. Even when no music is playing, you won't hear sounds of engines or any other other noises, unless they're very close to you. Of course, you can switch from ANC to Ambient Sound, if you wish to be able to hear voices and sounds around you.
While the AirPods Pro definitely win by far, when it comes to ANC strength, the Buds Pro do have more features that you can take advantage of, so long as you're on an Android device and have the Galaxy Wearable app. Those include choosing how strong you want your ANC and Ambient Sound to be and customizing two of the gestures, among other settings. The Buds Pro also have an optional "Voice detect" feature, which will automatically lower your music and boost people's voices around you, when you start conversing with someone. When the conversation is over, the Buds Pro will then return to your normal settings, again automatically.
In addition, the Buds Pro are about to get some notable new features on Samsung Galaxy devices in an upcoming One UI update, such as "360 Audio", "Auto Switch" and "Multi Mic Recording". Stay tuned, as we'll have those covered in our
Galaxy Buds Pro review
.
Galaxy Buds Pro vs AirPods Pro device support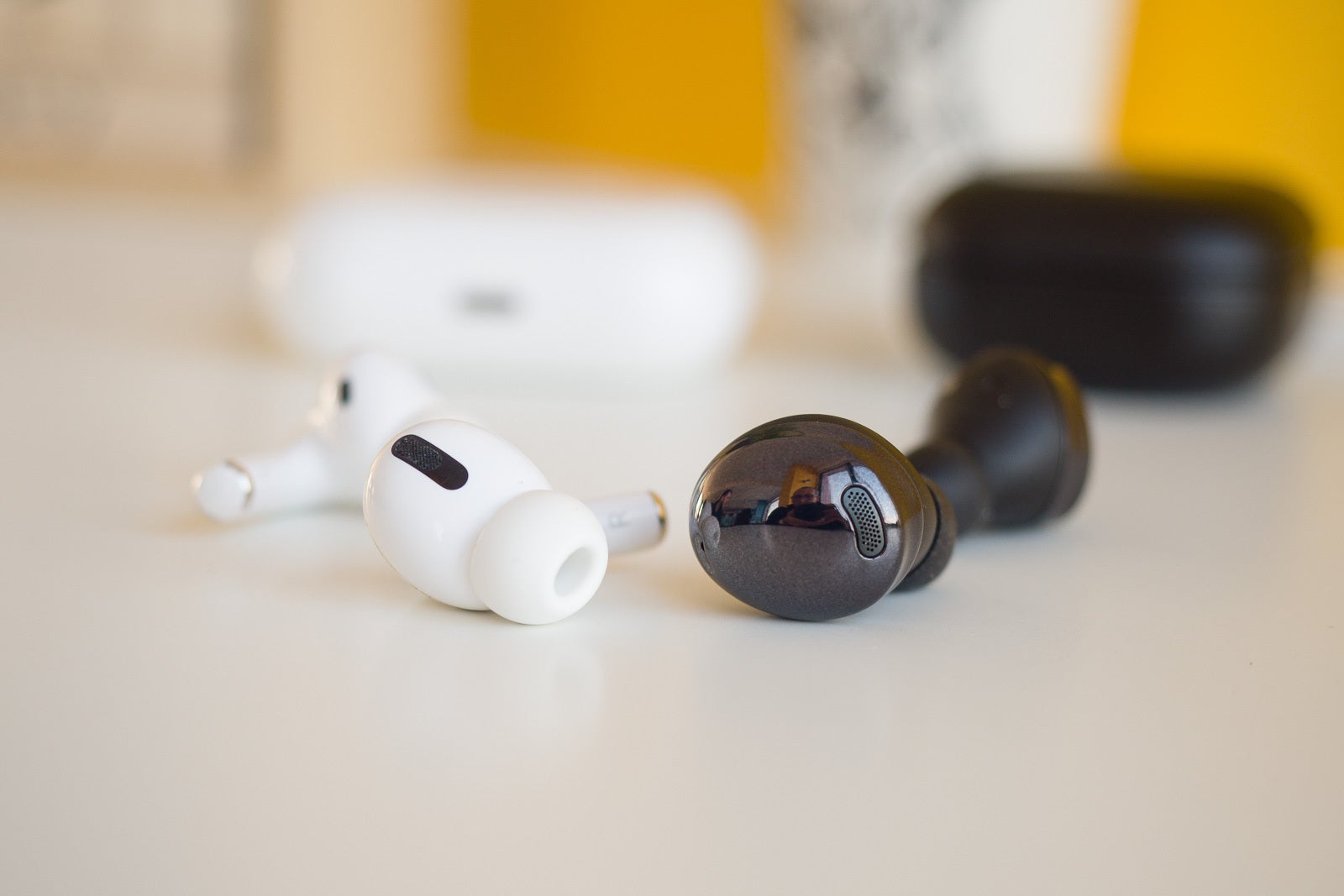 If you wish to take advantage of the above-mentioned upcoming features, you'll need a Galaxy phone. If you want the extra Galaxy Buds Pro settings that the Galaxy Wearable app brings, any Android phone will do. Other than that, the Buds Pro can pair and work with pretty much any devices – iPhones and iPads, Android phones and tablets, as well as computers.
The AirPods Pro can similarly pair to any devices, but of course you won't have access to Siri, unless you're paired with an iPhone or iPad.
So both the Buds Pro and AirPods Pro's core functionality will be available to you, regardless of your phone of choice. They'll pair via Bluetooth, touch gestures will work as normal, as well as ANC. But for a seamless pairing process and all features, the Buds Pro are best used with a Galaxy device and the AirPods Pro are best with an iPhone or iPad.
Galaxy Buds Pro vs AirPods Pro water resistance
According to Samsung, the Galaxy Buds Pro are the company's "most water resistant earbuds yet", and indeed, they do come with an IPX7 rating. That means the earbuds should survive submersion in fresh water up to a meter for up to 30 minutes. However, Samsung doesn't advise using them in pools or at the beach, but the rating provides a peace of mind if you're using them outside and it starts raining, for example.
As for the AirPods Pro, they're IPX4 rated and according to Apple, resistant to water and sweat. Despite the lower rating, the AirPods Pro should also be fine under light rain or if splashed with water.
If you're sweating at the gym with your wireless earphones, Apple and Samsung both recommend wiping them down with a dry cloth before putting them back into their case. This is mainly because both the Buds Pro and AirPods Pro cases have no water resistance whatsoever. Only the earbuds themselves are IP-rated.
Galaxy Buds Pro vs AirPods Pro battery life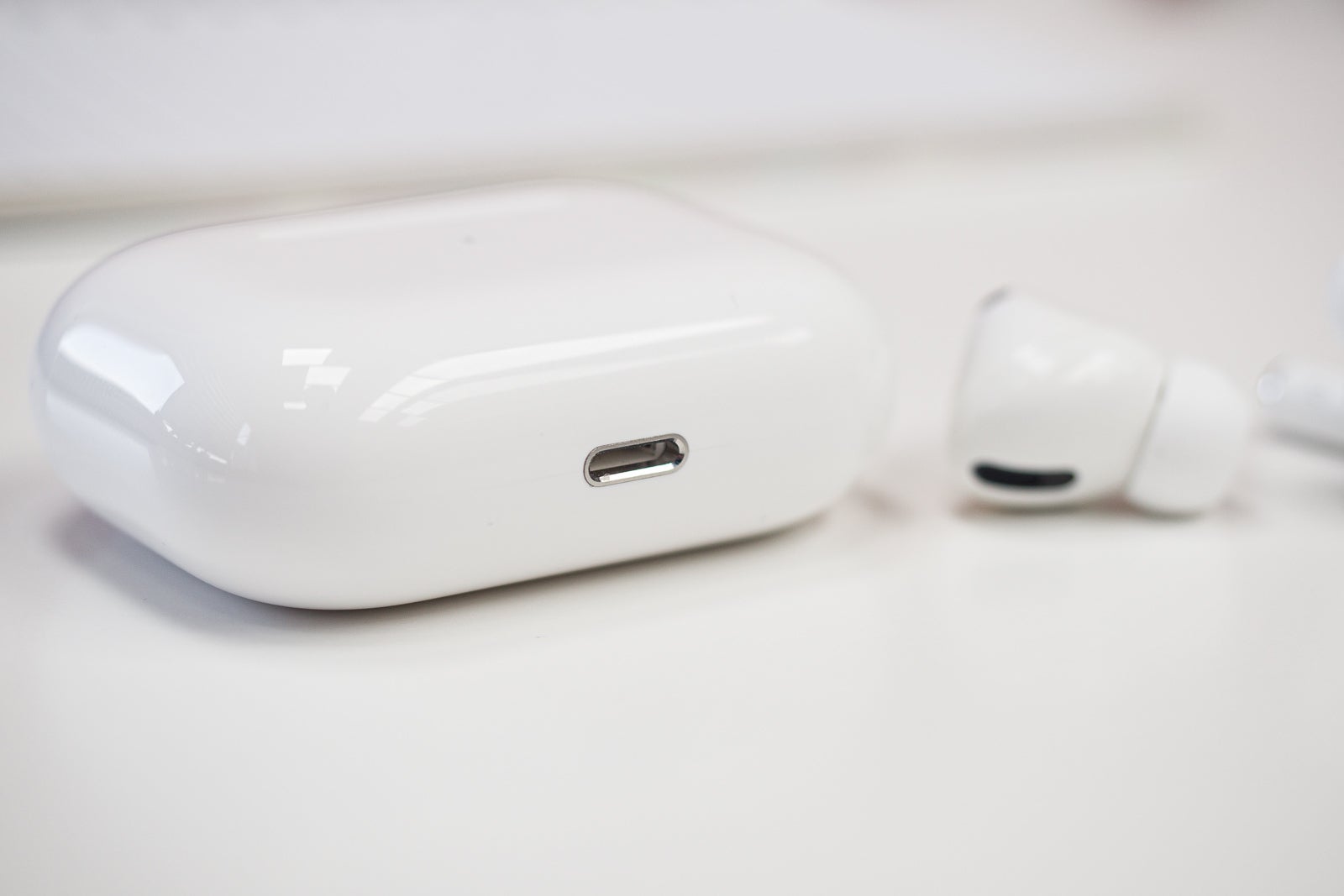 The AirPods Pro case (shown here) charges via Lightning, while the Buds Live case uses USB Type-C
Both of these truly wireless earbuds can last you a couple of days if used with their case, or about 5 hours standalone. Here's exactly how long they're expected to last on a single battery charge:
With ANC on, the Buds Pro will last up to 18 hours with the case, or up to 5 hours without it. If you wish to preserve your battery life and turn ANC off, they can last up to 28 hours with the case and 8 hours without it. It's also noteworthy that 5 minutes of quick-charging the Buds Pro can provide up to an hour of playback.
The AirPods Pro, with ANC on and their case, can last more than 24 hours of listening time. Without the case but with ANC still on, the AirPods Pro should be good for about 4.5 hours of music playback.
Both the AirPods Pro and Buds Pro cases are Qi-certified for wireless charging.
Which should you get – the Galaxy Buds Pro or AirPods Pro?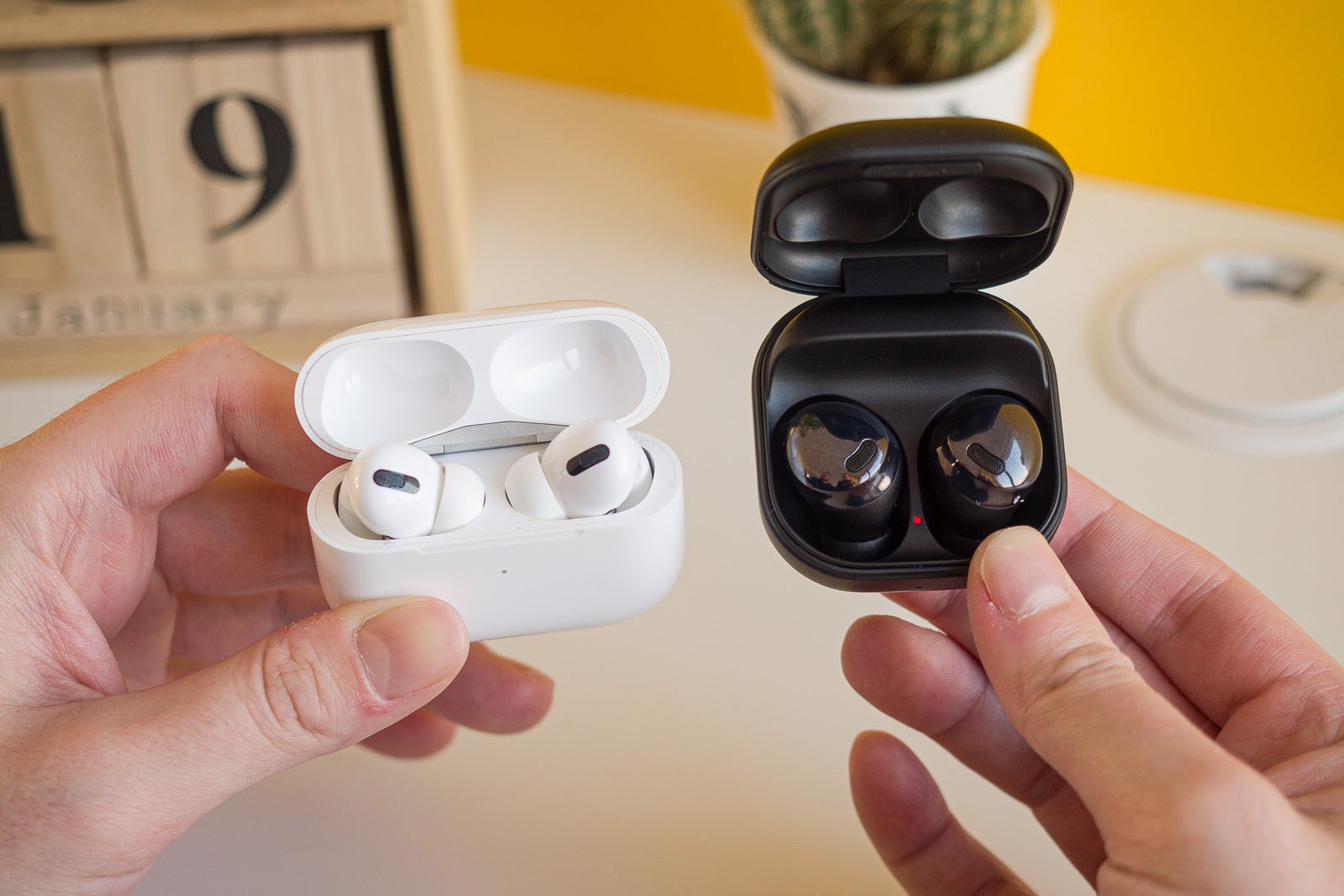 It really all comes down to aesthetic preference and what phone you're using. If you like how the Buds Pro look and you're using a Samsung Galaxy phone (or any Android phone), you'll be better off with those, as you'll be able to take advantage of all their extra features.
If you prefer how the AirPods Pro look and how recognizable they are, and especially if you're rocking an iPhone and want that super strong ANC, you'll be better off with the AirPods Pro.
As we've established, both the Buds Pro and AirPods Pro sound about equally good and sport fantastic battery life. Both are easily pocketable and quite comfortable to wear, so there's not much else that should sway your choice. You can't go wrong with either.