AirPods Pro Review
20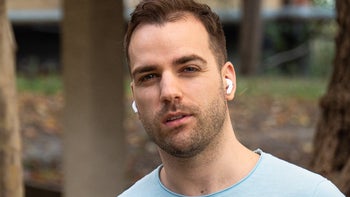 After the runaway success that the original AirPods were, it's time for round two! Apple, which defined the "truly wireless earbuds" category, is back at it again with a more advanced, more expensive product, called AirPods Pro. There new earbuds cost $250, which is considerably more expensive than the classic AirPods'
DESIGN & COMFORT
The new, horizontally oriented charging case of the AirPods Pro is marginally larger than that of the regular AirPods, but it retains the same glossy white design that's clean, distinctive, and easy to slip into the tiniest of pockets, unlike most competing earbuds.
While the regular AirPods have a cleaner, earhook-type design for superior comfort, the AirPods Pro switch the form factor to an in-ear monitor type one. This means there are small rubber tips designed to go into your ears. This typically causes some discomfort, but allows for better isolation and sound quality.
Apple has taken steps to minimize the discomfort inherent to in-ear type headphones by creating special vents designed to equalize pressure in the ear. This, combined with the AirPods Pro's extremely light weight, makes for superb comfort. It's not like you forget that you have them on, but at least in my experience, the AirPods Pro feel considerably more comfortable than most other in-ear headphones.
Aside from that, while the styling of the new model follows the classic AirPods closely, the new earbuds are even smaller (including the stems), which is an awesome upgrade.
In terms of stability, the AirPods Pro are superb – their ergonomic design and light weight allow them to stay securely in the ears, without them slowly slipping out and compromising sound quality.
SOUND QUALITY
The classic AirPods sounded exactly like Apple's wired EarPods – the earbuds that come with all iPhones and iPods. That is to say – pretty good for a simple pair of earbuds.
However, one area where they are lacking heavily is low frequencies, aka bass and lower mids. Now, with the new in-ear design and updated drivers, the AirPods Pro manage to largely right this wrong.
The AirPods Pro sound great. Not just for truly wireless earbuds, but as a whole. They are still slightly lacking in the lows, but the sound is way fuller than that of the regular AirPods, and much better compared to most other wireless earbuds.
You'll find them slightly emphasising the highs, but even then they remain composed and well-behaved across all volume levels.
Conversing over the AirPods Pro is an OK experience. While we can't say callers' voices sound amazing on our end (they are definitely better if you take your call directly on the phone), they are fine. The microphones Apple has used are obviously of decent quality as well – there were no complaints from our callers regarding the way they've been hearing us.

ACTIVE NOISE CANCELLATION & ADAPTIVE EQ
For in-ear headphones, the active noise cancellation performs pretty well on the Apple AirPods Pro. They even comfortably surpass some over-the-ear cans out there, but are of course not as good as the competent ANC over-ear headphones like the Sony WH-1000XM3.
In Setting, you can adjust whether you want ANC on or off; there is also a Transparency mode which uses the onboard mics to pass more of your environment's audio to you for greater awareness. You can easily cycle between these ANC modes using the pressure-sensitive buttons on the stems of each earbud.
Note that active noise cancellation is primarily designed to filter out lower-frequency noises like the constant humming that you hear during a flight. ANC is king in eliminating such types of noises; however, sharper, higher frequency ones will usually not be blocked.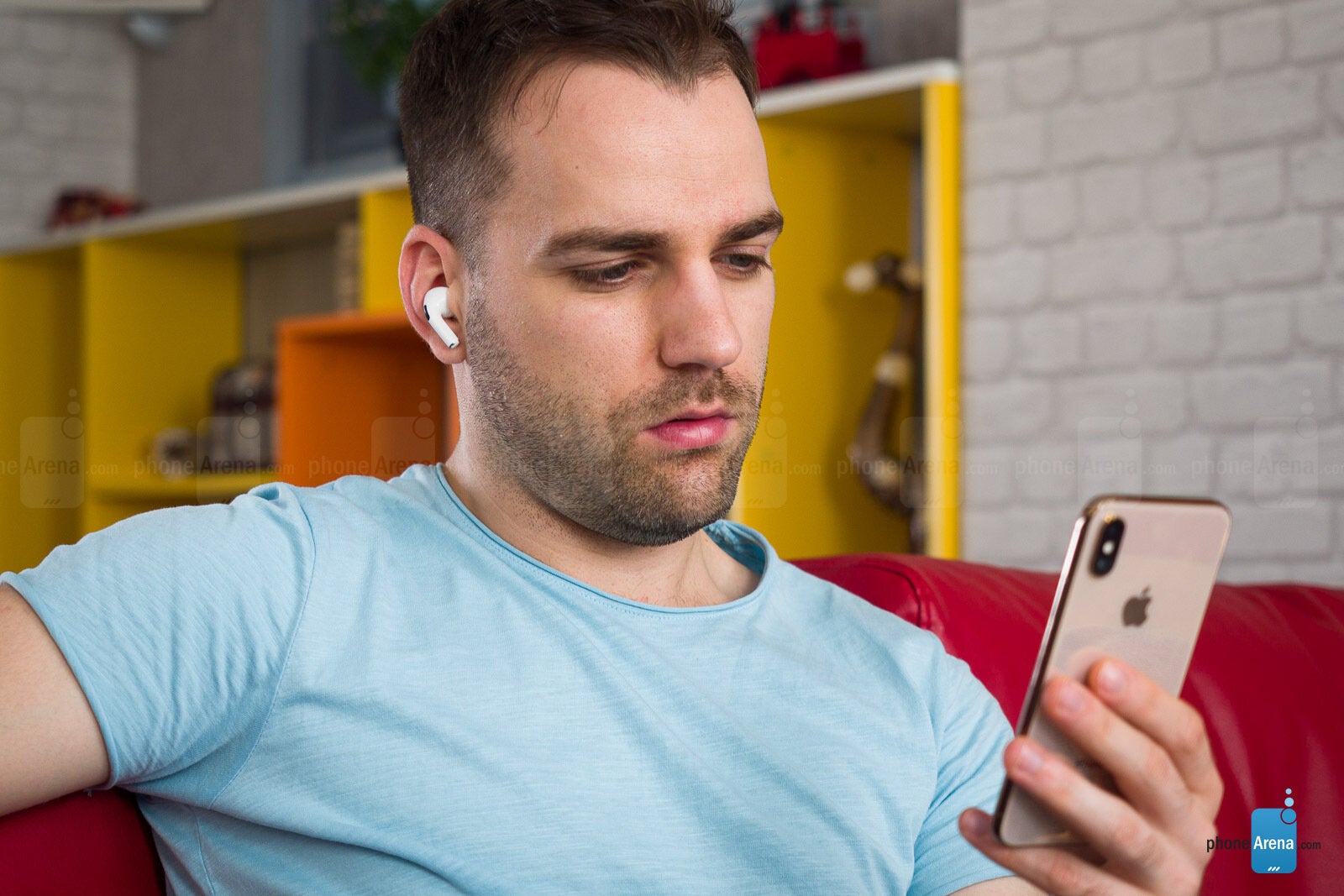 There is another interesting new feature in the AirPods pro and that's Adaptive EQ. Apple's premium earbuds feature inward facing microphones allowing them to get an idea of how things sound to you. Then, they use that information to adjust the low and mid frequencies for fuller and more natural sound.
The only way to turn off Adaptive EQ is by turning off Active Noise Cancellation. However, we've found that keeping it on is vastly preferable, as what it usually does is to add a bit of much needed depth and lows to the sound. Without it, low levels are lacking.
BATTERY LIFE
The AirPods Pro can go for up to 4.5 hours on a single charge, which is slightly less than the regular AirPods' 5 hours. Considering all the added features and reduced size, we're willing to make that trade.
The good news is that with the case you still get a total of 24 hours of listening time, same as with the classic AirPods.
In comparison the latest Samsung Galaxy Buds can play for up to 6 hours on a single charge, but their case can give them just 7 more hours, for a total of 13 hours of play time.
Meanwhile, the Sony WF-1000XM3 can last for up to 6 hours on a single charge, and a total of 24 hours with recharges from the case. However, their case is considerably bulkier, so this pretty much ends up being a matter of compromise.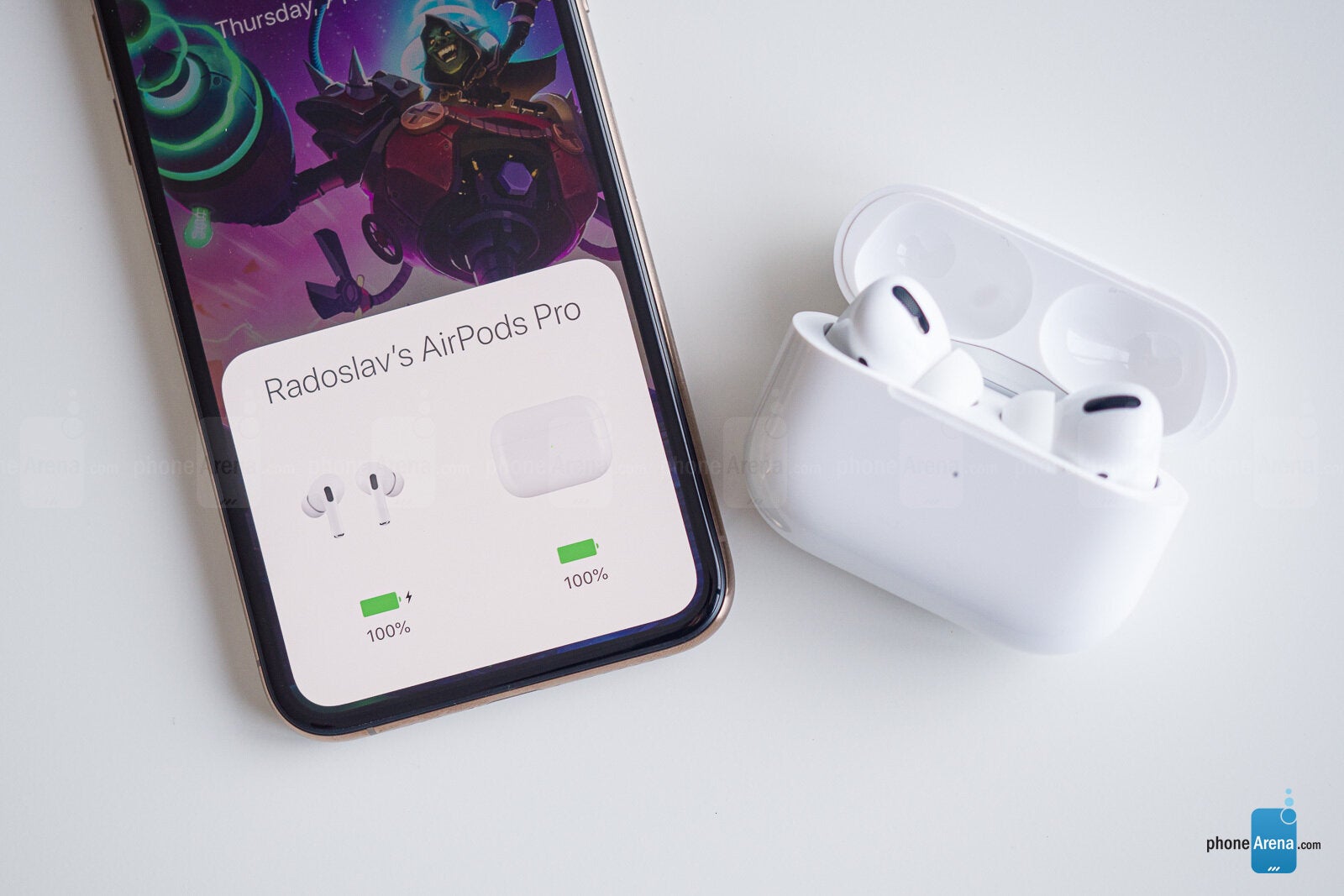 CONCLUSION
Apple has once again hit a homerun with the AirPods Pro. They offer vastly better sound quality compared to classic AirPods, as well as the convenience of active noise cancellation, which is a premium feature.
The AirPods Pro are an expensive pair of earbuds – they cost $250, which dwarfs the regular AirPods' $160. However, when you think about the elegant design, superb audio quality and premium ANC implementation, as well as all other characteristics, this really doesn't seem like such a tough sell for Apple. Especially for consumers living a comfortable life within the Apple ecosystem.
Recommended Stories