Samsung Galaxy Tab S7+ Review: the Android tablet king of yesteryear
29
We may earn a commission if you make a purchase from the links on this page.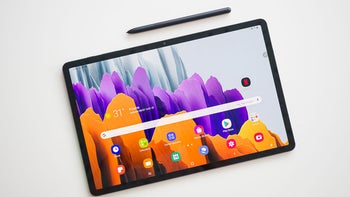 Many have tried to beat the iPad, but none have been as persistent at challenging Apple's tablet dominance as Samsung. The
Samsung Galaxy Tab S8 series
took its sweet time to arrive, and for the longest period, the Galaxy Tab S7+ was the only one left to fend for the premium
Android tablet
market. It is now two years old but still being sold at retailers at a pretty respectable price.
At first glance, the Galaxy Tab S7+ has it all: a super-sleek and stunning design, 5G connectivity, gorgeous and super-smooth 120Hz display, a welcome S Pen stylus with lower latency, and finally, an interface that has been tailored for enhanced productivity. With its optional keyboard case, humongous battery, and DeX mode, it is pretty close to a "laptop replacement", provided the tasks you do can fit into the tablet workflow.
Fortunately, the positive experience doesn't fade away after you've used the slate for a while; in fact, we'd say that the Tab S7+ becomes an even more appealing device as you better fit it within your daily routine. Its list of available features far outweighs the single, yet rather big problem we have with the Tab S7+: it's just too large, and this hardware configuration is only available in this size – the smaller Tab S7 is not as impressive as the Tab S7+.
Should you buy the Samsung Galaxy Tab S7+? If you're on the market for a super-powered
Android tablet
, you may want to look at the newest
Galaxy Tab S8 Ultra
, but the Tab S7+'s song is still not done.
However, as of late 2023, the world has moved on, and Samsung has given us the excellent
Galaxy Tab S9
series. The
Galaxy Tab S9 Plus
, in particular, is more than an excellent follow-up to the Galaxy Tab S7 Plus, with a familiar design but much better hardware inside. The same generally applies to the
Galaxy Tab S9
, which pairs an amazing AMOLED display with a compact size.
Galaxy Tab S7+ design
The Galaxy Tab S7+ is beautifully put together, with sleek frosted glass back that feels pleasant to the touch and sharp edges that look very similar to what we have on the iPad Pro. The sharp frame does look good but isn't the most comfortable shape for longer use. The clean frame is only interrupted by quad AKG-tuned loudspeakers and a couple of antenna lines. The clean lines at the rear are only interrupted by a glossy bar near the side that's used for magnetically attaching and charging up the S Pen. Super-thin and light for its size, the Tab S7+ is designed very well.
Now, size is something that you will have to get used to. If you often use it outside, people might suspect you've stolen a Tesla's touchscreen display. Yes, despite the slim bezels and efficient use of space, the Galaxy Tab S7+ is one big, big tablet, and it takes some time to get accustomed to its humongous size. As we mentioned earlier, you can't have the Tab S7+'s specs in any other size as the smaller Tab S7 is technically a different device with an LCD display and humbler hardware. Thus, if you want the 120 Hz AMOLED beauty, you will have to settle with the large size of the Tab S7+.
Galaxy Tab S7+ display
The Galaxy Tab S7+ features a 12.4-inch AMOLED display with rich colors and excellent sharpness. The display is probably the biggest selling point here, and while the iPad Pro also rocks a beautiful display, you'd have to splurge for an
iPad Pro 12.9" (2021)
in order to get that mini-LED screen that can rival Samsung's AMOLED.
Another welcome feature is the support for a 120Hz refresh rate. Having a high refresh rate on such a large and colorful display is truly an awe-inspiring experience, but it also drains the battery slightly faster. It's worth it though — experiencing a large and bright OLED display with a 120Hz refresh rate will easily ruin all other displays for you.
Such a large and exceptional screen is good for just about anything, be it gaming, spreadsheet scrolling, or Netflix binges in-between Zoom meetings with your co-workers. Multimedia consumption is where it really shines, and we often found ourselves engrossed in 4K HDR videos.
Display measurements and quality
Galaxy Tab S7+ hardware specs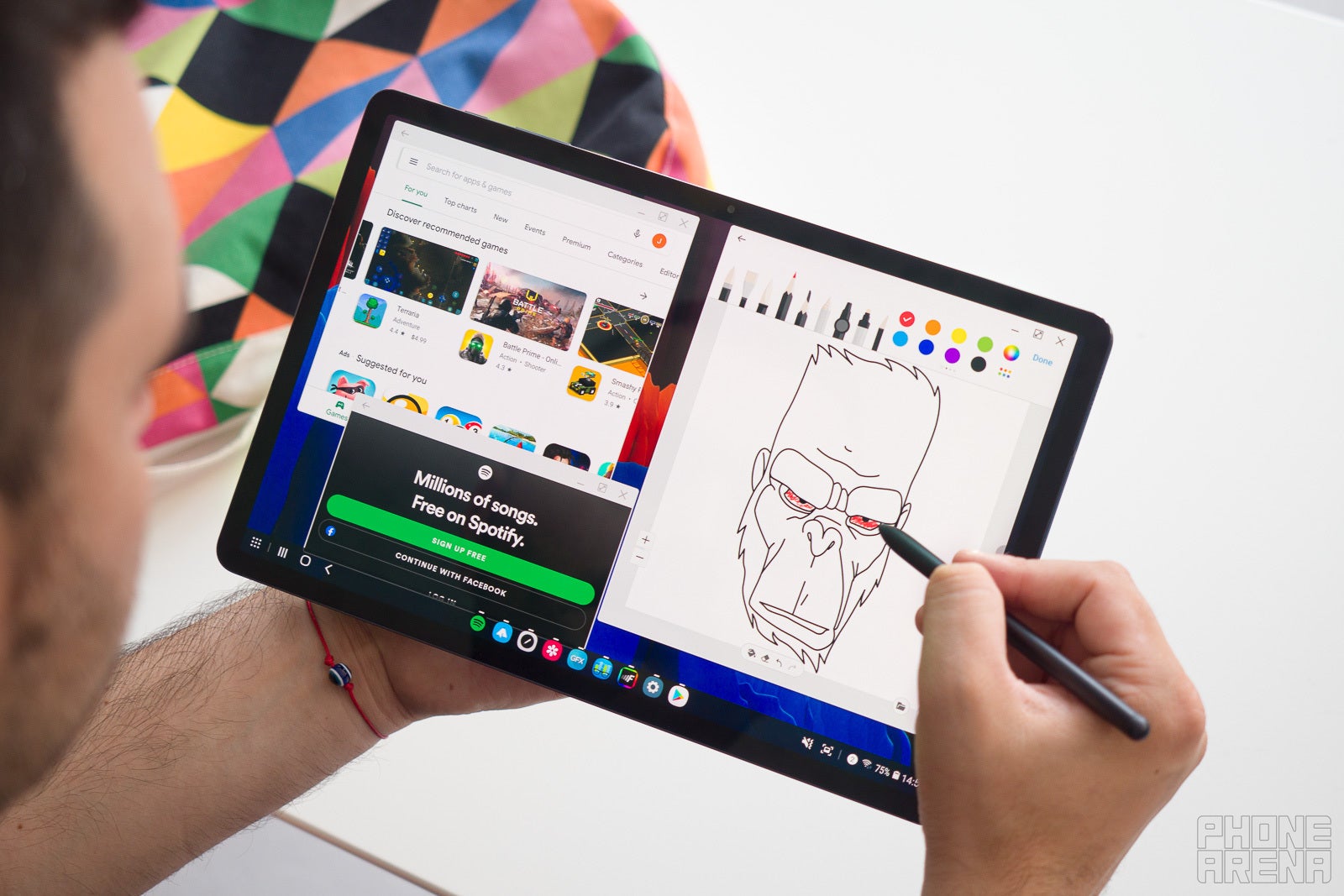 With a Snapdragon 865+ chipset on deck, the Tab S7+ was a true heavy-hitter of its time. In 2022, this means you still get the features and performance that were meant to be best-in-class for their time — we humbly believe that the flagship of yesteryear is a better purchase than the midranger of today. It never feels like it is struggling to keep up with the user's pace and there's always performance in reserve. Paired with the high refresh display and the streamlined One UI interface, this tablet is leaps and bounds above its predecessors in terms of perceived snappiness.
RAM comes in at either 6 or 8GB. These days we have phones with 12GB of RAM, but unless you are a heavy multitasker, this won't matter much. Still, given that the Tab S7+ commands a higher-than-average price tag, 8GB of RAM in the basic version would have been a much more appealing choice for power users.
What makes the Tab S7+ extremely future-proof is the 5G support on board. Simply pop up a SIM card in the tray and you can enjoy the super-fast connection speeds ensured by the 5G technology right at your fingertips.
Galaxy Tab S7+ S Pen, Interface, and Productivity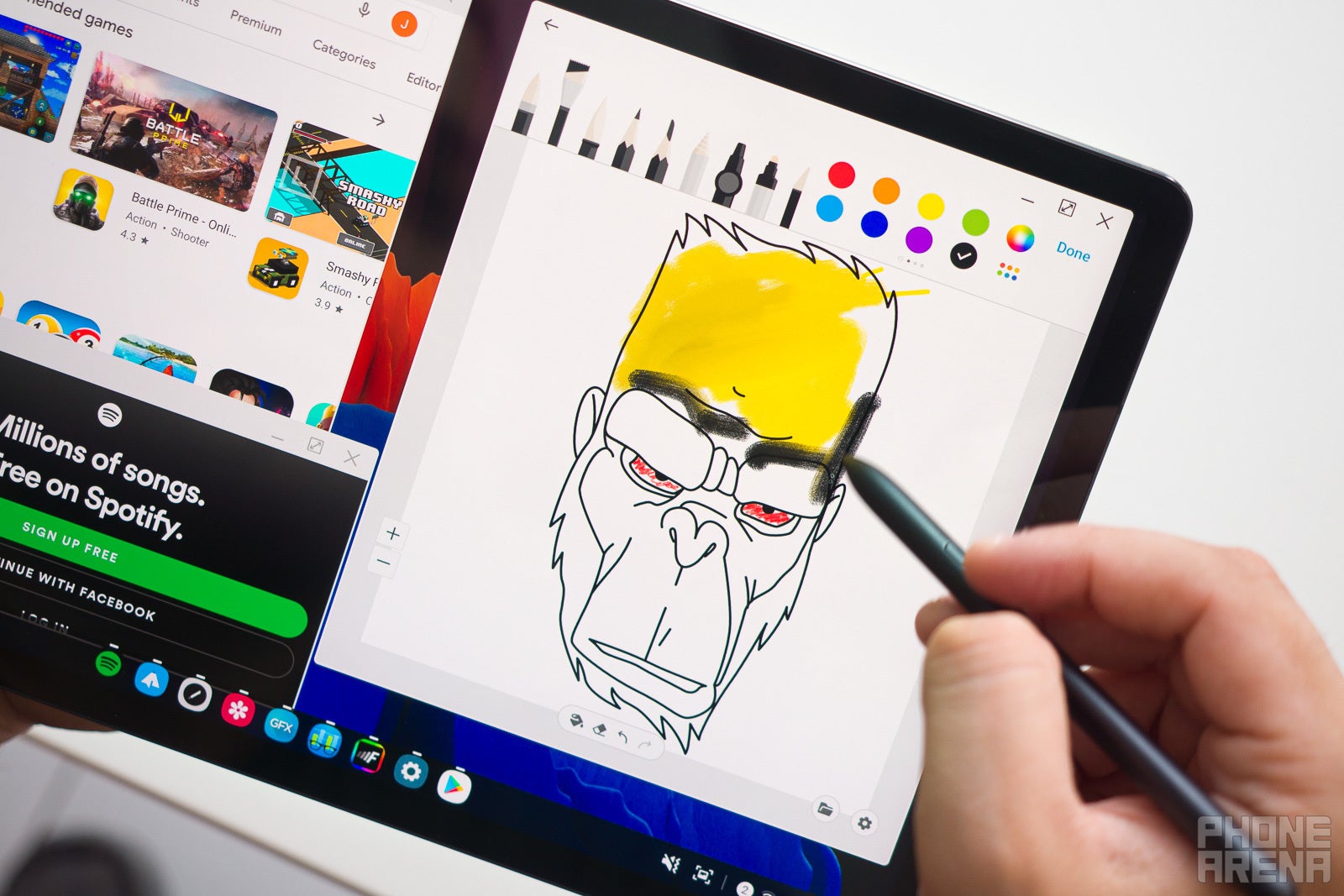 By the way, Samsung has introduced quite a lot of new productivity features with the Tab S7+, with multitasking being the leitmotif here. The new and improved Multi-Active Window lets you open and use up to three apps simultaneously. You can save your favorite combination of apps with App Pair and launch all three apps at once. If that's not enough, the Tab S7+ also features the slide-out Edge screen, similar to
Galaxy phone
s, for quick access to apps.
DeX mode is also on board, offering a desktop-like interface that might suit defectors from the PC neighborhood. DeX hasn't scored any major new features and is pretty similar to what you might get on the Galaxy Note series or Samsung's previous tablets.
The S Pen has been greatly improved as well, with reduced latency that makes use of the 120Hz display refresh rate. The annoying lag that was present on previous
Samsung tablet
s is now gone. The S Pen has also been redesigned and now sits better in the hand. It's also easier to find the button without looking.
Thanks to Air Actions, you can also control your Tab S7+ with the S Pen from a short distance. You can create quick actions such as Back, Home, Recent, Smart select, and Screen write and you trigger them by waving the S Pen mid-air. These are mostly a hit-or-miss affair.
Samsung Notes is another overhauled app that has scored tons of useful new features like cloud sync and note sharing that lets you access all of your notes, lists, and drawings from any compatible PC, phone, or another
Samsung tablet
. What's more, the app has been optimized for the large screen and feels like a more professional take on the important note-taking functionality. There's even a folder-like structure that allows you to sort your notes like a pro.
Galaxy Tab S7+ Battery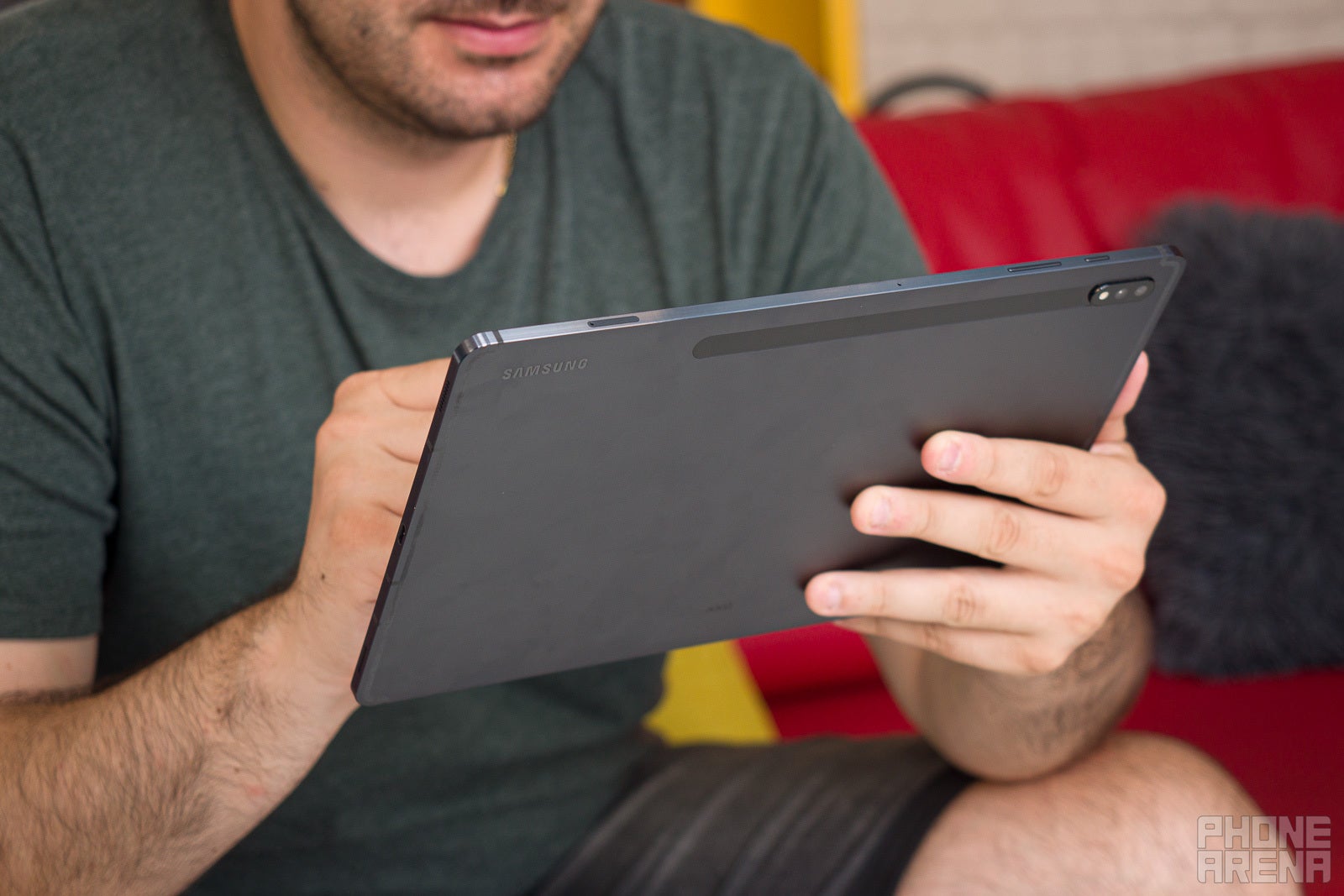 There's a humongous 10,090mAh battery tucked beneath the frosted glass at the back of the Tab S7+, and it will last you a full day, all things considered. You can expect around 7 hours and a half of web browsing, 6 hours and 45 minutes of multimedia consumption, and nearly 10 hours of gaming. If you leave the smooth 120Hz option enabled, expect less.
What's even more impressive is the 45W super-fast charging support on deck. However, you will have to cash out for a super-fast charger: there is only a 10W charger in the box, which tops up the Tab S7+ in 178 minutes, or 2 hours and 58 minutes. That's definitely slower than what you'd get from a faster charging brick.
Galaxy Tab S7+ Camera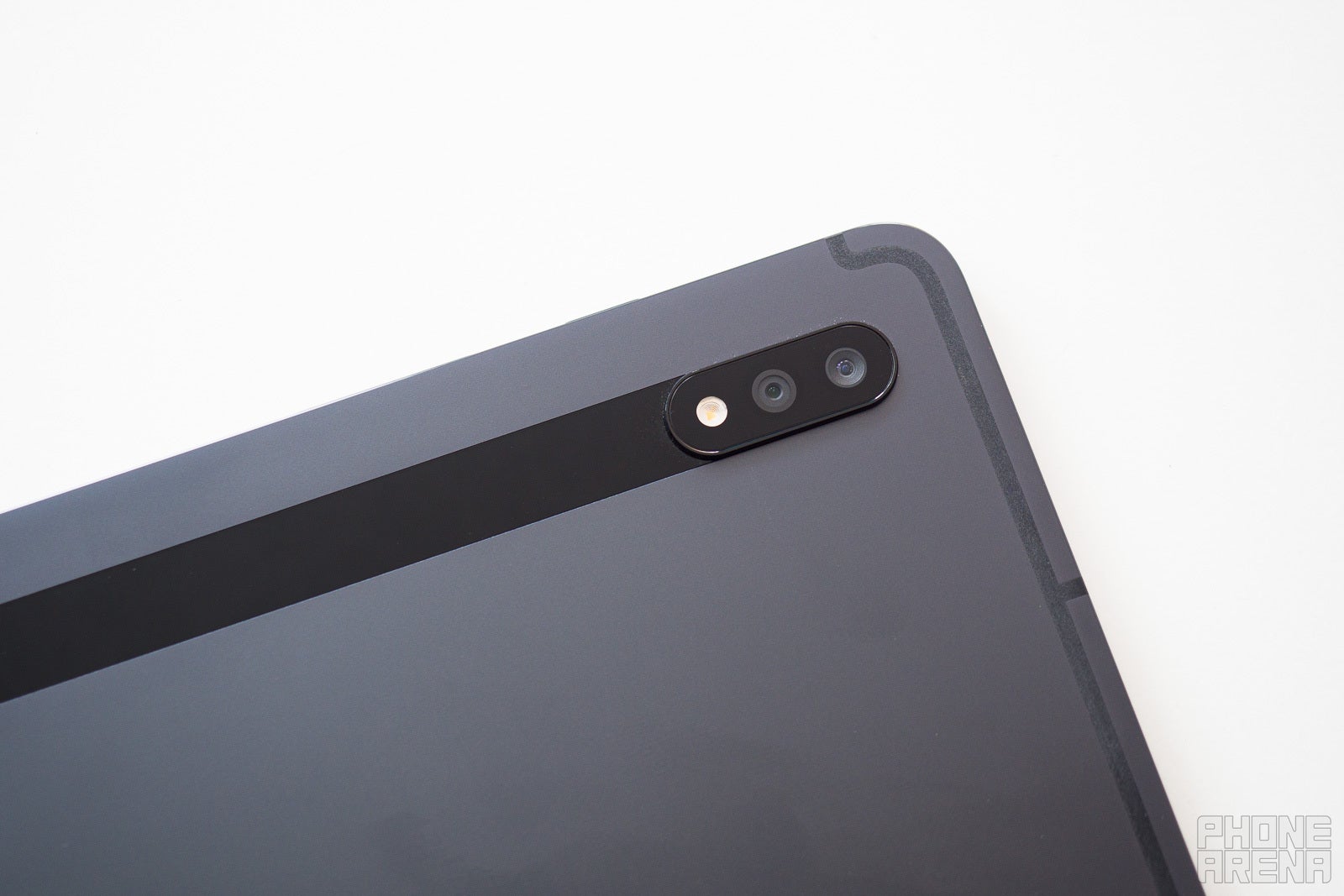 There's a dual camera at the back of the tablet. The main camera is a 13MP one, supplemented by a 5MP ultra-wide angle one. It shoots pretty okay pictures that are definitely usable, but let's be real, you're not going to use this large tablet to take pictures on the regular. In case you do, however, the Tab S7+ will greet you with the same interface and similar features as the latest S20-series. The Single Take feature is on board, for example, allowing you to simultaneously capture videos and photos of the meaningful moments in your life.
Video calls are another topic altogether, and Samsung has put a very good 8MP selfie camera that has tons of detail and good dynamic range. That comes pretty useful for video calls. Samsung is perfectly aware of that and has positioned the selfie camera on the long side of the tablet, which would make the angle of view more flattering when you use the tablet propped up in landscape mode.
Is the Galaxy Tab S7+ the tablet for you?
So there we have it, the Samsung Galaxy Tab S7+. If you need help deciding whether to buy this tablet or Apple's iPad Pro, here are some things to keep in mind. While the iPad Pro is a more powerful tablet, featuring several exclusive pro apps that you won't find on Android, its screen size is a 4:3 ratio, meaning taller and better suited for web browsing and working. Also, the iPad Pro does not come with a stylus and you'll have to buy an Apple Pencil separately, which on its own isn't cheap.
However, the Galaxy Tab S7+ does have the openness of Android, the Samsung DeX desktop mode for better productivity, comes with a free S Pen stylus included, and has a widescreen display, better suited for watching videos and movies, but don't disregard its functional merits, too.

Recommended Stories