Samsung Galaxy A72 vs Galaxy S21 5G
4
We may earn a commission if you make a purchase from the links on this page.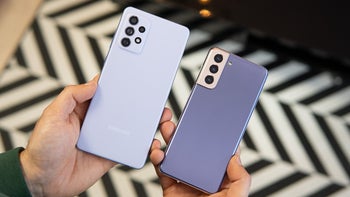 Aside from having a super-premium Galaxy S series,
Samsung
has spent the past few years pushing yet another line of premium phones that are cheaper, yet try to tick all the right boxes. That would be the Galaxy A series and its top-tier representative — the
Galaxy A72
— just came out.
But what happens when we compare the Galaxy A72 vs the
Galaxy S21
? Where has Samsung cut corners and are we missing out on anything? Or is the Galaxy A72 the "People's Galaxy S"?
Here's a quick checklist of what we expect:
Both phones have a plastic back, A72 has plastic frame where S21 is metal
Galaxy A72 has zoom camera, like S21, but also adds macro camera
Galaxy A72 has a huge 5,000 mAh battery, bigger even than S21+
Galaxy A72 has a big, 6.7-inch display, thicker bezel. S21 has 6.2-inch screen
Galaxy A72 has a Snapdragon 720G processor instead of Snapdragon 888
Galaxy A72 has 90 Hz screen, Galaxy S21 is 120 Hz
Galaxy A72 price: $550 - $600 (speculated) vs $800 for S21
So, let's do a quick recap. What are you missing out when getting an A72 instead of an S21? You are to save about 200 bucks (speculated) but sacrifice the top performance. The A72's camera is also a step below the Galaxy S21. Of course, the top line needs to keep its crown.
But the Galaxy A72 has both a microSD card slot and a headphone jack. It will also get you a bigger display (Samsung's signature stunning AMOLED, too), a large battery, and pretty adequate performance, with Qualcomm's upper-midrange chipset.
So, not a bad deal.
Galaxy A72 vs Galaxy S21 design and display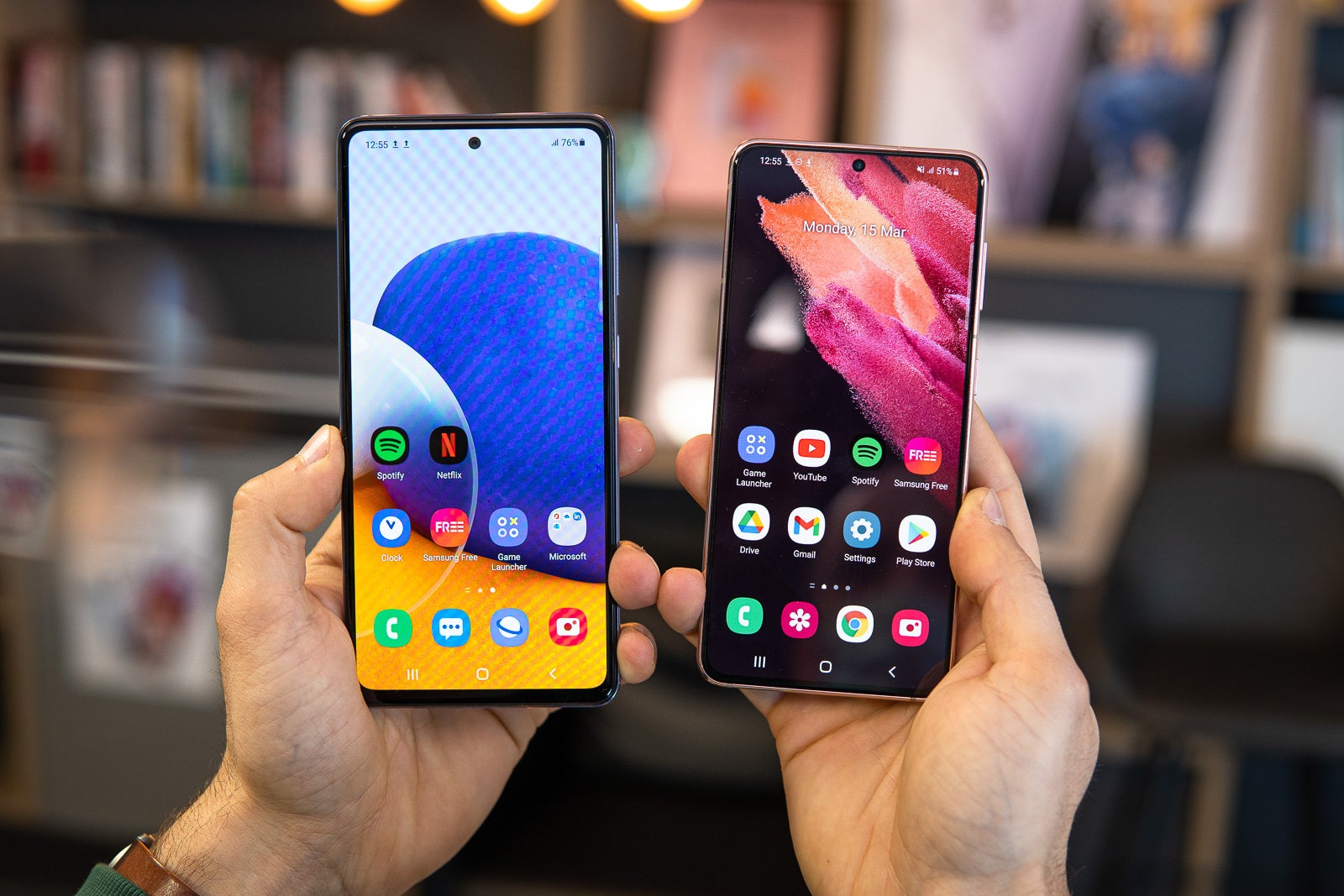 A72 left; S21 right
There's a major difference in size here, which might be one of the reasons to pick the A72. If you are after a big-screened Samsung phone, but don't want to shell out for a Galaxy S21+ or the massive Galaxy S21 Ultra, the Galaxy А72 is your next best choice.
It has the same beautiful AMOLED panel that Samsung's top-tier phones are known for, and has a 90 Hz refresh rate. It's not as smooth as 120 Hz, but it still feels like a definite improvement over the 60 Hz of yesteryear. Animations and scrolling are smooth and responsive, and the phone is a pleasure to operate. Still — yes, the S21 is smoother.
The Galaxy A72 has a matte plastic back, just like the Galaxy S21. But its warm frame also feels plasticky — the S21 wins in the build department thanks to that metal frame that blends seamlessly with the camera module. But hey, hey, on its own — the Galaxy A72 still looks kind of cool and has its own style.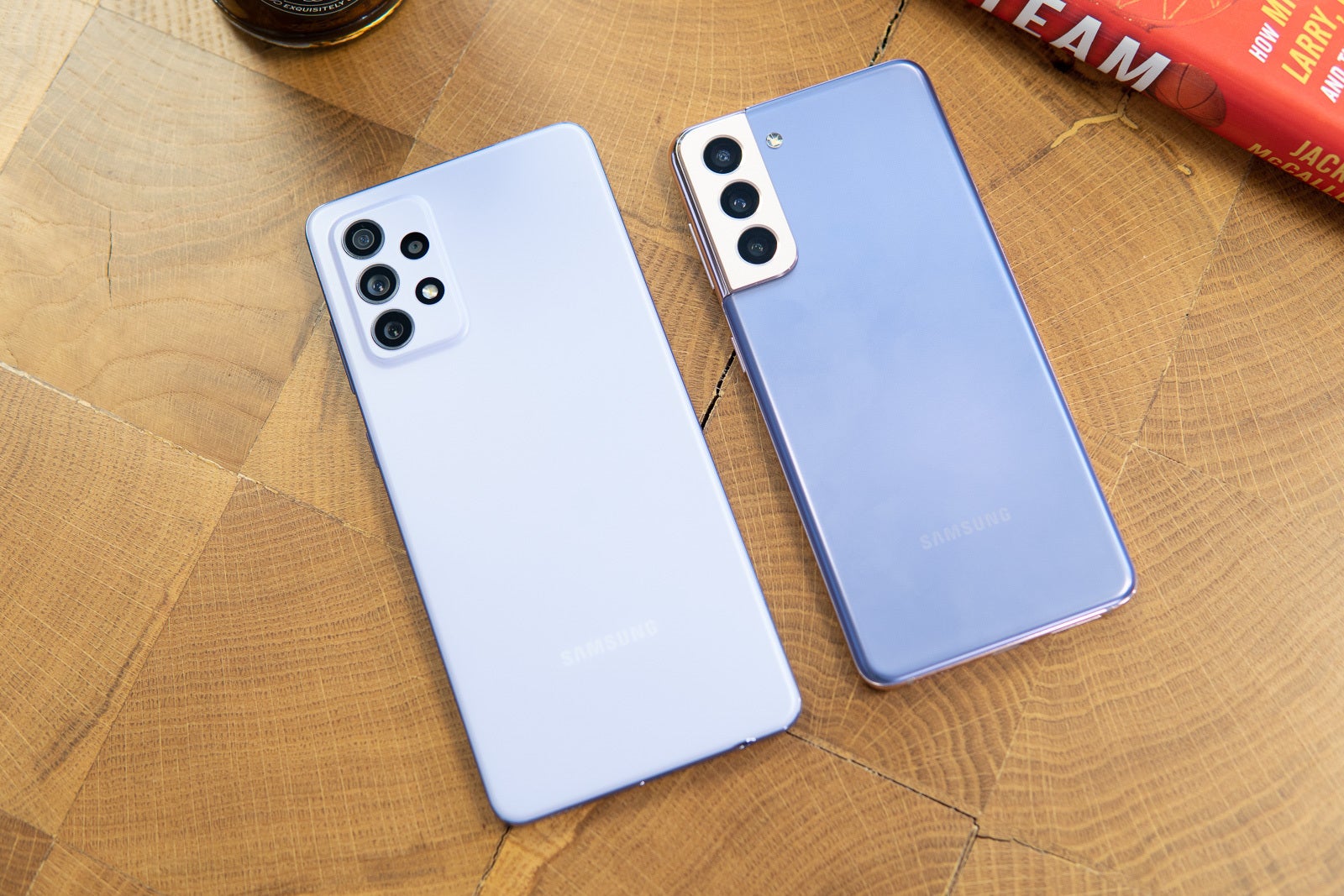 A72 left; S21 right
And speaking of design — it seems the engineers managed to somehow fit a headphone jack in the Galaxy A72's body. And stereo speakers, too, which is an upgrade over the A71's honky mono driver.
Galaxy A72 vs Galaxy S21 camera
In the camera department, the Galaxy A72 relies on raw numbers to impress you — a 64 MP main camera and a 32 MP selfie camera. But also — that main camera has optical image stabilization. This feature is usually reserved for the big boys, so it's kind of a big deal. It allows the phone to take non-blurry photos in the dark, and also take more stable videos. Sweet!
The Galaxy S21 has a 12 MP main camera and a 10 MP front-facing camera. Wow, is that a downgrade? No, fewer pixels on a sensor means bigger pixels, allowing for the collection of more light.

But, take a look at the extra camera sensors. There's a quad-lens module on the back of the leaked Galaxy A72 images, which looks impressive. And yes, one of those is a useful 12 MP ultra-wide camera. But the other two are a 5 MP macro camera — which will probably not see much use — and a 5 MP depth sensor, which is there to help with portrait effects.

The Galaxy S21 covers its bases with 3 cameras on the back — ultra-wide, wide, and "zoom" camera. The third doesn't actually sport a telephoto lens, it just uses a high-resolution, 64 MP sensor, and crops in digitally. Still, it does a very decent job as a zoom camera and the lack of a telephoto lens shouldn't put you off.
OK, so what's the verdict here?
Quite frankly, these cameras perform very close to one another — color calibration, details, dynamic range. The A72 is a very, very decent
camera phone
for midrange money. Now, we do get some differences when zooming in — both phones support up to 30x digital zoom, and while both aren't great at it, the S21 at least manages to hold it together somewhat. At 10x and beyond, the A72 just starts to oversharpen way too much, and the image starts looking like a pencil drawing.
Otherwise, it's great to see that the A72 doesn't skimp on both features and performance in the camera department.
Galaxy A72 vs Galaxy S21 specs and performance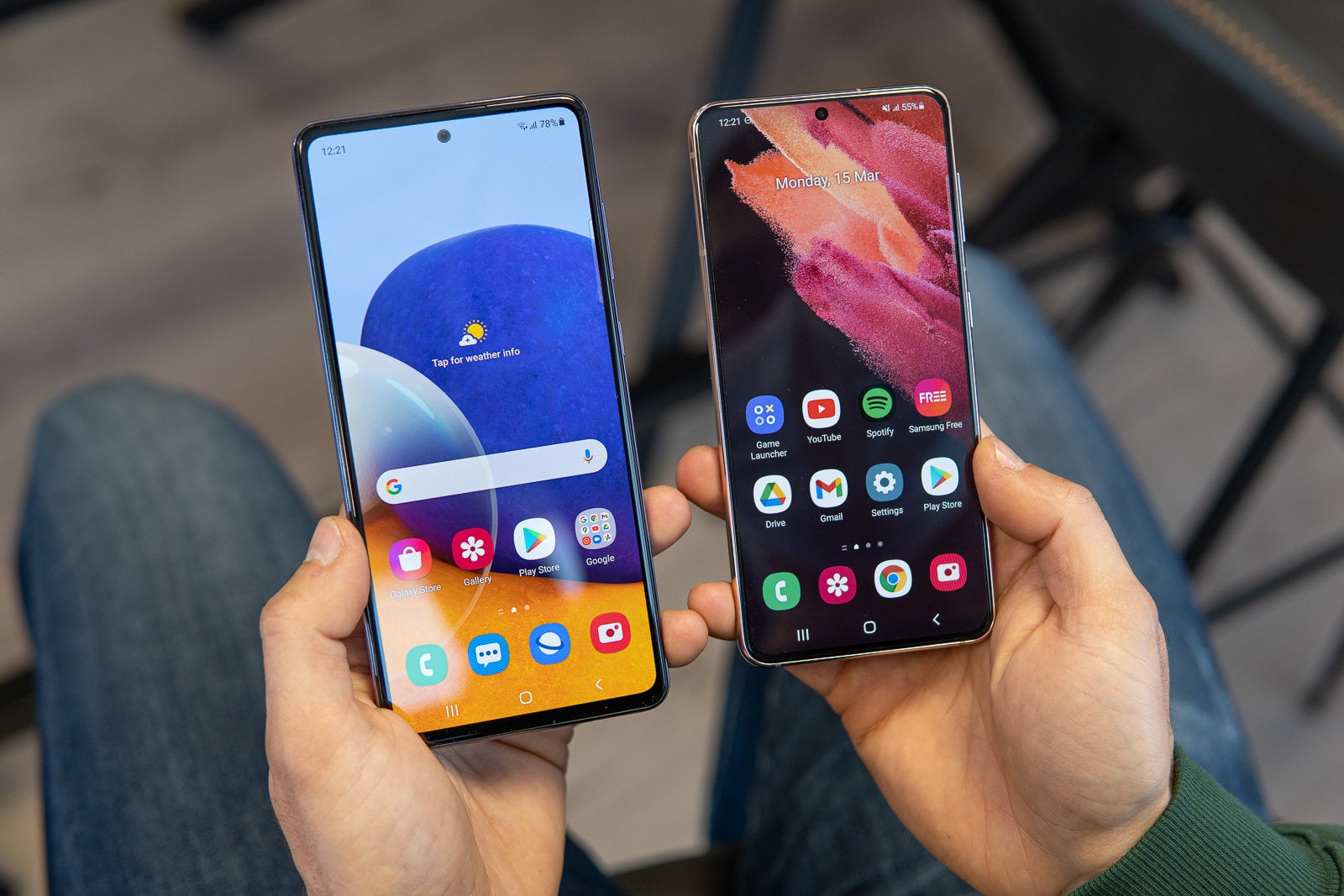 So, of course, a midrange phone will have a midrange processor. The Galaxy A72 was rumored to come in two flavors — one with 5G and one without. But, alas, it only came in one — that's 5G-less. Well, at least for now — Samsing may still announce a version with a 5G antenna some time in the future.
In any case, the Galaxy A72 is powered by a Qualcomm Snapdragon 720G — not near the top-line of Qualcomm chips, but a steady midranger.
The 2.84 GHz Snapdragon 888 that is in the Galaxy S21 slaughters the Snapdragon 720G in benchmark scores. The former is built on the newest, bleeding-edge 5 nm process, meaning it's more energy-efficient, too. However, the 8 nm Snapdragon 720G has a lower top speed (2.3 GHz), so it won't be digging deep into those battery reserves. But it won't bedazzle you with performance numbers as well.
In real life, the Galaxy S21 outperforms the A72 in gaming and heavy tasks. When it comes to your casual usage and daily apps, the Galaxy A72 does just fine.
The Galaxy A72 does have a trick up its sleeve, though. It not only comes in two storage tiers — 128 GB and 256 GB — but also has a slot for a microSD card. The Galaxy S21 famously axed the microSD expansion option, forcing users to stick with the base 128 GB or 256 GB options.
And, in terms of RAM, the Galaxy A72 comes with either 6 GB or 8 GB, tied to storage tier, whereas the Galaxy S21 holds a steady level at 8 GB of RAM. In real-world use, this shouldn't make a difference between both phones.
Galaxy A72 vs Galaxy S21 battery life
The Galaxy A72 has a 5,000 mAh battery, which is slightly larger than the S21's 4,000 mAh cell. To top it off, the A72 also has a lower-powered processor to feed. So, does that result in a better overall battery life?
Well yes, as long as you aren't doing something fancy, like streaming constant media or gaming your brains out, the Galaxy A72 is an absolute endurance champ. It's a phone that will last you a day for sure, and if you are a casual user — 2 days easy.
The Galaxy S21 is your typical "charge me every night" phone.
In another bout of good news — the Galaxy A72 supports 25 W fast charging, just like the S21. However, the A72 does not have wireless charging.
Galaxy A72 vs Galaxy A52 5G price and availability


€449 vs €349 and €429 for the A52 5G
The phones have been announced with European pricing and will hit the shelves in the US a bit later. Additionally, we expect the 5G variant of the Galaxy A72 to have a higher price, but it is unknown at the moment, as this phone has not been announced yet. Most likely, the situation with it will be the same as last year when Samsung announced the Galaxy A72 5G in the summer. The A72, the A52, and the A52 5G are now available for purchase through Samsung.com, and in the US, they are available for now only on B&H.