Samsung Galaxy A72 review
8
We may earn a commission if you make a purchase from the links on this page.
This review is of the Samsung Galaxy A72 with 4G, the Galaxy A72 with 5G has not been announced yet.
Last year, the midrange
Galaxy A71
was a success and became quite popular. Now, its successor is here, bringing significant improvements to the table, with a smooth 90Hz high refresh rate, a bigger 5,000mAh battery, and a versatile camera system. All of these cool features are packed under a gorgeous new look the Galaxy A72 sports, with fresh and youthful colors. There is a smaller improvement in the processor capabilities and its performance is not a giant step forward from the Galaxy A71, but despite that, the A72 is a good investment for anyone wanting a smooth Samsung phone, with great battery life and a capable camera for the affordable price of $430.
What are the Galaxy A72 4G vs A72 5G version differences?
Now, Samsung has released only the 4G-capable Galaxy A72, and we expect the 5G version to hit the US market sometime in the summer, similarly to what happened with the Galaxy A71. The main differences between the two models are, of course, the presence of 5G on the A72 5G, which will most likely have a slightly faster processor, and possibly a 120Hz refresh rate, whereas the A72 4G has a 90Hz refresh rate. Still, keep in mind that a difference between 90Hz and 120Hz is hardly distinguishable with the naked eye, so right now, the only main reason why to wait for the Galaxy A72 5G is shaping to be the 5G connectivity.
So, having discussed the differences between the 4G and the 5G model, let's jump straight into our Galaxy A72 review.
Design and Display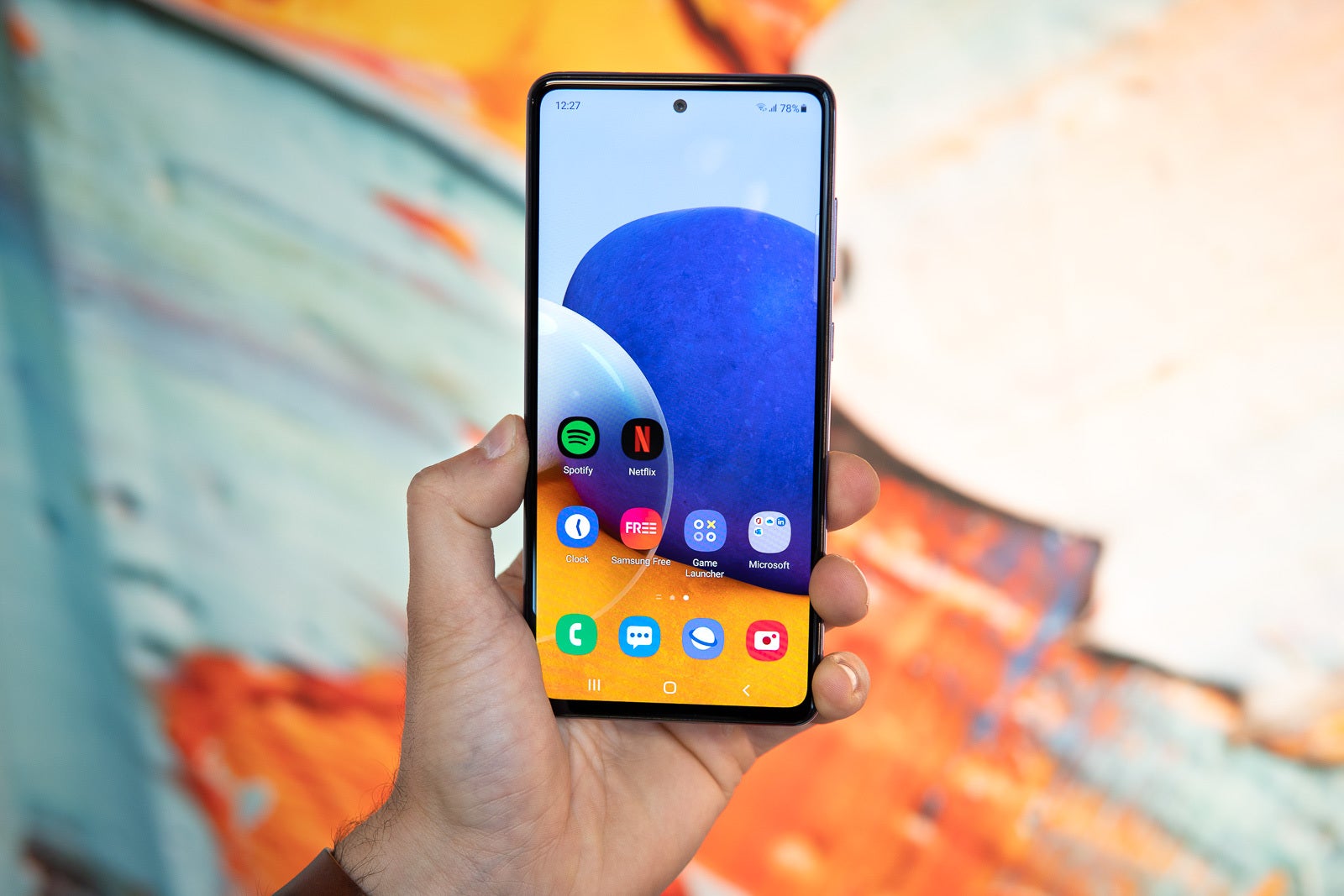 Although the Galaxy A72's display is the same 6.7-inch AMOLED display we see in the Galaxy A71, there is one substantial upgrade the A72 can now brag with: more precisely, we are talking about the 90Hz fast display refresh rate. This feature makes its first appearance in a budget-friendly Samsung phone to assure smooth scrolling and animations, and it does bring a nice feel to the overall experience with the phone.
Surrounded by relatively thin bezels, the Galaxy A72's screen sports 2400 x 1080 resolution with 394PPI pixel density, which, overall, is a good resolution for this price range. The Super AMOLED Plus screen that we have on the Galaxy A72 gives us those deep AMOLED blacks and rich, yet not oversaturated, colors, and is definitely a pleasure to look at.
Overall, the screen quality on this phone is excellent, and you have Vivid and Natural color modes to pick from for the display. The Vivid mode makes the display brighter and the blue light stronger, and that helps when you're outdoors. As for the Natural, its name rightfully suggests the colors are more subdued, but still a pleasure to view. If you have more sensitive eyes, the Natural mode will be more gentle and won't stress them as much as the Vivid mode.
Display measurements and quality
The under-display fingerprint sensor makes an appearance on the Galaxy A72, and that is to be expected. It's accurate, although it's a bit slower than what other phones brag with. For biometrics and security, the phone also features facial identification, and this one is quite faster than the optical fingerprint sensor.
As far as the design is concerned, the phone comes in four fresh colors: Awesome Black, Awesome White, Awesome Violet, and Awesome Blue. In our photos, you can see the Awesome Violet variant, and we also tested the Awesome Blue color. These color options are all matte and look pleasing in a bit of an understated way. The phone features a plastic back and it feels a bit bigger than its predecessor but definitely not too heavy. Samsung did quite well with the weight distribution of the Galaxy A72 and it is comfortable to hold for extended periods of time, even without a case on – it's neither too heavy nor too light.
A notable improvement we see this year is the IP67 water and dust rating, which the A71 unfortunately lacked. This feature is an important addition, even to the mid-range phone segment, as we all probably know mid-rangers are as susceptible to water-spilling-on-phone accidents as any premium phone. For those of you who don't know, the IP67 rating assures the phone can withstand for about 30 minutes under 15cm to 1m of water, and is protected against dust and sand.
Camera and Audio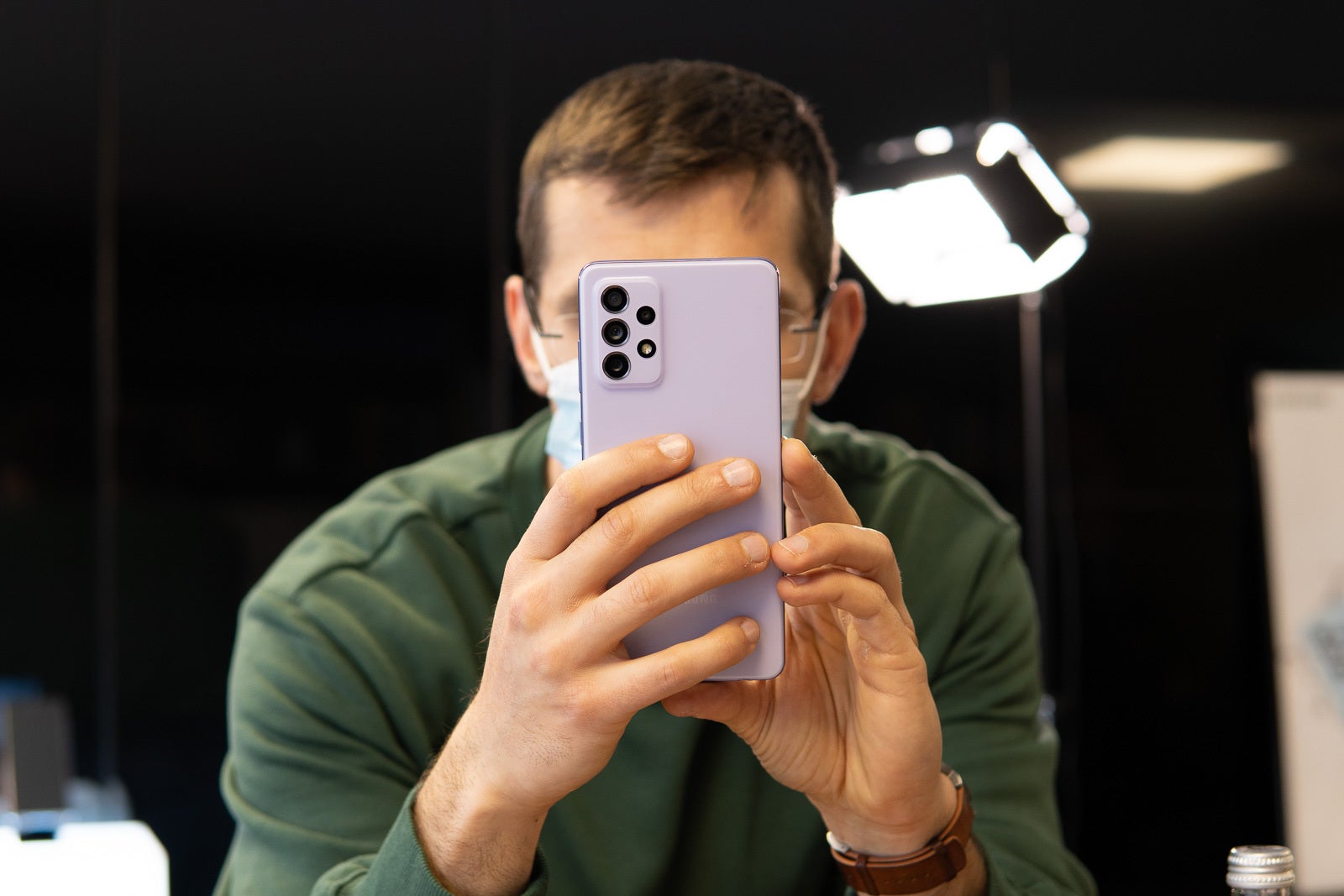 The Galaxy A72 has a quad-camera setup
The first thing that catches our attention when we discuss the camera is the camera bump design. It looks organized, neat, and the camera lenses stand out in a quite sophisticated manner.
On top of the nice new look, the Galaxy A72 is graced by some notable improvements in the camera department. It features a quad-camera setup just like its predecessor with a main sensor of 64MP, but this time with OIS (Optical Image Stabilization). To complement the main camera, we are getting a 12 MP Ultra-wide shooter, and two additional sensors: a 5MP macro and an 8MP telephoto camera. The telephoto lens is able to provide higher quality zoomed-in photos than your regular digital zooming (cropping in the photo) can, and it can go all the way to 30 times zoom. Of course, 30 times zoomed-in photos are not social-media-friendly, but it's nice to have this feature on a midranger. For reference, the Galaxy S21 also has 30 times zoom.
The photos by the Galaxy A72 are quite good, realistic, with good dynamic range and pleasing colors. An important feature, the Optical Image Stabilization, helps the midranger produce brighter and sharper images even in challenging lighting conditions, such as low-light, for example. On top of that, the Galaxy A72 comes with a couple of fun camera features, such as 4K Video Snap and AR Emoji. The former allows you to take your favorite scenes from your 4K video footage and transform them into 8MP images, while the latter uses Snapchat filters so you can have some fun with friends for social media content.
Here you can look at the camera samples from the Galaxy A72:
The Camera app software has been borrowed from the Galaxy S21 series, so it's clean and intuitive, with convenient zoom presets for 2x, 4x, 8x, 10x, 20x, and 30x zoom.
For video, the phone can shoot at UHD (3840 x 2160) resolution at 30 frames per second. You can switch between the ultra-wide and the normal camera during video recording, and the videos turn out bright, with a natural look and colors.
As far as audio is concerned, the stereo speakers on the Galaxy A72 produce loud sound, that you can comfortably listen to without maxing it out. Lower pitches at the maximum volume can be a bit uncomfortable to listen to, but a headphone jack is also present, a welcome addition to the mid-range phone.
Software and Performance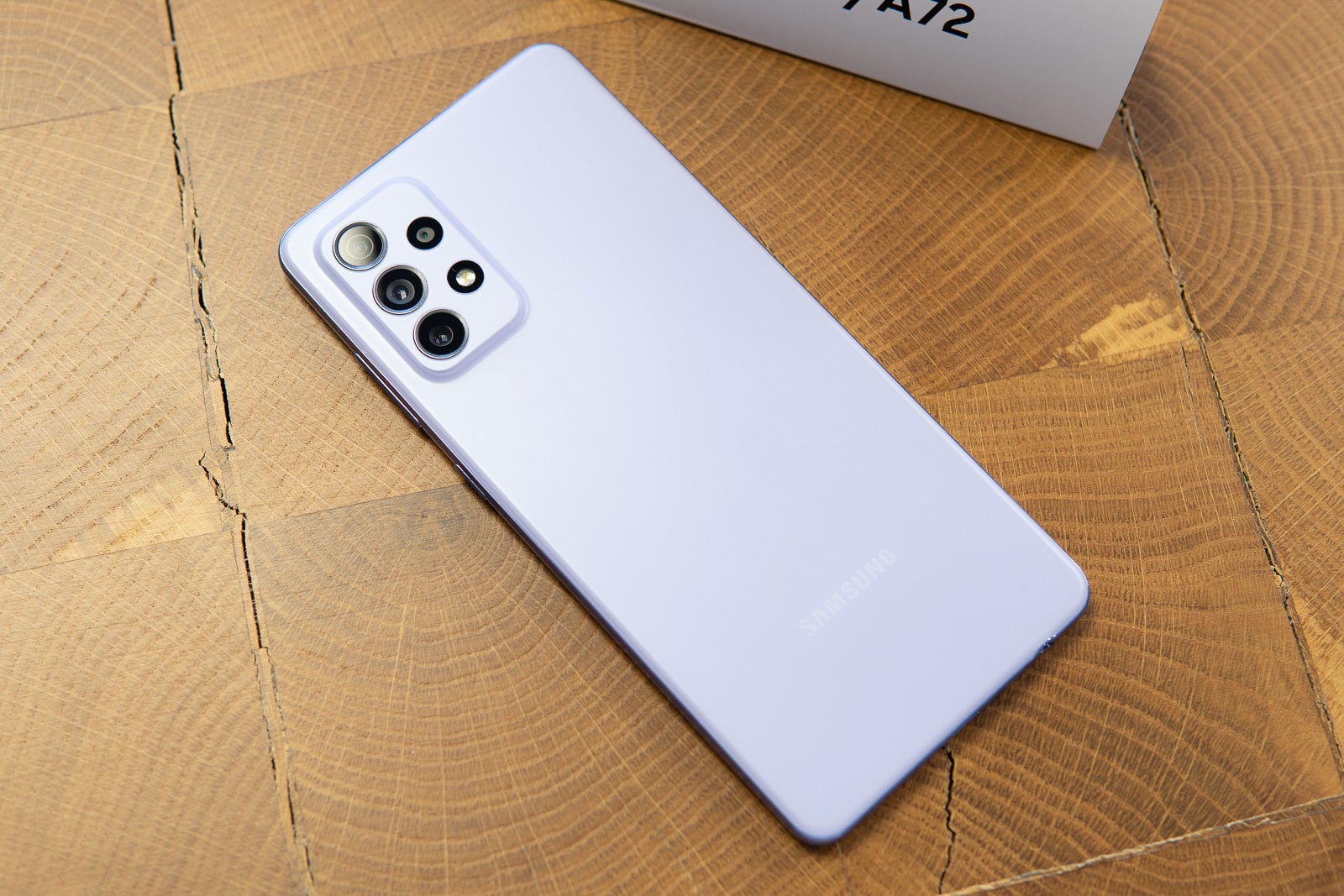 The Galaxy A72 5G comes with the Snapdragon 720G, a slight upgrade over last year's Snapdragon 730 on the A71. Overall, it brings a small improvement in CPU speeds, but it is capable of handling everyday tasks, such as social media browsing and video streaming, with ease. For gaming, the processor needs some more time to load certain heavier games and some of them may need medium settings to run smoothly, but the performance while gaming is quite good for that price range.
With the 90Hz refresh rate the A72 rocks, the phone feels snappy and responsive. We have said it before: midrange processors are getting better, and you can rarely feel that you are using a more budget-friendly phone.
For storage, you have plenty with the base storage of 128GB and the support for a MicroSD card. In terms of RAM, the phone we tested has 6GB of RAM, which assures smooth multitasking for your everyday usage.
The phone comes with Android 11 and you get all the bells and whistles of Samsung's One UI 3.1 here. For example, you can make your phone automatically switch to dark mode after sunset, to protect your eyes; you have revamped notifications, fast access to widgets, more lock screen customization options.
Additionally, you get Samsung's SmartThings, Dolby Atmos, which allows you to optimize your audio for three different activities: Movie, Music, Voice; on top of that you get an Auto setting that, as the name suggests, optimizes it for you depending on your activity.
Of course, One UI offers a lot of customizations and settings, but nonetheless, you can go and use the phone without any need for that deep customization and you'll still be able to enjoy its good performance. If you happen to be a more advanced user, there are layers and layers of One UI 3.1 settings that you can dig into for fun and convenience.
Battery life
A huge 5,000mAh battery cell equips the Galaxy A72 for what Samsung calls a two-day battery life. And that's not just a media stunt - the phone's battery life is, indeed, stubborn. Moderate users will definitely get the two-day battery life, especially if you tend to browse social media a lot. Gaming and YouTube, of course, drain the battery faster, but the big battery cell assures that you can still make it to the end of the day with little worries.
On top of that big battery, the A72 supports 25W fast charging, but you should note that it comes with a 15W charger in the box, so if you want the fast charging, you should purchase the 25W charger separately. The 15W charger included in the box takes an hour and 27 minutes to charge the Galaxy A72 from 0 to 100%.