Samsung Galaxy A72 5G vs Galaxy S20 5G
We may earn a commission if you make a purchase from the links on this page.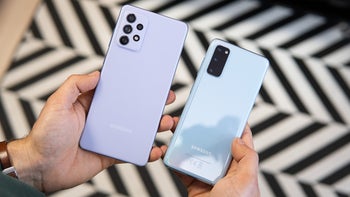 Samsung's value Galaxy A line is getting pretty serious with the
Galaxy A72
. A midrange phone with a high refresh rate screen and a camera with optical image stabilization? Coveted features, usually exclusive to the top Galaxy S line.
With that in mind, the eternal question "Should I buy this year's midranger or last year's flagship?" might pop up in your head. The
Galaxy S20
is not officially sold in the
Samsung
store anymore, but it's out there in the hands of retailers and carriers.
At about $449, the Galaxy A72 costs much less than expected in its 4G reincarnation, and there might not even be a 5G one soon, so its price is definitely below that of the S20, even when on promo. With that said, is it worth waiting for a
Galaxy S20
deal or should you just buy a Galaxy A72 instead?
Here's a quick look at things:
Galaxy A72 has a plastic back, S20 is metal and glass
Galaxy A72 has zoom camera, like S20, but also adds macro camera
Galaxy A72 has a huge 5,000 mAh battery, S20 has 4,000 mAh
Galaxy A72 has a 6.7-inch display vs 6.2-inch on the S20
Galaxy A72 has a Snapdragon 720G vs Snapdragon 865
Galaxy A72 has a 90 Hz high refresh rate vs 120 Hz on S20
Galaxy A72 price: $450-$550 vs wait-for-discount S20
Galaxy S20 has a curved "edge" screen
Galaxy A72 has both a headphone jack and microSD card slot
So, what are the tradeoffs here? Both phones look kind of similar, but the A72 is definitely bigger. However, the S20 has a curved "edge" screen, if that's what you're into. Also, the S20 feels a more premium with its glass-and-metal construction.
In terms of performance, the Galaxy S20 wins bigly, with the Snapdragon 865 consistently outperforming the 720G. Surprisingly, the Galaxy S20's camera doesn't outperform the Galaxy A72, even in low-light conditions. Our opinion? Still, wait for a deal on the S20 or - if you are looking for a bigger screen - the S20+. Choose the Galaxy A72 if you really hate the curved edge display, need longer battery life, or want to toss your phone around without a care in the world.
Galaxy A72 vs Galaxy S20 design and display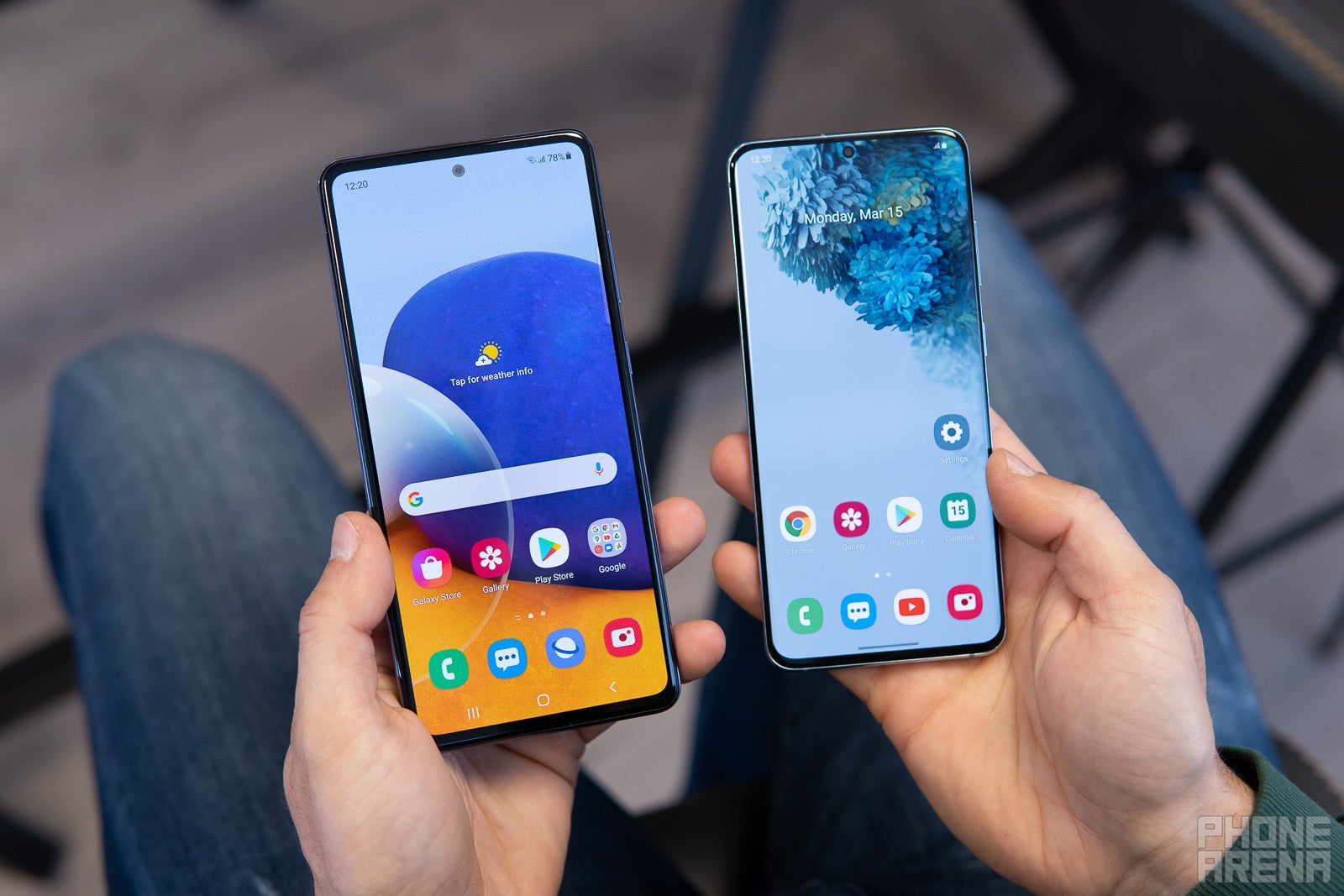 Galaxy A72 vs Galaxy S20
If screen size is of utmost importance to you, then the A72 will definitely look like the more lucrative offer. With a big, 6.7-inch screen with the same quality AMOLED as the flagships, it should definitely be a neck-twister, right? Especially since it's a high refresh rate display as well, albeit at 90 Hz. Well, its colors are colder and slightly less credible than on the S20 display, plus it doesn't have the certification for brightness and gamut that will bring you the HDR experience while watching Netflix.
Display measurements and quality
The Galaxy S20 is definitely a more compact experience, too, which may or may not be your thing. When it comes to build, the Galaxy S20 is definitely the better-feeling phone. Samsung's recent switch-back to
plastic
glasstic backs on their phone feels like a bit of a gut-punch to us cork sniffers. If you happen to always use your phone with a case - no biggie. The S20 also has the Samsung-signature dual curved screen, which a lot of people actually dislike, so again - if you are in that particular camp, then point goes to Galaxy A72.
A few more interesting tidbits - both the Galaxy S20 and Galaxy A72 have a microSD card slot for storage expansion, yet only the A72 has a headphone jack. We also have stereo speakers on both smartphones.
Galaxy A72 vs Galaxy S20 camera
The Galaxy A72 has impressive camera specs on paper — a 64 MP main camera and a 32 MP selfie camera. Actually, what's that? A full set of quad cameras on the back?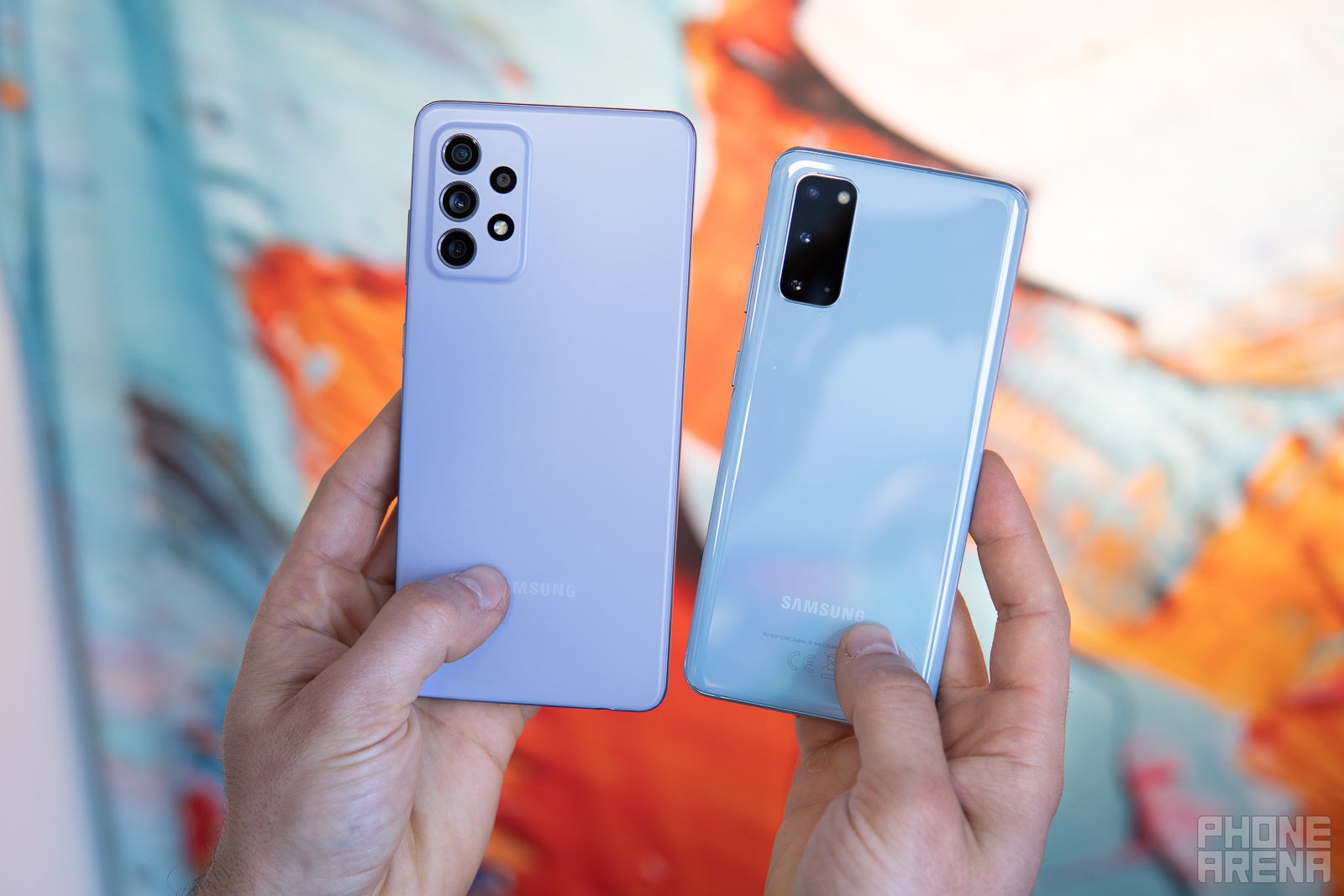 Yeah, OK, let's dial it back a little. The Galaxy A72 has a 64 MP main camera, a 12 MP ultra-wide camera, an 8 MP zoom camera, and a 5 MP macro camera. The Galaxy S20 has a 12 MP main camera, a 12 MP ultra-wide camera, and a 64 MP zoom camera.
We had some time with the Galaxy S72 and it seems that the camera favors a cool color temperature. It definitely comes up with sharp images, but there seems to be a bit more software oversharpening going on as well.
The Galaxy A72 has optical image stabilization on its main camera, which is a feature we still rarely see on midrangers. A welcome one, of course, it improves low-light performance and video stability as you can see in the samples here, and brings it up to par with the 2020 flagship. Then, there are features like Portrait Mode and the ultra-wide camera, present on the Galaxy A72 and ready to contend with the Galaxy S20.
As for the selfies - a 32 MP sensor on the front sounds a bit scary. Will it underline absolutely every wrinkle on our faces? Nah, the 32 MP camera of the Galaxy A72 doesn't outperform the 12 MP selfie sensor on the Galaxy S20 in terms of detail. Bottom line, there is a competent camera performance from both phones, and we'd even give a slight preference to the colors and white balance resulting from the A72.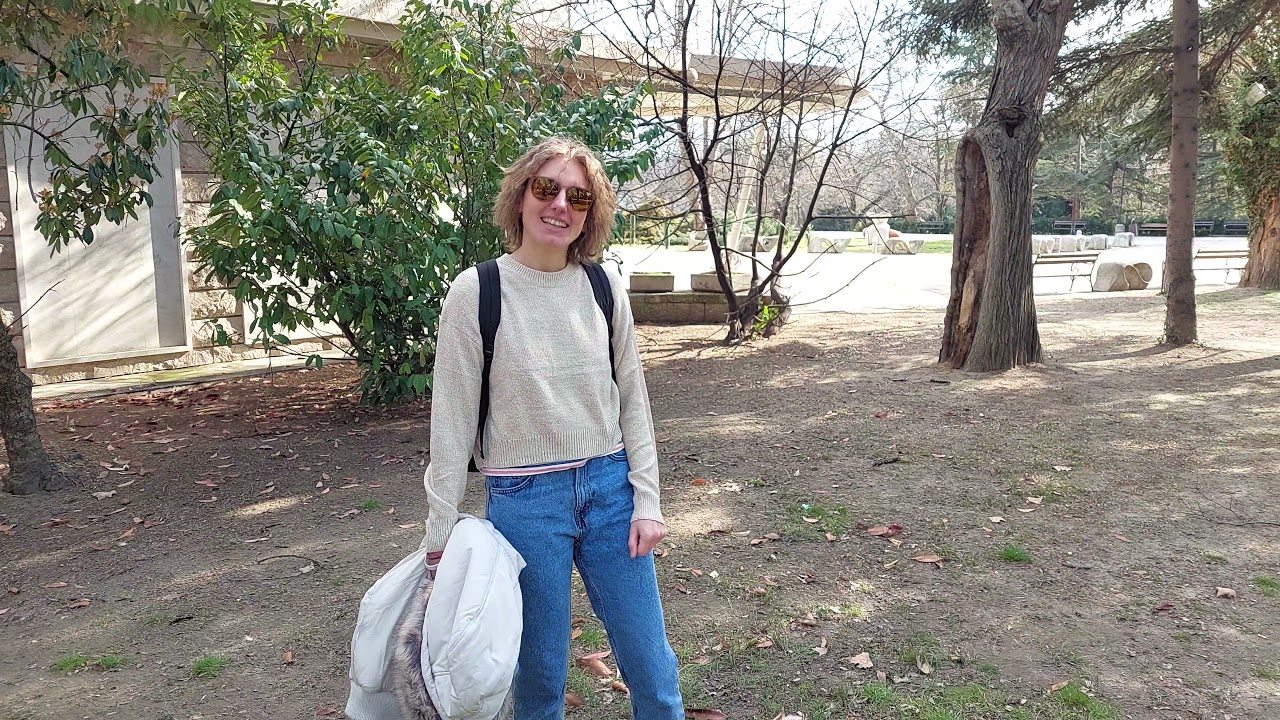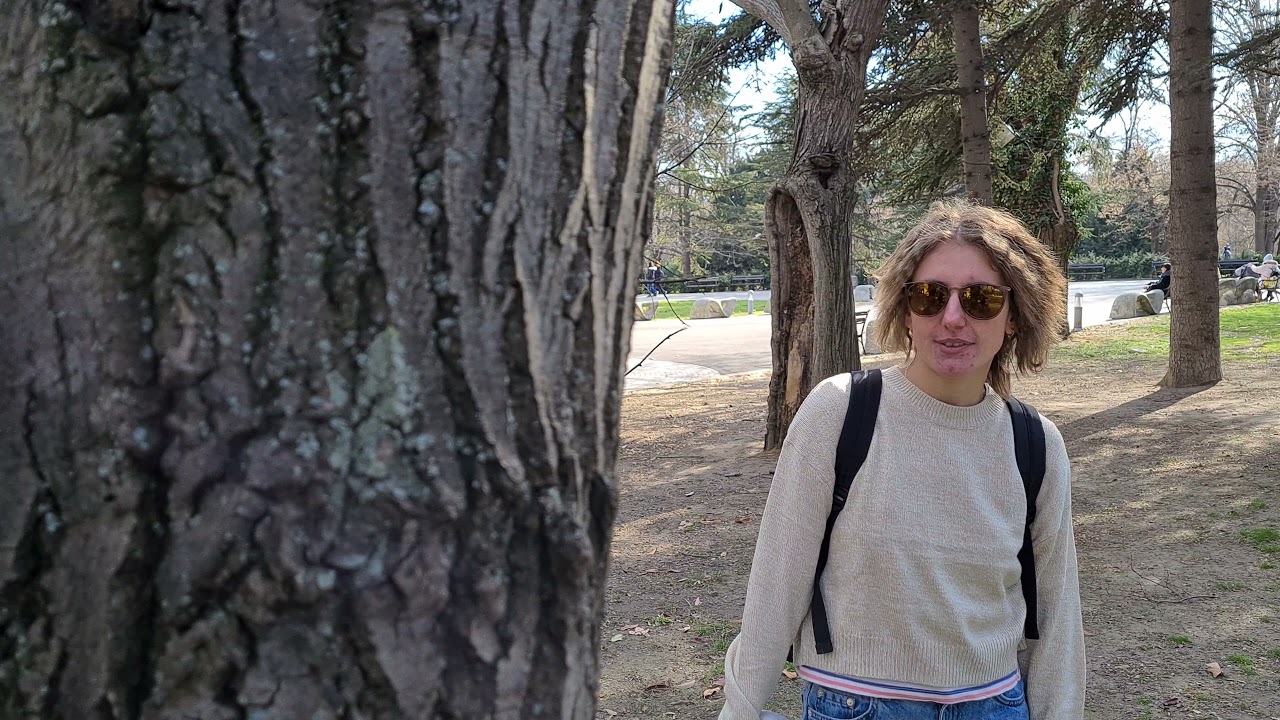 Galaxy A72 vs Galaxy S20 specs and performance
The Galaxy A72 was supposed to come in two flavors — one with 5G and one without. But we didn't get that — at least not just yet. Currently, there's only one Galaxy A72 model — one without 5G.
It's powered by a Qualcomm Snapdragon 720G, which is slightly above the midrange. The 2.84 GHz Snapdragon 865 that is in the Galaxy S20 consistently beats the Snapdragon 720G in benchmark scores. So, the Galaxy S20 is still the way more powerful phone, despite being a year older, and it beats the A72 when it comes to gaming and heavy tasks. In daily apps, chats, mails, etc. - the phones feel just fine.

Both phones to have a minimum of 128 GB storage, expandable via a microSD card slot, but in terms of RAM the Galaxy S20 goes all the way up to 12 GB. Great for bragging rights, for sure, but it also makes a difference in performance and multitasking in a meaningful way.
Galaxy A72 vs Galaxy S20 battery life and charging speeds
With a larger, 5000mAh vs 4000mAh battery, and faster, 25W charging, the Galaxy A72 is the king of battery life in this comparison. More so since the S20 sports a higher resolution 1440p display with higher refresh rate that takes bigger toll on the endurance than the 1080p panel of the A72. If time away from the charger is more important to you, go for the Galaxy A72.
Recommended Stories