Samsung Galaxy S5 Active Review
46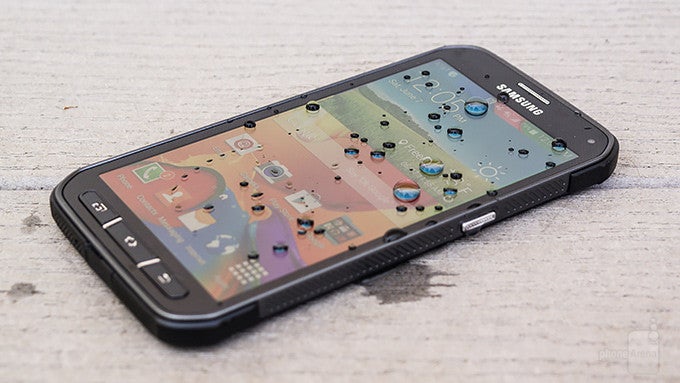 Introduction
When Sammy introduced the
Samsung Galaxy S4 Active
last year, it seemed as though many owners of the beloved
Galaxy S4
were suddenly shocked by the revelation – a waterproof version of their existing handset. Naturally, the nature of the phone's arrival would've been less shocking if Galaxy S4 owners were somehow prepped ahead of time about the Galaxy S4 Active's impending arrival, but they weren't. Instead, the handset came out of nowhere taking everyone by surprise. Who wouldn't be a bit pissed, especially when it bears nearly the same hardware specs of the flagship?
The feeling is less intense this time, thankfully. Even before its official announcement, we all knew that we were going to see variants of the
Galaxy S5
in due time – with one of them being an even more ruggedized version. Enter the
Samsung Galaxy S5 Active
, which like before, bears many of the elements and specs of its esteemed cousin. As we already know all too well, the Galaxy S5 now has a water-resistant element, so why even bother with the Active? Read on and we'll clear things up more regarding it.
The package contains:
microUSB cable
Wall charger
Stereo headphones
Quick start guide
Design
Looks and beauty isn't what the Galaxy S5 Active is after, but instead, it offers superior protection.
If you weren't terribly sold with the Galaxy S5's design, then you won't find anything astounding here with the Galaxy S5 Active. Just like last year's Active, this one sports a more ruggedized design – one that doesn't care for a fanciful looks. Rather, it's comprised out of sturdier plastic materials that seem light years more solid than the one used by the Galaxy S5, so it's able to withstand serious punishment. Naturally, the design language of the phone makes perfect, especially when it meets military specification 810g and is IP67 certified.
No doubt a solidly constructed thing, it can really take a beating like no other. Whereas the Galaxy S5 might flex and bend when abused, the Galaxy S5 Active is unfazed by any sort of destructive handling. Topping it off, its built-like-a-tank chassis makes it dust proof, drop proof, shock proof, and water resistant in up to 1 meter of water for 30 minutes. You can have fun using the phone in a pool with no worries, but if you drop it on rough terrain, its body is obviously prone to scratches. Despite having an unsavory design, Samsung is kind enough to offer it in three colors – titanium grey, camo green, and ruby red. Our only complaint is just the slippery feel of the handset.
Looking around the body of the Galaxy S5 Active, it packs many of the same familiar ports and buttons already found on the Galaxy S5. Specifically, they include the power button, volume control, 3.5mm headset jack, IR blaster, microUSB 2.0 port, and yes, even a heart rate sensor in the back of the phone to measure our heart rate. Indeed, health fanatics will appreciate the heart rate sensor, but in all fairness, it merely adds only to its geek cred.
However, Sammy has opted to omit the finger print sensor, and swapped the usual capacitive Android buttons with the physical set here. We don't mind the latter change, seeing that a physical response is something we'd prefer with a ruggedized phone, but some folks might be turned off by the fact they removed the finger print sensor. Needless to say, it would've been nice to see, but nevertheless, we can live without it.
In the past, the battery compartments of most ruggedized phones would employ a latch mechanism to keep the battery compartment tightly closed. Well, the times are changing because the Galaxy S5 Active, much like its cousin, only relies on a snap-on plastic rear cover to keep it firmly protected against submersion. Luckily, the battery continues to be accessible on this one – plus, there's a microSD slot here as well.
Display
With this years' Active, Sammy didn't make any compromise with the display – it's the same potent one found in the Galaxy S5.
Would you look at that? Sammy manages to retain the same exact display featured on the Galaxy S5, a 5.1-inch 1080 x 1920 Super AMOLED display with Gorilla Glass 3. Not surprisingly, since it delivers a darling pixel density figure of 432 ppi, it's never a problem trying to distinguish fine details. It's so crisp and clear to the eye, so it's super easy to make out even the miniscule text in the web browser.
When it comes to color reproduction, it varies depending on the screen mode we select. Amongst the available ones, we find "cinema mode" to produce the most accurate colors – with very few discrepancies between color gradients. Before testing it out, standard mode would've been the presumed choice, but it tends to be a bit greener than we'd like. All told, the panel itself continues to be over-saturated, which isn't a bad thing per se because of the attractive glow it emits.
Better yet, we have no difficulty making out the display under sunny conditions thanks to its maximum brightness output of 491 nits – plus, it jumps into this high-contrast mode outdoors to increase its visibility. Just like the Galaxy S5 before it, the Active's Air View feature allows it to track our finger while it's hovering over the display.
Display measurements and quality
Samsung Galaxy S5 Active 360-Degrees View
Recommended Stories