Apple iPhone 8 vs LG G6
5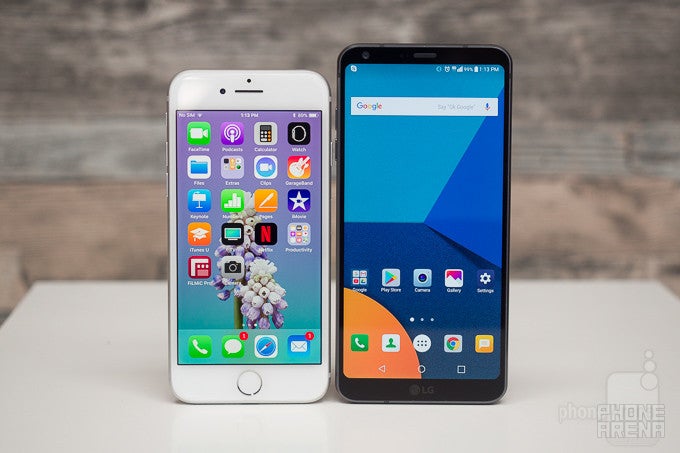 Glass meets glass in our next comparison where it is the LG G6's turn to shine. While its 2016-grade chipset hardly compares against the blazing Bionic processor of the
iPhone 8
, the G6 one ups Apple's handset with a dual camera, a taller, high-res display with a 2:1 aspect ratio, and a very compact for the 5.7" screen size body, all while costing less than Apple's handset. Yet would this be enough for the
LG G6
to beat the iPhone in this one-on-one clash? Read on to find out...
Design
Apple bets on a legacy iPhone 8 design and retains the familiar home button placement, while the G6 intros a forward-looking 2:1 aspect ratio.
Apple used the same "surfboard" design for the iPhone 8 that its adherents know and have been accustomed to for a few years now, but introduced a brand new glass back so that it can throw in wireless charging. It undoubtedly feels premium and solid in the hand, but will break easier than the predecessor's metal housing if you drop it. That's not a con against the G6, of course, as this one also sports an all-glass design that is not immune to shattering when it hits the pavement.
Looking around the phones, we find different fingerprint scanner solutions, as Apple traditionally places its Touch ID sensor at the front, while LG has a combined lock/fingerprint key at the back. Which approach you prefer probably depends on whether your phone spends a lot of time flat on a desk or not, but LG's placement has one other benefit that might tip the scales in its favor.
Yes, we are talking about screen-to-body ratio, as moving the home key and finger scanner duties at the back, shrinking the bezels all around, and implementing an unorthodox display proportions has allowed LG to stuff a largish 5.7" display in a body akin to a 5.2-incher, while the iPhone's top and bottom bezels encroach too much in comparison.
But needless to say, the iPhone with its 4.7" screen is still the more ergonomic and manageable to hold and operate with one hand.
Displays
Both displays cover the DCI-P3 "wide color" gamut, but the iPhone 8 exhibits more credible presentation and better outdoor visibility.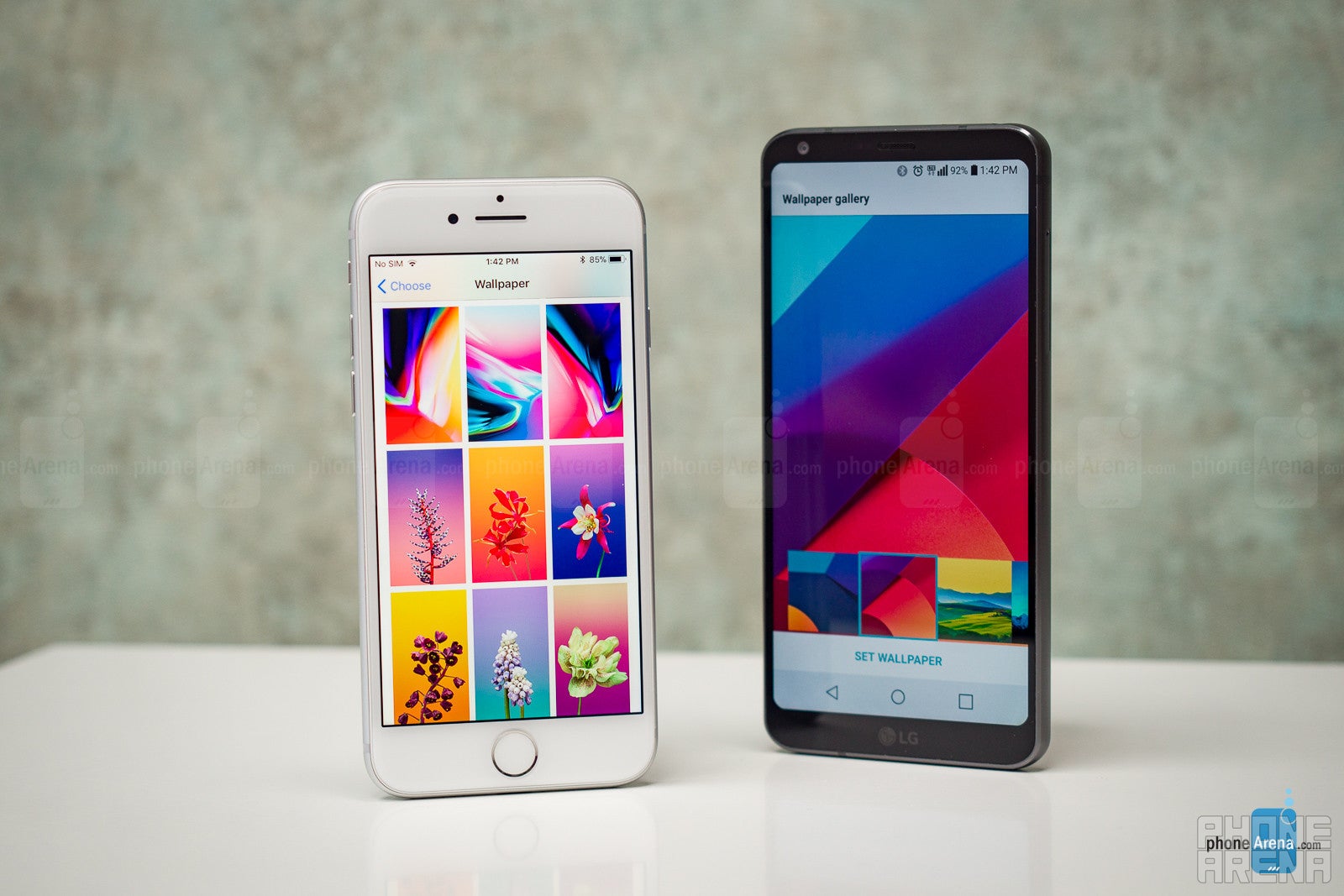 Speaking of displays, they may diverge at size and resolution (5.7" 1440x2880 pixels for the G6 against 750 x 1334 pixels on the 4.7" iPhone 8 panel), but converge at their ability to represent rich color standards like the wider DCI-P3 gamut. This comes in handy when watching high dynamic range imagery, either from services like Netflix, or taken from the iPhone's own "wide color" camera. The G6 has the more pixels on the display, but the iPhone's resolution is perfectly adequate for the screen size, too. LG throws in options like always-on display that can show you time/date and notification info on a locked screen, but is somewhat of a battery hog on a handset that doesn't flaunt a very good battery life to begin with.
Our own display tests returned very good brightness and contrast ratio on both phones, with an advantage for the iPhone 8 in outdoor visibility. When it comes to color presentation, though, Apple's factory calibration wins decisively. The G6 exhibits rather cold colors in comparison. The iPhone 8, on the other hand, sports Apple's True Tone display tech, employing sensors that measure the ambient light color and brightness. The handset then uses this information to adjust its display on the fly. It can basically correct white point and illumination based on your environment lighting in order to render the right kinds of white under any light source, and it really shows when the iPhone 8 is sitting next to the G6 and its cold, blueish screen.
Display measurements and quality
Recommended Stories