LG G6 vs LG V20
27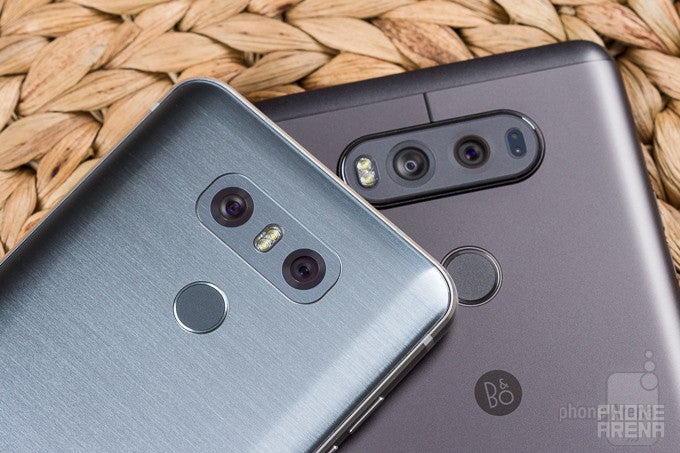 Introduction
Note: This comparison was made using a pre-production LG G6 running close-to-final software. While not much is expected to change for the final version of the phone, we've still decided not to display any benchmark results or charts. We'll update the comparison as necessary once we receive the finalized software release.
Two of LG's best phones to date are currently sitting on my desk. One is the
LG G6
– a phone that I've been actively using for several weeks now, pretty much since the day it was announced. The other is the
LG V20
– a phone that I scored highly in my review last year, impressed by its camera performance and rich set of power-user features. Which of the two is the better phone? That's a tough question for me to answer, even though I've had plenty of hands-on time with both devices. Yet I could share my opinion as to which phone you should lean towards, depending on what kind of user you are. So let's proceed.
Design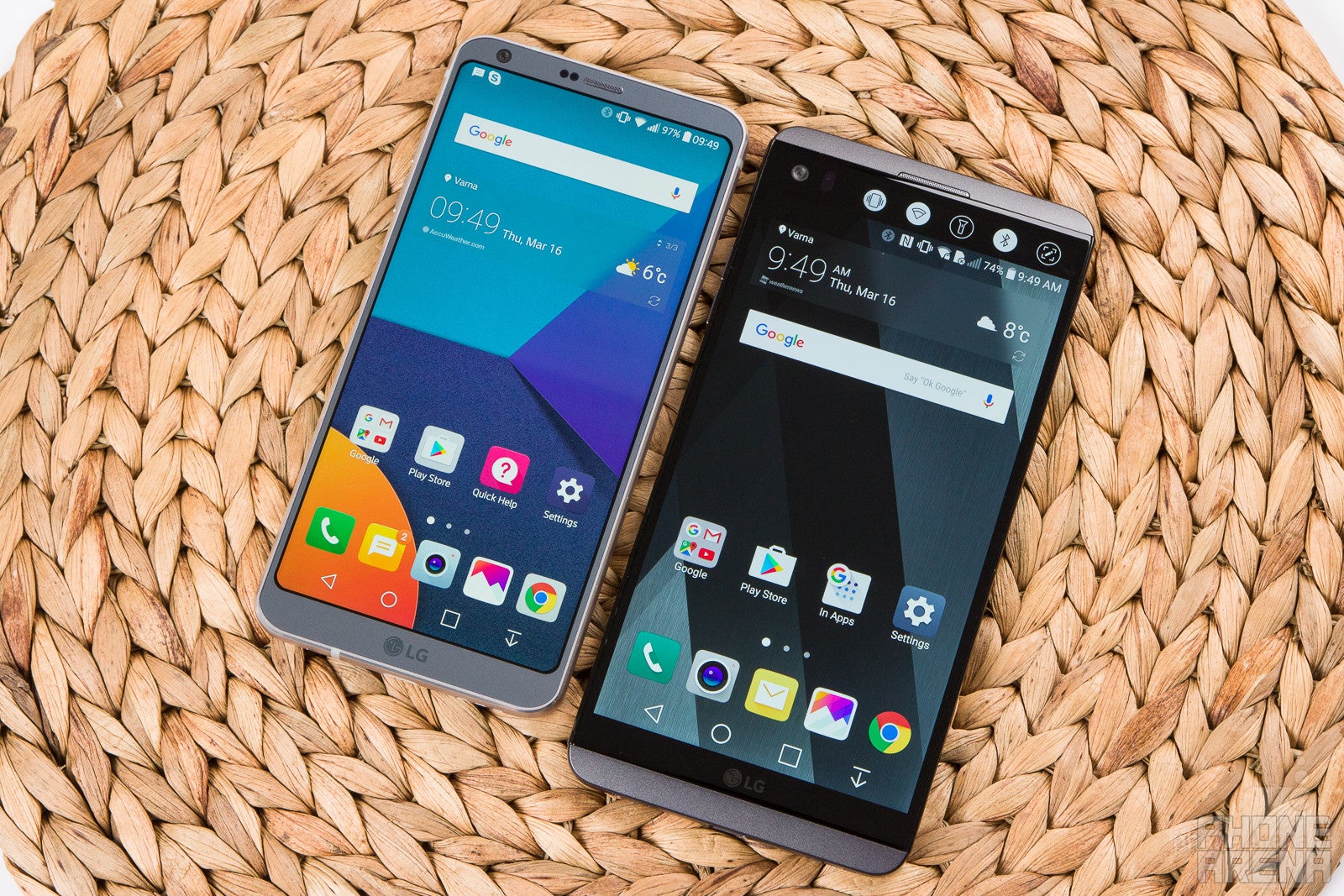 Whether something looks and feels good or bad is a very personal, very subjective matter, which is why I decided to tackle this part of the comparison in an unusual manner – with a social experiment. Long story short, I gave the LG G6 and V20 to 12 people – 6 ladies and 6 gentlemen outside of PhoneArena who had no idea what these two phones were – and asked them a simple question: "Which of the two phones do you like better?". The result was a tie.
People who favored the LG G6 liked its appearance – the combination of glass and metal and the way the screen nearly filled the entire front. Those who picked the V20 did so for more practical reasons, such as the fact that it had greater screen area and that the secondary display seemed "kinda nifty".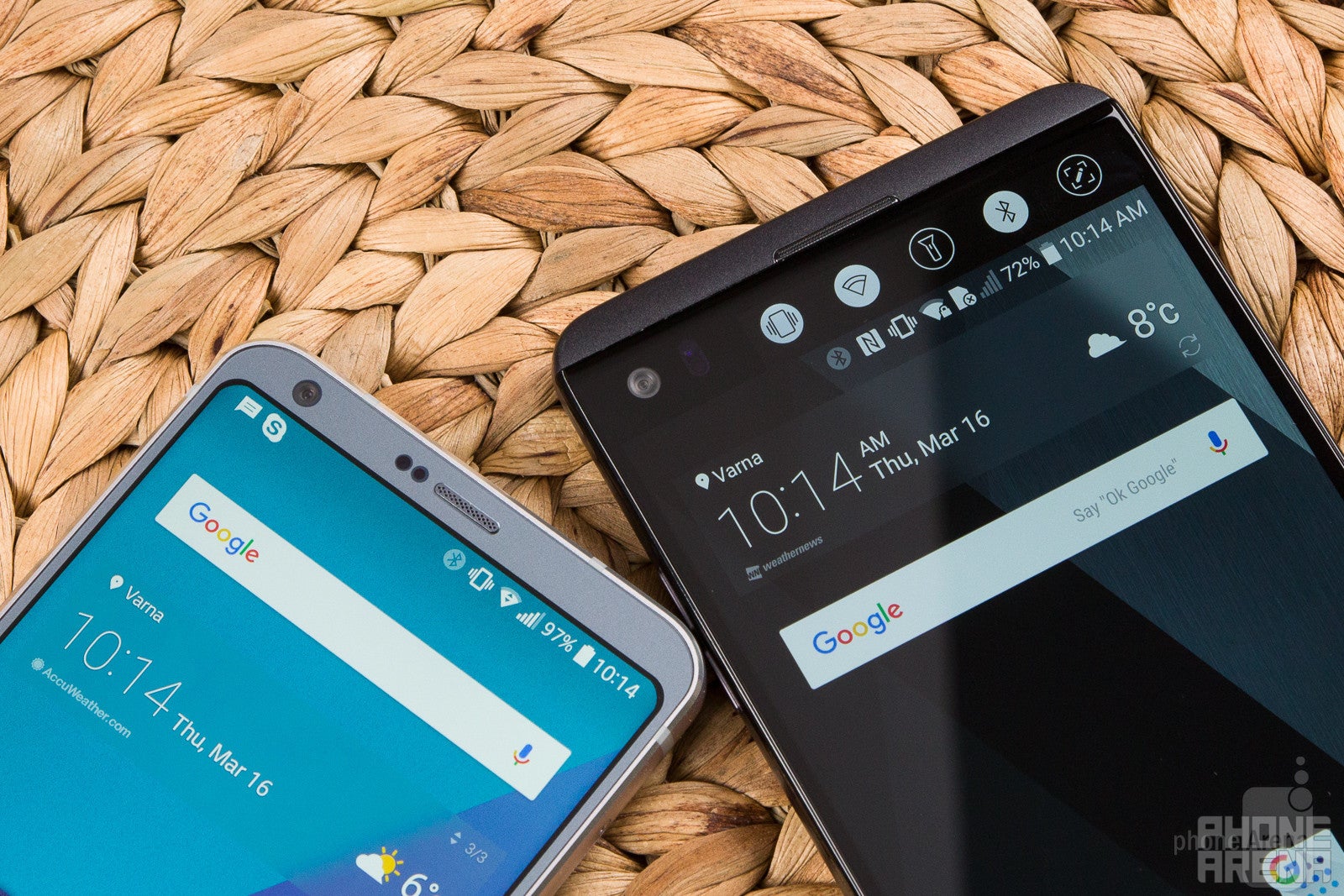 The V20 (right) packs a secondary display
As for me, I'd say that both phones have their strengths and weaknesses. The LG G6 is, without a doubt, the more elegant handset and is much more likely to appeal to both genders. Furthermore, being narrower makes it fit better in the hand, and I can navigate through the UI with less effort. I don't find it slippery, and I don't mind the placement of its power button/fingerprint scanner on the back.
The LG V20, on the other hand, is a manly device with a tough look and it is about as graceful as an army vehicle. Being wider makes it more difficult (if not impossible in certain cases) to operate with a single thumb, and it has been more than once when I nearly dropped it because of its unwieldy size. Still, the greater screen area is an advantage that many would appreciate.
Durability is another key aspect I must highlight, as it is something LG has prioritized when designing both phones. The LG G6 is water-resistant, carrying an IP68 rating – the highest smartphones can go nowadays. On top of that, its internal structure has been designed to withstand drops and to resist bending. The LG V20 does not have any water-resistant properties, but its compliance with military standards for drop tests suggests that it can endure some tumbling just fine, especially when it doesn't have as many glass surfaces that could potentially crack.
Display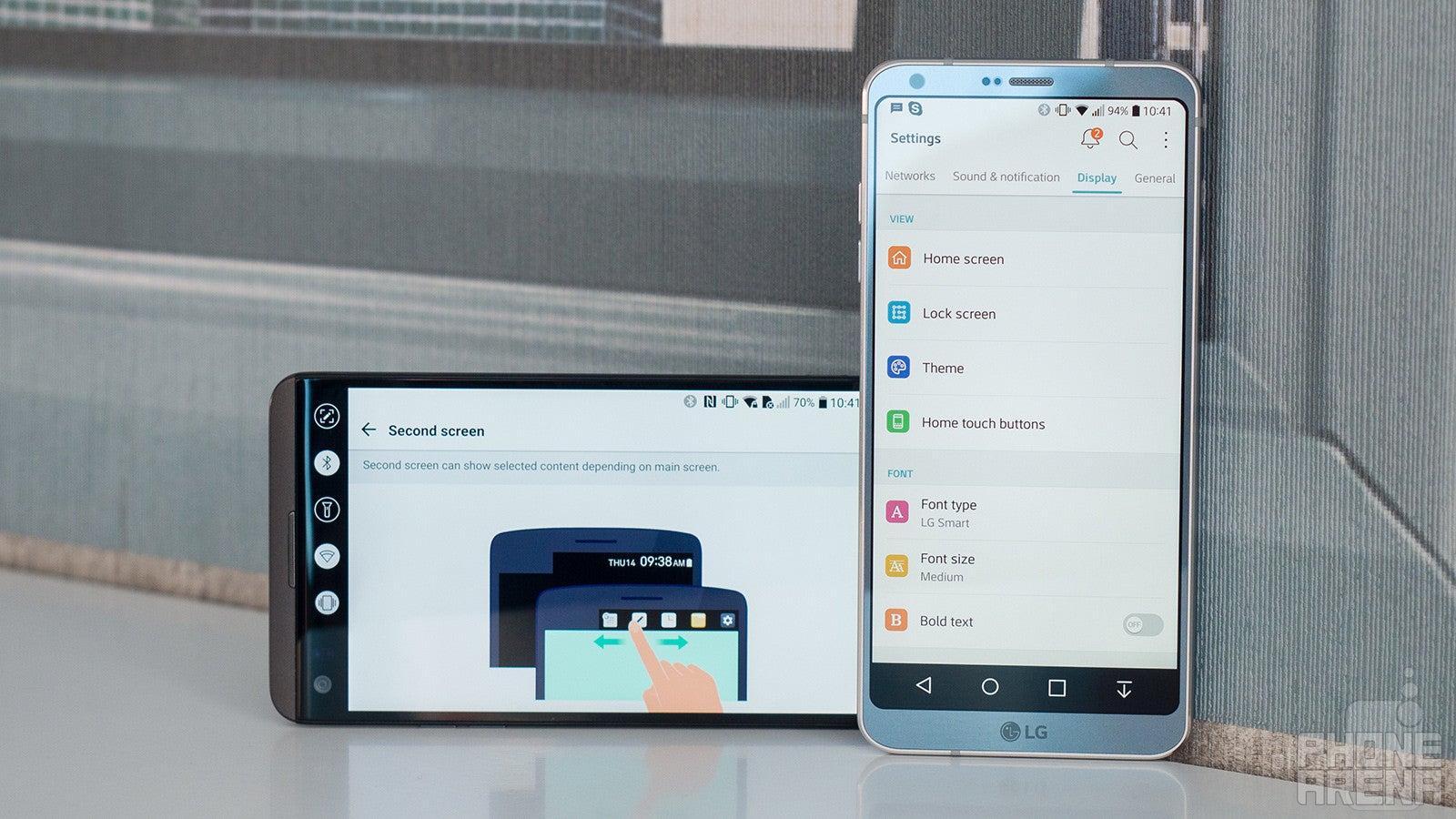 You should have noticed by now that the LG G6's screen is somehow… different, and I'm not talking only about the curved corners of the panel. The phone's so-called FullVision display has an unusual aspect ratio of 18:9, as opposed to the traditional 16:9 ratio employed by most other phones, including the V20.
What does all this ratio mumbo jumbo mean? Well, in the simplest of terms, even though both screens have an identical diagonal size of about 5.7-inches, the G6's display is slightly taller and narrower than the one on the V20. This is why the G6 is easier to operate single-handedly, as I mentioned earlier.
At the same time, I find nothing wrong with the way the V20's screen is shaped. In fact, its traditional 16:9 panel is more suitable for accommodating existing content, including apps, games, and online video, all of which are designed from the ground up around the ubiquitous 16:9 ratio. I've had very few issues on the G6 as far as app and game compatibility goes, but YouTube videos have these mildly annoying black bars on the sides.
Speaking of displays, the secondary display is a key differentiating factor for the LG V20. Some may see it as a gimmick, but once you configure the feature to your preferences, it should prove useful in many cases. For instance, it lets you quickly switch between up to 5 recently used apps, it lets you control Spotify from any screen, it displays notifications at a glance without covering currently running applications. And when the phone is in standby, it shows you the time and date, along with notifications that you may have pending. Of course, the feature can be disabled to extend battery life.
The LG G6 lacks a secondary screen, but adopts the always-on display feature found on the LG G5. In a nutshell, this lets you take a peek at the time, date, battery status and list of pending notifications without waking the phone. However, do keep in mind that having the always-on display lit also impacts battery life and won't show you the full contents of incoming notifications.
Before I proceed further, I must mention that the LG G6 supports two popular HDR video formats, namely HDR 10 and Dolby Vision. This means that you'll be able to enjoy HDR video content from providers, such as Amazon Video. The V20 doesn't support this undoubtedly premium feature, although that doesn't count as a dealbreaker in my book.
Recommended Stories