OnePlus 10 Pro: Release date, price, and features
While many might argue that the soul of OnePlus went right out of the door alongside co-founder Carl Pei who left the company in late 2020, OnePlus smartphones are still a hot topic, especially after their intriguing partnership with photography darling Hasselblad.

The OnePlus 10 Pro is already official and released in China, where it will be testing the waters. With its seemingly excellent hardware and design that pushes the boundaries once again, the device is slated to hit the western world in the coming months of 2022.

But how will the new course taken by OnePlus affect its next flagship phone? The Oppo overtake is seemingly changing tons of things, and while both companies have always technically been similar entities under the umbrella of BBK Electronics, things will never be quite the same for OnePlus, nor for the company's numerous avid fans.
Jump to section:

OnePlus 10 Name: OnePlus 10 Pro or OnePlus10?
OnePlus 10 Pro is already official in China and is coming to the global market later this year, but one major thing that was missing from the announcement was the proverbial more affordable version of the flagship. In particular, a regular OnePlus 10 device wasn't unveiled at the announcement of the OnePlus 10 Pro, which means two things: we are either seeing that one announced in the coming months, quite likely along with the international availability of the OnePlus 10 Pro, or not seeing it at all.

That said, there are rumors that a regular OnePlus 10 will be announced in the coming months, so here's to hoping!
OnePlus 10 Pro Release date
The OnePlus 10 Pro is already on sale in China. The device was gradually unveiled on January 4, 2022 and the subsequent days.
Meanwhile, the rumor mill is pretty sparse on info about a potential OnePlus 10, but it will probably come later in 2022, possibly alongside the announcement for the international availability of the OnePlus 10 Pro.

Here's how that compares to previous OnePlus generations:
| Model | Announcement date | Release date |
| --- | --- | --- |
| OnePlus 10 series | January 4, 2022 | January 11, 2022 |
| OnePlus 9 series | March 23, 2021 | April 2, 2021 |
| OnePlus 8 series | April 14, 2020 | April 29, 2020 |
OnePlus flagship phones usually arrive in the March-April period of the year, so things probably wouldn't change for the regular OnePlus enjoyer that's living outside of China. What makes things so unusual is the hinted release discrepancy, which has never taken place before.

One of the reasons for this could be the extra work that needs to be invested in the Oxygen OS user interface that will grace the phone outside China. In the country, OnePlus and Oppo will be sharing the Color OS interface from now on.

Another reason could be easing the strain on OnePlus' suppliers, as the global chip shortage is making everything electronics-related a bit more difficult these days.
It's more than clear that the days of the ultra-affordable OnePlus flagship phones are long gone, and if none of the latest OnePlus phones have convinced you, then the OnePlus 10 Pro will likely do so.

| Phone | Price |
| --- | --- |
| OnePlus 10 Pro | ~$1,000 |
| OnePlus 10 | ~$750 |
While we haven't heard anything credible about the potential price of the OnePlus 10 Pro yet, judging from the prices of the previous generation, we can estimate that the OnePlus 10 Pro will likely start at around $999, or more. Meanwhile, a more affordable OnePlus 10 will probably start at around $750, or more. Still, we've no idea if the latter exists at all, though it's likely.

Currently, the Chinese version of the OnePlus 10 Pro starts at ¥4,699 locally, which translates to roughly $737, a more than excellent price for what you're seemingly getting. However, prices in China are usually lower for its internal market, so we expect the upcoming OnePlus flagship to cost way more once it hits other regions in the west.

The OnePlus 10 Pro will feature a triple camera system, which is likely to combine a 48MP primary shooter with a 50MP ultra-wide-angle sensor and 8MP telephoto lens supporting 3.3x optical zoom while ditching the 9 Pro's fourth 2MP monochrome snapper. At the front, we will be taking selfies with a rather large 32MP front-facing camera, which doubles the resolution of last year's 16MP selfie snapper on the OnePlus 9 Pro.
The ultra-wide camera is particularly interesting this time around. It has an enormous 150-degree field-of-view, which is up to four times wider than what most other smartphones offer these days, and also has a dedicated "fish-eye" mode for an exaggerated and distorted effect, though purists could also use a more traditional 110-degree field-of-view shots.

But hardware is just part of the full equation as software is equally, if not more, important these days. OnePlus says that the OnePlus 10 Pro will be coming with a wide array of improvements. One of those is called OnePlus Billion Color Solution, and thanks to it, OnePlus hopes to further improve the color rendition. Thanks to this feature, the OnePlus 10 Pro shoots in 10-bit color, can capture photos with 25% increase in DCI-P3 color gamut coverage, and process 64 more color than the OnePlus 9 Pro, which sounds like a stark improvement. All three rear cameras of the OnePlus 10 Pro support 10-bit color, which should essentially remove any color banding from photos.
Another improved area is the All three rear camera of the OnePlus 10 Pro support a second-generation Hasselblad Pro Mode, and what that means is photos can be captured in 12-bit RAW. These improved RAW files hold more information in them and allow knowledgeable enthusiasts to have more leeway to work with in post.
Finally, there's a dedicated Movie Mode on the OnePlus 10 Pro which lets the user adjust the camera's ISO, shutter speed, and more both during video capture and before starting.

Additionally Movie Mode allows for shooting in the LOG format without a preset picture profile, providing video editors with a blank canvas for editing. According to OnePlus, videos filmed on the OnePlus 10 Pro in a LOG format offer greater dynamic range, more information in the shadows and highlights.
OnePlus revealed most of the hardware specs of the OnePlus 10 Pro, revealing top-notch internals. Here's what's inside:
OnePlus 10 Pro official specs



Cameras

Second-generation Hasselblad Camera for Mobile
48MP + 50MP + 8MP
Dual OIS (Optical image stabilization)
32MP front camera

Processor

Qualcomm Snapdragon 8 Gen 1

RAM and storage

LPDDR5 + UFS 3.1

Display

6.7" 120Hz Fluid AMOLED with LTPO (Second-gen LTPO Calibration)

Wired charging

80W SuperVOOC

Wireless charging

50W AirVOOC
(Reverse wireless charging supported)

Battery

5000 mAh

Audio

Dual stereo speakers

Dimensions

163 x 73.9 x 8.55 mm

Other

OxygenOS 12 based on Android 12

Bluetooth 5.2
NFC support
5G support
VoLTE support
VoWiFi support
OnePlus 10 Pro Design and display
A 6.7-inch AMOLED display is gracing the front of the OnePlus 10 Pro, and it has a tack-sharp QHD+ resolution as well as variable refresh rate that can go up to 120Hz on demand. Judging from our experiences with OnePlus devices, the display will most probably be an excellent panel showcasing the very best of OLED displays — high brightness, vivid colors, and good viewing angles.

OnePlus was among the first companies to adopt displays that refreshed higher than the standard 60Hz, and with the variable refresh rate adopted, the last OnePlus flagship provided a super-smooth experience while easing out the strain on the battery. We expect the same of the OnePlus 10 Pro, and many improvements will likely be implemented in the upcoming device.
On January 4, 2022, OnePlus officially revealed the design of the OnePlus 10 Pro during the CES 2022 trade show. The Hasselblad-branded camera island housing the 48MP main camera, the 50MP ultra-wide one and the 8MP telephoto with 3.3x optical zoom is the main subject in OnePlus' design reveal, and here's what it looks like:

OnePlus 10 pro design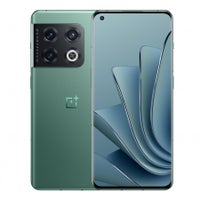 Unsurprisingly, the upcoming OnePlus phone will be your regular premium glass and metal sandwich with a top-left punch hole. Taking some design cues from other devices, the OnePlus 10 Pro will be featuring a square-shaped rear camera module wrapping around the handset's metal frame. Obviously inspired by the Galaxy S21 series, the OnePlus 10 Pro seems a bit prouder in its overall design, taking a definite stand, although it doesn't really continue the exact design language of the OnePlus 9 Pro. And that's okay - evolution is desirable.

OnePlus 10 Pro software
After the OnePlus-Oppo merger of 2021, the two separate companies respective Android skins also sort of merged. While OnePlus will continue to supply its international devices with its Oxygen OS, China-bound OnePlus devices will be coming with Oppo's Color OS instead. Despite this notable difference, both software skins will share the same codebase.
This new, unified operating system will reportedly combine the smoothness and intuitiveness of Oxygen OS with the feature-richness of Color OS, which should be intriguing to see.
"By combining our software resources to focus on one unified and upgraded operating system for both OnePlus and Oppo devices globally," OnePlus CEO Pete Lau said. "We will combine the strengths from both into one even more powerful OS: the fast and smooth, burden-less experience of OxygenOS, and the stability and rich features of ColorOS."
Buy what new features are coming in Oxygen OS in 2021? Despite announcing most of the OnePlus 10 Pro specs already, the company is keeping mum on the software improvements it will be baking into the phone, as naturally, nothing groundbreaking will probably be making the rounds. We are certain the device will arrive with Oxygen OS based on Android 12, the latest and greatest flavor of Google's operating system, but other than that, OnePlus is yet to wow us with its software advancements.

The OnePlus 10 Pro features a large, 5,000mAh battery with what's now signature super-fast OnePlus charging. In the case of the OnePlus 10 Pro, we have 80W SuperVOOC charging as well as fast 50W AirVOOC charging. Sadly, the rumors that we're seeing record-fast 125W charging on the OnePlus 10 Pro didn't materialize. As a refresher, we were hearing that OnePlus would throw
125W ultra-fast charging
on the OnePlus 10 Pro. Despite that shortcoming, the 80W charging will probably be enough to top up the phone in under 30 minutes.