Mystery Motorola One phone with pop-up camera leaks in full with mid-range specs
4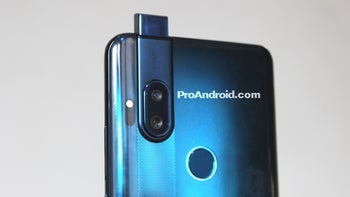 In addition to the usual
Moto G-series
,
Z-series
, and
E-series upgrades
, Motorola has done some interesting work expanding the mid-range One family this year with
Vision
,
Action
, and
Zoom models
. But the Lenovo-owned company might actually have two more devices under the same banner prepared for announcements and commercial launches by the end of 2019.
An "all-screen" phone with a respectable spec sheet
Although the Motorola One Vision, Action, and Zoom can definitely be described as pleasing to the eye, this future unnamed device aims to maximize the screen real estate by eliminating bezels, notches, and holes altogether. But because we're not looking at a flagship with a fittingly high price point, the "all-screen" design isn't quite as sleek and smooth as that of the
Asus ZenFone 6
or
OnePlus 7 Pro
.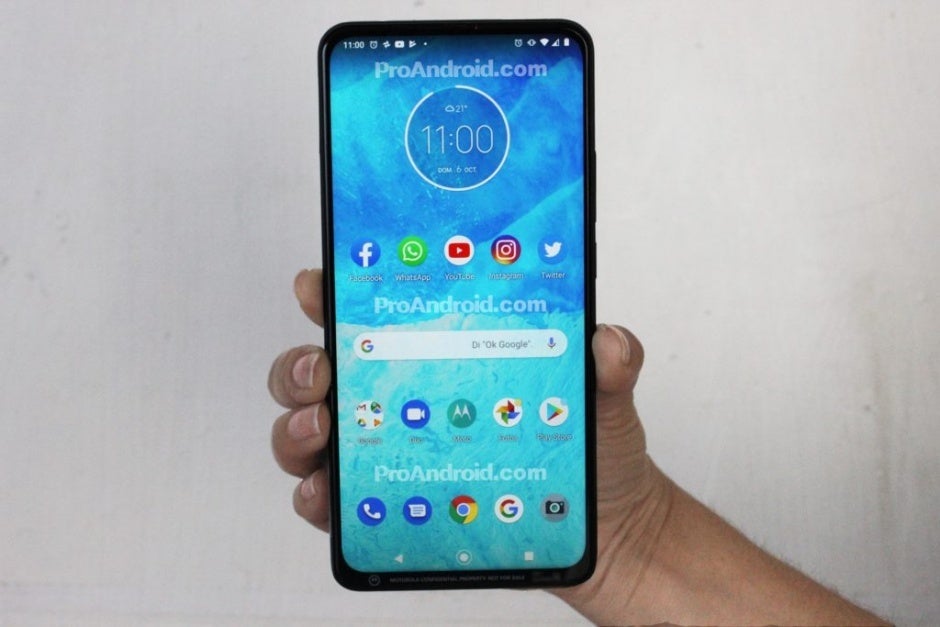 In other words, there's still a little bit of "dead space" surrounding the 6.39-inch IPS LCD panel tipped to sport the same 2340 x 1080 pixel resolution as the AMOLED display on the
Motorola One Zoom
, as well as a small but noticeable chin. Speaking of the One Zoom, we also expect the same decent Snapdragon 675 processor to be found under the hood of Motorola's first-ever smartphone with a trendy pop-up camera, alongside the same 4GB RAM and 128GB storage space.
What's likely to be different is a 3,600mAh battery (downgraded from full 4,000mAh capacity on the One Zoom), and the fingerprint sensor. Instead of going the swanky but potentially glitchy in-display route, Motorola's next big mid-ranger will be adopting a conventional and presumably super-reliable biometric recognition method mounted on its back. Interestingly enough, said fingerprint scanner can also be configured to glow in a sort of "breathing" pattern, progressively increasing and decreasing its brightness as you use the device, charge it, receive notifications, or emergency alerts.
A lot of megapixels on both the front and the back
Like it or not,
the megapixel wars
are back on, and Motorola wants a piece of the action with this upcoming device that purportedly combines a 64MP main snapper with f/1.8 aperture and a secondary 8MP f/2.2 rear-facing camera. Meanwhile, the selfie shooter that pops thanks to a motorized mechanism doesn't sound like a pushover either, with a decent 32 megapixel count and f/2.0 aperture.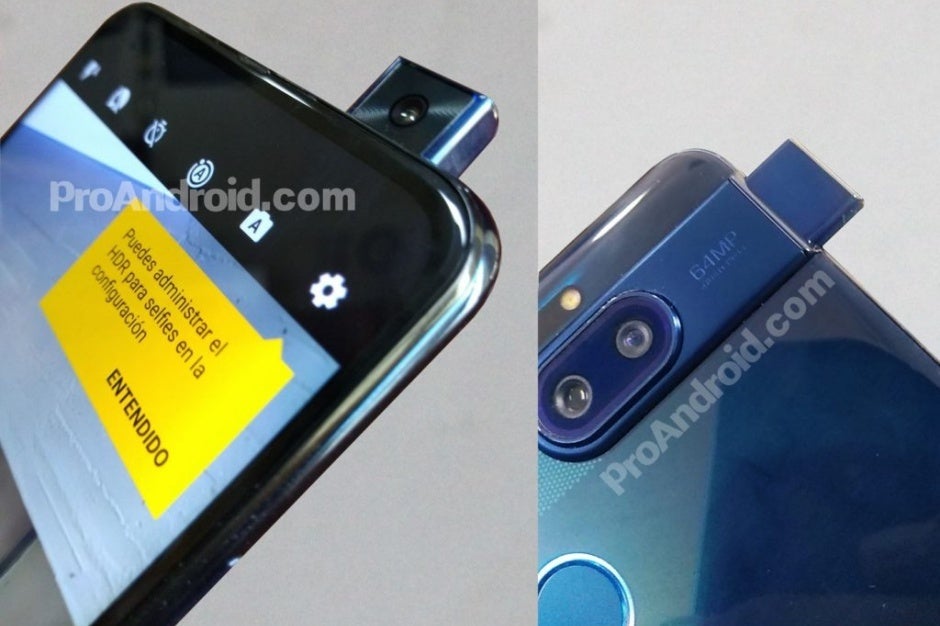 Of course, that doesn't tell us the full story about the real-life photography skills of this very interesting phone. For what it's worth, the rear shooters come with "Night Vision" functionality and obligatory bokeh effects for crystal clear portraits (hopefully), as well as 4K video recording support at 30 fps and Full HD at 60 frames per second, with 240 fps slow-mo capabilities in 720p quality and Full HD at 120 fps.
It's also worth pointing out that the retractable front camera is housed at the right of the device, which is fairly unusual, while the backplate features Motorola One branding to quash any speculation that this might actually be the
Moto G8
. Clearly, we're looking at yet another One-series phone, but we have no idea exactly how it will be called.
Pricing and availability expectations
Like the full name, the release date is very much up in the air at the moment, but if such a polished unit has ended up in the hands of the folks over at ProAndroid, we're guessing an official announcement is a matter of days now. Weeks at the latest. We also don't know where to expect this phone to be released, but it could definitely follow in the
One Zoom's footsteps in the US
.
Compared to the One Zoom, this thing has no notch but it also loses a couple of rear-facing shooters, the screen-embedded fingerprint reader, and a little battery capacity, thus looking at a slightly lower price in all probability. We're guessing $300 or $350
if
the handset ever makes it stateside, although you shouldn't put too much weight on our random (albeit educated) forecast. By the way, the phone reportedly comes with near-stock Android 10 software and a headphone jack as well, which is certainly nice.