Order the iPhone XR for Verizon, AT&T or Sprint from Sam's Club, and get a $100 gift card deal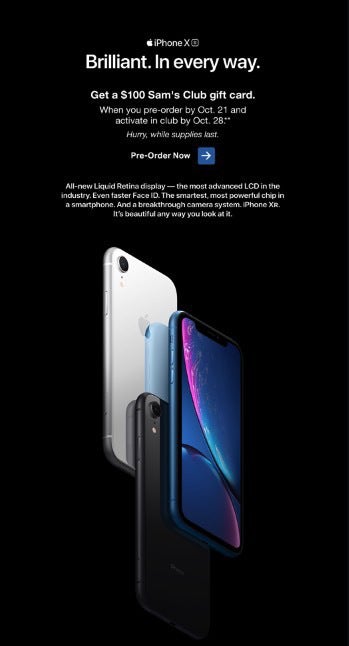 Apple has barely started pre-selling the
iPhone XR
, but the members-only shopping juggernaut Sam's Club is already ripe with an in-store-only deal.
Just as Apple, Sаm's Club will start ringing in orders for the phone past midnight Pacific Time, and if you place one by Sunday, October 21, the retailer will give you a sweet gift card of $100 value.
The iPhone XR will have to be activated in the October 26-28 period, too, on Verizon, AT&T, or Sprint. As usual, T-Mobile doesn't play nice with retailers and their promotions, but that is a topic for another, and rather long, story.
Long story short, if you go to Sam's Club and buy the iPhone XR on a payment plan with either Verizon, AT&T, or Sprint, you'll get a $100 gift card towards your grocery shopping for the week, which is as good of a deal as any you are likely to ever get from Apple on an iPhone.
The XR starts off from $749 for the 64-gigger, a 128GB variant is $799, while the 256GB version costs the whopping $899, though we are fairly certain Apple will sell a boatload of those anyway.