Many Black Friday deals are already available at Best Buy, many more coming soon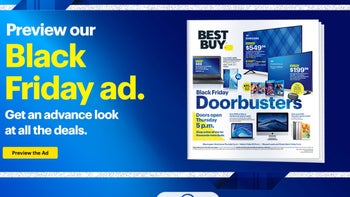 The thing about proclaiming early winners in long-distance races is that underdogs can surprise you at any moment up until the finish line and snatch the victory away from the odds-on favorite that started the competition so strong. Obviously, we wouldn't exactly call Best Buy an underdog in the Black Friday 2019 contest, but less than 24 hours after
Target emerged as the early favorite
to make all the headlines during the busy holiday shopping season, the spotlight now firmly belongs to the retailer that offers top deals on popular mobile devices pretty much all year round.
Not only has Best Buy unveiled an even lengthier
list of upcoming Black Friday deals and discounts
than Target, also beating its arch-rival to the punch by kicking off a crazy early sale scheduled to run through Sunday. All of the promotions available over the next few days will naturally return on Thursday, November 28 (i.e. Thanksgiving Day) at 5 p.m. in physical stores and midnight time online.
Many other products will join the actual Black Friday 2019 festivities then, and without further ado, here's a rundown of the best Best Buy deals available today and coming in a few weeks across categories like smartphones (duh), tablets, smartwatches, activity trackers, smart home devices, and headphones:
Beats Studio3 wireless noise canceling headphones - $200 ($150 off)
Apple Watch Series 4 - up to $300 savings (starting at $50 off)
iPhone 11 and 11 Pro - up to $500 off with qualified activation and in-store iPhone trade-in
iPad 10.2 - up to $100 off for My Best Buy members (today only)
iPad Pro - $150 and $200 off select models for My Best Buy members
Microsoft Surface Pro 7 with Intel Core i3 and Type Cover included - $599 ($360 off)
Apple HomePod - $200 ($100 off)
iPhone 8 and 8 Plus - starting at $10 a month with qualified activation
Apple smart battery cases - $20 off
Beats Powerbeats3 wireless earphones - $90 ($110 off)
Samsung Galaxy Tab E - $100 (50 percent off)
Samsung Galaxy Tab S6 - $100 off with free $50 e-gift card included
Moto G7 - starting at $150 with activation ($150 off)
Moto G7 Play - starting at $100 with activation ($100 off)
AT&T Prepaid Moto E5 Play - $30 ($70 off)
Lenovo Smart Clock - $40 (50 percent off)
Jabra Elite 65t true wireless earbuds - $110 ($60 off)
Sony WH-1000XM3 wireless noise canceling over-the-ear headphones - $280 ($70 off)
Sony WH-CH700N wireless noise canceling over-the-ear headphones - $90 ($110 off)
Jaybird Tarah wireless in-ear headphones - $50 ($50 off)
Fitbit Versa Special Edition - $120 ($80 off)
Garmin Fenix 5X Sapphire - $300 ($300 off)
Garmin Forerunner 235 - $150 ($100 off)
Fossil Sport smartwatches - starting at $165 after $110 savings
Samsung Galaxy Fit - $80 ($20 off)
Michael Kors MKGO - $195 ($100 off)
Bose QuietComfort 35 II wireless noise canceling headphones - $280 ($70 off)
Bose SoundSport Free wireless headphones - $170 ($30 off)
Black Friday deals coming soon
Samsung Galaxy S10, S10+, Note 10, Note 10 Plus, and Note 10+ 5G - up to $500 off with qualified activation on Verizon, AT&T, or Sprint
Samsung Galaxy S10e, S10, S10+, Note 10, and Note 10 Plus - $200 off unlocked variants (additional $100 off with activation)
Google Pixel 3a - $100 off (extra $50 off with activation)
Google Pixel 4 and 4 XL - $400 off with activation
Unlocked Pixel 4 and 4 XL - $200 off (extra $50 off with activation)
Samsung Galaxy S10e - $300 off with Verizon and Sprint activation
Samsung Galaxy S10 series - starting at $5 a month with Sprint activation
BLU Vivo XI and Vivo XI Plus - $100 off
Unlocked LG Stylo 5 - $130 off
Samsung Galaxy Watch Active - $150 ($50 off)
Samsung Galaxy Watch - $270 ($80 off)
Samsung Galaxy Watch Active 2 - $230 and up ($50 off)
Fitbit Versa Lite - $100 ($60 off)
Fitbit Versa 2 - $150 ($50 off)
Fitbit Ace 2 - $50 ($20 off)
Fibit Charge 3 - $100 ($50 off)
Fitbit Inspire - up to $30 off
Garmin Venu - $300 ($100 off)
Microsoft Surface Pro 7 with Intel Core i5 and keyboard included - $799 ($230 off)
Amazon Fire HD 10 - $50 off
JBL Free true wireless in-ear headphones - $75 ($75 off)
Skullcandy Crusher wireless over-the-ear headphones - $80 ($70 off)
Third-gen Amazon Echo - $60 ($40 off)
Third-gen Amazon Echo Dot - $23 ($27 off)
Amazon Echo Show 5 - $50 ($40 off)
Facebook Portal Mini - $80 ($50 off)
Google Home Mini - $20 ($29 off)
Google Nest Hub - $80 ($50 off)
Facebook Portal 10-inch - $130 ($50 off)
Amazon Echo Show 8 - $80 ($50 off)
Second-gen Amazon Echo Show - $150 ($80 off)