Wednesday's News Bits
This article contains unofficial information.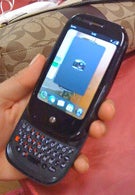 Orange is said to have gained the exclusive rights to offer the HTC Hero

. The Android phone was already expected to come with the carrier, but information about the release date and pricing was missing. And it still is!
source:
MobileToday
A new app for BlackBerry allows you to send e-mails and documents to fax

. It is called FACSys and is developed by emFAST. The application is available for purchase on App World.
source:
BlackBerryCool
Yet another Palm Pre has been spotted

… not that there's something wrong with that, but it would be better if it had been spotted in our office.
source:
PreCentral
A video of some guy performing a quick video hands-on of the Pre has been published

, so go ahead and check it out. What are your impressions?
source:
PreThinking
LG has released a program that will allow you to update your phone's firmware

. While this sounds really cool, it would be nice if LG had actually released some firmware update along with it.
source:
AreaMobile
(translated)
Sprint has collected more than 250,000 phones

, a goal that had been set up in order to support EPA's "Plug-In To eCycling National Cell Phone Recycling Week". Bravo!
source:
Sprint