Verizon will out a Windows Phone 8 Nokia this year, confirms Bloomberg, we cross fingers for the PureView tech
27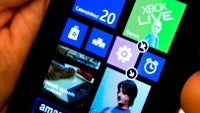 Bloomberg has confirmed from its sources that Verizon is indeed planning to have a Windows Phone 8 device made by Nokia in its portfolio this year, most likely in time for the holidays. While Verizon isn't going to be a part of the big
Microsoft/Nokia event September 5
, the source said, the handset will have a separate release later on in Q4. That fits in with what we wrote yesterday that
everyone major carrier but probably Sprint
, will be getting WP8 handsets
We heard about the possibility of Verizon going Windows Phone when in January the carrier said it aims to carry only LTE devices, and
the lack of such handsets in the WP world was the reason it didn't have any
since the
HTC Trophy
. That came right after Nokia's Chris Webber said they plan to give each US carrier a unique Windows Phone proposition, and
Verizon is considered a very important partner
in that endeavor, too.
Then in April we had Verizon's CFO Fran Shammo answering investor questions in the quarterly conference call: "
we're really looking at the Windows Phone 8.0 platform because that's a differentiator. We're working with Microsoft on it
". He added that Verizon, as well as the other carriers are really looking to diversify from the iOS-Android duopoly that has taken over their portfolio and is sucking the lifeblood out with subsidies, so Windows Phone is an excellent way to do that.
To that we have to add a
Nokia exec saying as recently as last month
that both Verizon Windows Phones and PureView Lumias are coming "
very soon
", but he also mentioned that Nokia will have something in the spring that will have people "
climbing over themselves
" to get it, so chances are that might be the actual PureView/WP8 combo, not the first WP8 with Verizon.
He also said way back in April that the phone will sport a dual-core Snapdragon S4 with LTE, which Microsoft more or less confirmed when it whipped out a Nokia developer phone with the chipset during the WP8 announcement. MSNerd also chimed in that the handset will carry an
HD display with Nokia's ClearBlack tech
, which sports
a very low reflection ratio
, making phone screens with it quite visible in direct sunlight.
Lastly, we have to add the fact that Nokia enigmatically tweeted yesterday to have our "
eyes and ears open in the next few weeks
" for a PureView Lumia phone announcement, and
Microsoft has scheduled a grand WP8 event with Nokia for September 5
, so that's when we might hear more about an upcoming Verizon Windows Phone 8, hopefully with the groundbreaking PureView camera technology. Any takers?
Recommended Stories