T-Mobile Prism is all official, priced at $20 on-contract or $150 outright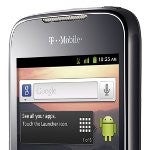 Huawei Prism for T-Mobile
is now official-official, as we're given the rest of the missing details to the puzzle. Yesterday, it was made known that the budget entry-level smartphone would be
arriving at Best Buy stores starting on May 6th
– with Walmart getting it on the 9th, and T-Mobile stores scheduled to start selling it on May 23rd.
Simply named the
T-Mobile Prism
, hiding away Huawei's name as usual, this handset is priced to sell at
$19.99 with a 2-year contract
and after a $50 mail-in-rebate. No doubt that's cheap, but its
$149.99 outright cost
is equally as impressive – thus, placing it in the same realm as some prepaid smartphones.
Priced very low, we can't expect much in the hardware department, but nevertheless, it's going to bring forth all the wonderful features of Android. Specifically, it packs a 3.5" HVGA display,
3.2
-megapixel rear camera, 3G connectivity, and Android
2.3
Gingerbread. Interestingly, its processor type wasn't mentioned in the press release, but really, we can't expect a pencil pusher with this one. For those of you that are curious, it's speculated to be packing a measly 600MHz single-core CPU.
Therefore, if you're on a strict budget, you ought to give the T-Mobile Prism a look. Of course, if you want to save yourself some more money in the long run, you might as well consider investing more money into buying it outright and placing it on one of the many prepaid plans that the carrier offer.
source: T-Mobile
T-Mobile Introduces Its Latest Budget-Friendly Smartphone: T-Mobile Prism
Built for first-time smartphone customers, the new Android device is expected to be available starting May 6.
BELLEVUE, Wash., — May 2, 2012 — T-Mobile USA, Inc., today announced the upcoming availability of the T-Mobile® Prism™, the latest budget-friendly option for cost-conscious consumers looking for their first smartphone. The T-Mobile Prism will be available to T-Mobile customers through flexible pricing options, including no annual contract paired with a T-Mobile Monthly4G™ plan or paired with a two-year T-Mobile Classic or Value plan.
Powered by Android™ 2.3 Gingerbread and featuring a 3.5-inch HVGA touch screen, the new 3G smartphone enables T-Mobile customers to easily surf the Web, access their favorite social networking sites and choose from thousands of applications to download from Google Play. The T-Mobile Prism also makes it simple to capture and share photos and videos via its 3.2-megapixel camera with digital zoom and video recorder. With the T-Mobile Prism, customers can sync multiple email accounts, including Microsoft Exchange, Google calendar and contacts, T-Mobile contacts, and more.
The T-Mobile Prism is expected to be available at Best Buy starting May 6, at Walmart starting May 9 and available nationwide at T-Mobile retail stores, online via www.T-Mobile.com and at select dealers beginning May 23. The T-Mobile Prism is expected to cost $19.99 after a $50 mail-in-rebate card with a two-year service agreement and qualifying Classic voice and data plan or $149.99 via no annual contract.