SwiftKey X update adds new features to third party Andriod QWERTY
5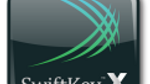 Already considered one of the better third party QWERTY apps available in the Android Market,
SwiftKey X has an update available that brings many features
designed to improve the speed and accuracy of your typing. For example, a heatmap shows you how precisely you hit the keys on the QWERTY. With this information, SwiftKey can make a more accurate prediction of the word you are typing.
The update also adds a new stats panel so that you can see what SwiftKey X is doing for you. You can also share this with your pals to show them how their typing could improve by downloading the app. The update also is equipped with language layout switching for those who use different keyboard layouts because of different languages. Those who want to always write in lower case will be happy about the reappearance of the autocaps toggle.
Other improvements made include instant language switching, better error reporting and some bug fixes. Whether you are a current SwiftKey X user or not, you will probably notice
some improvement in your typing by downloading the app, which costs $3.99
and requires those downloading it to have Android 2.1 or higher.
source:
AndroidMarket
via
AndroidCentral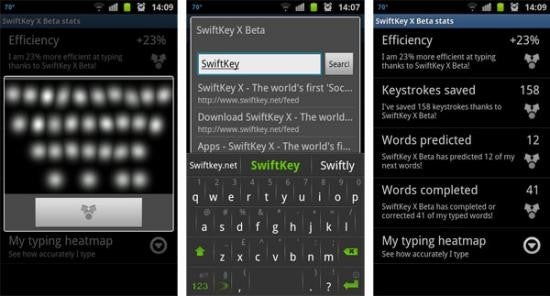 The SwiftKey X update brings a heatmap (L) and stats (R) to improve your typing (C)