Stories you shouldn't have missed this week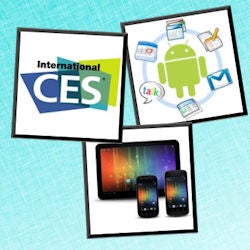 Boy, what a week it was! CES 2012 sure kept us occupied, and the number of read-worthy stories that we delivered over the past days went straight through the roof. Of course, all of our posts related to the expo are worth checking out, including the announcements of some pretty hot smartphones and tablets, among which the
Acer Iconia Tab A700
,
Huawei Ascend P1 S
,
LG Spectrum
,
Nokia Lumia 900
,
Motorola DROID RAZR MAXX
, and more. We've got a ton of hands-ons and specs comparisons too, along with camera samples from some of the photo-centric devices, such as the
Sony Xperia ion
and the
HTC Titan II
. Last but not least, do not miss the chance to cast your vote in our CES 2012 posts and let us know which tablet and smartphone from the show you liked the most.
Hands-ons:
Polls:
In other news, images of the Samsung GT-i9500 surfaced on the web. What is so special about the device, you ask? Well, as it becomes evident from the shots, it runs the all-new Tizen OS, which is known to be a successor to MeeGo. If this Tizen smartphone ever sees the light of day, that is likely to happen in the second half of 2012.
Speaking of Samsung smartphones, earlier this week was announced that Sprint is getting the
Galaxy Nexus
. It will be the carrier's very first LTE smartphone, along with the
LG Viper
, which is an eco-friendly smartphone. Interestingly, the Samsung Galaxy Nexus for Sprint might sport a 1.5GHz processor instead of the 1.2GHz that the Verizon version has, but that is just a speculation.
During CES 2012, T-Mobile made an intriguing announcement. The carrier is planning on boosting the adoption of its 4G network by changing its rate plans, thus making wireless broadband more affordable, and introducing a number of 4G devices. An expansion of its 4G network is also on the agenda. Theoretically, that should help bring in more 4G customers to T-Mobile… unless AT&T, Verizon, or Sprint lure them in with their LTE networks first, of course.
Google had an announcement to make too. The Android Design web portal got unveiled providing app developers with a detailed style guide to making consistent, user-friendly, and eye-catching applications. It is aimed at both amateur and professional developers who want their Android apps to have the look and feel of Ice Cream Sandwich itself. Hopefully, that will reduce the number of half-baked software reaching the Android Market.
Meanwhile, in China, the
Apple iPhone 4S
went on sale. Or at least it was supposed to. Its introduction to the Chinese market did not go as planned, and it is all because the Apple store in Sanlitun could not open on time. Unsurprisingly, the thousands of people waiting in line were not happy with that and as a result fights started breaking out. Eventually, the sales of the iPhone 4S were halted in all Apple stores across Beijing and Shanghai. Hmm, perhaps Friday the 13th is to blame.
Care for a quality read? We posted more than a few articles for your reading enjoyment, and
Sony returning to the U.S. market with a bang
is on the list. It was inspired by the Sony Xperia ion's announcement and takes a closer look at what appears to be an effort for the company to regain its U.S. territory. Next, we have an article dedicated to tablets. Because quite a lot of them got unveiled at CES 2012, right? But we think that only some of them will survive, while the rest will just fade away without causing much of an impact. Let's not forget
"Predictions" that need to stop in 2012 - Part 2: Google, Android & "fragmentation"
, which outlines the way we see Android's future. Of course, we have done our best to back up our predictions with some good old-fashioned logic. Another article of ours that we believe is worth checking is
Intel goes mobile with Atom Z2460 and this time it's serious
, which puts Intel's mobile chip under the spotlight. Next in line is an article about the Android Style Guide, which got announced mere days ago. It tells you everything you will ever need to know about it and outlines the changes that we expect it to bring to the Android platform. Last but not least, we present you with a list of smartphone and tablet accessories from CES 2012 that we really liked.