Sony Xperia Z1: all there is to know
22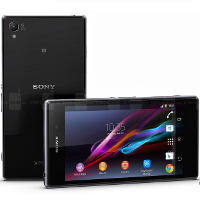 Sony has lifted the veil off of itslong-awaited Xperia Z1, and those of you who were hoping for asurprise, despite the massive amount of leaks that we got our handson prior to the company's announcement, were probably leftdisappointed. Wehad almost everything spot on. Of course, the aforementioneddisappointment is the price we all chose to pay for an early tipoff.
The more relevant than ever trade-offinvolved with leaks aside, Sony has launched a worthy successor tothe Xperia Z that builds onto the Japanese company's existingsmartphone in an entirely new (and very trendy) direction – thecamera. The camera, precisely, is what really gives the Xperia Z1 areal tool capable of persuading consumers to join Sony's camp. Like any smartphone, however, there are trade-offs, and those mayappear more significant to some than to others. Namely, not only isthe design on the Z1 almost identical to that of its predecessor, but thenew, bigger snapper, along with the phone's water and dust resistancehave both added up to a bulkier, more heavy device.
Sony Xperia Z1: the essentials
The aforementioned shortcomings considered, if you're looking to make a truly informed decision on whether the Sony Xperia Z1 is worth your hard earned coins, then the content below is sure to prove relevant to you.
How does the Sony Xperia Z1 stack up against the competition?
Alright, there's no escaping facts -- the Sony Xperia Z1 is a top of the line smartphone with great capabilities. But how does it fare when pitted against the merciless competition?
Missed the show?
We won't shame you for missing out the official unveiling of the Sony Xperia Z1 -- you probably had your reasons. That being said, you should probably consider doing something about it.
Our liveblog with selected highlights
is a good start; watching the full presentation embedded below will score you extra points, though!
DSC-QX10/QX100: Sony's lens-style attachable cameras detailed
Sony's lens-style cameras are real and are packing some serious punch for those of you on the go, but unwilling to settle for the considerable trade-off of dumping your bulky, but trusty DSLR.
Sony SmartWatch 2 now official. For real.
Sony actually announced the SmartWatch 2 back in June, along with its monstrous Sony Xperia Z Ultra phablet. For whatever reason, Sony deemed IFA 2013 fit for another (re)announcement of the company's second generation smartwatch. Read more about it below.