Sony Xperia Z1 vs HTC One: First look
18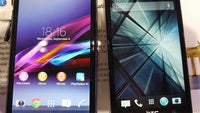 Now that the Sony Xperia Z1 has finally landed in our itchy hands, it is time for us to pit it against some of the smartphones it will be competing with. The HTC One is definitely among them, being the best that the Taiwanese company currently has to offer. And boy is it a tough opponent to beat!
Design
For starters, the HTC One is a premium smartphone that has a character of its own. As it is made of machine-milled metal, the One feels great to the touch. Sony's Xperia Z1 is also a sleek, great-looking handset, and it will surely attract buyers with its appearance, just like the HTC's flagship. We must note that the HTC One feels a bit more compact than the Z1, which doesn't come as much of a surprise since it has a smaller screen. On the other hand, the Sony Xperia Z1 has an excellent set of physical buttons, including a dedicated camera key, while the HTC One's keys can be difficult to reach and operate.
Display
Both the Sony Xperia Z1 and the HTC One come with excellent 1080 by 1920 pixel displays, delivering an outstanding level of detail. The screen on the Z1, however, is slightly bigger with its 5-inch diagonal, while the One's panel measures 4.7-inches. Since the quality of both panels is outstanding, it would be very hard to say which one of the two is better. Both exhibit very accurate color reproduction, that we can say for sure.
Processor
Under the hood, the Sony Xperia Z1 packs a Snapdragon 800 SoC, which is definitely more powerful than the Snapdragon 600 chip found on the HTC One. Therefore, Sony's newest flagship is not only faster in terms of raw processing, but should also be considered more future-proof. Still, we're expecting the real-life performance of both handsets to be at a very similar level.
Interface
Currently, 4.3 is the latest Android version that is available, yet it isn't found on neither the Sony Xperia Z1, nor the HTC One. Nevertheless, we're expecting them to receive software updates sooner than later. As for the UIs running on these two handsets, Sony has spiced things up quite a bit, but not to an extent where an experienced Android user would be lost. The HTC One, on the other hand, comes with Sense 5 UI, which is far more detached from the stock Android experience, having a news and notifications feed instead of the traditional home screen. Yet HTC's interface solution isn't bad at all, so ultimately, it would be up to the user, or potential buyer, to decide which UI looks and feels better.
Camera
Sony has put a lot of effort in outfitting the Xperia Z1 with an excellent camera – a 20.7MP module with G Lens optics and an Exmor RS sensor. The HTC One, on the other hand, has a 4MP "Ultrapixel" camera. While we haven't examined samples from both smartphones' cameras side by side, things aren't looking good for the HTC One as it hasn't really fared that well in our recent camera comparisons. Chances are that a user who demands a top-notch camera on their smartphone would be much more satisfied with the Sony Xperia Z1.
Conclusion
Clearly, the Sony Xperia Z1 is a device that should not be underestimated. It has many of the ingredients a smartphone needs in order to become a best-selling device, especially if the company's marketing department gets its job done well. Should HTC be worried? Perhaps. While the HTC One is an awesome handset, it might have a hard time holding its turf against Sony's newest flagship. Of course, it is too early to draw any final conclusions as to which of the two smartphones is better, but we'll surely know the answer to that soon after the Sony Xperia Z1 is released this month.