Smartwatch Showdown: Samsung Galaxy Gear vs Sony SmartWatch 2 vs Qualcomm Toq
35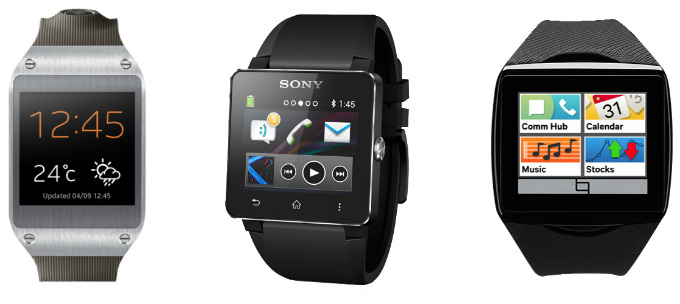 Today saw three new entrants into the smartwatch space in what will likely come to be known as the beginning of the smartwatch boom. As we expected, when we wrote about these devices (at least the ones we knew about), this round of smartwatches still falls within the "first-gen" era, which brings interesting potential, but major drawbacks for early adopters. Essentially, the choice between the
Samsung Galaxy Gear
,
Sony SmartWatch 2
, and
Qualcomm Toq
comes down to one thing: do you want features or do you want battery life?
Note: we decided to leave the Pebble out of this roundup, because its slow display and extremely limited RAM (96k) limit the device too much for consideration, despite its battery life and price point.
Displays
Both the Samsung Galaxy Gear and Sony SmartWatch 2 have 1.6-inch screens, and Qualcomm hasn't released the specs on its display. We do know that the Qualcomm Toq uses a Mirasol transflective display, similar to the Sony SmartWatch 2, which also uses a transflective display, but it isn't Mirasol. Transflective displays are the most power efficient full color displays on the market, because they are a nifty combination of eInk and LCD using both ambient light and backlight, which gives great battery life with full color and far better performance than you would expect from eInk.
Samsung's Galaxy Gear uses a Super AMOLED display, which is more power efficient than a regular LCD, especially if the UI is heavy on dark colors because it only lights up pixels that are in use, and full black means the
pixel
isn't used at all. The Galaxy Gear also potentially has the highest resolution of the bunch. We don't know the resolution of the Qualcomm Toq, but the Gear is 320x320, and Sony SmartWatch 2 has a resolution of 220x176.
The SmartWatch 2 and Toq are basic black squares, but Sony spruces things up by offering multiple
interchangeable
wrist straps, as well as a stainless steel option. As far as the look of the watch face itself, we kind of like the Galaxy Gear the best out of the bunch, but the size of the bezels seems unnecessary, and adds too much bulk to what should be a small device. Additionally, while it is nice that the Galaxy Gear has speakers, a microphone, and a camera (1.9MP), all of which are features that are not present in either the SmartWatch 2 or the Toq, there are drawbacks for the Gear to have those features.
First of all, all of those features are built into the watch strap, meaning you cannot change the watch strap and are stuck with what Samsung gives you. Second, it's unclear as yet just how useful those features will be. If you have a smartphone, is the speed difference worth the far lower quality of taking a photo or video with your smartwatch compared to your phone? Lastly, those feature all leach more battery life, which is already in limited quantity on a smartwatch. Sure, it would be cool to be Dick Tracy and run a phone call through your wrist, but if that's going to kill your battery, is it really worth it?
As far as the size differences, the Smartwatch 2 clocks in at 9mm x 42mm x 41mm (.35" x 1.65" x 1.61"), and the Samsung Galaxy Gear is 11mm x 37mm x 57mm (.43" x 1.46" x 2.24"), which means the SmartWatch 2 is 33% smaller than the Galaxy Gear, but surprisingly Sony's smartwatch weighs quite a bit more at 122 grams (4.3 oz) compared to Samsung's 74 grams (2.6 oz). That could be because the standard SmartWatch 2 comes with a stainless steel band, and that would certainly boost the weight. There's no word on the Qualcomm Toq, but the images make it look to be similar in size to the SmarWatch 2.
Lastly on design is durability. We don't know how much of a beating these things can take in general, but we do know that Samsung's Galaxy Gear is rated for IP55, meaning it is protected against dust and water spray for a few minutes; but, the SmartWatch 2 is rated to IP57, which means it is protected against dust and submersion in up to a meter of water for 30 minutes. Again, no word on Qualcomm's smartwatch.

While both the Galaxy Gear and SmartWatch 2 run modified Android software, there is no standardized app store from Google for Android smartphone apps, nor is Android optimized for use on such small displays. Qualcomm seems to be using proprietary software. This means that Samsung, Sony, and Qualcomm all have to get developers on board to develop specifically for each device.
Samsung has done well on this front, and says that there will be about 70 apps available soon, and about 12 when the Gear launches. But, Sony has had a year's headstart in building its ecosystem, which means it has about 400 apps available for its SmartWatch. Assuming Qualcomm is running proprietary software, that will make it even more difficult for developers, so we certainly wouldn't expect more than a handful of apps at launch.
Of course, the number of apps doesn't tell the whole story either, because apps will function differently on each device. The general consensus so far is that Samsung's offerings feel more like an actual smartwatch, while Sony's offerings feel more like an annex screen to your smartphone, rather than a separate intelligent device. This isn't always true as Sony's SmartWatch allows for deeper reading of Gmail, Twitter, and Facebook messages than Galaxy Gear.
But, Galaxy Gear also has extra features like a built-in pedometer app, and Smart Relay, which can automatically move what you're doing on your Gear to your Galaxy phone. And, as you might expect, the extra hardware on the Gear adds more functionality, like being able to take calls, initiate calls, take photos and video, and best of all use S Voice for voice commands to draft messages, create new calendar entries, set alarms, and check the weather.
Sony's main extra feature is the ability to pair your SmartWatch 2 with an NFC capable Android device. Qualcomm's Toq sets itself apart by offering
wireless charging
, although it uses Qualcomm's WiPower LE technology rather than the Qi wireless standard. The Toq will also have an option to get a Bluetooth headset which will also use wireless charging, and can have the Toq control music played on them.
Compatibility
As you may have noticed in that last paragraph, we had to note that the Galaxy Gear does certain things with your Samsung Galaxy smartphone. That's because Samsung's smartwatch is only compatible with Samsung's own smartphones. It will be compatible with the Galaxy Note 3 at launch, and there will be software updates to the Samsung Galaxy S III, S4, and Note II to add support.
On the other hand, the Sony SmartWatch 2 and the Qualcomm Toq will work with any Android device running 4.0 Ice Cream Sandwich or higher. Qualcomm is also considering support for iOS, but hasn't confirmed anything yet.
And, it should be noted that functionality for all of the devices will be severely limited if you don't have a smartphone to pair with.
Battery life
Samsung rates it for "up to 25 hours in regular". Company battery claims tend to be a bit overblown, so we wouldn't be surprised if the Gear gets less. On the other side, Sony claims between three and four days in normal use, and Qualcomm doesn't give a specific number but also says "days of battery life".
Price and availability
The Samsung Galaxy Gear will be available beginning late September in most regions, and October in the U.S. and Japan for around $299. Sony hasn't announced U.S. pricing or availability, but has said that the SmartWatch 2 will be available in late September for €199 (~$263) for the stainless steel strap, and it's listed on Amazon U.K. as shipping next week for £160 (US$250). No price for the Qualcomm Toq, but it is planned for a Q4 2013 release and is expected to be around $300.
Conclusion
As we said at the start, its basically a matter of if you want features or battery life, but overall the choice is a lot more complicated than it looks. The Samsung Galaxy Gear has the most features, and the most potential (assuming you have a Samsung smartphone). But, its battery life is far worse than the competition, and it has the most limited compatibility.
Aside from the lower cost, better battery life, and options for changeable wrist straps, the Sony SmartWatch 2 has the advantage of being the only device that isn't a first generation product. That means the Sony app ecosystem has had more time to mature, and Sony has had the time to fix the problems that were around in the first SmartWatch. We don't yet know what first-gen bugs exist in the Galaxy Gear or the Toq, and we don't know how quickly to expect software updates to fix whatever issues there may be. In fact, we don't know enough at all about the Qualcomm Toq. It has some interesting features, but there are still too many unknowns, most importantly the price and the app support.