Sony Xperia Z1 vs LG G2: First look
32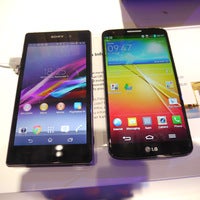 Now that's a clash that's going to make the ground tremble. In the left corner we have the newly-announced Sony Xperia Z1 and in the right corner awaits the LG G2 smartphone. Anyone who is even remotely familiar with these two devices knows that they are among the best of their kind. Which one of the two is better, however? Well, here we have them, side by side, and we'd gladly share with you our opinion on the matter.
Design
In terms of design, it isn't easy to say which of these two smartphones has the upper hand. There are actually two sides to this story. On one hand, we have the Sony Xperia Z1 and its classy exterior, which many not be the most comfortable one to hold, but it sure looks and feels premium with its tempered glass and aluminum frame. On the other, there's the LG G2 with its generic-looking plastic casing that doesn't stand out in any particular way. Still, we have to admit that the G2 is the more comfortable device to hold, thanks to its slightly more compact dimensions and curved back panel.
If you're OK with having a device that feels a bit bulky and hard to operate with one hand only, then we guess the Xperia Z1 should be named a winner in the desgn department. Not that the LG is bad, but it simply doesn't offer anything to make its owner proud, apart from the large screen and ultra-thin bezels.
Display
What you'll find in the Xperia Z1 is Sony's new Triluminios screen (also found on the Xperia Z Ultra), which marks a significant upgrade over Sony's previous displays for mobile devices. Image quality seems to be very good, though we wouldn't necessarily say that it can go toe to toe with the best LCD screens currently available. In this case, the contender is the LG G2's IPS LCD display, and while it isn't really perfect, especially considering its overly high color temperature, it looks like it can easily compete with the Xperia Z1's panel and even beat it. We won't make any concluisons yet, seeing that we haven't had enough time to test the devices properly, but by the looks of it, there is still room for improvement for Sony, as far as screen technology goes.
Processor
With both smartphones featuring the latest and greatest Snapdragon 800 chipset, it's perfectly clear that both will do extremely well when it comes to performance. Their user interfaces run in a fluid matter, without a hint of lag, and we're absolutely sure that the Xperia Z1 and G2 will be able to execute each and every app or game with ease. Add their spectacular GPU, the Adreno 330, and it's gets certain that these two bad boys are absolutely future-proof.
Interface
Camera
Now that's going to be an interesting clash. While the LG G2 has already proven itself as one of the very best camera phones around, the Xperia Z1 is pretty ambitious in this respect, since it packs the new G Lens camera with a 20.7 MP Exmor RS sensor. We are sure that the Xperia Z1 will be taking great photos, but we'll obviously have to wait before we can say which one will be better.
The LG G2 features a bunch of interesting camera modes, such as Tracking Zoom and Time Catch Shot, but the Xperia Z1 isn't falling behind, as it sports a series of useful shooting modes of its own. It depends on your needs which set you'd prefer, but our early impressions lead us to believe that Sony has come up with the better selection. There are fewer choices in the Xperia Z1, but they do look like the more polished choices.
Both cameras can record 1080p video, with the LG G2 being spectacular in this regard (with the exception of night-time video, which is disastrous), so it'll be interesting to see if the Xperia Z1 will be able to deliver a similar or even better performance.
Expectations
Without a doubt, these are the flagship phones of the season, and while they both sport phenomenal specs and capabilities, they are still very different, due to the design approaches of their manufacturers, both hardware- and software-wise. The Xperia Z sports the fancier, more premium design, while the G2 is more comfortable to use and has a bunch of unique features for some added value. Anyway, the bottom line is that whichever handset you decide to side with, you'll be treated to a wonderful Android experience.