Sony Xperia Z1 vs iPhone 5: First look
26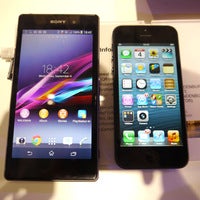 The
iPhone 5
is an outstanding device. Even though nearly a year has passed since it got launched, Apple's finest still ranks among the top smartphones out there, loved by millions of owners worldwide. That is why a comparison like this is inevitable – a comparison between the newly-announced
Sony Xperia Z1
and the tried and trusty iPhone 5. Can a 12-month-old handset rival an upcoming phone? Well, let's take a look.


Design
In terms of appearance, both smartphones have a lot to impress with. We'd say that the two look and feel equally great, which comes as no surprise since the Sony Xperia Z1 and the iPhone 5 are put together with utmost attention to detail. The premium materials used in their construction only adds to their high-end feel. Sony has chosen to use tempered glass for the Z1's back panel while the iPhone 5 is made of anodized aluminum. What sets these smartphones apart, however, is their size. In all honesty, the Xperia Z1 feels a bit bulky, partially due to its rectangular shape, but at least we know it is waterproof. The iPhone 5, on the other hand, is a lot more compact and perfectly usable with a single hand. It does, however, come with a smaller screen. Speaking of which...
Display
The iPhone 5 has a 4-inch IPS LCD screen with a resolution of 640 by 1136 pixels. But on paper, the Sony Xperia Z1 seems a lot more exciting with its 5-inch Triluminos display and resolution of 1080 by 1920 pixels. And that's true for the most part since the Z1's screen is definitely more detailed than the iPhone's. However, it doesn't seem to reach the latter's level of color accuracy. Not that the Sony Xperia Z1 display is bad at producing colors. Quite the opposite, the smartphone's color reproduction is great, but it just could have been a bit better.
Interface
Android
4.2
– that's what runs on the Sony Xperia Z1, hopefully to be substituted by a newer version in the near future. The iPhone 5 comes running iOS 6 out of the box, with an update to iOS 7 promised for this fall. These two operating systems might seem similar at a glance, but fundamentally, they are quite different. Since it runs Android, the Sony Xperia Z1 is a lot easier to
hack
personalize and would run a wider selection of free software available from Google's play store. The iPhone 5, on the other hand, has access to higher-quality apps, and while its UI lacks flexibility, every user can get the hang of its interface as it is made in a simple, intuitive manner.
Processor and memory
We can probably write a dozen paragraphs, explaining how much faster the Sony Xperia Z1's Snapdragon 800 SoC is when compared to the A6 chip in the iPhone 5. However, that's something we won't do as it would pretty pointless. The fact of the matter is that both smartphones deliver silky-smooth performance no matter what they are being used for.
The Sony Xperia Z1 will come with either 16 or 32GB of storage. Same options are available for the iPhone 5 as well, but an additional 64GB is also on sale despite being priced a bit steeply. Yet ultimately, the Xperia Z1 has the upper hand when it comes to storage. You see, there's a microSD card slot on board, meaning that the user may add up to 64GB extra for all their files and software.
Camera
Here's where it gets interesting. Many of our previous tests show that the iPhone 5 packs a great 8MP camera, but at the end of the day, the Sony Xperia Z1 may turn out to be a better shooter. The maker of the latter has borrowed "G Lens" technology straight from its digital cameras and adapted it for smartphone use. And since it has 20.7 megapixels of resolution on a sensor that is 1/
2.3
in size, the Xperia Z1 could possibly snap more detailed photos, both during the day and during the night. Eventually, we'll give their cameras a try, and if the Sony Xperia Z1 turns out to be better in the camera department, then we won't be that surprised.
Expectations
The Sony Xperia Z1 and the iPhone 5 are outstanding smartphones, but each of them excels in its own way. The Sony Xperia Z1, for example, is what we'd probably pick for multimedia consumption and capturing. It is also water-resistant, which is a perk only a few high-end smartphones can offer. With the iPhone 5, however, one can expect a smoother user experience. Moreover, Apple's smartphone is the better option if you're demanding a compact, yet premium device that is as rich in features as a modern smartphone should be. Ultimately, it looks like it will be up to each individual user to decide which of these two would be the better pick.