Sony Xperia Z1 vs Samsung Galaxy S4: First look
58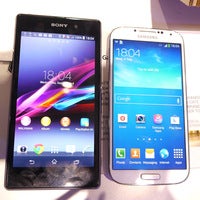 Clearly, Sony isn't playing around. Its newly-announced flagship handset, the Xperia Z1, is shaping up as a high-end smartphone worthy of attention – a smartphone that seemingly has the potential to cause a splash on the market. But Sony's latest and greatest will be met by some heated competition once it is out, of course. Samsung will be one of the players to beat, and the run against the Galaxy S4, which has been selling by the millions worldwide, will be tough.
Design
First of all, the Sony Xperia Z1 looks pretty sleek with its perfectly flat front and back sides, and the metal trim around the sides is an excellent finishing touch. If that's not enough, Sony has not forgotten to ensure its Z1 smartphone carries an IP rating. That guarantees it will resist well against dust or water damage. The Samsung Galaxy S4, on the other hand, looks and feels quite a bit less premium, but it is still a good-looking device overall. Moreover, its rounded corners make is much easier to handle, while the Z1's sharp corners might not appeal to everyone.
Display
Both the Sony Xperia Z1 and the Samsung Galaxy S4 come with 5-inch 1080p screens delivering about the same level of image quality. However, these panels are fundamentally different. While the Galaxy S4 has a Super AMOLED HD display, the Xperia Z1 is equipped with a so-called Triluminos screen, adopting tech that its maker has borrowed from its TV division. Nevertheless, both screens look great in person, delivering pretty colors even at an angle.
Processor
When it comes to internals, the Sony Xperia Z1 definitely has the upper hand. It is equipped with Qualcomm's Snapdragon 800 SoC, while the Samsung Galaxy S4 makes do with a Snapdragon 600 chip or an Exynos silicon in select markets. Both SoCs are very fast, of course, but those seeking the ultimate in processing power will be more strongly attracted towards the Z1.
Interface
The Samsung Galaxy S4 comes running Android
4.2
out of the box, and so does the Sony Xperia Z1. Hopefully, Sony and Samsung will release update for their handsets in a timely manner, but at this time, there is no information on when that might happen. Both handsets run custom versions of the platform in effort to enhance the experience for the end user. The Samsung Galaxy S4, however, might be a step ahead in that respect. Its TouchWiz UI does not only look somewhat better, but also adds tons of handy features. Don't get us wrong as the Z1's UI is definitely good, but it could have been slightly more refined.
Camera
Now for the more interesting part, the camera on the Sony Xperia Z1 seems very promising and we won't be surprised if it ultimately ends up being better than the one on the Samsung Galaxy S4. Sony has thrown a 20.7MP cam on its Z1 smartphone, with "G Lens" optics and an Exmor RS sensor. With its help, Sony's newest flagship promises not only outstandingly good photos, but also silky-smooth 1080p videos. Having a dedicated camera shutter key is another perk that the Galaxy S4 doesn't offer.
Expectations
So while the Sony Xperia Z1 isn't radically better than all the other high-ends out there, the Galaxy S4 included, it does stand out with its rich feature set, promising camera, and premium design. Many of the imperfections that bugged us about its predecessor, the Xperia Z, have seemingly been obliterated, so the Xperia Z1 now has a much better chance at making a significant impact on the smartphone market. But is it better than the Galaxy S4? Well, it is a bit too early to say, and further in-depth examination will be required to answer that question. The good news is that the Sony Xperia Z1 brings it on, so the clash with Samsung's fines will sure be heated.