Silicon warriors: Snapdragon 800 (G Pro 2) vs 801 (S5, Z2) processor comparison
19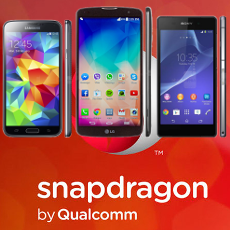 Most Android and Windows Phone flagships of last year, come with Qualcomm's fastest chipset at the time - the quad-core Snapdragon 800. The mobile chip juggernaut used the MWC expo to showcase a surprising newcomer -
Snapdragon 801
. It is meant to bridge the gap between Snapdragon 800, and the upcoming
Snapdragon 805
powerhouse, which will likely
enter devices en masse in the second half of the year
.
Thus Snapdragon 801 is a great stopgap for those flagships, like the
Xperia Z2
, or the
Galaxy S5
, which are scheduled to appear in the first half, as it offers a decent performance upgrade over the 800 chipset, and is ready for mass production. Qualcomm made it pin-for-pin, and software compatible with Snapdragon 800, so changing to the 801 is just a matter of swapping out the old, and plugging the new. Despite
Qualcomm's efforts to clear up the confusion
, users are still perplexed about the exact differences between the two, so we thought we'd come to the rescue, and make a brief comparison. Off to the geeky stuff!
Snapdragon 801: take a great 800, and make it better
Let's start with a few dry numbers, and some chipset terminology. The 32-bit Snapdragon 800 family can be found in phones as diverse as the
Google Nexus 5
, or the
Nokia Lumia 1520
. It uses four Krait 400 cores - Qualcomm's own take on the
ARM Cortex-A15
architecture, with tailor-made instruction sets. Snapdragon 800 also features homebrew Adreno 330 graphics processing units, which can be clocked at up to 450 Mhz. Here's a general overview of the main Snapdragon 800 features: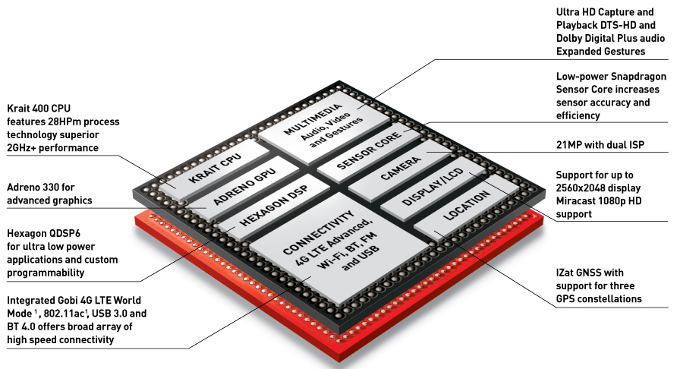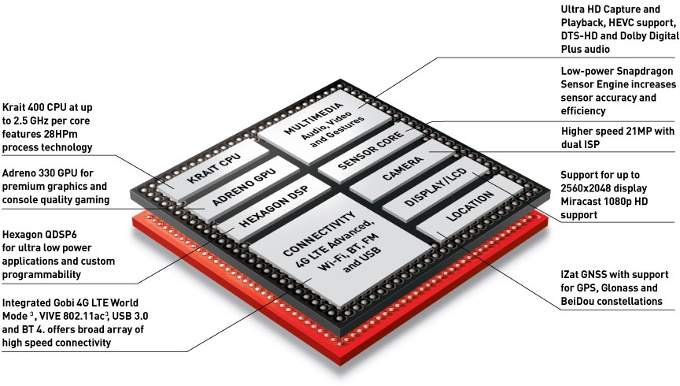 Model
Max Krait 400 CPU clock
Max Adreno 330 GPU clock
ISP
eMMC
Dual SIM, Dual Active
Memory interface
MSM8974-AA
(Z1, Note 3, G2, G Pro 2)

Snapdragon 800

2.26 GHz

450MHz

320MHz

v. 4.5

NO

800MHz

MSM8974-AB
(Z2, Z2 Tablet, Find 7)

Snapdragon 801

2.36 GHz

578MHz

465MHz

v. 5.0

YES

933MHz

MSM8974-AC
(Galaxy S5)

Snapdragon 801

2.45 GHz

578MHz

465MHz

v. 5.0

YES

933MHz
As you can see from the comparison table above, the Krait cores' maximum clock speed has gone up only slightly. The Adreno 330 GPU, however, has received a more significant boost, climbing up to 578 MHz in Snapdragon 800. Last, but not least, the image signal processor has been fried to 465 MHz, up from 320 MHz. These bursts are coupled with memory interface speeds of up to 933 MHz, so it's not hard to gauge how Qualcomm achieved the faster overall performance of Snapdragon 801, compared to its 800 predecessor.
Digging into the KitKat source codes, one commenter found out that the 8974-AB and 8974-AC, are referred to as 8974Pro, unlike Snapdragon 800 versions, which are tagged 8974v2. Those "Pro" chips have two versions - 8974Pro rev0, and 8974ProC rev1. Revision 1 is the faster Snapdragon 801, as found in the Galaxy S5. It has 16 PVS binnings with 0.1v difference between each binning's maximum CPU frequency, while the 8974AB version, as found in the Xperia Z2, has 8 binnings with 0.25v difference. Other than that, the 8974AB variant of Snapdragon 801, has its GPU speed maxing out at 578 MHz as well, not the 550 MHz thought before.
In fact, the chip giant bragged the exact improvement percentages - 14% faster Krait 400 processor cores, 28% faster Adreno 330 graphics, and the whole reason for the 801's being - a 45% improvement in camera sensor processing speed. Actually, the 45% ISP clock frequency bump results in the whopping 1GPixelsl/s throughput, compared to 640MPixels/s with Snapdragon 800. This image processing prowess is made deliberately for phones with higher-resolution sensors, which usually take their sweet time to process photos, like the 41 MP monster on the
Lumia 1020
, for instance. As a result, Samsung announced the fastest in the industry 0.3s shot-to-shot times with the Galaxy S5, not to mention that the phones with 801 chipset support native 4K video recording and playback, plus features like real-time HDR, and
Selective Focus
.
The fine print
The clock speed boost, and the faster, 400MB/s flash memory speed support, are the big differences between the new Snapdragon 801, and the older 800. There are a few more significant improvements under the hood, though, as we already cited the 45% faster image processing, which allows seamless input from much larger camera sensors, and smooth 4K video recording and playback.
However, the video goodies don't stop here, as Qualcomm lists High Efficiency Video Codec (HEVC) 1080p support, available to devices with the Snapdragon 801 processor. HEVC delivers up to 50% better compression than H.264 in streaming video applications, while preserving the picture quality. This will be useful to start a Netflix video-on-demand session, for instance, and stream a 1080p movie with much less bandwidth than current streams. It's still a matter of adoption rate with the HEVC codec, but the general consensus is that this is the future, so apparently Snapdragon 801 is already priming your mobile device for what's to come. Actually, these image processing, and streaming video improvements, are the cornerstone of
Snapdragon 805
, too, so in that regard the 801 seems quite futureproof. Here's a quick demo of the HEVC high-def video streaming efficiency.
Snapdragon 801 keeps the Gobi 4G LTE Advanced CAT4 modem, inherited from the Snapdragon 800 chip. It allows
carrier aggregation
, and download speeds up to 150 Mbps. Snapdragon 805 will support the fourth-generation CAT6 modem, allowing up to 300 Mbps download speeds, but there are barely any carriers with such networks, so you can sleep tight for now.
Last but not least, dual SIM/dual Active (DSDA) devices are not only an afterthought with Snapdragon 801, but the ability is now hardware integrated, and a matter of simple decision for the manufacturer to make. Granted, the feature will mostly be used in emerging markets, where
dual SIM handsets
are all the rage, but given that the ability is now hardwired into the chipset, the service quality is likely to be superior to what we are witnessing now with dual SIM devices.
Benchmarks
Talk is cheap, though, so we dug out a few benchmark proofs that the Snapdragon 801 processor performance is indeed superior to the original Snapdragon 800. For starters, this is very obvious in the graphics department. Currently, the flagships with Snapdragon 801 - Galaxy S5, Xperia Z2,
Oppo Find 7
, and the upcoming
HTC M8
- occupy the top spots in the GFXBench graphics testing database, unseating the previous top dog
iPhone 5s
there.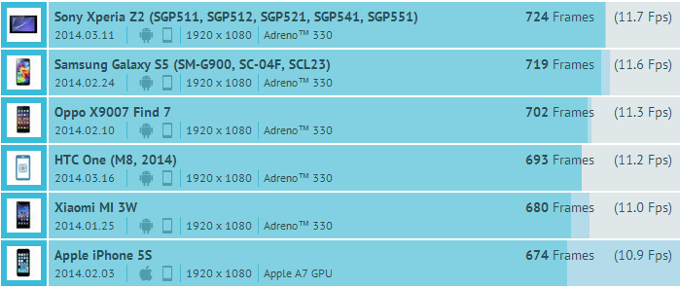 What about the overall chipset performance, though, do we get the same boost as in the graphics department? Well, judging from our own benchmarking sessions at the MWC expo, the fastest version of Snapdragon 801, as found in the Galaxy S5, shows
a pretty significant performance increase
. We compared it to the Snapdragon 800 in the new
LG G Pro 2
phablet, as you can see in the score table below. The
Xperia Z2 did exhibit similar superiority
, but its Quadrant test was off, under
the score of the G Pro 2
. Let's not forget that Quadrant doesn't tag RAM performance, though, plus these weren't retail units, so the software wasn't completely finalized.
Model
Max Krait 400 CPU clock
Max Adreno 330 GPU clock
ISP
AnTuTu
Quadrant
BasemarkX
LG G Pro 2
MSM8974-AA

Snapdragon 800
2.26 GHz
450MHz
320MHz

31627

20835

21123

Sony Xperia Z2
MSM8974-AB

Snapdragon 801
2.36 GHz
578MHz
465MHz

33329

17639

25172

Samsung Galaxy S5
MSM8974-AC

Snapdragon 801
2.45 GHz
578MHz
465MHz

35541

23468

23501


In a nutshell, Snapdragon 801 is not a simple overclock of the Snapdragon 800 chipset. Granted, we have only a slight boost in processor speed, but we are witnessing big improvements in 3D graphics, and even bigger in image rendering. In fact, the speed of camera input processing, or high-def video encoding, decoding and streaming, is likely close to the level of the upcoming Snapdragon 805. Thus, you can rest assured that your 801-equipped phone or tablet, will stay relevant in that department for quite a while. In addition, the high-speed memory card support, the more efficient video streaming codec, and the hardwired dual SIM/dual Active integration, are welcome specifications to an already feature-rich chipset.