Qualcomm: both Galaxy S5 and Xperia Z2 are powered by a Snapdragon 801, but here's the difference
92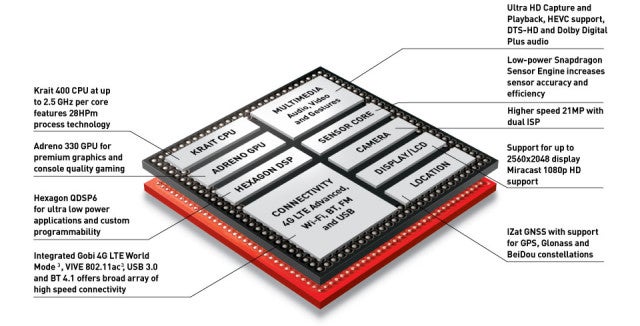 Qualcomm Snapdragon 801 specifications
Qualcomm rippled some confusion through the sea of tech bloggers, when it announced a new
Snapdragon 801 chipset at MWC
, and the
Xperia Z2
, as well as the
Galaxy S5,
were later listed to arrive with it.
We say confusion, as the clock speeds of those two differ, and Sony even listed the chipset in its Z2 and
Z2 Tablet
as Qualcomm MSM8974AB, which was previously known as a member of the Snapdragon 800 family of processors.
Qualcomm took some time to explain its new categorization, and it turns out that both the MSM8974-AB and MSM8974-AC processors, that are in the Z2 and S5, respectively, are now comprising a new, Snapdragon 801 category. As stated by Qualcomm's Jason Woodmansie: "
Apologize for any confusion, but the specific part number is mostly an internal reference - the name of the processor for both the Z2 and the Galaxy S5 is the new Snapdragon 801
."
Qualcomm bragged that the new Snapdragon 801 comes with 14% faster Krait 400 processor cores, 28% faster Adreno 330 graphics, and a 45% improvement in camera sensor processing speed, allowing native 4K video recording, and other imaging goodies. How did Qualcomm do this in comparison with Snapdragon 800? Simply - in the 2.3 GHz quad-core MSM8974-AB the GPU clock speed went from 450 MHz to 550 MHz, while in the 2.5 GHz quad-core MSM8974-AC it went to 578 MHz.
Thus the Snapdragon 801 processor in the Galaxy S5 is slightly faster than the 801 in the Z2, though we'd have to test the retail units to see if the higher clock speed will translate in higher benchmarks, or a more fluid performance at all. Moreover, these two versions aren't to be confused with the upcoming
Snapdragon 805
, which is a whole different ballgame, and is unlikely to be announced in devices
before the summer
.
source:
Qualcomm
via
SEMCBlog
Recommended Stories