Qualcomm unveils its fastest 2.5 GHz Snapdragon 805 'Ultra HD' chipset with Adreno 420 graphics
73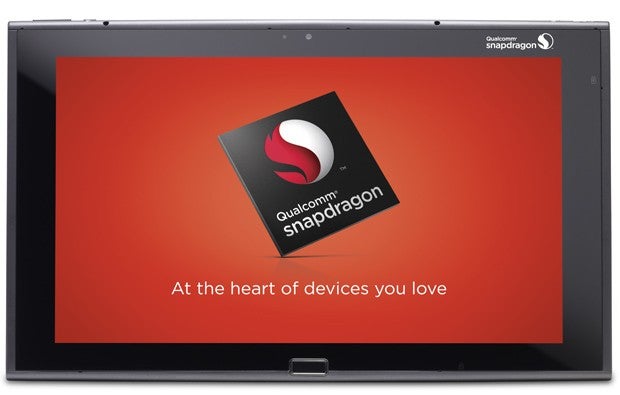 We knew something is brewing over at the mobile chipset juggernaut Qualcomm, and the just announced Snapdragon 805 SoC didn't disappoint. If you thought like us, judging from the name, that this is a small upgrade to the current Snapdragon 800 king, you'll be pleasantly disappointed.
First off, the chip is all about the so-called 4K or Ultra HD video. It includes four brand new Krait 450 cores, able to run at 2.5 GHz, and fierce Adreno 420 graphics processor that allows encoding and decoding 4K video in real time without a hitch. A natural side effect of this blazing GPU will be even smoother gaming performance, too.
The next big improvement is in the dual camera image signal processors (ISP), which for the first time allow Gpixel/s throughput for better image quality and faster shot-to-shot times, and include gyro integration for the first system level optical image stabilization support. The sensor support doesn't stop here, as this hardware level integration includes all the other sensors too, for low-power sensor tasks that until recently were the realm of dedicated processors on custom made SoCs like Apple's
A7
or
Motorola's X8
.
If that is not enough for you, Snapdragon 805 also gets packaged with the most advanced connectivity out there, like a 4th-gen multiband Gobi LTE platform for up to 150 Mbps LTE-A download speeds, plus Wi-Fi/ac and low-power Bluetooth 4.0 radios. Here Qualcomm again reminds us that these fiery connectivity options are packaged with the new chipset to enable 4K video streaming with the lowest power consumption on an integrated chipset.
Snapdragon 805 thus opens the door for much more detailed video, games and interfaces, not to mention streaming uninterrupted 4K video, so you can go broke on your data plan even faster. We kid, but given the rumors about
WQHD panels on phones like the Galaxy S5
or the
Xplay 3S
, as well as
4K tablets
prepped for next year, Qualcomm's new chip edition is probably not rotating entirely around Ultra HD graphics support by accident.
Snapdragon 805 is currently sampling with phone and tablet makers, and will enter retail devices before June 2014 has rolled out, says Qualcomm, so we should see the first handsets with it announced at the MWC expo, or even hinted at CES in January.
NEW YORK, Nov. 20, 2013 /PRNewswire/ -- Qualcomm Incorporated (NASDAQ: QCOM) today announced that its subsidiary, Qualcomm Technologies, Inc., introduced the next generation mobile processor of the Qualcomm® Snapdragon™ 800 tier, the Qualcomm Snapdragon 805 processor, which is designed to deliver the highest-quality mobile video, imaging and graphics experiences at Ultra HD (4K) resolution, both on device and via Ultra HD TVs. Featuring the new Adreno 420 GPU, with up to 40 percent more graphics processing power than its predecessor, the Snapdragon 805 processor is the first mobile processor to offer system-level Ultra HD support, 4K video capture and playback and enhanced dual camera Image Signal Processors (ISPs), for superior performance, multitasking, power efficiency and mobile user experiences.

The Snapdragon 805 processor is Qualcomm Technologies' newest and highest performing Snapdragon processor to date, featuring:
Blazing fast apps and web browsing and outstanding performance: Krait 450 quad-core CPU, the first mobile CPU to run at speeds of up to 2.5 GHz per core, plus superior memory bandwidth support of up to 25.6 GB/second that is designed to provide unprecedented multimedia and web browsing performance.

Smooth, sharp user interface and games support Ultra HD resolution: The mobile industry's first end-to-end Ultra HD solution with on-device display concurrent with output to HDTV; features Qualcomm Technologies' new Adreno 420 GPU, which introduces support for hardware tessellation and geometry shaders, for advanced 4K rendering, with even more realistic scenes and objects, visually stunning user interface, graphics and mobile gaming experiences at lower power.

Fast, seamless connected mobile experiences: Custom, efficient integration with either the Qualcomm® Gobi™ MDM9x25 or the Gobi MDM9x35 modem, powering superior seamless connected mobile experiences. The Gobi MDM9x25 chipset announced in February 2013 has seen significant adoption as the first embedded, mobile computing solution to support LTE carrier aggregation and LTE Category 4 with superior peak data rates of up to 150Mbps. Additionally, Qualcomm's most advanced Wi-Fi for mobile, 2-stream dual-band Qualcomm® VIVE™ 802.11ac, enables wireless 4K video streaming and other media-intensive applications. With a low-power PCIe interface to the QCA6174, tablets and high-end smartphones can take advantage of faster mobile Wi-Fi performance (over 600 Mbps), extended operating range and concurrent Bluetooth connections, with minimal impact on battery life.

Ability to stream more video content at higher quality using less power: Support for Hollywood Quality Video (HQV) for video post processing, first to introduce hardware 4K HEVC (H.265) decode for mobile for extremely low-power HD video playback.

Sharper, higher resolution photos in low light and advanced post-processing features: First Gpixel/s throughput camera support in a mobile processor designed for a significant increase in camera speed and imaging quality. Sensor processing with gyro integration enables image stabilization for sharper, crisper photos. Qualcomm Technologies is the first to announce a mobile processor with advanced, low-power, integrated sensor processing, enabled by its custom DSP, designed to deliver a wide range of sensor-enabled mobile experiences.

"Using a smartphone or tablet powered by Snapdragon 805 processor is like having an UltraHD home theater in your pocket, with 4K video, imaging and graphics, all built for mobile," said Murthy Renduchintala, executive vice president, Qualcomm Technologies, Inc., and co-president, QCT. "We're delivering the mobile industry's first truly end-to-end Ultra HD solution, and coupled with our industry leading Gobi LTE modems and RF transceivers, streaming and watching content at 4K resolution will finally be possible."

The Snapdragon 805 processor is sampling now and expected to be available in commercial devices by the first half of 2014.

About Qualcomm

Qualcomm Incorporated (NASDAQ: QCOM) is the world leader in 3G, 4G and next-generation wireless technologies. Qualcomm Incorporated includes Qualcomm's licensing business, QTL, and the vast majority of its patent portfolio. Qualcomm Technologies, Inc., a wholly-owned subsidiary of Qualcomm Incorporated, operates, along with its subsidiaries, substantially all of Qualcomm's engineering, research and development functions, and substantially all of its products and services businesses, including its semiconductor business, QCT. For more than 25 years, Qualcomm ideas and inventions have driven the evolution of digital communications, linking people everywhere more closely to information, entertainment and each other. For more information, visit Qualcomm's website, OnQ blog, Twitter and Facebook pages.
Qualcomm, Snapdragon, and Gobi are trademarks of Qualcomm Incorporated, registered in the United States and other countries. VIVE is a registered trademark of Qualcomm Atheros, Inc., registered in the United States and other countries. Qualcomm Gobi and Qualcomm Snapdragon are products of Qualcomm Technologies, Inc. Qualcomm VIVE is a product of Qualcomm Atheros, Inc. All Qualcomm Incorporated trademarks are used with permission. Other products or brand names may be trademarks or registered trademarks of their respective owners.
Recommended Stories