Sony Xperia Z2 early benchmarks are here: Quadrant, Basemark X, GFX Bench
19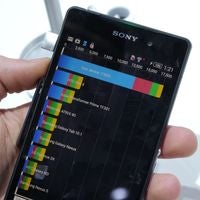 The
Sony Xperia Z2
is among the very first smartphones packing the new Snapdragon 801 SoC, and sure enough, there's plenty of tech enthusiasts out there eager to find out whether or not the silicon can rock the house. We were curious about the chip's performance as well, which is why we didn't miss the chance to run several benchmark apps on the Xperia Z2. The results, as expected, were off the charts.
The Sony Xperia Z2 managed to achieve 25172 on the graphically intensive Basemark X benchmark. In comparison, the Samsung Galaxy S5 demo unit that we got to play with earlier scored slightly lower, reaching 23501 points on the same test - an unexpected result given the fact that the Galaxy S5 sports the very same SoC. What's more, the Z2 has its maximum CPU speed capped at 2.3GHz, while the S5 is allowed to sprint at up to 2.5GHz. Running GFX Bench on the Sony Xperia Z2 returned a score of 776 on the Manhattan test, which was, again, higher than what we got from the S5. Surprisingly, the Sony Xperia Z2 didn't do quite as well on Quadrant. Its score of 17639 is inferior even to the one we got from the phone's predecessor, the Z1.
But as we know from our personal experience, benchmark results can be greatly affected by the software running on the device being tested, and we're pretty sure that the software build on the Sony Xperia Z2 unit we benchmarked wasn't exactly in a final state. This is why the results from a retail Sony Xperia Z2 unit might differ significantly, although whether that is the case or not will become clear once the smartphone hits the shelves.