AT&T uses carrier aggregation to quietly bring LTE-Advanced to the Windy City
7
AT&T has used carrier aggregation, stitching together separate pieces of spectrum to quietly bring LTE-Advanced service to Chicago. Using 700MHz and 2100MHz (AWS) spectrum and a 15MHz downlink in the Windy City, the service has a theoretical download speed of 110Mbps. The nation's second largest carrier becomes the first U.S. mobile operator to use carrier aggregation. The move doesn't add capacity to the carrier's network, but makes it more efficient since it widens the pipeline giving AT&T one fat pipe instead of two skinny ones.
While AT&T says that it is testing the LTE-Advanced hook up in various markets, there is only one device that it offers that supports carrier aggregation. That is a mobile hotspot called Unite. The
Samsung Galaxy S5
will support customer aggregation on some carriers and AT&T is most likely one of them. We could see AT&T offer the service in areas where it is turning its old 2G and 3G technology into new LTE pipelines. Cities where that is taking place include Baltimore, Dallas, New York City, Philadelphia, San Francisco and Washington, D.C.
Not all carriers need to use aggregation, and despite earlier speculation, Sprint Spark does not employ the technology. AT&T needs to use aggregation because it doesn't own the amount of contiguous spectrum that Verizon, T-Mobile and Sprint own. Recently,
AT&T was found to be the fastest of the four major stateside carriers
by RootMetrics.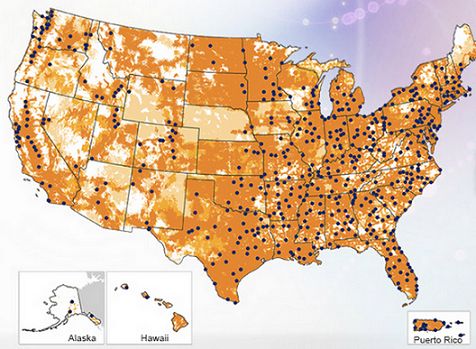 AT&T's coverage map with LTE cities in blue
source:
GigaOM
via
AndroidCentral