Qualcomm shows camera improvements coming with Snapdragon 805
19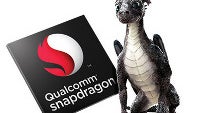 The recently unveiled Qualcomm Snapdragon 805 is already rumored to power one of the hottest devices of 2014 like the Samsung Galaxy S5 and the HTC One+, but did you know it brings more than just more computing power? At CES 2014, Qualcomm will be showing exactly that - live demos of how Snapdragon 805 enhances the camera experience on mobile devices.
The chip brings support for three features that are particularly interesting. The first one is called Chroma Flash and will enable good looking low light images. You know how cold, unnatural and just bad images look when you fire up the flash, don't you? The scene gets lit, but all the pleasing tones are gone. Chroma Flash aims to fix that as it takes two pictures - one without a flash and the other with - and combines them to make one shot that has both the nice lighting of the flash image and the pleasing colors of the non-flash picture.
Another new camera feature in Snapdragon 805 is touch to track. You can touch an object to keep it always in focus with a feature called Action Shot, or you can touch an object, and have your camera keep the frame zoomed on it as you move it around with the feature OptiZoom.
We'll be looking to seeing those demos live at the CES showroom floor, but right now you can see the official demonstration videos shot by Qualcomm itself right below.
source:
Qualcomm