Samsung's IMEI checker for dangerous Note 7 units is finally up!
75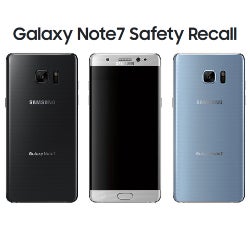 So, a
full recall of all Note 7 units
is currently in effect, and Samsung is
very willing
to replace any of the first wave of devices that have been sold to users. As you probably know, due to a manufacturing defect, some of these are bound to get a bit... explosive.
Thus far, Sammy has been asking all users to turn their
Note 7
off and return it immediately, but some have stubbornly held on to theirs, refusing to give them up. So, to help these customers know whether or not they have a dangerous phone in their possession, as well as to clear up any confusion between revised and non-revised devices, Samsung has now set up an IMEI check page.
The principle is really simple — just follow the link below this article, enter your phone's IMEI in the designated field, and see the results. If it is equipped with one of the batteries, which Samsung deems potentially dangerous, you will be advised to return the device and wait for a replacement (those should ship before the 21st of September, so there's no reason not to opt for one).
Your Note 7's IMEI number is located on the original box the device came with, on the back of the actual phone, or in your Settings menu (Settings → About Phone → Status → IMEI Information).