Samsung: battery plates pressure to blame for the Note 7 recall
37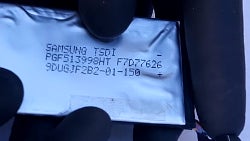 In a document submitted to the Korea Agency for Technology and Standards, Samsung has outlined the potential reason for the thermal runaway that causes
some Note 7 batteries
to heat up and nearly melt the phone.
It has isolated a small, but troublesome manufacturing flaw when the battery cells have been packaged that causes unnecessary pressure on isolation plates inside.
This allows the negative and positive poles to come together at times, causing a short circuit with the resulting thermal runaway that
some Note 7 users know painstakingly well
. Here's a good demo and narration of what happens with the Note 7 battery when the anode and cathode get together for one unscheduled meeting.
In any case, this explanation has been submitted as early as September 2 to the government standardization agency there, and Samsung has vowed to take care of it immediately, not that it had any other choice. "
Even before we have the final result of the investigation, we plan to establish and carry out the best ways to take care of our customers
," said Samsung in its memo to the agency. "
We are currently investigating the battery issue in cooperation with battery manufacturers
."