Halt and catch fire: US starts getting its own blazing Note 7 situations
43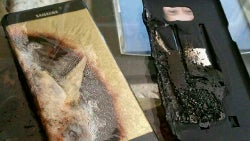 We were feeling a bit left out here in the US when it came to
rogue Note 7 units catching fire
, as most reports have been for users in
Australia
and other far away places, but the latest reported incident feels close to home. Apparently, a Florida man had their Note 7 unit set itself ablaze while he was using it, though he apparently threw it away immediately after it started getting hot, and didn't sustain major injuries.
The twist in this story is that the guy wasn't even charging the phone, so apparently the anode and cathode of the Note 7 battery can get in contact any time, inflaming the volatile electrolyte material inside. Samsung says this was a rare manufacturing error, but 43 product recalls for exploding lithium-ion batteries since 2002, according to the U.S. Consumer Product Safety Commission speak that those buggers are a real safety hazard, and hopefully will be replaced by a
superior technology
soon.
In another incident here in the good ol' USA, an employee of Action Ambulance Service in Winthrop, Massachusetts, had their Note 7 burn next to their bed while it was charging overnight. The smoking phone even triggered the fire alarm in the room, and prompted the fire department across the street to come over, while the captain there now wants to raise the issue with the state's Fire Commissioner.