More than 70 cases of Galaxy Note 7 batteries overheating have been reported in the US
50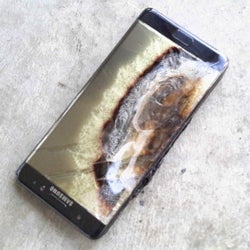 More than 70 Samsung Galaxy Note 7 phablets have malfunctioned due to overheating in the US alone, reveals a new report on the matter by Samsung and Health Canada. The Korean tech giant has partnered up with Canada's governmental public health agency to facilitate the process of recalling and replacing all defective Note 7 devices in Canada.
The latest report reveals some interesting data straight from the horse's mouth, including that Samsung has received
"over 70 reported cases [of Note 7 batteries overheating] in the United States,"
while Health Canada and Samsung Canada have received one such report. It is not clear how many of said reports were about Note 7 devices actually catching fire.
The document goes on to state that the
"Samsung Note 7 smartphone battery has the potential to overheat and burn, posing a potential fire hazard,"
mentioning that 21,593 of the recalled phablets were sold in Canada between Aug. 19 and Sept. 1, 2016.
Do you own a Samsung Galaxy Note 7? Here's
everything you need to know about the recall and what to do
.
sources:
Samsung
,
Health Canada
via
AP