Samsung Galaxy Note 10 rumor review: release date, price, specs, and features of the future beast
35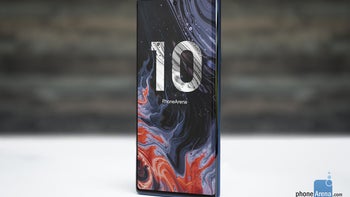 Samsung's flagship phone reveal for the first half of 2019 is behind us and, oh boy, was it a wild ride. We got to see not two, not three, but four new devices join the Galaxy S family — those being the
Galaxy S10e
,
Galaxy S10
,
Galaxy S10+
, and
Galaxy S10 5G
— and a new contender in the (bendable) form of the
Galaxy Fold
.
But that's not all Samsung has in store for us, oh no. We have a new Note to look forward to — the Samsung
Galaxy Note 10
, which should come in less than half a year if the manufacturer follows its refresh cycle accurately.
So, what's there to be excited about? Let's go through everything we know about the Galaxy Note 10 so far!
Table of contents:
Four variants of the Galaxy Note 10?
With the Galaxy S10 line, Samsung went a bit overkill. Not only do we have a Galaxy S10 and Galaxy S10 Plus, but also a small Galaxy S10e and a supersized
Galaxy S10 5G
coming down the line. That's a lot of versions of the same(ish) phone! So, what about the Galaxy Note 10?
Well, rumors insist again and again we will see two differently-sized Galaxy Note 10 phones — a regular Note 10 and a bigger Note 10+. And then, there will be a separate 5G model — some say only the Note 10+ will have a 5G version, others say both variants will have their 5G spinoffs. In other words, we will have three to four different versions of the Galaxy Note 10.
But worry not, your choice might be a bit limited anyway. Leaked posters suggest that the Note 10+ 5G will be a Verizon-exclusive device. Our guess is that this may be a timed exclusivity — maybe for a month to three — but that's just guesswork right now.
Design: not just a Galaxy S10 copy-paste job
You'll also notice that the Bixby button is missing from some of the leaked "official" renders or pictures. This is because Samsung has reportedly decided to put the Bixby activation action in the phone's power button — much like how the iPhone X's Siri is called upon with the sleep/wake button. That's a good call, really. No reason to have a bunch of hardware keys that confuse our fingers.
All the colors of the rainbow
Colors have turned into a big deal as people seek out phones that allow them to accessorise and express their individualities and preferences. According to a recent major leak, the Note 10 and Note 10+ will come with a grand total of 3 colors to pick from.
Screen changes
With the possibility of four different Note models, there's also the chance we will get a few different screen sizes. The rumor mill is not concrete on what kind of diagonals we should expect, but word on the street is that the more affordable edition will have a 6.3-inch display, while the Pro would go up to 6.8 inches. For comparison's sake — the Note 9 has a 6.4-inch screen right now.
We don't expect the change in size would make the Pro much bigger than the current Note 9. It will probably be very similar in size, as Samsung has adopted a new design language with super-thin chins and foreheads on the phones, moving the selfie cameras in a display cutout. But that 6.28-inch "Galaxy Note 10e" will probably be a noticeably more compact version of the phone — just slightly bigger than the Galaxy S10. If that turns out to be true, fans that have been begging for a more compact Note would surely be happy! Unfortunately, some rumors say that the "small note" would only be available in some markets. Let's hope that one's wrong!
More curves
The curved "edge" displays have been a divisive topic in the fandom for some years — especially since Samsung killed the "flat screen" variants of its flagships and only went with the curved models. The one saving grace of the Note series was that Sammy recognized that using an S Pen on a display with aggressive arches towards its ends isn't optimal, so ever since the Note 7, the curves on Note phones have had a much tighter angle than on the Galaxy S line. Effectively, there was more flat area to use and a less pronounced arch at the edges of the screen.
This might change with the Galaxy Note 10, as whispers suggest Samsung will be looking to go back to a more pronounced slope for more of a "wow" effect. This could, however, only affect one of the Note 10 models, who knows? In any case, the fandom might be about to suffer another "pro-curve vs against curve" split.
Look, ma! No buttons!
A certain obscure rumor claims that the Galaxy Note 10 might be the first Samsung phone with no hardware buttons. We've see HTC attempt this with the U12, and we've recently seen Meizu try it with its "holeless" concept of a phone. Thus far... it hasn't resulted in a successful experience.
The main issue with a no-buttons phone is the fact that you still need to have physical nubs that the user can feel with their finger, and you need to have stellar haptic feedback to "tell" the fingers when a press has actually been registered. If you don't have that tech... why bother? Just go with a good, clicky, sturdy button.