Galaxy Note 9 price and release date on Verizon, T-Mobile, AT&T
13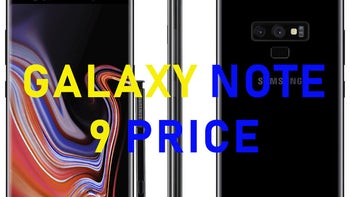 Kidneys, young kidneys in tip-top shape, people! That would be the chant in front of carrier stores when Samsung's Galaxy Note 9 goes up for pre-order. It's one of the most eagerly awaited smartphones to be announced in the second half of 2018, as the Note family of devices has always been a power user's darling.
Besides being packed with the newest and best, the cutting edge of commercially available hardware, as usual, the 2018 Note 9 has the battery capacity to match for the first time, and also comes with a bunch of innovative S Pen upgrades, like a battery and Bluetooth connectivity, so how many kidneys you need to sell to obtain one?
Note 9 price on Verizon, AT&T, T-Mobile, and Sprint
With the cell phone companies no longer subsidizing the purchase cost of new phones, it's no surprise that sales have declined, especially now that top models cost four figures. The first Galaxy S went for as much as the OG iPhone, or $500. It then shot up to start at $650 when we had a choice between the "regular" flatscreen model and a more expensive Edge variant. Then came along the Galaxy S8 pair, both of which were Edge-y phones. Immediately, the base price for the small Galaxy S8 went up to $720.
The Galaxy Note 5 started around $740, the ill-fated Note 7 was around $850; and then the Note 8 went for a heavy-hitting $950. So, does Galaxy Note 9 continue the upwards trend? Thankfully not, as even Apple learned the hard iPhone X way that $999 is threshold not to be crossed lightheartedly, or your "mother of all upgrade waves" will have to be postponed for a later edition.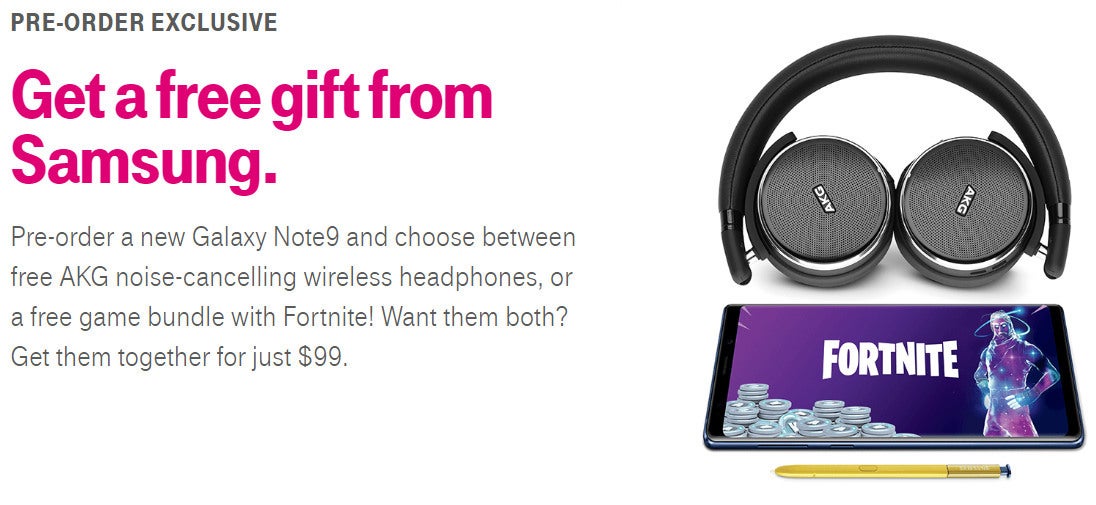 Samsung stuck with a $999 point for the 128GB Note 9 which is still pretty high, but you are getting way more memory, battery, and S Pen than before, so somewhat palatable this day and age. Moreover, $299 worth of AKG headphones, or $150 worth of free Fortnite V-Bucks and skins await those who pre-order early.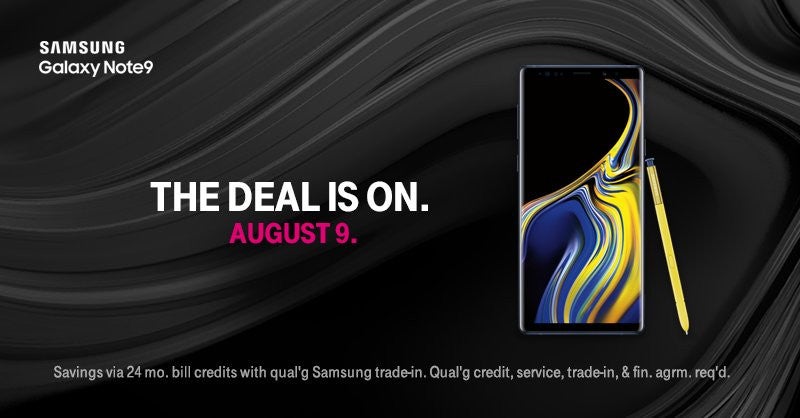 T-Mobile is first to announce a deal for the Note 9, and it is a 50% off... with a qualifying trade-in. Granted, it's also in the form of bill credits, but it's a start. You will basically get $500 off for anything Note 5 and up, and $250 for anything below, down to the
Galaxy S5 Sport
(say wha?). That means... wait for it... yes, a grand for the phone itself if you don't trade anything in, which makes it the most expensive Note in the history of mankind.

Verizon just couldn't sit still and let T-Mobile take the deal glory, so it announced what may be the
best BOGO deal for an Android phone ever
, considering that the Note 9 starts from $999.99. If you get one on 24 installments, you can get another one for free in the form of bill credits, and it only requires one new line of activation, how 'bout that?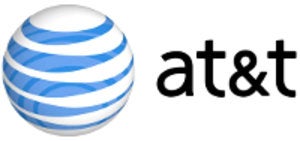 Not for nothing, but AT&T also has a BOGO deal on the Note 9. Wait, what? That's right, AT&T is offering the Note 9 online and in stores on Aug. 24 for $33.34 for 30 months on an AT&T Next installment plan. For a limited time, AT&T customers can also get a Samsung Galaxy Note 9, S9 or S9+ for free when they buy another Note 9 from AT&T, basically the same deal that Verizon is running, sweet!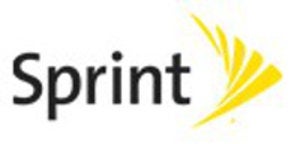 Sprint is offering the Note 9 for 50% off with Sprint Flex Lease, which prices the device at $20.83 per month. The carrier is also offering Galaxy Forever so customers can upgrade to another Galaxy device after 12 Sprint Flex payments. No BOGOs here, but plenty of flex.
The United Kingdom and Europe Note 9 pricing

In the United Kingdom, the Galaxy Note 9\s full retail price stands at £899, or £1099 for the 512-gigger. In Europe, the Note 9 pricing blasts off from €999, bummer.
Release date
The Galaxy Note 5 was the first to be introduced in August instead of crowding out its competition at the IFA expo in September, and the Note 9 keeps it up. It goes on general sale August 24th, while pre-orders will start August 10th. Let's look at Samsung's recent history when it comes to top-tier device releases:
So, the smallest announcement-to-release interval was 8 days, while the longest waiting period we had to suffer in the past was up to 23 days. The average waiting time is about 18 days or two and a half weeks, and with the Note 9 you'll wait even less between unveiling and launch. At launch, the Note 9 will be available in several colors like Midnight Black, Lavender Purple, Metallic Copper with matching S Pen, and Ocean Blue with a Yellow S Pen color for various markets. Unfortunately, the US gets stuck with blue and lavender for the time being. How do you like them BOGOs?