PhoneArena's 2016 gift guide for late shoppers: Smartphones
7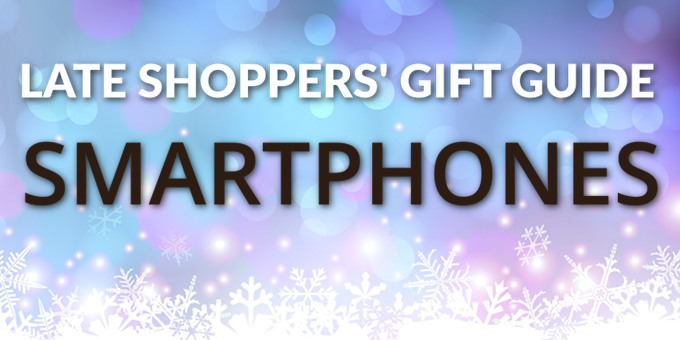 If you happen to be a bit late with your holiday shopping (for the nth year in a row?), don't worry, so are most of us. But the good news is that we are still in the beginning of December, which means there's plenty of time to pick up some gifts for your loved ones. Just, please, don't wait until the last moment — that's legitimately stressful.
So, a special person in your life may have a smartphone that's old, buggy, and probably being pretty terrible compared to contemporary technology. Thinking about buying them a new one? Well, that's pretty noble of you! Allow us to help you narrow down your choice with our humble gift guide for smartphones available in December 2016.
Top tier
Starting with the best of the best... and most expensive. Just in case you are ready to shell out $600 or more for this particular gift, the following phones are a pretty safe bet, due to their popularity and quality.
| | | |
| --- | --- | --- |
| | iPhone 7 | iPhone 7 Plus |
| 32 GB | $649 | $769.00 |
| 128 GB | $749 | $869.00 |
| 256 GB | $849 | $969.00 |
Apple's jewel — the iPhone — is up to number 7 this year. As you can expect, it's faster than ever, has the best camera Apple can offer, and, for the first time ever, it's water-resistant! Storage has also been upgraded, so even if you go for the "cheapest", $650 model, you still get 32 GB of onboard memory — that's quite roomy for the casual user.
The Plus variant raises the price by $110 per storage tier, but you also get a dual camera module, which offers Apple's cool new Portrait mode. So, yeah, if your gift recipient is crazy about photography and mobile phones, there's a high chance that this expensive phone would make them happy.
(click links in table for the offers we found)
On the Android side of the fence, it's pretty safe to say that Samsung's Galaxy S7 and S7 edge are the most popular phones for the year and for good reason. First, we have an awesome, shiny, metal-and-glass design, water-resistance, an awesome camera, and fast performance. Add storage expansion via microSD and you have a lot of happy users.
At Samsung's online shop, the Galaxy S7 costs about $670, while the S7 edge is a bit more expensive at $770. However, we dug through Amazon and found some deals going as far down as $535 for the regular S7 (linked above). The difference in the two models is that the edge variant has a bigger, beautifully curved display, and a bigger battery, of course. That aside, both phones feature the same hardware and same stellar camera.
Lots to choose from
Of course, these are hardly the end-all be-all of top-tier smartphones. For a full list of the best smartphones you can buy right now, check out these articles:
Mid range
OK, so you don't want to spend top dollar — that's perfectly fine. $650 is quite steep a price for a gift. You have two options — either buy an older flagship or get a brand-new, shiny midrange smartphone. If the old flagship idea sounds good to you, check out the following pick of great, sub-$350 phones. If you'd rather go for a new model, keep reading!
| | |
| --- | --- |
| | iPhone SE |
| 16 GB | $399 |
| 64 GB | $449 |
In the first half of this year, Apple re-introduced the compact form factor of the iPhone 5s... actually — it pretty much rebooted the iPhone 5s, but with more powerful hardware, better camera, and support for Apple Pay. The iPhone SE supports all accessories and cases for the original iPhone 5s due to the fact that it's shaped in the same manner and has the same size display — 4 inches.
The SE is currently the "cheapest" iPhone that you can buy new, at $400. A good choice for either Apple users or people who want a smaller phone that's easy to carry around and don't care about consuming lots of media on it or playing demanding games.
| | |
| --- | --- |
| | Xperia X Compact |
| 32 GB | $399 |
Up until this year, Sony's Compact line of smartphones actually had flagship-grade specs. Now, we have a more modest phone, with a compact, 4.6-inch display. A good choice for someone who prefers smaller handsets that are easier to carry in all sorts of pockets and use with one hand.
The X Compact costs $400 unlocked, which may not be the right price, considering that the iPhone SE comes at the same cost and is, in our opinion, better in terms of camera and pure hardware performance. But if your gift recipient is an Android person and wants a mini phone, it's a viable choice.
| | |
| --- | --- |
| | Galaxy A5 Duos |
| 16 GB | $359.95 |
The Galaxy A5 is a pretty successful series in the midrange segment. They look great, they have relatively good hardware, and their cameras are decent. For about $360, you get a pretty nice smartphone.

The A series consists of Galaxy A3, A5, and A7. It gets rebooted every year with the same model names, so make sure that you pick up a 2016 edition Galaxy A5, not the 2015 one. The A3 is smaller and quite underpowered, while the A7 is a bit bigger and, we feel, kind of expensive for a midranger.




Check out more:
These are by no means the end-all be-all of midrange smartphones. Check out more of our articles for more midranger choices!
Low range
Not everybody is a heavy smartphone user that demands top-notch performance and there are plenty of bargain-priced smartphones that offer reliable, solid operation without breaking the bank. Let's take a look at some offers below the $250 mark.
| | |
| --- | --- |
| | Moto G4 Plus |
| 16 GB / 2 GB RAM | $249 |
| 64 GB / 4 GB RAM | $269 |
The Moto G line has always been known for offering stellar performance at a low price point. The 4th generation came split in three separate devices —
Moto G4 Play
,
Moto G4
, and
Moto G4 Plus
, where the latter offers the best specs and features of the three. So, the G4 Plus has a fingerprint scanner, pretty decent camera, a nice, large display, and adequate hardware. It starts at $250 for the 16 GB storage / 2 GB of RAM variant.
Stellar looks for $200? The Xperia XA has them! With an edge-to-edge display that seemingly has no side borders, the device looks like a premium one. Well, the XA does balance its looks with a sub-par hardware configuration in order to sell at such a low price point, but we found that its performance is still pretty decent. Its camera is hardly awe-inspiring, which we had a problem with back when the phone's price was in the $300 range, but now that it's down by $100, we find the phone's performance to be perfectly acceptable.
More choices:
So, those were some ideas we have for nice smartphone gifts. Fell free to check our suggestions for tablets or accessories as well: