5 of the best metal smartphones that cost under $400 unlocked (US)
19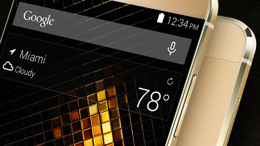 Not long ago, most smartphones made out of metal were expensive - premium devices that clearly stood out from the crowd of plastic-made ones. Needless to say, many customers simply couldn't afford buying a metal-made handset. Fortunately, things have changed, and we now have metal smartphones for pretty much all budgets. Of course,
not everyone wants a phone made out of metal
, but, if you do and you're not ready to pay more than $400 for one, we think you should check out the devices listed below.
Mind you, except for the first handset seen here, all others only work on GSM/LTE carriers (like AT&T and T-Mobile), so customers of Verizon, Sprint, or US Cellular can't use them. In alphabetical order:
An iPhone on a list of relatively affordable handsets? Well, yes, Apple finally has a smartphone that's sold at a pretty accessible price: the iPhone SE. Granted, the SE uses the same design of the
iPhone 5s
from three years ago, including a body that's mostly metal, plus some glass on the back and around the display. But this iPhone is way more powerful than any handset from the iPhone 5s era, thanks to the fact that it packs Apple's A9 processor (also found inside the iPhone 6s) coupled with 2 GB of RAM. The iPhone SE is arguably the best compact smartphone (metal-made or not) that you can currently buy, assuming that its 4-inch display isn't too small for you. An unlocked iPhone SE costs $399, though this only gets you the 16 GB version (you'll have to pay $100 more for the 64 GB model).
Known for selling cheap, but decent smartphones, BLU earlier this year released its very first all-metal handset: the Vivo 5, which costs $199.99 unlocked. We're actually surprised by how well made the BLU Vivo 5 is, and also by the fact that it has a USB Type-C port - something that's not yet found on any other phone at this price. Other specs aren't that impressive, though, including a 5.5-inch 720p display, an octa-core MediaTek 6753 processor, 3 GB of RAM, and 32 GB of expandable storage space. The BLU Vivo 5 currently runs Android 5.1 Lollipop, but it will be updated to Android 6.0 Marshmallow in the near future.
Made by Huawei (currently the world's third largest smartphone vendor), the honor 5X can be a great choice if you're looking for a cheap metal-made smartphone that offers a fingerprint scanner - one that's pretty fast and accurate, in our experience. Metal design and fingerprint sensor aside, the honor 5X also has other not-too-shabby features, including a 5.5-inch 1080p display, an octa-core Snapdragon 616 processor, and 2 GB of RAM. Like the BLU Vivo 5, the honor 5X still runs Android Lollipop, but it
will be updated to Marshmallow
. All in all, Huawei seems to have a winner here, already
selling 8 million honor 5X units
worldwide.
Announced and released earlier this week, the OnePlus 3 is the newest device on our list. This is the first OnePlus to offer a full metal body, and, while it may not have the most original design out there, we're fairly impressed by its build quality. Also impressive is the list of features that the OnePlus 3 comes with: Snapdragon 820 CPU,
16 MP Sony-made rear camera
, 6 GB of RAM, 64 GB of internal memory, fingerprint scanner, Oxygen OS (based on Android Marshmallow), and so on. The 5.5-inch 1080p AMOLED screen of the OnePlus 3 is not the sharpest out there (it obviously can't match Quad HD panels), but it's still a very good display. Despite all the high-end stuff that the OnePlus 3 is offering, the device is sold for $399 - and you don't need an invite to buy it (as it was the case with previous OnePlus phones).
Launched last summer in the US, the ZTE Axon Pro has an interesting design based on an aluminum case (with a bit of plastic at the top and bottom). We wouldn't be wrong in saying that the Axon Pro is nearly as impressive as the OnePlus 3, as it's got features usually found on more expensive smartphones: a 5.5-inch Quad HD screen, a Snapdragon 810 processor, Hi-Fi sound, 4 GB of RAM, and up to 64 GB of storage space. There's also a 13 MP dual rear camera on board, but it's not among the greatest cameras we've seen (still pretty good though). Initially running Android Lollipop,
the Axon Pro was updated to Android 6.0 Marshmallow
in February. At the moment, the ZTE Axon Pro 64 GB costs $379.98, while the 32 GB one can be bought for $349.98.