Best Sprint smartphones of 2016
5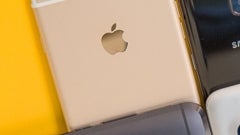 For a long time, Sprint was America's third largest mobile carrier, but this is no longer the case. That's because, last year, T-Mobile managed to surpass it (in terms of subscribers). Nevertheless, serving almost 60 million customers nationwide, Sprint remains one of the big four carriers, and has a line-up of smartphones that that allows pretty much every type of user to find a perfect handset.
If you're looking for the best Sprint smartphones that can be bought right now, we've got a list for you below. Besides presenting what we think are Sprint's finest handsets of 2016, we're including links to our own reviews, as well as to Sprint's website (if you want to buy any of the devices right away).
Best mid-size (normal) smartphones on Sprint
Just like all other major US carriers, Sprint started selling the Samsung Galaxy S7 in March. Building on the success of the S6 (one of last year's best smartphones), the Galaxy S7 offers improvements in pretty much all areas, while also having new features (well, they're new only compared to the S6) like Always On Display, microSD card support, and water-resistance. Sprint's Galaxy S7 can be bought for $27 per month over 24 months, $199 with a 2-year contract, or $649 outright.
HTC surprised us this year by releasing an excellent flagship smartphone (arguably its best in years): the HTC 10. Not that the HTC One M9 or One M8 were terrible, but they just couldn't stand next to their rivals. With the HTC 10, though, things are different: this is a refined, metal-made high-end smartphone that ticks all the right boxes - from the 5.2-inch Quad HD screen and the fluid Sense 8 UI (on top of Android Marshmallow) to the excellent fingerprint scanner and the vastly improved rear and front cameras (both with OIS). Sprint is offering the HTC 10 for $21 per month over 24 months, $199 with a 2-year contract, or $624 outright.
We're still several months away from the release of Apple's next-generation high-end iPhones, which means the iPhone 6s is the best regular-sized iOS handset money can buy right now. Thanks to features like 3D Touch, a 12 MP rear camera with 4K video, and a sturdier construction, the iPhone 6s is undoubtedly superior to its predecessor (iPhone 6). Sprint is selling the iPhone 6s starting at $27.09 per month for 24 months, or $649.99 outright (16 GB model), asking $100 more for the 64 GB variant, and $200 more for the 128 GB one.
Best large smartphones on Sprint
Don't be fooled by the fact that the Samsung Galaxy Note 5 will soon be 1 year old. Recently updated to Android 6.0 Marshmallow, the Note 5 remains one of the best-made and most powerful extra large smartphones on the market. Besides that, it's got the advantage of coming with a top notch S Pen stylus, plus a great battery (which is not only long lasting, but also really fast to charge). Sprint is offering the Galaxy Note 5 in both 32 GB and 64 GB flavors, for $30.80 per month for 24 months ($739 outright), or $100 more if you want the 64 GB model.
Like the iPhone 6s, the iPhone 6s Plus is one of the all-around champs in the smartphone space. With its 5.5-inch 1080p display, the iPhone 6s Plus is obviously the best choice for iOS users in need of a big handset, not to mention the fact that it offers longer battery life compared to the iPhone 6s. Prices for the iPhone 6s Plus on Sprint start at $749.99 (or $31.25 per month for 24 months), and go up to $949.99 (for the 128 GB model).
Best value-for-money smartphone on Sprint
If you want a smartphone that offers nice features, but doesn't come with a high price attached, the LG G4 is your best choice on Sprint. Yes, the G4 is now 1 year old, but it's been updated to Android Marshmallow, and will almost surely be updated to Android N, too. The handset sports a 5.5-inch Quad HD display, offering a very good 16 MP rear camera, 3 GB of RAM, 32 GB of expandable storage space, and a 3000 mAh removable battery. At the moment, Sprint is selling the LG G4 for $15 per month for 24 months, or $360 outright.
Best cheap smartphone on Sprint
The Galaxy J3 is part of Samsung's 2016 line-up of affordable smartphones, and it's been available from Sprint for a few months now. The handset offers a decent 5-inch Super AMOLED display with 720 x 1280 pixels, better than average battery life, 1.5 GB of RAM, and 16 GB of expandable storage space. Unfortunately, the Samsung Galaxy J3 that's sold by Sprint currently runs Android Lollipop, but we assume it's going to be updated to Marshmallow pretty soon. Another complaint that we have is related to the phone's price: it costs more on Sprint than on Boost and Virgin Mobile (which are Sprint MVNOs anyway): $192 off contract, or $8 per month for 24 months. Nevertheless, this is Sprint's best handset under $200.